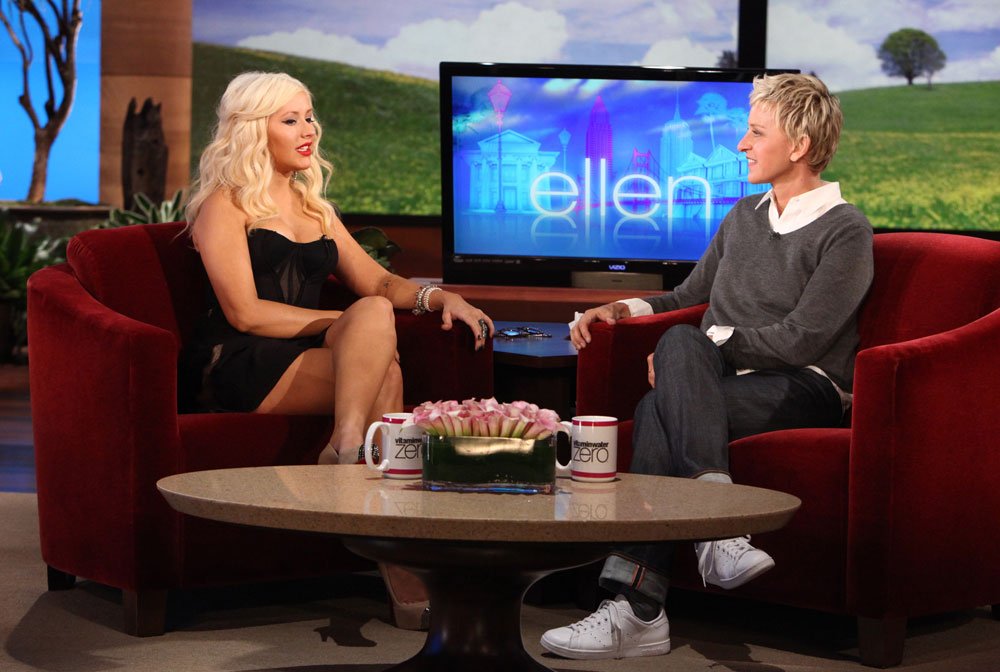 Christina Aguilera has that new singing competition reality show The Voice premiering tonight, and I'm sort-of looking forward to seeing it. The concept of a blind audition is interesting, and if they try to make it even somewhat more fast-paced that neverending Idol it could be fun. Plus, it's hard to find shows I can watch with my six year-old that aren't just for kids. I think that explains the popularity of Dancing With The Stars more than anything else.
Anyway as part of her new gig Christina has to talk about the fact that she's been too drunk on several occasions to remember the words to the National Anthem, to walk properly, or to remember where she lives. She's previously called her very public issues with drunkenness "hiccups" and explained that she just went through "a really hard divorce." In an appearance on the Ellen show today, Christina expands on that theme. She doesn't say that there's no excuse for forgetting the lyrics during the most important US sporting event of the year to a song that celebrates national pride, she doesn't say she's sorry and embarrassed, she just offers a bunch of excuses and justifications as is typical for her.
Ellen: I saw you sing (at the Super Bowl)

Christina: That's right, I did sing at the Super bowl.

Ellen: I saw it and didn't see anything. Then it was this huge thing…then I felt stupid that maybe I didn't know the lyrics.

Christina: I had been singing that song my entire life. I was the youngest anthem singer in my hometown of Pittsburgh, PA. I sang for the "Steelers" when I was this big (as a child.)

Ellen: How old were you?

Christina: I think 7 or 8 years old. I would sing for them. I think had a moment where I was at the "Super bowl" at 30 years old. I took in the moment a little bit too much. Shoot me for appreciating the moment but here I am at the "Super bowl"…singing for a team and in front of the world. And remembering what it was like to be that young and look where I made it now. And then it was like, oh. That night I knew, I just made myself a Trivial Pursuit question…In 2011 what female singer, ya know, flubbed the lyrics. It's just insane. But I have a really good laugh about it and you get over things. You get back up again and you just prove to yourself and to everyone you that much stronger.
[From the Ellen Degeneres show, received via e-mail]
It's all about Christina and how she feels and how she's been labeled and is recovering from that after screwing up. We're all judging her (read this earlier interview, she said people were judging) for being overwhelmed with national pride (in the form of some Jack Daniels) when she was just trying to do her job that she gets paid seven figures for. Well now Christina has another job to laugh about if (when) she shows up too blitzed to do it properly.
Also, would it kill her to cover up a little? She's wearing lingerie in public again.
Header photo credit: Michael Rozman/Warner Bros. Other photos are from 4/21/11 credit: WENN.com