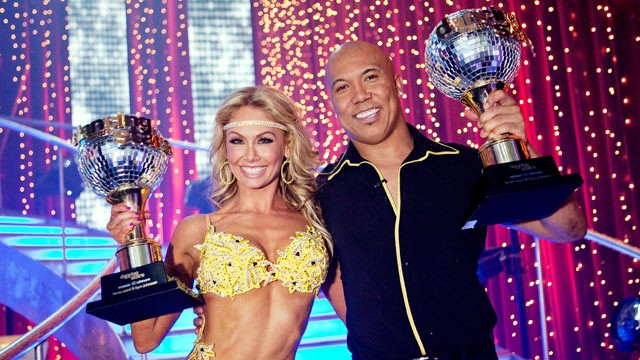 Pittsburgh Steelers wide receiver Hines Ward took home the mirror ball trophy on last night's Dancing With The Stars finale. Ward was a fan favorite for his friendly, down-to-earth personality and smooth moves. Coming in second was Kirstie Alley, who transformed her body for the show, losing 38 inches but not quite achieving the size 4/6 dress she claimed to fit into. This season was a triumph for Alley, but it was Ward who was triumphant in the end, making him one of six professional athletes to be crowned the winner in the show's 12 seasons. Coming in a strong third was Chelsea Kane.
When Hines Ward took home the mirrorball trophy on the hit show Tuesday, he joined its winningest group of alumni: Athletes. Professional athletes have taken the "Dancing" title six times in the past 12 seasons.

Since the show premiered stateside in 2005, three Olympians, two football stars and one race-car driver have been named "Dancing" champs. Three other NFL stars and an Olympic skater finished the popular show in second place.

Ward, a Pittsburgh Steelers wide receiver and former Super Bowl most valuable player, credits his professional dance partner, Kym Johnson, with their dance victory. He plans to keep his new mirrorball right next to his Super Bowl trophy.

"It's special," the 35-year-old said, glittery trophy in hand. "With football, it takes all 53 guys. With this mirrorball, it was just Kym and I together in the studio putting in the hours. I'm just glad I didn't let her down."

Ward consistently posted high scores throughout the 10-week competition, and judges praised his showmanship and dedication.

"We've had some great footballers on `Dancing With the Stars,' but I don't think any compare with Hines Ward," head judge Len Goodman said during the season finale.

Ward was up against Kirstie Alley and Chelsea Kane for the season 12 title. The actresses finished second and third respectively.

His commitment was especially evident after Johnson suffered a serious neck injury during rehearsals two weeks ago. The couple triumphantly returned to the dance floor, earning perfect scores for their performance and drawing tears from Ward, Johnson and judge Carrie Ann Inaba.
[From AP via Huffington Post]
I've only seen a few episodes of this show, and every time I've been so impressed with both Hines' skill on the dancefloor and just what a nice, charismatic guy he is. There's something so infectious about his smile. I'm glad he won, especially after his partner Kym suffered a serious neck injury. It's also nice to see Kirstie gaining back some of her mojo. I've never been a fan of Kristie's and she can be a smug piece of work, but she's worked hard for this and she deserves it.
Kirstie called her experience on DWTS "the most extraordinary adventure I've ever been on in my life," (take that, Scientology!) and Hines thanked the fans and said he owes "it all to Kym."