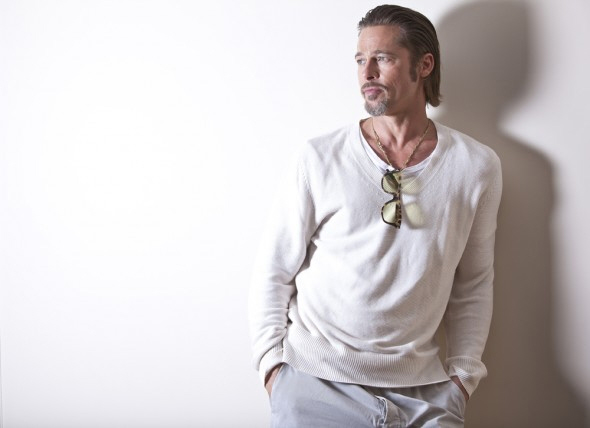 I put a link to some of these interview excerpts in the links yesterday, but the quotes were too good to pass up. Brad Pitt is knee-deep in Tree of Life promotion, and many outlets are using the same quotes for whatever reason. In the film, Brad plays a father who is either "hard" and abrasive or out-right abusive to his sons. Obviously, the subject matter of the film has caused Brad to discuss his own parenting style for his kids, and how he worked with the child actors he had to mean to (in character).
For the Jolie-Pitts, life doesn't always imitate art. In director Terrence Malick's new film The Tree of Life, which received Cannes Film Fest's top honor despite receiving mixed reviews early on, Brad Pitt plays a strict disciplinarian and sometimes abusive father to three young boys.

"I certainly don't raise my kids the same was [as my character does]," he told Us Weekly Tuesday night at The Tree of Life's premiere in L.A. " I am painfully aware that my actions leave an indelible mark on them in these formidable years. So I make sure I don't bring my crap home. I want to keep it free."

Asked if he's ever felt that all-too-common sinking feeling like he's just made a terrible dad error, Pitt tells PEOPLE, "Not [like I'm] a horrible parent, but I've certainly made mistakes and had to make up for it."

Pitt, 47, and longtime love Angelina Jolie, 35, have six children together: Maddox, 9, Zahara, 6, Pax, 7, Shiloh, 4, and twins Vivienne and Knox, 2.

"I want to keep them able to explore that innocence as long as possible and find out what's really interesting to them," he added. "I just don't want to encumber them in any way."

Was it tough for Pitt to be so tough on the child actors in the film? "We had to be careful, because hey are young boys, and you don't want a scar them in the process. So it was explained to them ahead of time who I was playing and they knew it was coming and they knew when it was coming," he said. "And in between [takes], we made sure we had a lot of time like everyday life, throwing the ball around and riding bikes, and I think everyone got through it unscathed."

But just in case, Pitt made sure to win the boys' hearts off-screen – by buying them motorcycles. "They are great," he said. "We come from the same neck of the woods."

Back at home, Pitt says neither he nor Jolie is nudging their kids to follow in their acting footsteps. "Listen, I just want them to follow their bliss. Whatever makes them happy," he says.

And right now, making his family happy includes his next role, recording a voice for the animated sequel Happy Feet 2. "I mean Happy Feet is on heavy rotation in our house," he says with a laugh, "so it was a must!"
[From Us Weekly & People Magazine]
I like the part where he talks about working with the child actors. I would imagine it would be difficult to try to act opposite those young kids, especially given that Terrence Malick was barely working with a script and so there probably weren't actual scenes that Brad and the kids could "rehearse" together. Do you think he actually got them motorcycles? I bet he got them something like dirt bikes or go-carts or something.
In other Brangelina news, In Touch Weekly (via Hollywood Life) has a story this week about one of the "nastiest" fights in the history of their relationship. Apparently, their fight this week is all about where they're going be for the summer. Brad wants to go to Missouri. Angelina wants to go to France. ZOMG FIGHT. A "friend" tells In Touch, "Brad wanted his kids to experience a summer like he has as a boy in Missouri. That involves dirt bikes, tubing in the lake, camping under the stars — just some good old-fashioned American fun." But, "Missouri is not Angelina's idea of a vacation… she told Brad to make other plans." You can read more of the story here, at Hollywood Life. The rest of it is just some psychological talk about why Angelina is a she-devil.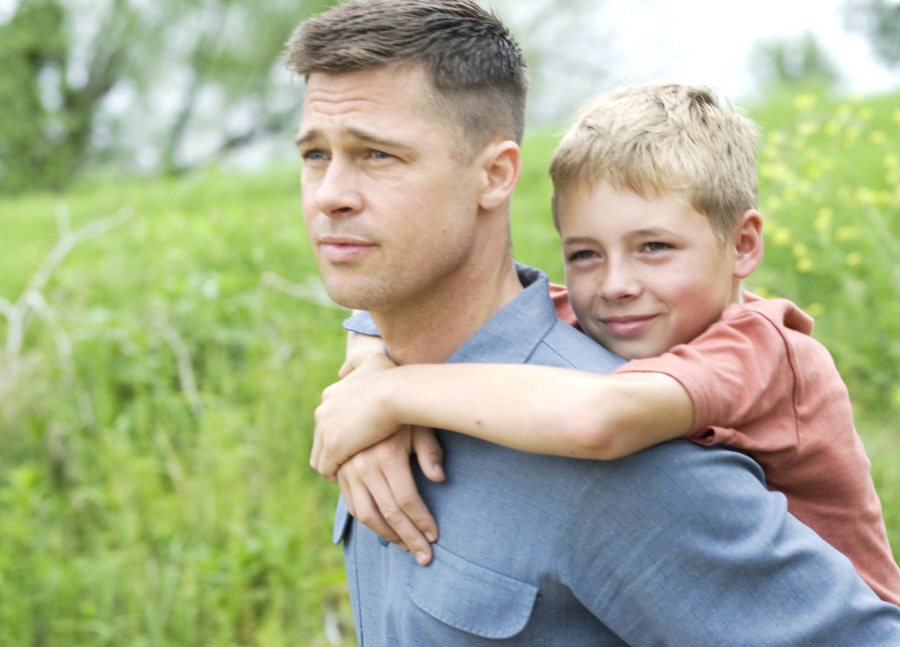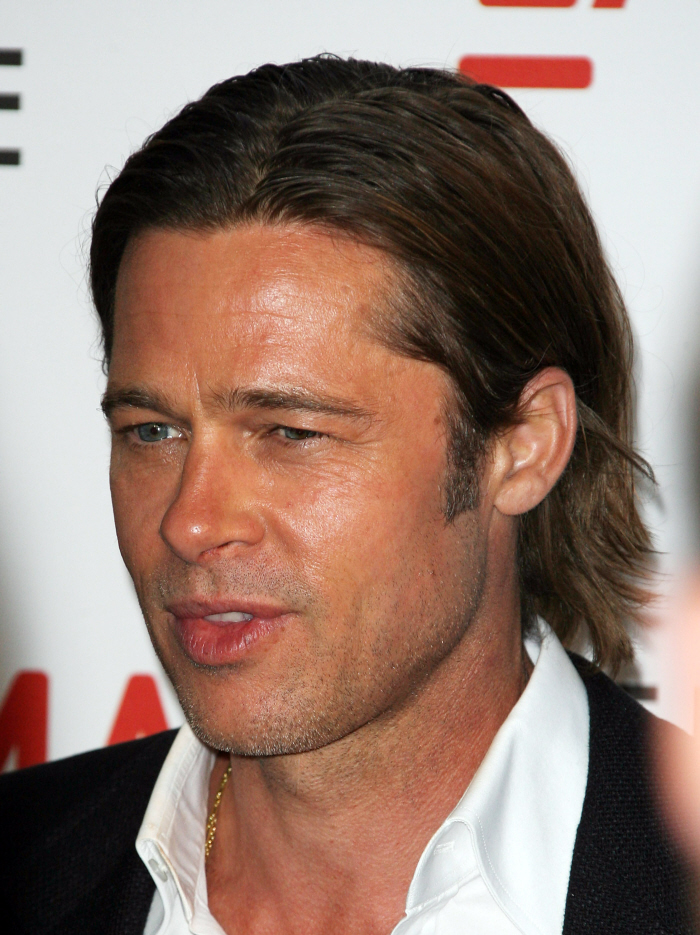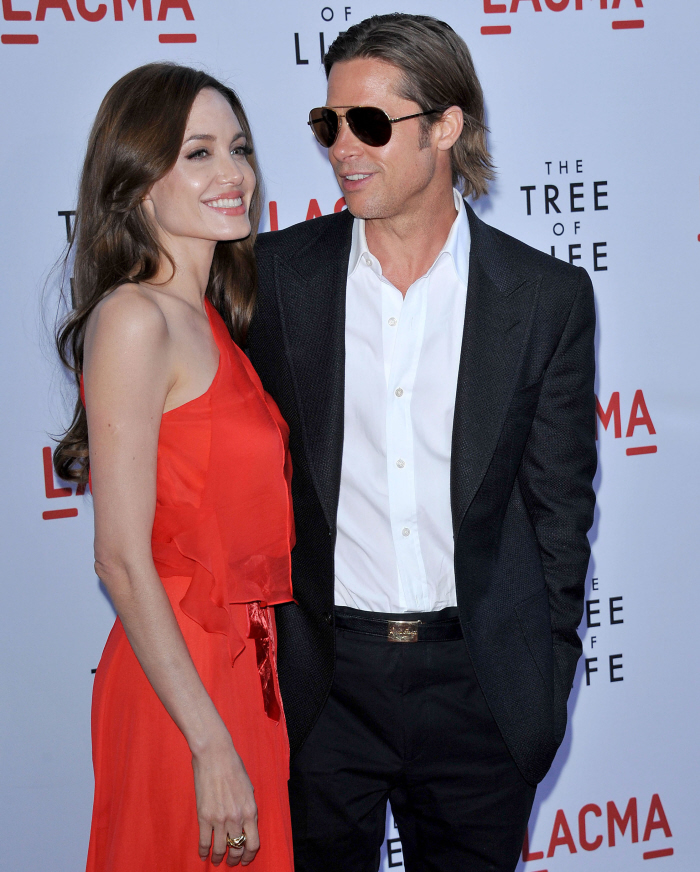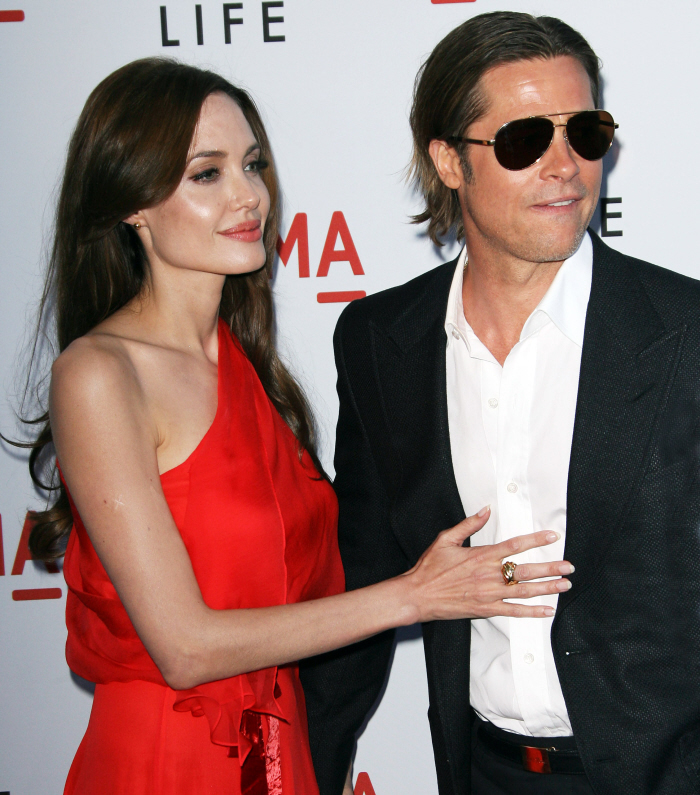 Photos courtesy of WENN, Reporters Magazine, and a promotional image from Tree of Life.