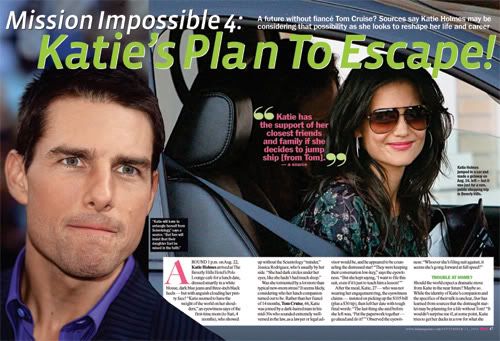 Someone blabbed to Star magazine that they overheard Katie Holmes having a legal-type lunch meeting in which it seemed like she was plotting to leave Tom. Given the vague content of the supposed conversation, however, it's just as likely that she's planning on suing someone in Hollywood for reneging on a contract:
"They were keeping their conversation low-key," says the eyewitness. "But she kept saying, 'I want to file this suit, even if it's just to teach him a lesson!'" After the meal, Katie, 27 – who was not wearing her engagement ring, the eyewitness claims – insisted on picking up the $105 bill (plus a $30 tip), then left her date with tough final words: "The last thing she said before she left was, 'Put the paperwork together – go ahead and do it!'
In my opinion, Katie saying she wants to teach "him" a lesson means nothing. She really could be talking about some no-good producer who promised her a role.
Everyone wants Katie to leave Tom, and it's possible that was what this meeting was about, but it really seems like Star is jumping to conclusions. They even show how easily a helicopter could fit into the back of Tom's estate to whisk Katie and non-existent Suri away.
If Katie was having a "secret" meeting to plan on leaving Tom, would she do it at the popular "Beverly Hills Hotel?" I doubt it. She would whisper to some guy posing as a shoe salesman at Barneys. She wants to file suit for some other boring reason, and we'll find out what it is soon enough. Of course I hope I'm wrong, though, because that would be good news indeed.
Thanks to popbytes for the Star scans and quote.