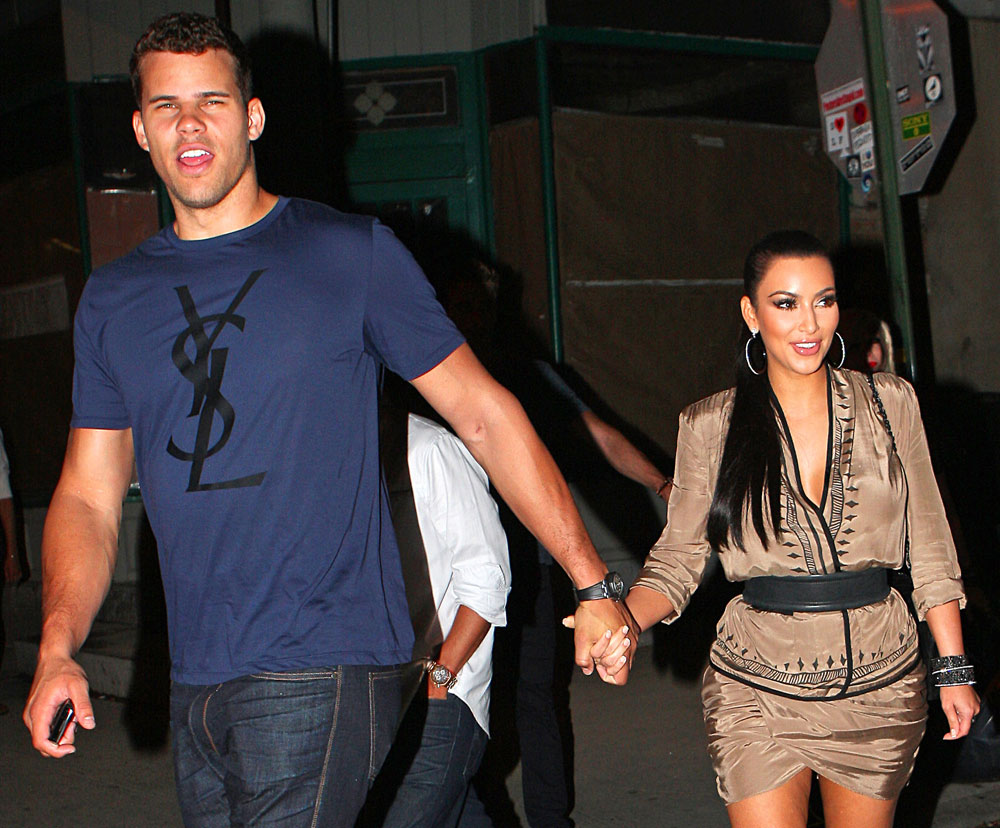 If the news of Kim Kardashian's outrageous gift registry didn't shock you, this might. Star Magazine is running a piece that states that the price of Kim Kardashian and Kris Humphries' Halloween wedding is nearly double earlier reported figures. Kim has a guest list that totals over 1,000 people and is having such a huge extravagant bash that costs are quickly getting out of control. Well we did hear that Kim wanted to out-do the royal wedding.
While some have speculated that the price tag for the blowout event [Kim's wedding] will be around $10 million, that staggering number has already doubled, Star has learned. And insiders expect the $20 million to continue ballooning as the big day, which is reportedly Oct. 31, approaches… (By comparison, Prince William and Kate Middleton's April wedding cost about $60 million.)

The couple will have a jaw-dropping number of loved ones on hand to help them celebrate. "There's no location yet, but Kim is already inviting at least 1,000, and the list is getting longer," says an insider. "The original idea was to have a wedding on each coast, but now she wants one huge wedding…."

Every element of Kris, 26, and Kim's extravaganza will be fit for royalty. When she leaves for the ceremony, she wants everyone watching her as she waves," says the insider. "Just like William and Kate!"
[From Star Magazine, print edition, July 18, 2011]
Read that last paragraph. Kaiser pretty much called it in this earlier story. She wrote, "when [Kim] exits… and gets in her solid gold carriage, she really thinks that all of the peasants will come out and wave to her as she rides by."
Do you think Kim is going to encourage guests to come in costume? I'm more outraged by the fact that she's pre-opting a great holiday with her wedding plans. It's arrogant to ask people to skip Halloween with their family, but that's Kim. You would think she'd schedule it for another day, and not give up the opportunity to wear another bikini disguised as a costume.
In never ending related news about Kim, Hollywood Life reports that Kim and Kris are in talks for their own reality show. (Presumably with E!, although they don't specify.) Of kourse, that's to be expected. They write that the negotiations depend on whatever contract Kris gets with an NBA team. He's now a free agent, but if he ends up with a team that restricts outside work for players he might not be allowed to appear in his own show. If that's the case they'll just use footage of Kim and Kris for Keeping Up With The Kardashians.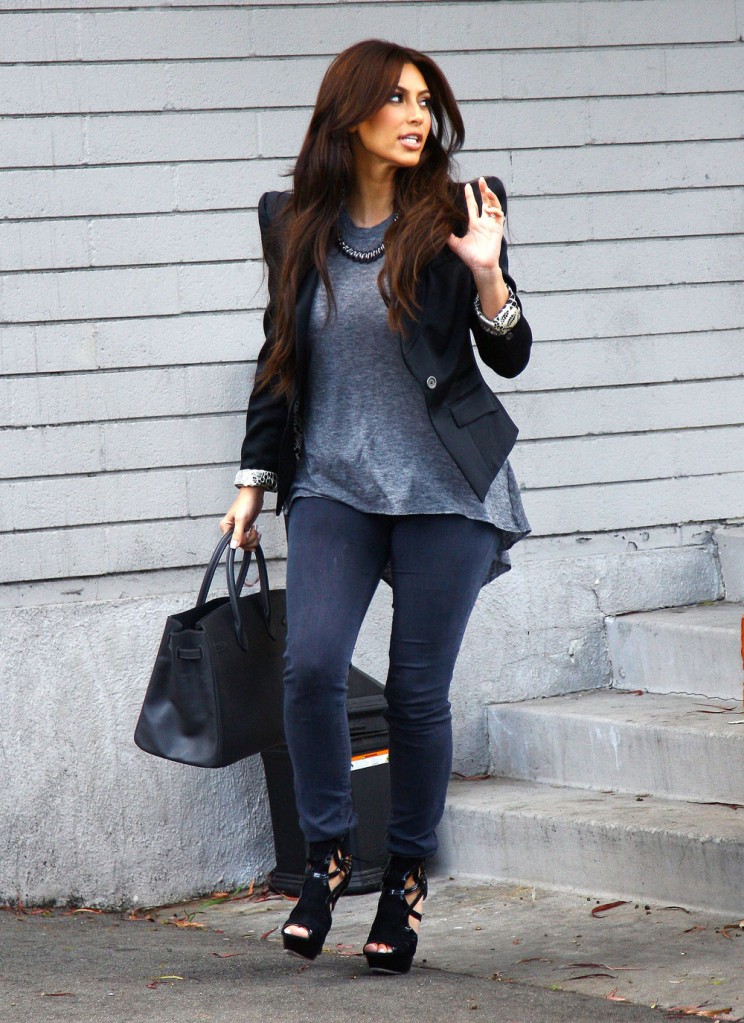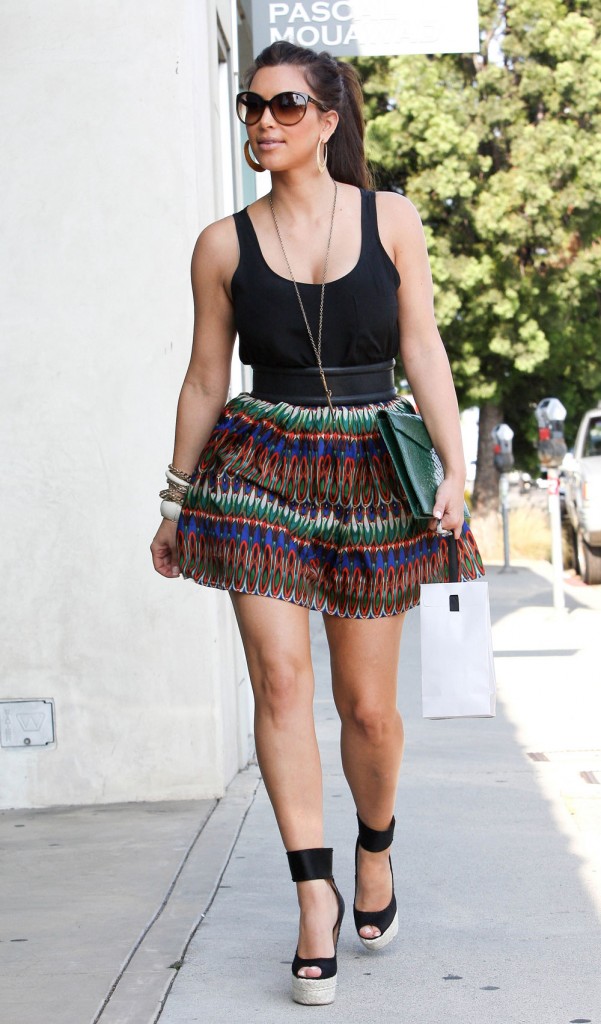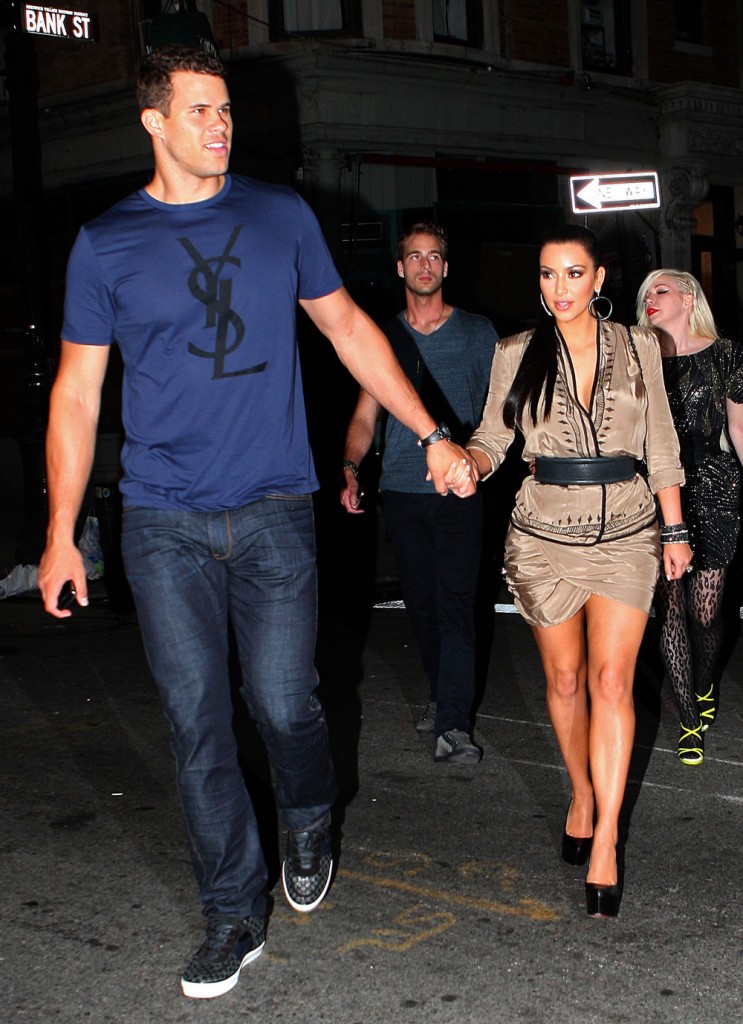 Kim and Kris are shown out in NY on 6/24/11. She's also shown out yesterday on 7/7 (jeans) and on 7/6 (skirt). Credit: Fame.