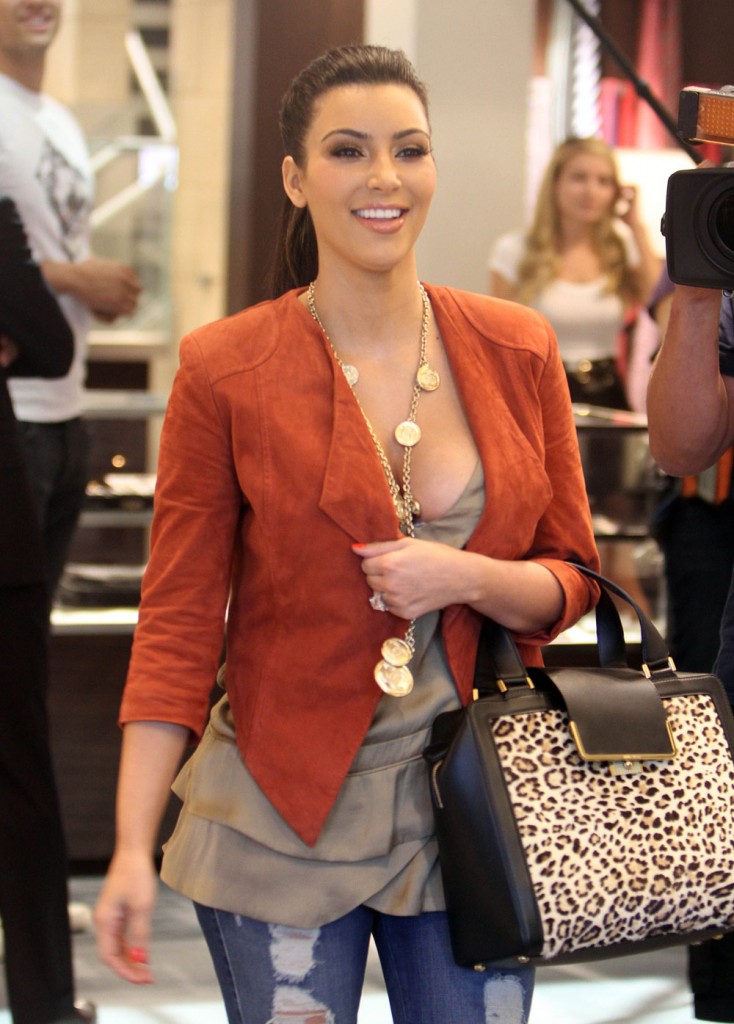 What do you get for annoying famewhore with enough worthless luxury goods to fund the budget of a small municipality? More luxury goods! Kim Kardashian has registered for gifts for her wedding (scheduled for Halloween with no sense of irony) and it's alternately amusing and anger-inducing. Kim wants a bunch of krap, predictably, and instead of earning it herself by pasting pre-written ads into Twitter or showing up to the opening of a toilet, she's asking her wedding guests to buy it for her. This is a time honored tradition for weddings that aren't funded by product placement, photo rights sales and reality show networks.
Crystal napkin rings, a $175 mustard jar, $6,000 vases and WAY more! Kim Kardashian and fiance Kris Humphries have given their wedding guests a plethora of suggestions on what to get them for their upcoming wedding. The couple registered at GEARYS, an upscale luxury seller of jewelry and homeware in Beverly Hills.

The prices vary — from a $12.50 cloth napkin to a $7,850 crystal vase. The reality star and her NBA beau would also like a $1,650 silver-plated coffeepot and 24 five-piece silverware sets, each costing $1,600. (That's $38,400 worth of Torchon dinner place settings on one registry.)

Although Kardashian, 30, isn't a big drinker, she and Humphries, 26, have requested 24 Baccarat Vega champagne flutes, each costing $130. They've also requested 24 of the Baccarat Vega goblets, which will set one back $125 each.

The duo only began dating in December 2010, but Humphries popped the question to his reality TV star love in May 2011. Khloe Kardashian joked that her sister Kim's wedding is "going to be royal wedding number two!"

According to the couple's registry, Kardashian and Humphries will say "I do" on October 31, 2011.
[From US Weekly]
You can see Kim and Kris' gift registry here. I made a quick spreadsheet to tally up the cost of the items remaining, and it comes to $176,478. That's chump change for a family that's estimated to be worth $65 million and who stand to make $5 million plus on this wedding alone. So why can't Kim buy her own $40k worth of place settings and ask guests to donate to charity? They could even funnel the money to that sketchy church-based charity her mom uses as a tax shelter.
It's all about the money to the Kardashians, and it's only the best for the star who fueled it all with a sex tape and is capping it off with a wedding to a guy she's been dating for a whole six months. Kim told Jay Leno last night that she's been with Kris for eight months, but she just broke up with Gabriel Aubry in December so that's not true. She also said there wouldn't be sponsors for the wedding and they "hadn't made up their minds" whether the wedding would be filmed. What a joke. She did confirm that there was a prenup, and said that she would have a hyphenated name, Kardashian-Humphries. You know she's going to be under a lot of pressure to pop out a kid fast to keep up the family business.
Last night on Leno, Jay attempted to set fire to Kim's $2 million engagement ring in an attempt to see if it's real. I guess diamonds will not catch fire. (Sources told Gossip Cop not a decoy. Whatever.) The ring immediately burned up and turned black, and then Jay brought out the real one, showing that he'd just used a zirconia to do the test.
Kim also addressed the "affair" rumors and said she's "never heard of the guy," and that "it's so crazy to me that any random person can make up a story, call up a tabloid." She added "these kind of people should really be ashamed of themselves for trying to get publicity off of people they don't know." That's so ripe coming from a woman with no sense of shame.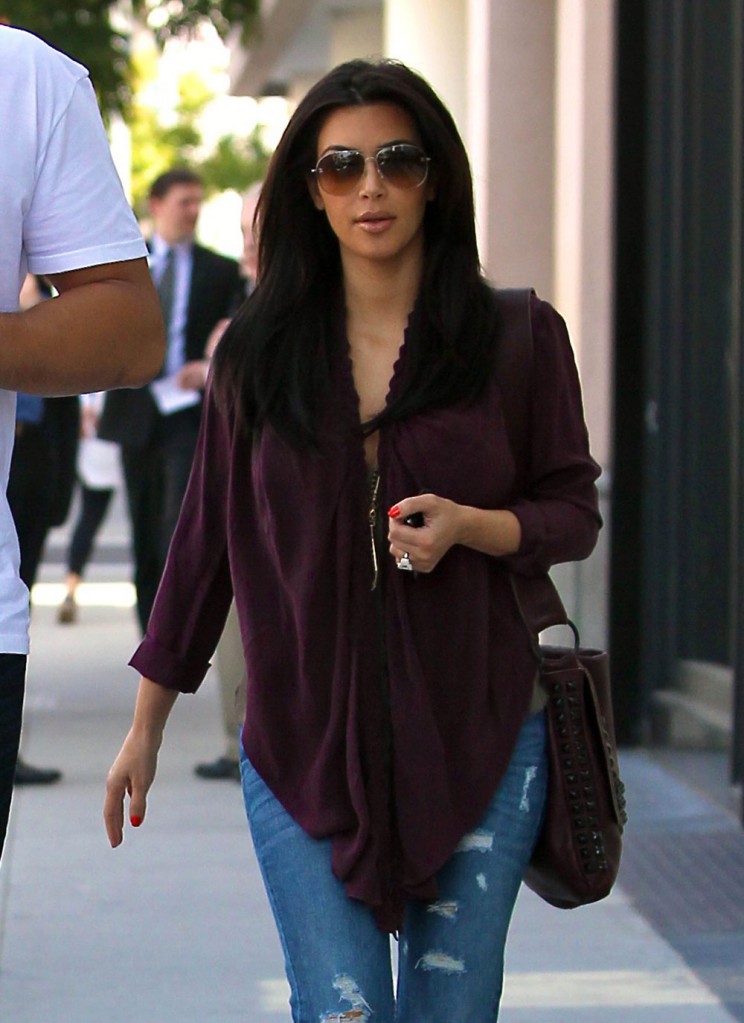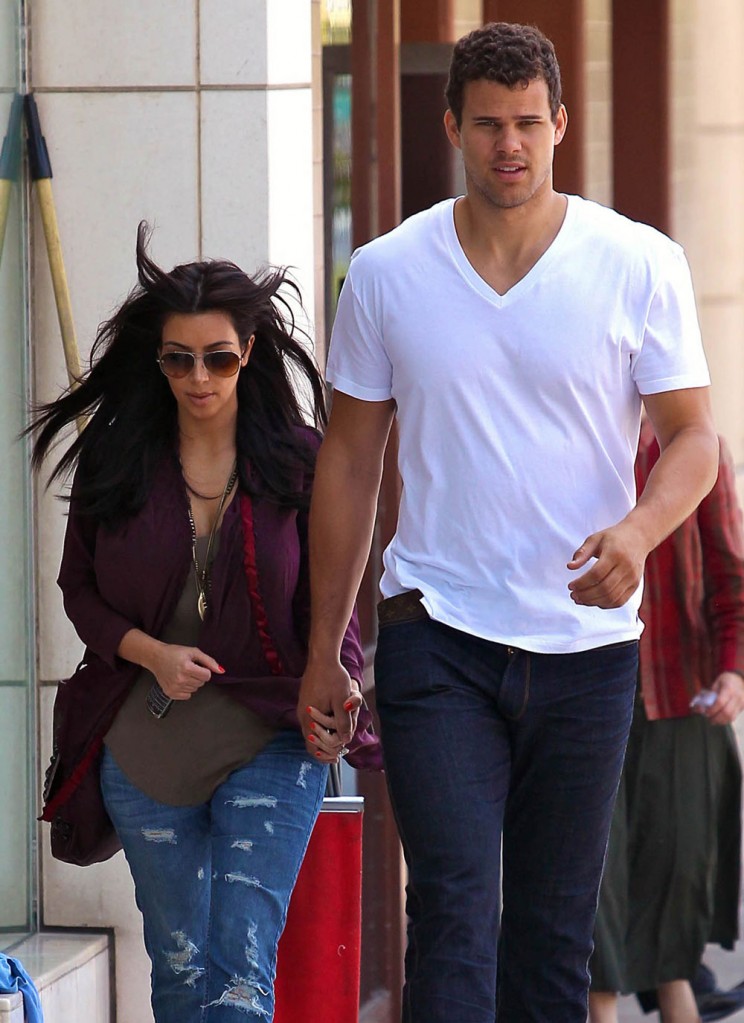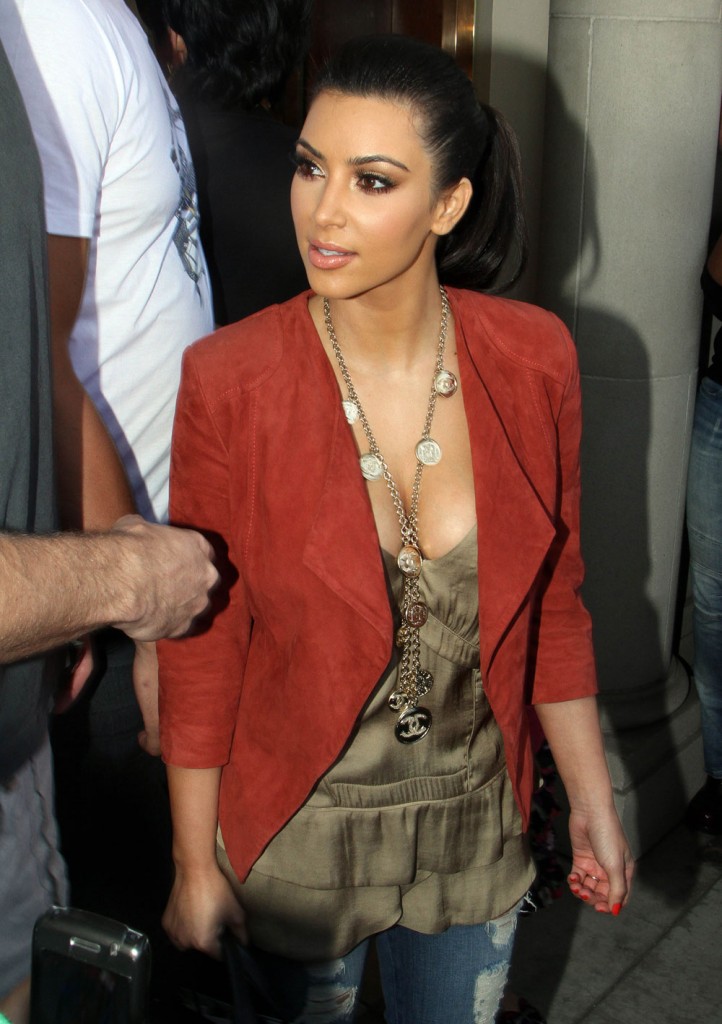 Kim is shown out on 6/13 and 6/14/11. Credit: Fame