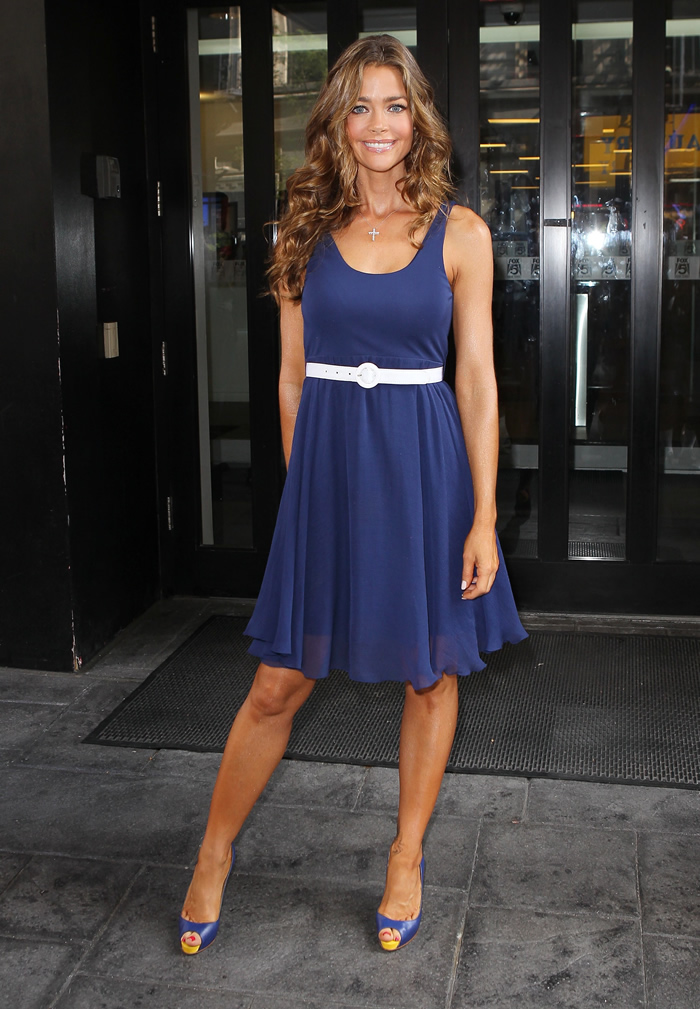 Denise Richards is making the rounds to promote her memoir, The Real Girl Next Door, which she takes great pains to explain is not a Charlie Sheen-bashing book but, instead, will share their beautiful love story. She really could've spared us that detail, but Denise has also been very busy lately adopting a baby girl and holding a baby shower. Plus, she's currently in the midst of her morning show tour. These photos are of Denise outside her visit to FOX studios, and it looks like someone got a wee bit carried away with the sparkly arm stuff. I love the color and swishiness of the dress, but Denise looks like she's auditioning for a role as Breaking Dawn extra: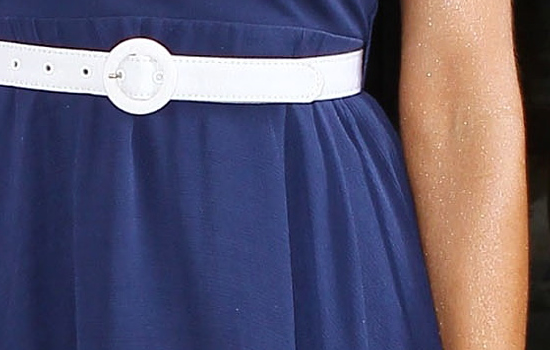 In addition, Denise also popped over to the "Today" show and chatted for awhile with Matt Lauer about her book:
On Her Relationship With Charlie Sheen: Well, everyone asks me why I married him, which I get into in the book. but — and the man I fell in love with is very compassionate, humble, has a wonderful heart, and the behavior that a lot of us saw in the last six months is not the person that I met and fell in love with. The details of our actual divorce are private between Charlie and I. I get into, in the book, more about how I felt. I think a lot of women and men who are going through divorce can relate to the feelings of being angry and scared and guilty and whatever. That's what I wanted to touch on and hopefully be relatable to other people instead of the details of what actually happened.

On Shielding Her Daughters From The Warlock Phenom: As far as the media, I shield them completely but there's a few things they would hear, you know, through other kids. And there was a point where I — the recent stuff of everything that we all saw on the shows and all of that I did not discuss. But I did have to have a conversation with them about addiction and got a book to read to them because I was just lying to them so much and covering up and telling lies. It was just getting too confuse confusing that I needed to sit down with them.

I think it's too early. They're so young. I think that they — the book is written for children, so I think they did comprehend some of it. As they get older, they'll learn more as needed. But I told them enough that they needed right then. I think for them to make sense of some things that were going on.

On Rumors That She Broke Up Heather Locklear and Richie Sambora's Marriage: It was extremely difficult. And if I did break up a marriage or have an affair I would — I've been through so much, I would admit it and take it on the chin and admit my mistakes. I could have handled that situation different. But the fact of the matter is he was divorced, I was divorced, and then, you know, we got together and that was what happened. I get into a little bit of that.

On Why She Wrote The Book: I went through so much. I couldn't get a job. I was dealing with my mom dying who did die. I was going through a horrible divorce. All these awful headlines. And it was a very difficult time. And also with Richie, his father was diagnosed with cancer two weeks after my mom and they both had passed away shortly, you know, after that. So it was very hard. I want someone who is going through a decision, whether it's divorce, lost their job, whatever it is, and you feel — I hit rock bottom. And to have hope that you can get to the other side and there is light at the end of the tunnel.

On Whether She's Worried About Charlie: Of course. He's the father of our daughters, and I still care very much for him and want him well. But he's also a survivor and if anyone can pull themselves together, it's Charlie.
[From Today]
I give major props to Denise for her continued attempts to maintain diplomatic relations with the likes of Mr. Deluded Tigerblood. It's always difficult to put on friendly airs with an ex-spouse for the benefit of the children, and I can't even imagine how awful it would be to do so when that ex just happens to be Charlie Sheen. One day, Sam and Lola will grow up and read about their father's unhinged, drugged-up behavior, and they'll realize that their mother was doing the correct thing by protecting them from the spectacle during their formative years. So Charlie isn't and will never be truly "winning" in life or as a parent. Denise is the real winner here.
Here's video from the "Today" appearance as well: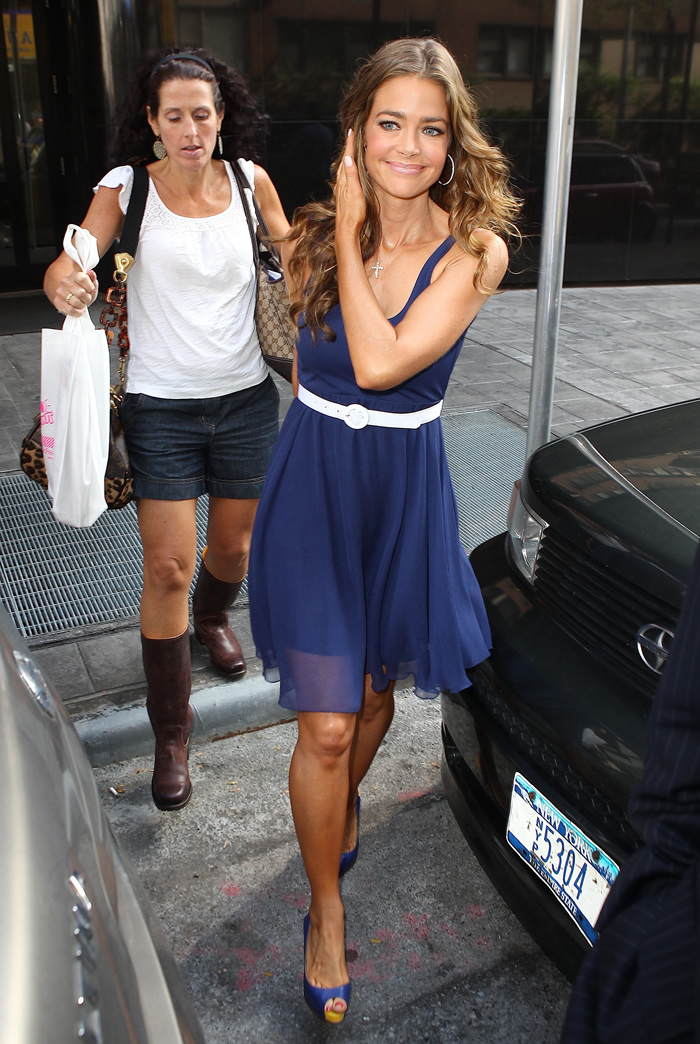 Photos courtesy of WENN