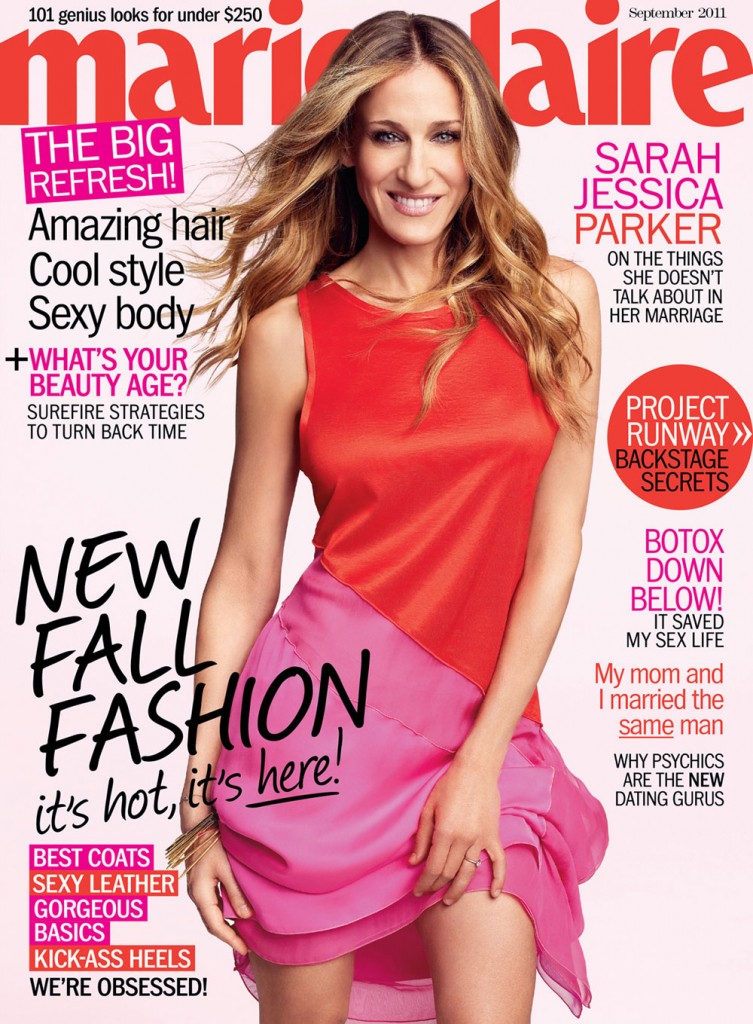 Here we go again with Sarah Jessica Parker declaring how she's so normal and multi-tasking. This seems to be her preferred topic of conversation, and in case you think I'm exaggerating you can read all about it in these interviews. Parker is on the cover of Marie Claire this September, and I guess she's promoting I Don't Know How She Does It with Pierce Brosnan, which is out on September 16 in the US.
In the interview, Parker takes offense at a NY Post story that claimed that she tried to ditch jury duty and called it "character assassination." She also said that she works hard not to trade on her image or take favors because she's famous.
On a Page Six item claiming she complained about being called for jury duty: "For Page Six to be so cavalier – I was so outraged by the character assassination! I have served so many times, I was asked to come speak at Jury Appreciation Day! I expect I should be more calloused by now, but I am so sensitive about not ever living up to anybody's worst idea about an actor who is well-known."

On not wanting to be a celebrity: "I never wanted to be a celebrity; I never wanted to be famous. And in my daily life, I work really hard to not trade on it in any way. I am so desperately worried about anybody saying, 'She cut in line' or 'She took our table' or She got out of jury duty' or 'She doesn't do her own grocery shopping.' The things that bother me are counter to who I am and the way I live. It's not like it's hard to be decent and respectful and well-behaved. I do wait in line, and I do take the subway, and I do do my own grocery shopping, and I do take the kids to school."
[From Marie Claire]
Parker is part of the rarefied set in New York, where people like Linda Evangelista claim they need $48k a month in child support so they never have to be alone with their kids. To her it is laudable to have nannies that don't stay overnight and to walk her child to school when it's not like she has to be somewhere for eight hours that day. She wants some credit for that because her friends aren't doing it and it's going above and beyond what's expected of parents in that world of the obscenely rich. It sounds insincere to the rest of us who do it on our own and hold down regular jobs, though. It only serves to reveal how disconnected Parker is from the people she supposedly strives to emulate. It's like she wants credit for doing normal things, because that makes her so different and somehow more real.
Also isn't that cover kind of fug?
Photos thanks to Marie Claire