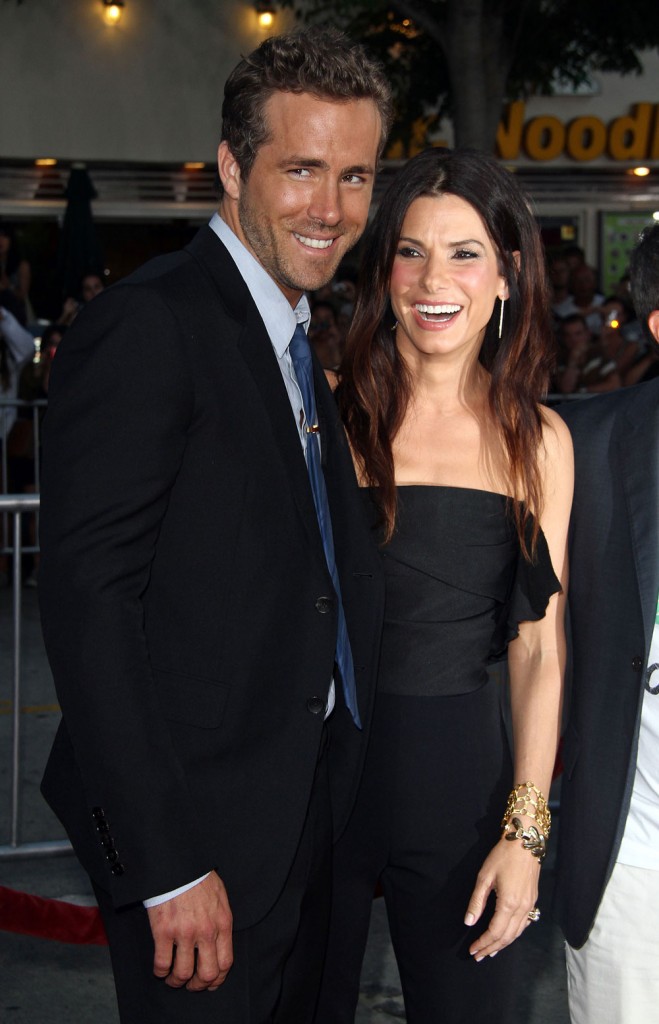 Oh this story made me squeal and clap my hands a little! Maybe it's because I've had too much coffee this morning, but I just got so excited to see the new photos on TMZ of Sandra Bullock and Ryan Reynolds hiking together, with Ryan carrying Sandra's son Louis in a backpack! The photos look like they were captured on a cellphone camera, and they were probably sold to TMZ for some decent cash. Here's the story:
Sandra Bullock and Ryan Reynolds hooked up … for a friendly hike in the Wyoming wilderness — along with Sandy's adorable son Louis Bardo.

Ryan carried Louis in a backpack during the nature walk through Grand Teton National Park last weekend.

The trio is vacationing in Jackson Hole with a few other friends.
I remember US Weekly running a cover story early this year that these two had hooked up and were together, and back then Radar reported that they were sneaking away for private getaways in Wyoming, where Sandra owns a house. Then Sandra said that Ryan was not her "lovah" and we sort-of believed her since she pronounced it all adorably like that. When she showed up to support Ryan at the premiere of The Change Up everyone thought that she was doing it as just a friend, since she probably wouldn't be that bold if they were sleeping together. I don't know now, though, and find it romantic that they're going on vacation and hiking together. The fact that Ryan is carrying Louis on his back suggests to me that there's more there. Fingers crossed! Maybe Sandy's "New Life" is way more interesting than she's letting on.