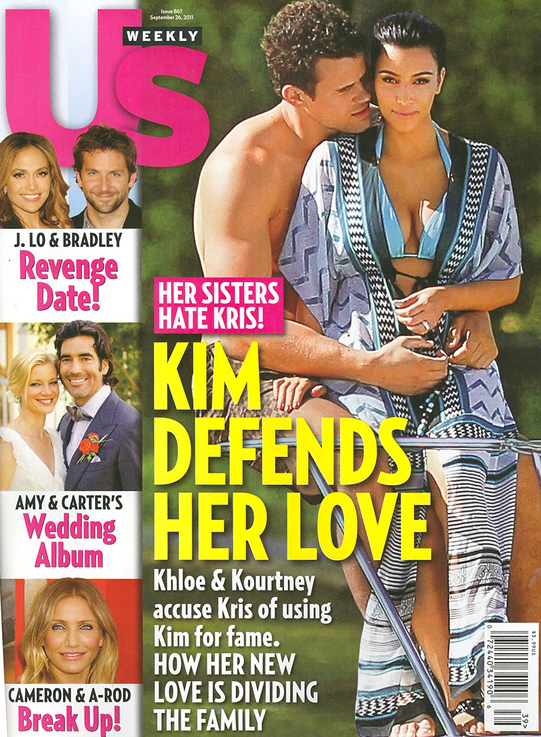 Kim Kardashian dramz took two tabloid covers this week, Star Mag and Us Weekly. In addition to those cover stories, every other tabloid is carrying a major story about Kim and Kris Humphries and their troubled union. It seems like Kim and Kris are experiencing the dreaded "Three Week Itch". You know, that thing that EVERY married couple experiences when they realize that three weeks into the marriage that they only got hitched for ratings, a new storyline, free stuff and magazine covers? Or maybe the whole "marriage in trouble" storyline was ALWAYS part of the deal, just another way that Ol' Kat-Face could remain ass-ahead of her sisters. Whatever the deal is, here's what's going down:
-Us Weekly says that Kris Humphries was "really rude" to a group of photographers waiting outside the rehearsal dinner before the wedding. A source gasps, "In Kardashianland, you just don't do that." Kourtney and Khloe think Kris is a "weird, big, clumsy oaf," and have been giving him the cold shoulder, so it's been super awkward having him around. Kim cut footage from the show because it was so tense between Kris and her family. "They were grilling him, and he was being a dick," an insider says.

-Us Weekly also says that Kris thinks Kim is materialistic: Kim had a meltdown over losing a $75,000 earring in Bora Bora and Kris called her "materialistic." In Bora Bora, there were rose petals on the bed, and Kim wrinkled her nose and declared them "messy." But then Kris proposed with — what else? — rose petals. And! Kim told Kris that she can't live a "lesser lifestyle," which is code for "middle class."

-In Touch says that Kim and Kris are having the "post-wedding blues." The reality has set in, and it's getting tense, because they have very different ways of living. Kim is worried about having to relocated to the middle of nowhere, if Kris gets signed by a team in an icky state. Also, Kim shops and shops and shops, while Kris is unemployed. They are married, "but financially they are divided," says an insider. Also — and perhaps worst of all — "Kris snores like a freight train."

-Star Mag confirms: "Everyone in the family hates Kris," a source close to the family tells Star. "Kris and Kim's brother Rob argue nonstop because Kris is always talking down to him … Kris asked Khloe if her husband Lamar was gay and if their marriage was a cover-up. She was offended and really ticked off!" Kim's mom has demanded that they "cool it" because "it may damage Kim's reputation if viewers see how much the Kardashians dislike Kris."

-Star's sources also say that Kris is pissed off at the "scripted" nature of EVERYTHING: "Just days before walking down the aisle Kris freaked out. He's sick of how their lives are planned out like a scripted TV show, he doesn't like how their relationship is all for the cameras …" Also, just days before the wedding, he freaked out. "Kim' mom convinced him to go through with it." Also, Kim told Kris she'd been planning this wedding since she was 10 years old, and he snapped: "Yeah, and you could just slot any guy into it."

-Star says Kris is already flirting with other women: Right before Kim and Kris said 'I 'do', Kris was reportedly spotted flirting with two mystery blondes at Hollywood hotspot Skybar at the Mondrian Hotel. "I couldn't believe it," Skybar worker Steve Werner tells the magazine. "Kris was there with one of his friends, and they were getting a ton of attention from the girls at the bar. Two blonde girls in particular caught Kris' eye, and they were getting a little too cozy, especially considering it was the week of his wedding. At one point he had an arm around each of the two blondes. They were laughing and drinking and kept asking to feel his muscles."

-Miscellaneous: Kris is verbally abusive to Kim. He'll roll his eyes when she talks. She'll try on outfits, and he'll say, "That looks terrible on you!" Plus, he was seen smoking a joint at the Skybar in Hollywood and no one does drugs in Kardashianland! There's already talk of what will happen should they get divorced. In the prenup, she gets half his money, but he gets nothing of hers. Also: Kris isn't wearing his wedding ring. "The romance was so rushed," a source close to Kris says. "This marriage will not have a long shelf life."
[From Hollywood Life & Jezebel]
The lone desenter in the tabloid herd this week is OK! Mag, which claims that Kim, Kourtney and Khloe are in some kind of "baby war" as to who can get knocked up the fastest. All three sisters seem to be talking about babies, thinking about babies, and actively trying to steal and eat babies (I'm assuming). Wouldn't it be funny if the only stud sperm that worked in inhospitable Kardashian womb was that of Premo Stallone?
The photos of Kim in gold are from last night's NYFW event – I like the dress but it's too tight and too Vegas. Her Size 4 is spilling out.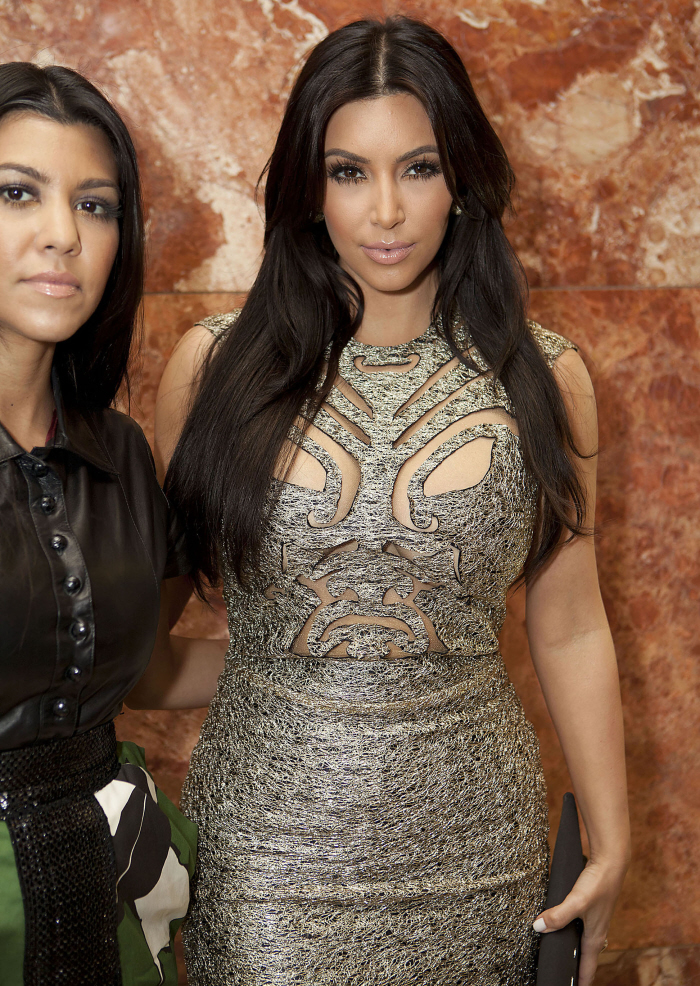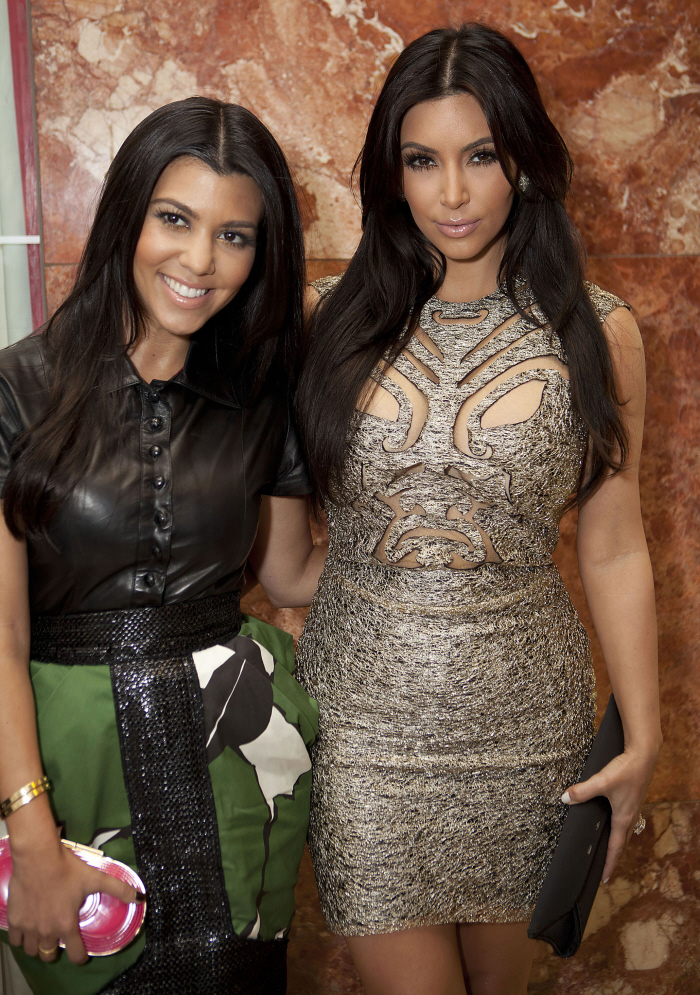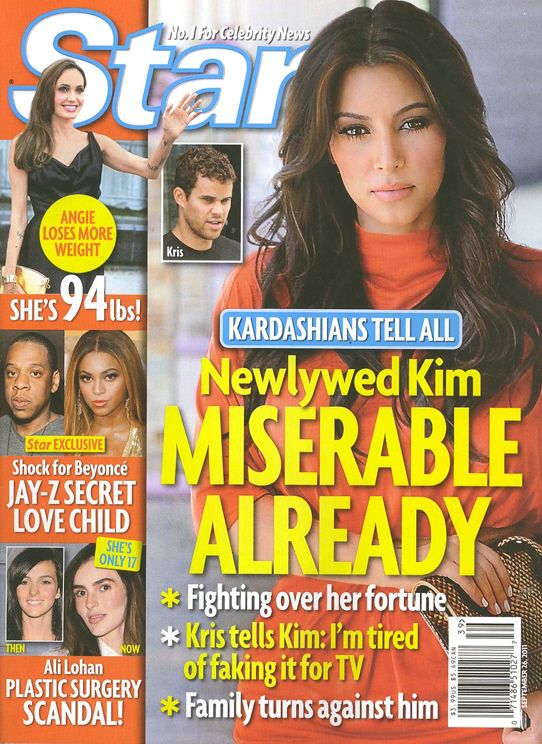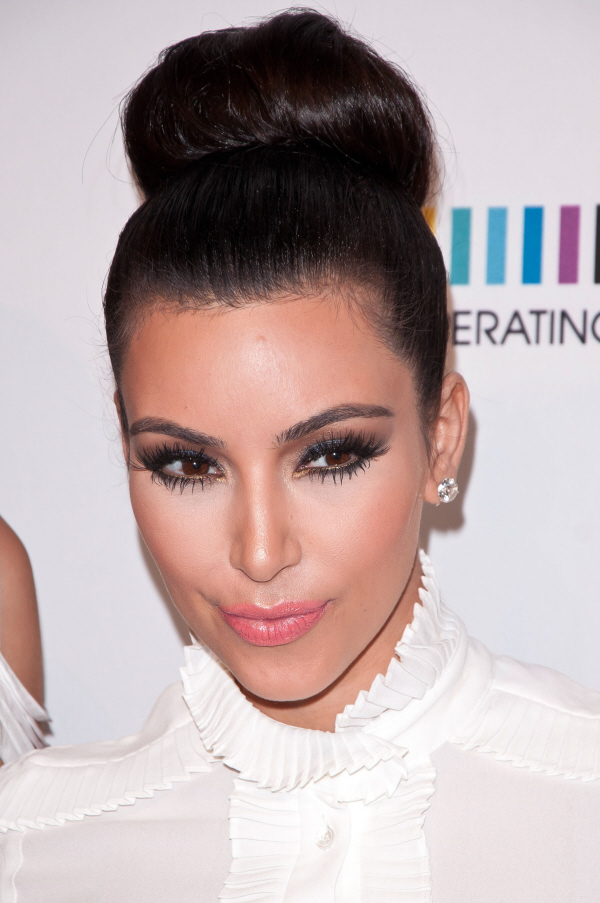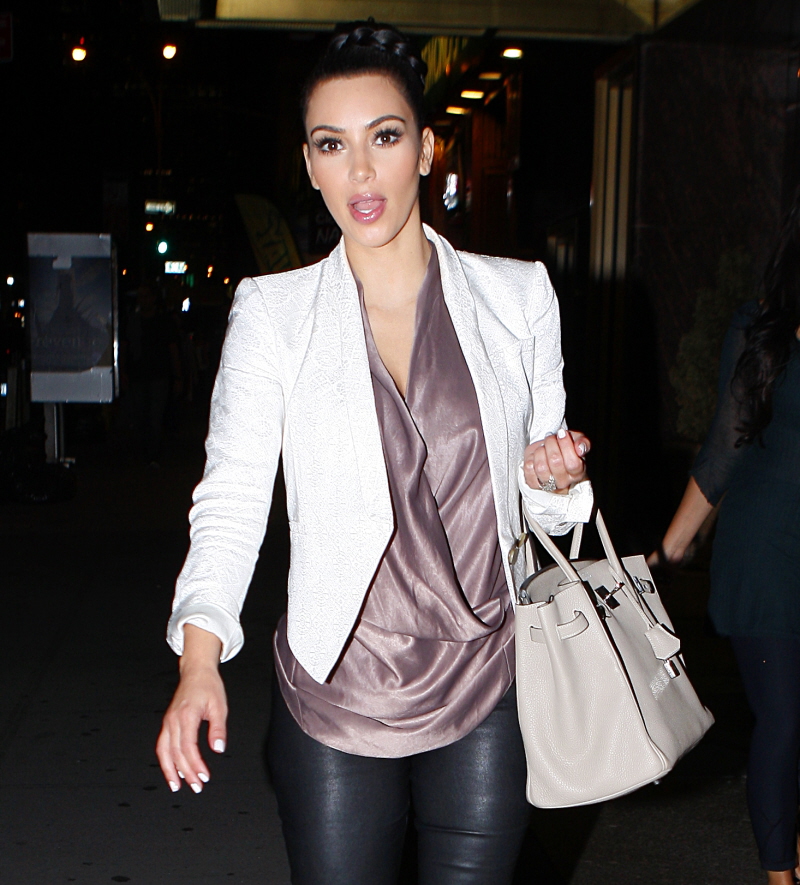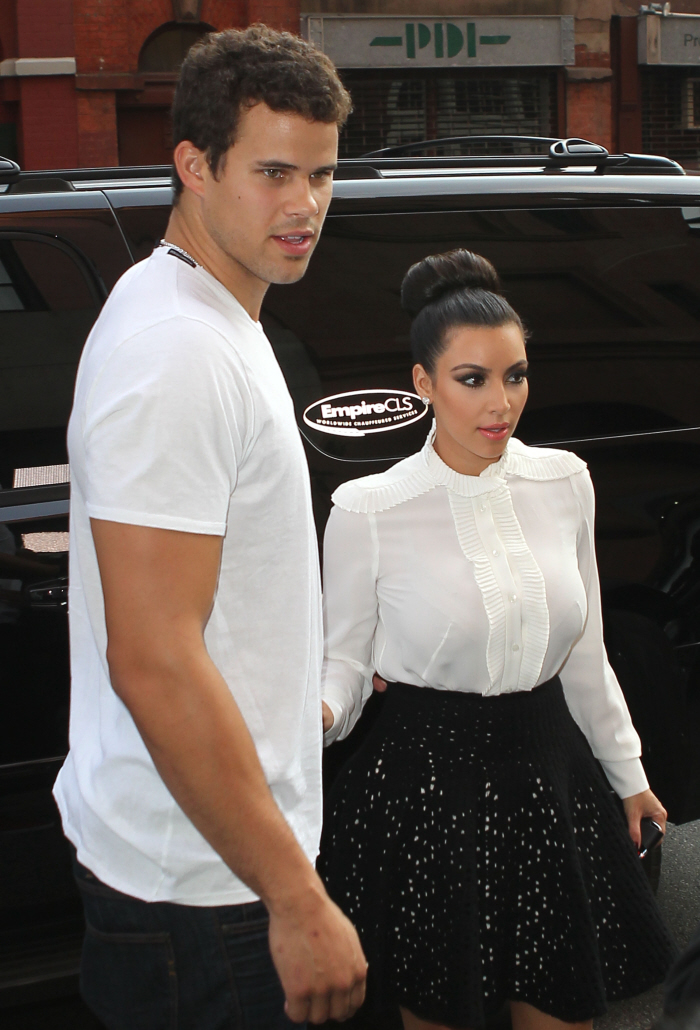 Covers courtesy of Jezebel, additional pics by WENN and Fame.