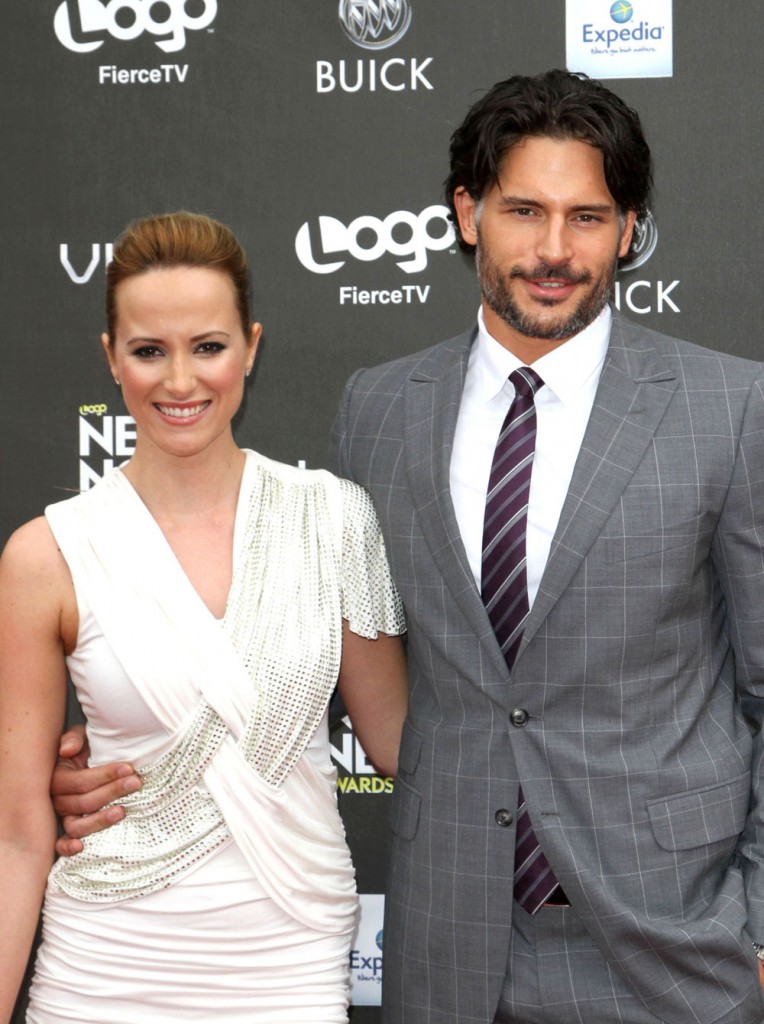 Kaiser sent me this lead yesterday and I just kind of shrugged and ignored it for a while. Joe Manganiello used to be a crush of mine, until he opened his mouth and words fell out, pretty much. He's hot enough on True Blood and is super beefy and all, but after reading his "25 Things You Don't Know About" I was completely over him. If you don't remember it or missed it, you should read it for a laugh. It was worse than Scott Disick's 25 Things, truly, and included diddies like "I shaved my head twice and got my front teeth pulled out for stage roles in college," "I won third place in a chess tournament when I was 6," and "I made the junior Olympic volleyball team when I was 16." So after that I found him self-obsessed, braggy and dull. His appearances on True Blood this season kind of brought it home for me, and his "acting" seems wooden and one dimensional.
Anyway Joe broke up with his fiance, and for some of you that might be good news. I don't care if he's single, but I wouldn't want to spent a half hour talking to him either. (Screwing him, maybe, but only if I was very drunk.) Oh and he was spotted out chatting up Rose McGowan. She's perfect for him.
True Blood's Joe Mangeniello and fiancee Audra Marie have called it quits, multiple sources confirm to Us Weekly.

"It's totally over," one pal says.

Adds another insider: "It was a long time coming. They'll both be better off for it."

Manganiello's rep does not comment on his personal life.

After about a year and a half of dating, the hunky star, 34, and the model-actress announced their engagement in October 2010; he popped the question during a vacation in Italy.

At the time, Manganiello gushed to E! News of his love: "I always dreamed of finding someone who is beautiful and sweet, equal parts. And I did. From there she's just unbelievably understanding and compassionate and patient from all the craziness that comes from this job and lifestyle."

But by spring 2011, a source close to the actor noted he "refused" to set a wedding date. "He [went] completely quiet about discussing wedding details," the source said.

As his then bride-to-be forged ahead with choosing her wedding dress, her bridal party and even her gift registry, "He [was] clearly having reservations."

Manganellio hasn't exactly gone into hiding in the wake of the split. On Monday Sept. 12, he hit the W Hotels' Fashion Next bash for Mercedes Benz Fashion Week — where he and actress Rose McGowan sat and chatted together for a while and sipped champagne.

"I was surprised how long they chatted for," an onlooker says.
[From US Weekly]
At least he said sweet things about his girlfriend while they were together, that's something. I used to be a fangirl, judging from this earlier article I wrote about his engagement. So I decided to watch some random interviews with him to see if I was judging him too harshly. In this interview, the one below, he seems decent and funny. In anther interview he's flirting with the interviewer and seems really full of himself. In the decent interview he's in his hometown of Pittsburgh with his fiance, Audra. Around 2:30 she comes on and he talks about how he proposed in Italy. She shows her ring around 3:40. She seems to bring out the best in him, so I guess it's sad. He's probably thrilled to be able to play the field now though. You know he thinks he's hot sh*t, unlike Alex Skarsgard, who remains somewhat humble about his ethereally good looks.
Joe and Audra (who just split up) describe how they met around 3:40. It was at the Superbowl in 2009. He actually loved True Blood and werewolves well before he was offered the part of Alcide.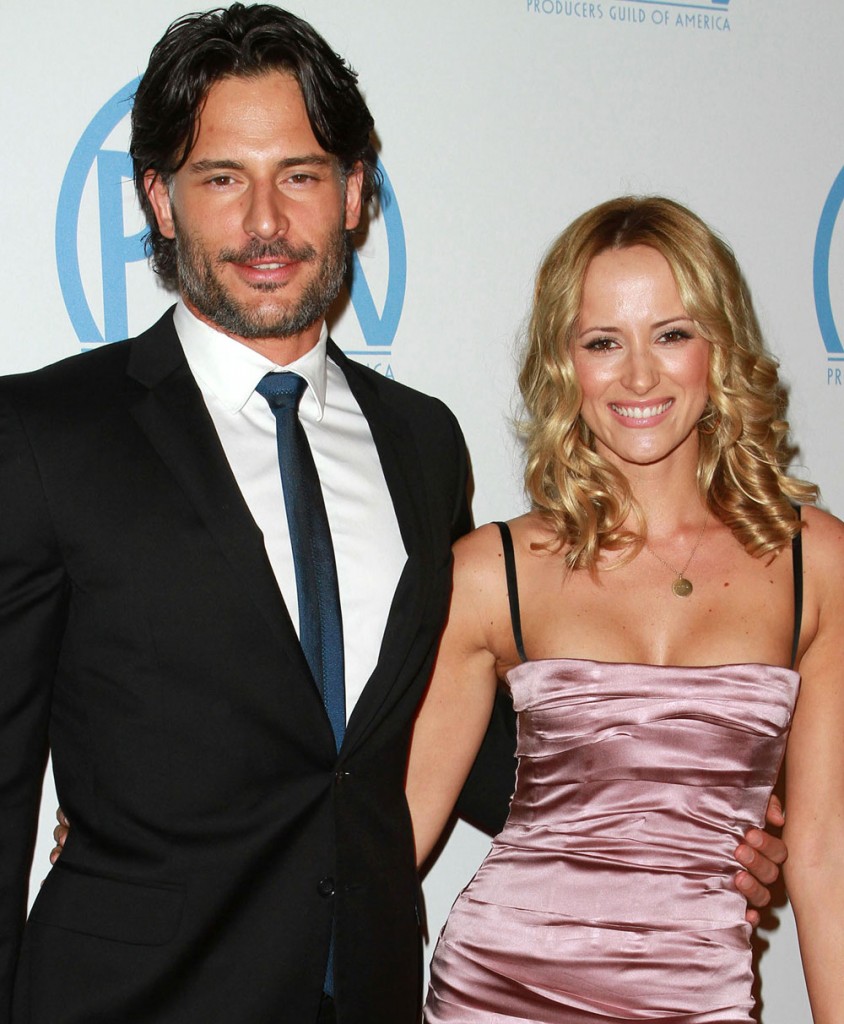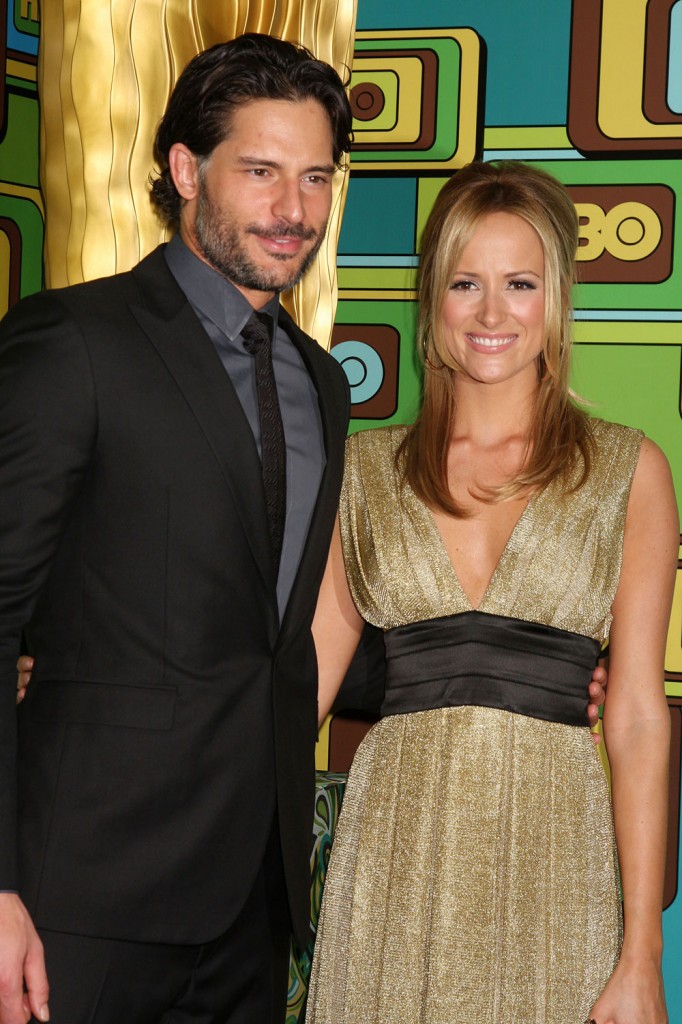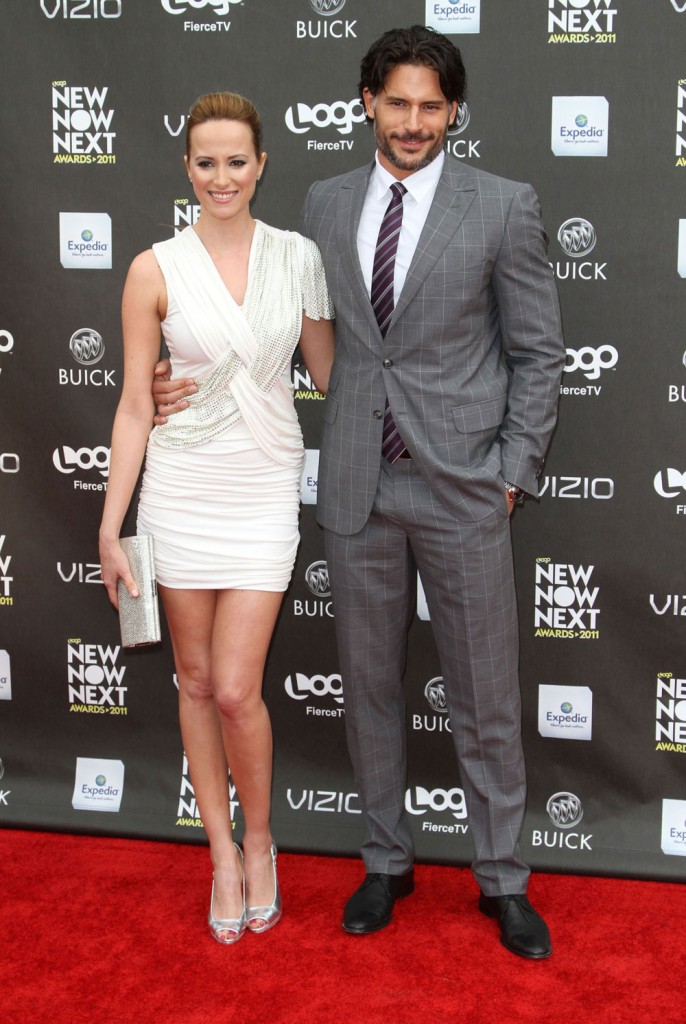 Joe and Audra are shown in the header in April of this year and in the other photos in January. Credit: WENN.com