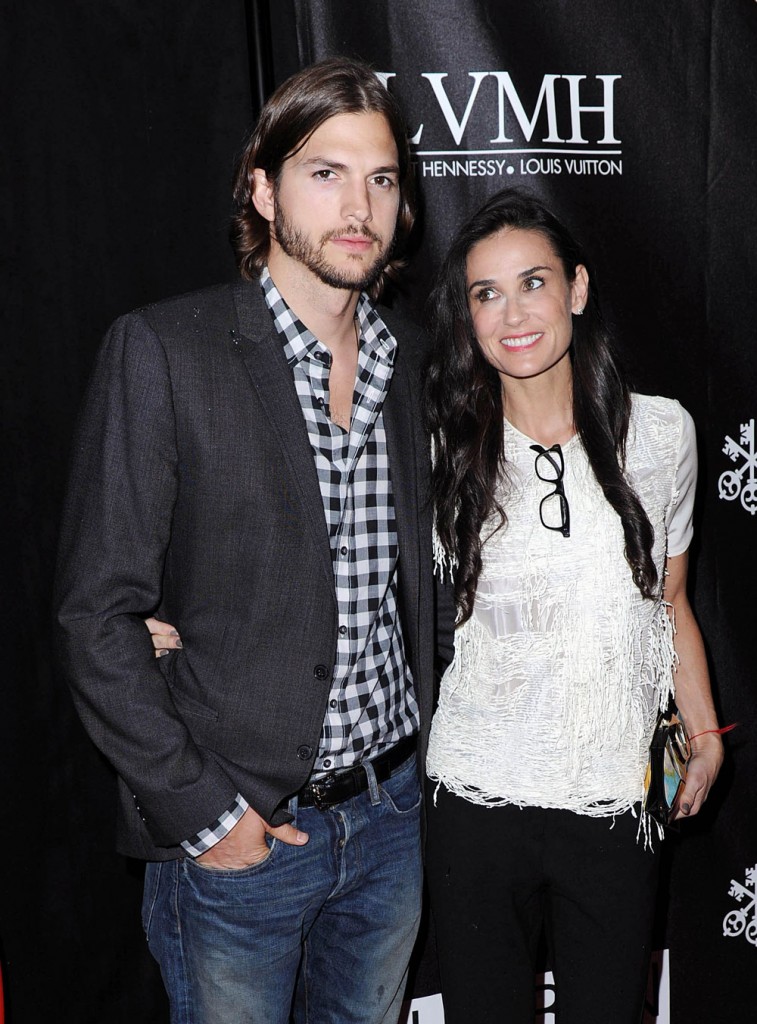 We've heard rumors that Ashton Kutcher and Demi Moore are just about to split up, and the thing that convinces me more than anything is the fact that Demi is looking so skeletal lately. She's always been thin, but she just looks upset and unwell at this point.
Anyway here's yet another rumor that Ashton is cheating on Demi. The first time we heard that Ashton was cheating was a full year ago, when a Demi lookalike sold her story and gave text evidence to Star Magazine. Ashton didn't exactly deny that report, but he threatened to sue and of course never did. Demi and Ashton made some public appearances together after that and started a sketchy charity to fight sex trafficking. Then this June we saw Ashton leaving a hotel with a "mystery blonde". They were there with other people, but it looked suspicious.
Anyway here's another rumor that Ashton is fooling around. A tipster e-mailed TheDirty.com with a story of a friend's hookup with him.
Nik, I'm going to be straight to the point. I'm a female who works at who happens to be friends with Sara Leal, probably not after this. I'm sick to my stomach over what happen last Friday night. Like most people on earth I worshiped Ashton Kutcher and Demi Moore until Ashton Kutcher f*cked my friend Sara Leal at 4:30AM technically Saturday morning in his room on the 12 floor at the Hardrock Hotel in San Diego. Ashton Kutcher told Sara Leal that him and Demi Moore are separated and the public doesn't know yet. Smooth line Ashton, she was going to f*ck you anyway. Nik if you want to verify any of this just call Sara Leal yourself or ask Deena Omari. Better yet subpoena Ashton's bodyguard who took her phone before she came into the room.
[From The Dirty]
According to the guy who runs TheDirty, the girl who slept with Ashton wants a whopping $250,000 for her story. He believes this happened, and let's face it, given Ashton's history it sounds likely even with the money grab. Do you think that more women are going to come out of the woodwork now and that it will start being a real scandal? I bet it will. (Yeah I'm hoping for one, I know that's wrong.)
I checked Demi and Ashton's Twitter accounts and neither of them have directly tweeted to each other in at least a month. Demi mentioned Ashton's involvement in some charity fantasy football league, but that's it. Check out the photos on Demi's account. The last one of Ashton with her was a couple of months ago. I bet they're over and that Demi is delaying the announcement. It's sad for them, but Demi does not need to stay with a cheater.
Update: I just read over at Lainey Gossip that these two take the cover of Star Magazine with news of their split. The title is: "World Exclusive It's Over! Demi & Ashton's $290 million divorce!"
These photos are from June 9th.