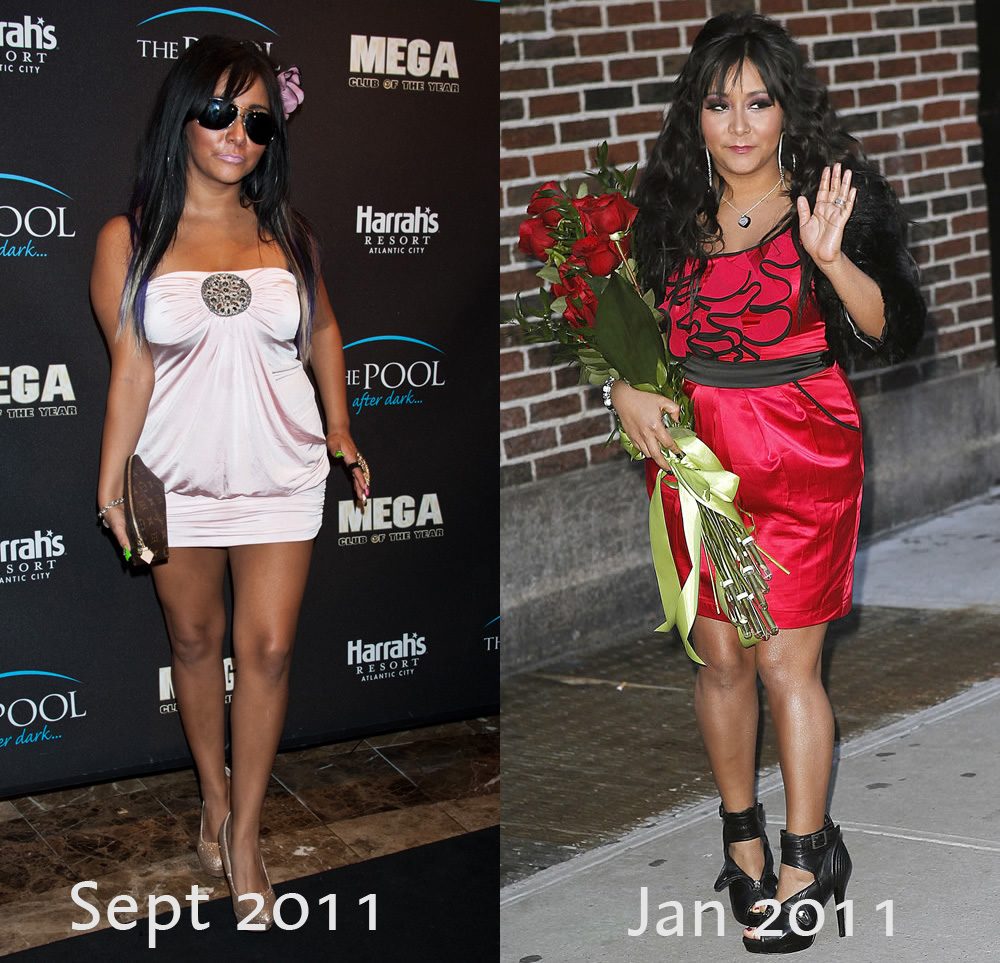 Last weekend, Nicole "Snooki" Polizzi spent her weekend much like any other in recent history; that is, she hosted a nightclub bash, this time close to home in New Jersey's Atlantic City. From these pictures, it's fairly obvious that Snooki (whlie no less orange than usual) has lost a lot of weight lately, and this has been a work in progress for most of the summer. In addition, Snooki's figure also got a story plant in People in June. Supposedly, she's lost about 15 pounds this year, which wouldn't be considered "drastic" but for the fact that 15 pounds makes a great deal of difference on a smaller frame like Snooki's. Until now, many people had believed that the Snookster had achieved this goal by hitting the gym pretty hard and drinking a lot less. However, Snooki has now admitted to having a little help from some little pills: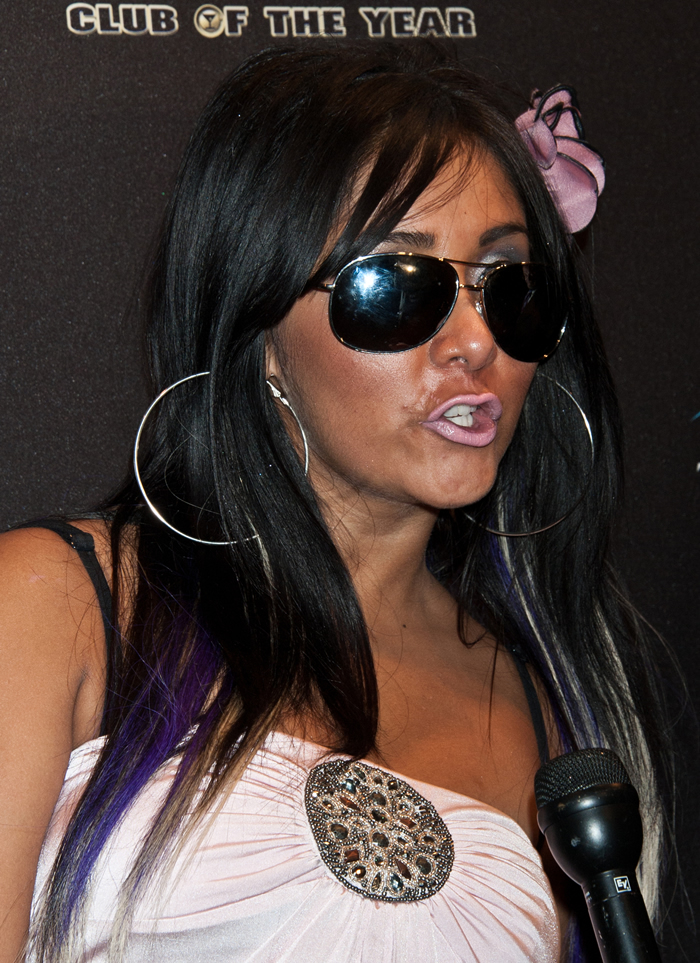 She stunned fans when she unveiled her new figure earlier this year.

And now Snooki is clearly enjoying her appearance, showing off her slimline look in a tight minidress at Harrah's Resort in Atlantic City this weekend.

But despite reports her 15lb weight loss is down to healthy eating and exercise, Snooki took to her Twitter page this morning to credit diet pills Zantrex and the hormone HCG for her new body.

She wrote on her Twitter page: "Glad to hear reports that say I look good =) but it's not because of HCG! Thanks @Zantrex!"

The 4ft 9in reality TV star has been relying on Zantrex fat burning tablets, apparently also favoured by Britney Spears, and drops of the Human Chorionic Gonadotropin (HGC) hormone for helping maintain her figure.

Side effects of Zantrex can include palpitations, anxiety, cold sweats, nausea, diarrhea, increased heart rate and irritability.

And this weekend she showed off the fruits of her labour as she donned a bijou pink dress, and a pair of ubiquitous flattering nude heels for her Vegas night out.

Still a radioactive hue, even the heavy orange tan appeared more attractive without the accompanying spherical body.

The chief protagonist of the show that everyone loves to hate has been working on her figure for several months.

As well as her diet quick fixes, Snooki has been cutting down on her food – swapping her beloved fried pickles for egg whites.

She tweeted over the summer: "As everyone's planning their night at the club, I'm wondering when Gold's [Gym] closes."

Even back in January, the reality star was working on her fitness, she told E!" "I try to eat healthy. I just have to quit the drinking so much."
[From Daily Mail]
With side effects like those listed above, I can only assume that Zantrex is something like a non-prescription form of Adderall. Poor Snooki. And I really do mean that in a way because, while diet pills are almost always bad news, the girl must be under terrible pressure to lose weight while being compared to the likes of fellow cast members like hard-bodied J-Woww. Also, Snooki is very short, and petites unfortunately have to consume less calories to stay slim alongside their taller counterparts. Once upon a time, my father once told my high-school self something while I was upset about all of the cute little cheerleaders getting the boyfriends that I wanted: "If you're short and gain 5 pounds, it looks like 15 pounds. If you're tall and gain 5 pounds, it looks like you just put on too much mascara." Wise words.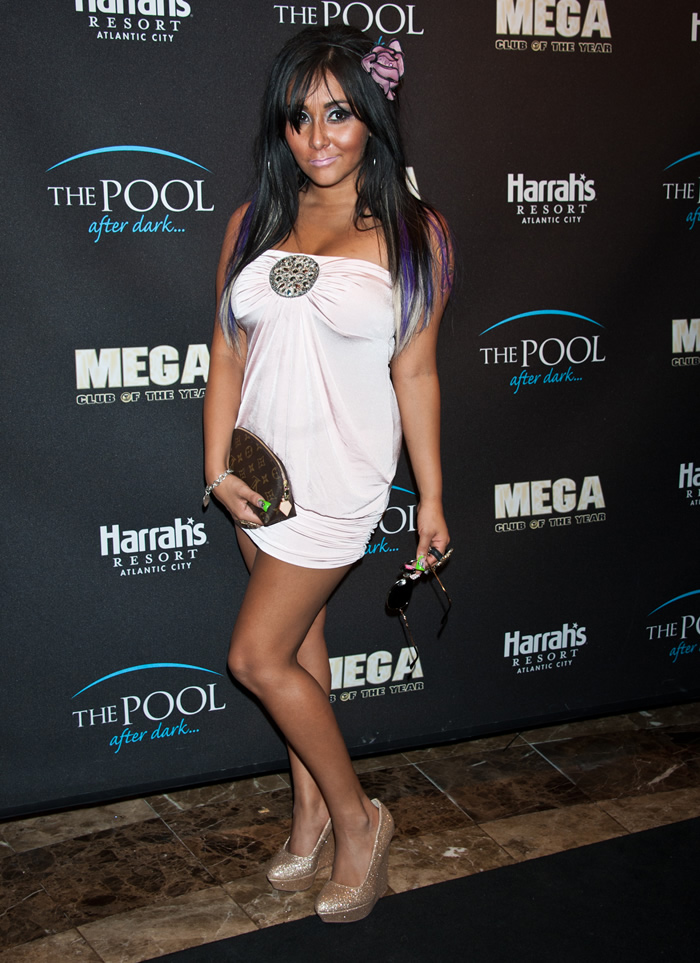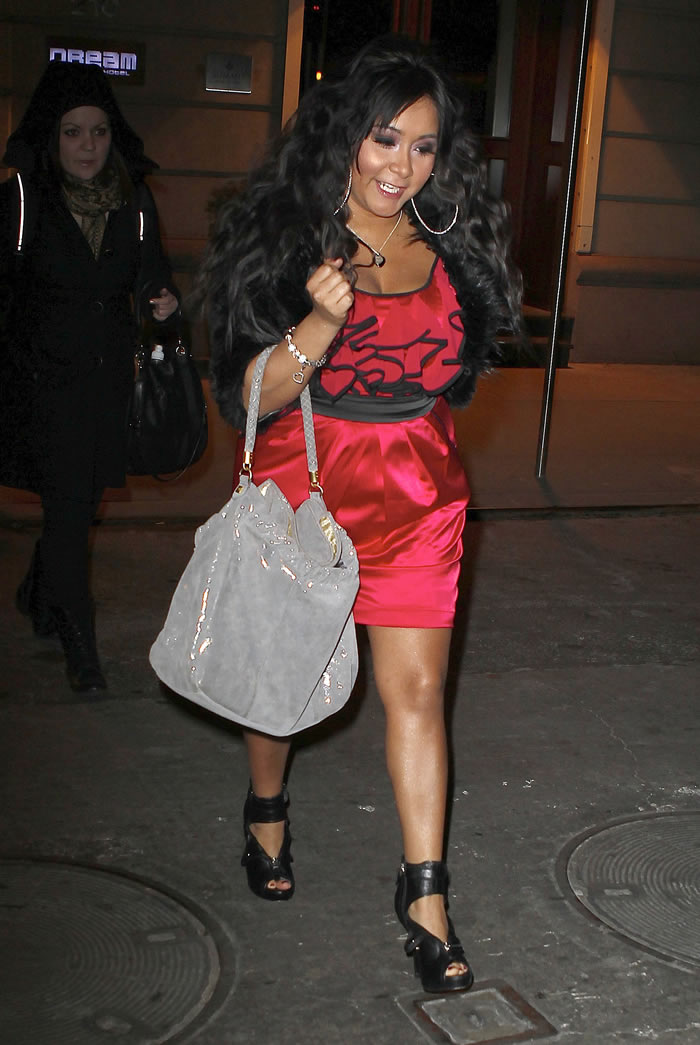 Photos courtesy of Fame