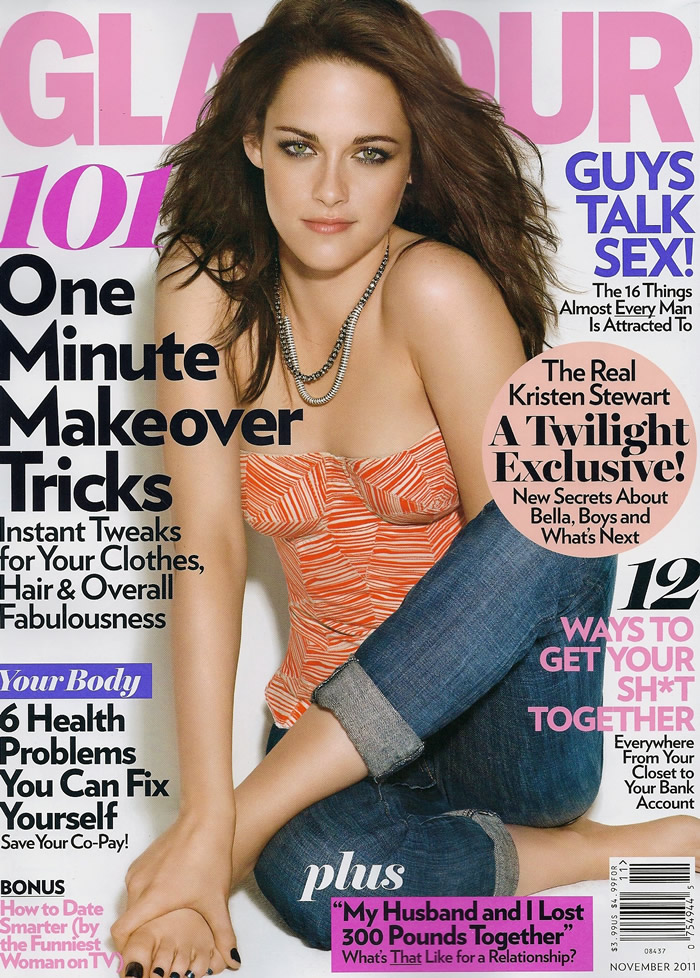 We'd all be well-advised to prepare for the impending publicity onslaught of The Twilight Saga: Breaking Dawn (Part One), which shall arrive in U.S. theaters on November 18. As part of the early assault, Kristen Stewart covers the November issue of Glamour and is also interviewed by Twilight author Stephenie Meyer. The resulting article is not an illuminating one at all, and Meyer's skills as an interrogator are about on par with her abilities as a novelist, but I guess most of us have no room to talk without our own wildly and inexplicably successful book series to match, right? Here are a few excerpts:
On Shooting Breaking Dawn's Wedding Scene: [T]he last night…I was exhausted, and it's funny, Rob [Pattinson] was actually way more energetic than I was at the end of it. Even thinking about it now kind of freaks me out. On the final night of filming, I was literaly pulling out my hair and crying and having to walk away for a second because my voice wasn't working anymore.

On Embracing Bella: I like Bella so much. In order to play a part like that, you have to believe in every crazy decision that she makes.

On Whether She Wants To Direct: Yeah, really, really badly. Me and Dakota [Fanning] were having this conversation the other day actually, and she also wants to do it really bad. It will happen, I think. I also really enjoy being an actor, so I'm fine. I mean, I'm not finished …

On Being Misquoted: It bugs me! False impressions are the worst! It definitely makes me watch my words. Even right now, I'm going, OK, how do you walk about this? And you've got to have a filter.

On Watching Breaking Dawn For The First Time: [I]t's fun to watch it with [Taylor Lautner] because we actually sit and watch it. Me and Taylor are actual Twilight fans, so we can sit there and be totally into it! Whereas I sit there with Rob … he likes it, but he has such a different energy. I've always just loved Jacob and Bella so much. Taylor is great in this one.

On Her Style: I have a uniform of sorts — I will be comfortable in a certain hoodie of mine no matter what mood I am in. And there's nothing better than a new stack of white V-necks. For me, "changing" is either a new T-shirt … or an old T-shirt. And I need pockets, 'cause if I carried a bag, I'd lose it purposely.
Somehow, I'm totally not surprised that Taylor Lautner not only really enjoys watching the Twilight movies but is also an authentically enthusiastic fan of the books as well. It's also similarly predictable that Kristen speaks through a very sophisicated pattern of ellipses, but I am honestly perplexed to read her claims of loving both Bella and the Twilight Saga as well. Her general attitude of being above it all (i.e., her "affected emo shtick") would lead one to believe otherwise, but maybe she just hates the red carpet and all of the publicity-related appearances that are demanded within a successful acting career. Unfortunately, the two are not mutually exclusive, so she'd better get used to it or make a decided turn towards theater acting, which I don't see happening by any stretch.
The Glamour photoshoot is pretty cute though and shows off Kristen's best asset — those gorgeous legs.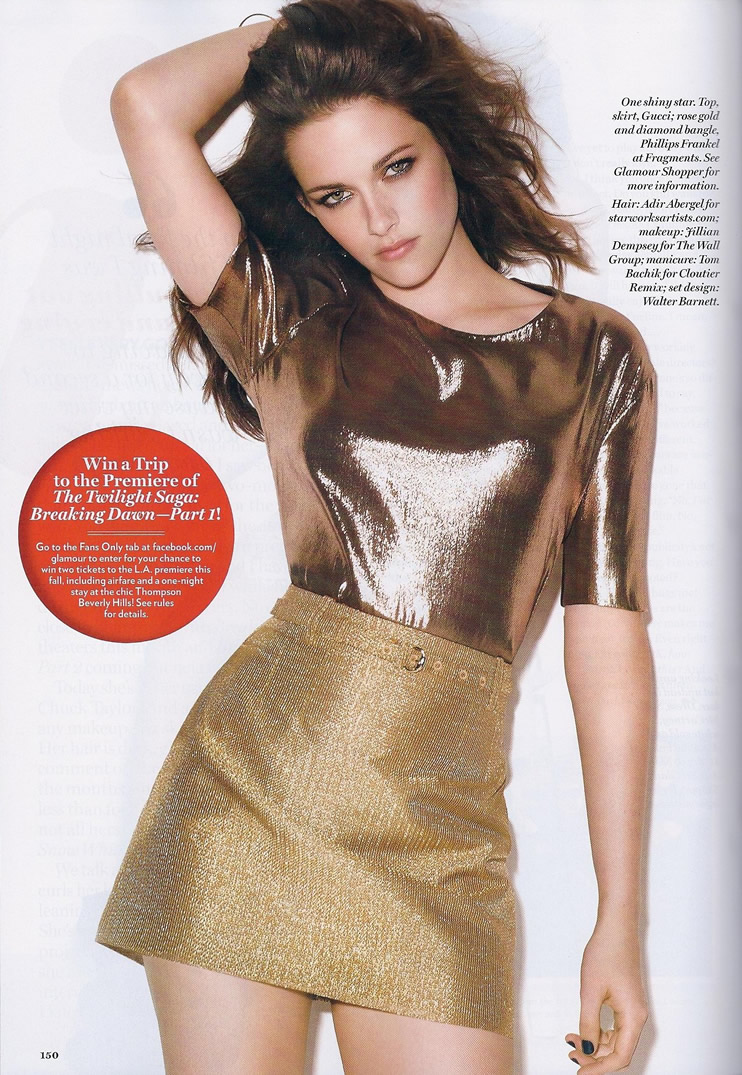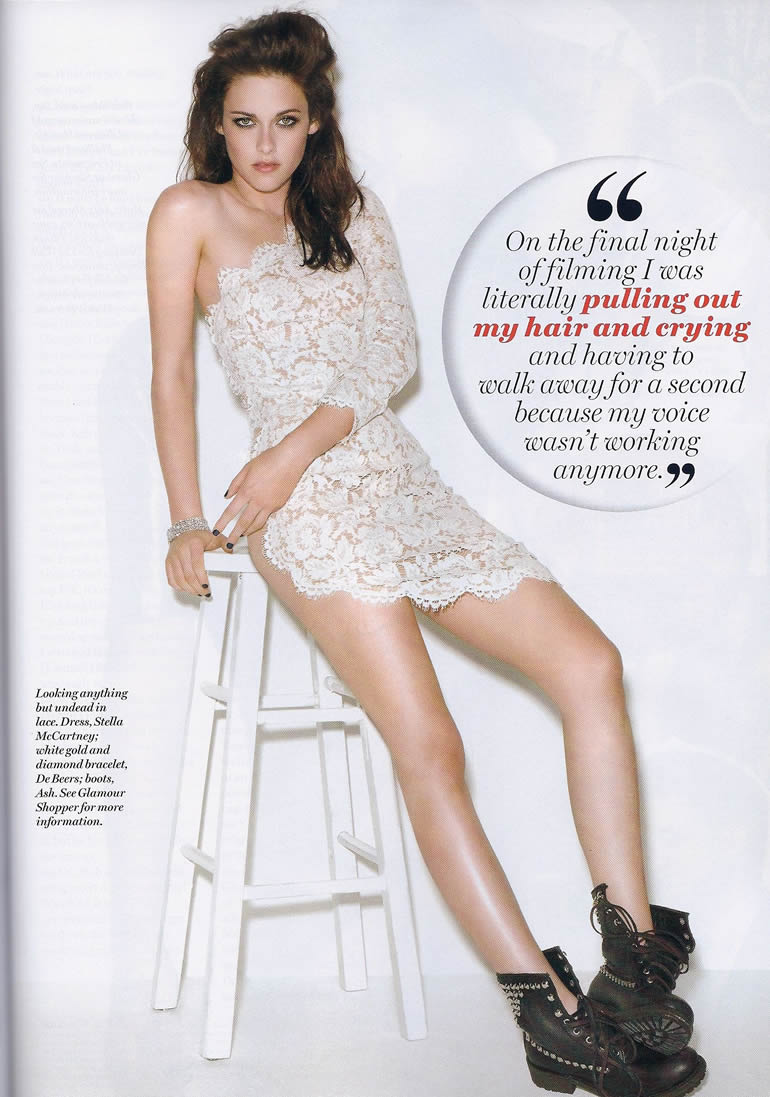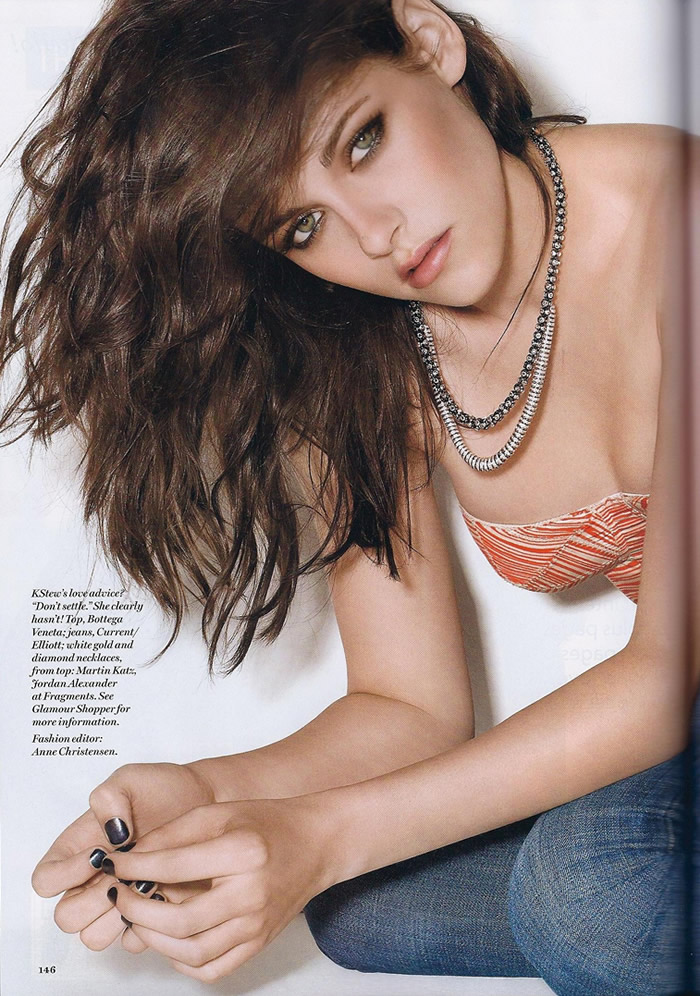 Scans courtesy of Team Twilight