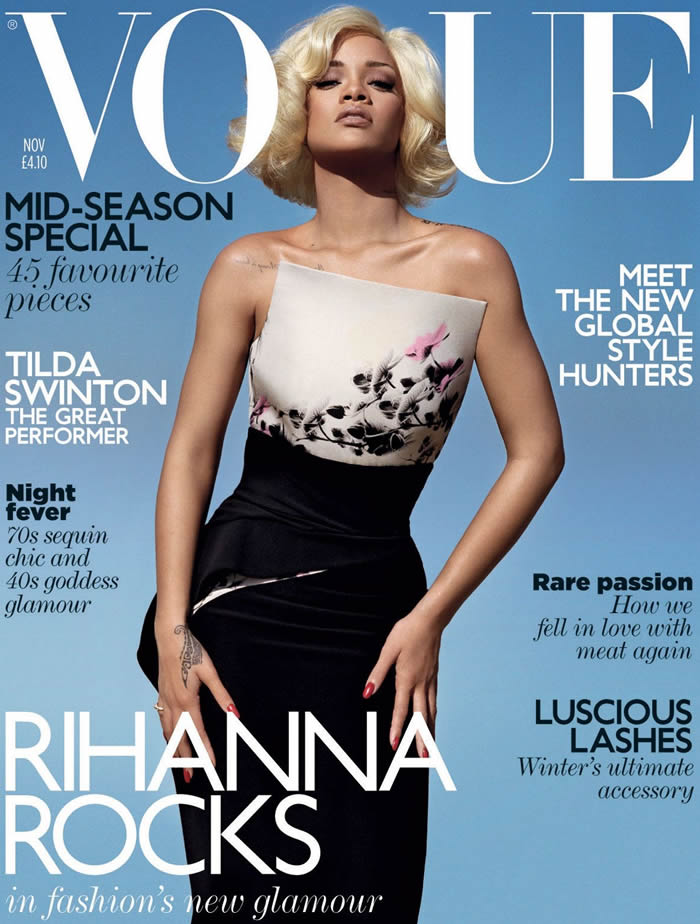 Rihanna covers the November issue of British Vogue while wearing an Armani Prive dress and what looks an awful lot like a Marilyn Monroe-esque wig (and the blonde is reminiscent of that wiglet she wore in her Armani ads). As the magazine puts it, the photoshoot sees Rihanna "reveal[ing] a new quiet sophistication," which makes very little sense considering that her ass is hanging out in a number of the shots. Don't get me wrong — her ass looks good — but it's still front and center with nothing sophisticated about it. If British Vogue wanted to go with classy, they shouldn't have relied on the image of Rihanna to try that game. Speaking of images, Rihanna now claims that her entire image (one that actually has a Spice Girl speaking out in disgust) is all just pretend, and she's not really like that at all:
On Her Sexed-Up, Vamped-Up Image: That's not me. That's a part I play. You know, like it's a piece of art … I just want to make music. See, people – especially white people – they want me to be a role model just because of the life I lead. The things I say in my songs, they expect it of me and being a role model became more of my job than I wanted it to be. But no, I just want to make music. That's it.

On Her Favorite Designers: Stella McCartney is so much fun and so inspiring, I adore her. Oh my God, when I first woke up to [Christopher Kane] with that collection he did with gorillas? I was like, who on earth is making this perfect sh-t? He is the best!

On Her Everchanging Hair: I don't ever want to be a theme because then it belongs to someone, and that's not right. I want to cultivate something that's part of my personal swagger – whatever my mojo tells me, that's what I'm going to do…

On Loving The "C-Word": It's funny. The word is so offensive to everyone in the world except for Bajans. You know African Americans use the n-word to their brothers? Well that's the way we use the c-word. When I first came here, I was saying it like it was nothing, like, "Hey ****," until my make-up artist finally had to tell me to stop. I just never knew.
[From British Vogue]
I honestly haven't minded Rihanna up until now, but I don't know about these statements. Her voice is okay, but she's autotuned to hell, which is to be expected in today's music industry. Also not surprising is her S&M/sex kitten image, which doesn't even bother me that much if she at least owns it with some authenticity. However, now Rihanna's trying to say that she's not like that at all — she's a good girl. So the scantily clad, topless videos in Irish fields and the off-duty drunken stripper routine is all "art"? Well, James Franco and Lady Gaga both called, and they want their mutual tired shtick back. Art, really? Just call it moneymaking, and we'll leave it at that with at least a little bit of respect.
Here's more from the editorial of the British Vogue shoot. I won't even discuss the Armani couture because no one's looking at it while that booty is on full display. Just keep in mind that, you know, Rihanna is merely playing a part here.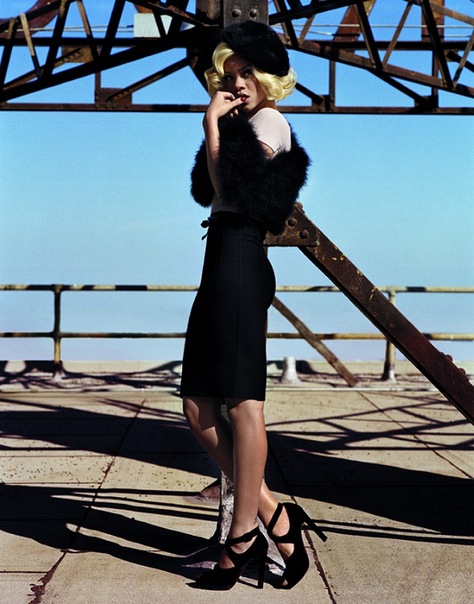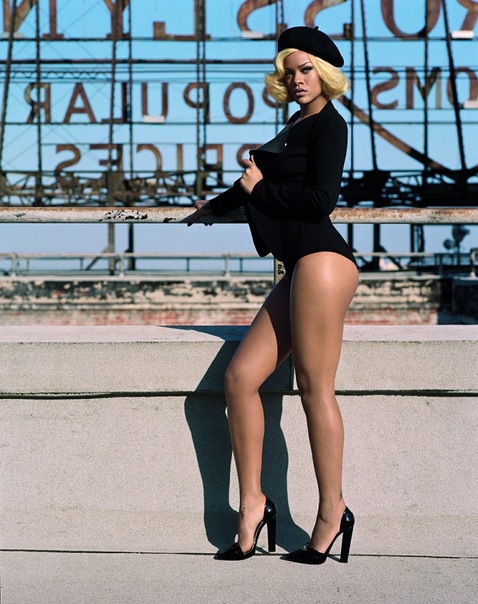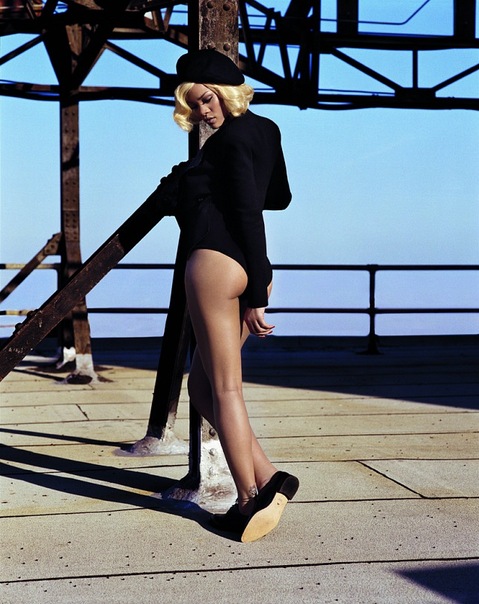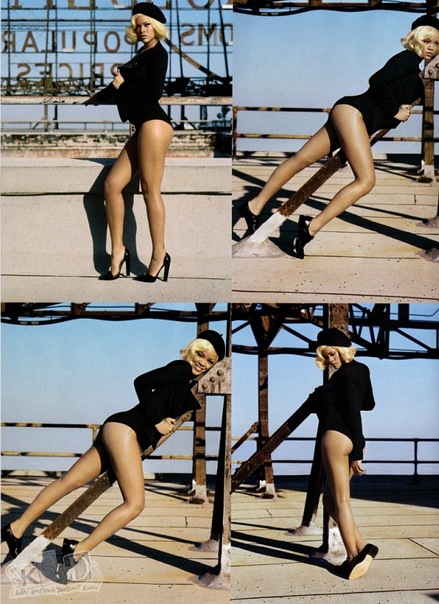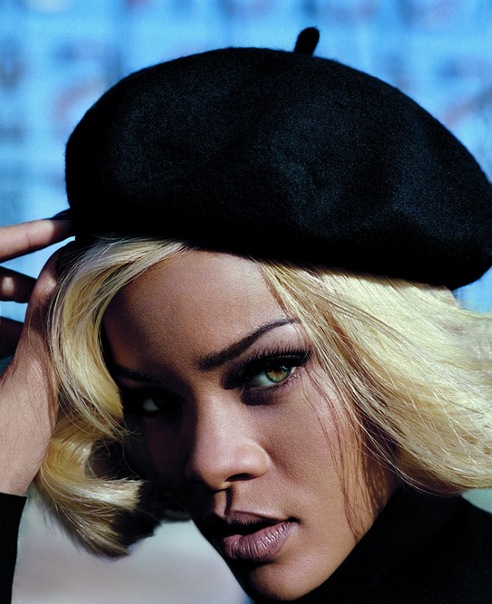 Photos courtesy of British Vogue