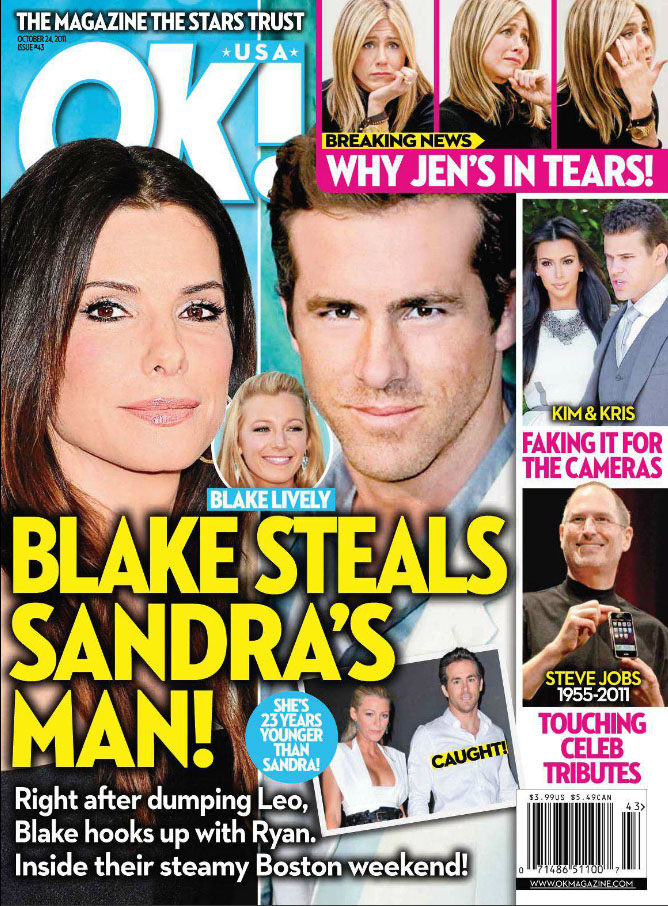 As we mentioned in a recent story on Sandra Bullock's adorable pirate-dressed son, it was only a matter of time before a tabloid seized on the "poor Sandra Bullock" angle in regards to the new romance between Blake Lively and Ryan Reynolds. Sandra's recent photo op with Louis, which multiple photo agencies were privy to, was a loud message that she's totally fine, happy and remains one of the hottest and highest paid women in Hollywood, thank you very much. OK! just didn't get the message. Their new cover story is all about how Blake Lively stole Ryan out from under Sandra. Ryan was seen out with another maybe-manstealer, Olivia Wilde, just prior to his hookup with Blake. So I don't think it's fair to blame Blake, who is surely an opportunist when it comes to dating and may not have a lot of boundaries when it comes to taken men (see possibly Ben Affleck), but might not be responsible for this breakup. (I could be mistaken though.) Ryan probably had his eye on the door for a while. He's been all over the place post-split with Scarlett and it's not like he was ready to settle down with Sandy, for as much as we were hoping he would. Here's more from OK!'s story. They go for some low blows by mentioning Sandra's age in comparison to Blake's.
In another soul-crushing blow, Ryan has dumped America's Sweetheart for his Green Lantern co-star Blake Lively, recently split from Leonardo DiCaprio – and at 24, young enough to be Sandra's daughter.

Sandra is hurt
While Sandra's rep denies she and Ryan were dating, a source insists, "Sandra is crushed. She's doing her absolute best to hold her head high and act as if she's not bothered, but the truth is, she's very hurt.

In recent weeks Ryan and Blake have been seen kissing all over Boston, where he's filming his supernatural thriller R.I.P.D.

"For a while things between [Sandra and Ryan] were going so well, and she really got her hopes up," the source adds. "That's why she surprised Ryan by going to the premiere of his movie, The Change-Up. And then last month they had an incredibly intimate trip to her place in Wyoming. But then all of a sudden, Ryan went cold on her…"

"Blake always had a crush on Ryan," the friend tells OK!. When she first got Green Lantern, she told everyone how excited she was. She always thought he was hot." Adds another pal, "Blake's been texting Ryan all week – every free second. They had instant chemistry on Green Lantern, but she said because he was married [to ScarJo], they didn't see what could happen."
[From OK! Magazine, print edition, October 24, 2011]
I doubt OK! has a source as they're just recounting known details of Ryan and Sandra's possible romance. I do think that Ryan and Sandra were together and I like to imagine it as sweet and hot for both of them while it lasted. As for how Sandra's faring now, she's probably hurt but I doubt she's pining for Ryan. I bet she was cautious about it too, and didn't fall too hard for him. I would love to see her with a guy who is fully committed to her, though. We've seen how horrible her taste in men can be.