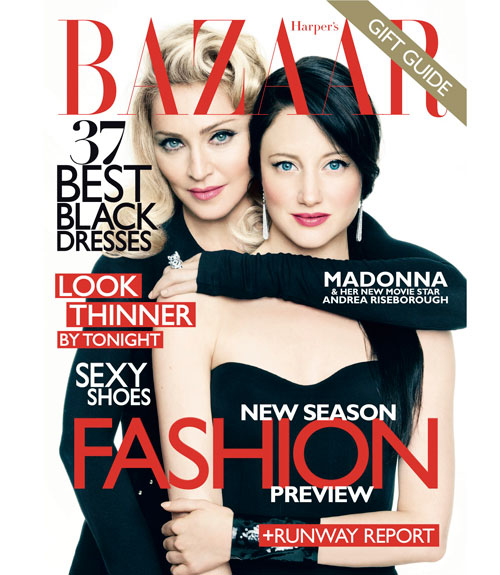 Madonna covers Harper's Bazaar in her usual decadent manner. That is, the camera points at Madge, who is in turn pointing the camera at actress Andrea Riseborough, who plays a mythical version of Wallis Simpson in the Madge-directed W.E., which not only paints its director as a raging Nazi sympathizer but also reveals itself (at least, through its trailer) as a beautiful mess. At the very least, W.E. is most definitely some degree of revisionist history, but it remains unclear how much of that is yet to be accepted or not.
To promote the film and in an interview entitled "Madonna: The Director's Cut," the Material Girl describes to Harper's (as interviewed by feminist author Naomi Wolf) how hard it is to be a director as well as giving platonically intimate details about her relationship with 24-year-old French breakdancer Brahim Zaibat. Seriously, he's not just a piece of meat:
On Film: "Making movies is really hard. It's the hardest thing I've ever done. I believe sometimes we aren't always in charge of everything that we do creatively. We submit to things as we're going on our own journey. Wally was learning about herself, and so was I — on my own journey and the journey of all women. I don't work any other way."

On W.E.: "When I brought up the subject of Wallis Simpson to people when I was living in England, I was astounded by the outrage that was provoked by her name. The movie is all about the cult of celebrity. We like to put people on a pedestal, give them one character trait, and if they step outside of that shrinelike area that we blocked out for them, then we will punish them. Wallis Simpson became famous by default, by capturing the heart of the king, but it's obviously a subject I'm constantly on the inside of, and the outside of."

On Parallels Between W.E. & Herself: "I think my behavior and my lifestyle threaten a lot of social norms, like the movie does. I think there are a lot of parallels and connections. I think it's just that as a creative person, in all the different things that I've done or ways that I've found to express myself, I've consistently come up against resistance in certain areas. I think that the world is not comfortable with female sexuality. It's always coming from a male point of view, and a woman is being objectified by a man — and even women are comfortable with that. But when a woman does it, ironically, women are uncomfortable with it. I think a lot of that has to do with conditioning."

On Mothering: "Well, I say to Lourdes, schoolwork always comes first, so anything that gets in the way of that falls by the wayside. We put our energy in education. She loves fashion and style. She helps design the collection. I just stand in the background and watch. I proofread her blogs and edit them and give her a hard time when I think she's being a lazy writer."

On Ageism: "I find whenever someone writes anything about me, my age is right after my name. It's almost like they're saying, 'Here she is, but remember she's this age, so she's not that relevant anymore.' Or 'Let's punish her by reminding her and everyone else.' When you put someone's age down, you're limiting them."

On Her Goals: :To have fun, that's the main issue. To continue to be a provocateur, to do what we perceive as the realm of young people, to provoke, to be rebellious, to start a revolution."

On What She Looks For In A Lover: "Well, it can also be more than just sexual, um, appendages. I don't necessarily like to use the word lover because it sounds like they just come over and have sex with you. I aspire to more than that, and I need more than that. Respect for women and understanding that everything must be earned. Those are two big ones. Someone to share my inner life with. That's extremely important. It's also important that my children admire and respect this partner that I would choose for myself. Especially for my sons, who have their father [ex-husband Guy Ritchie], but they need a male role model as well. So I need to keep this in mind: What is this person modeling to my sons, what kind of man is he, what values does he have, what energy is he giving off? Because they are impressionable. It's so important."
[From Harper's Bazaar]
Such delusions. Where to begin? Yes, I do agree wtih Madonna that it's incredibly important to see what "energy" that a hot young piece is giving off — particularly when he chooses to grab your ass in front of your grade-school-aged young children. And yes, ageism is petty and inexcusable, but it's also futile to pretend that age does not exist in any shape or form. As for W.E. as an extension of Madonna's very own self, well, now we know what she decided to make the film, right?
Now, what of this photoshoot? Madonna points a camera. And she's, like, really smart and controversial and such a visionary because she dons some spectacles. Worship her.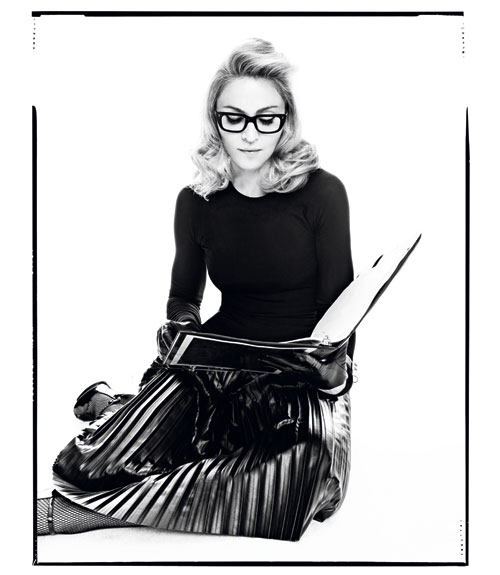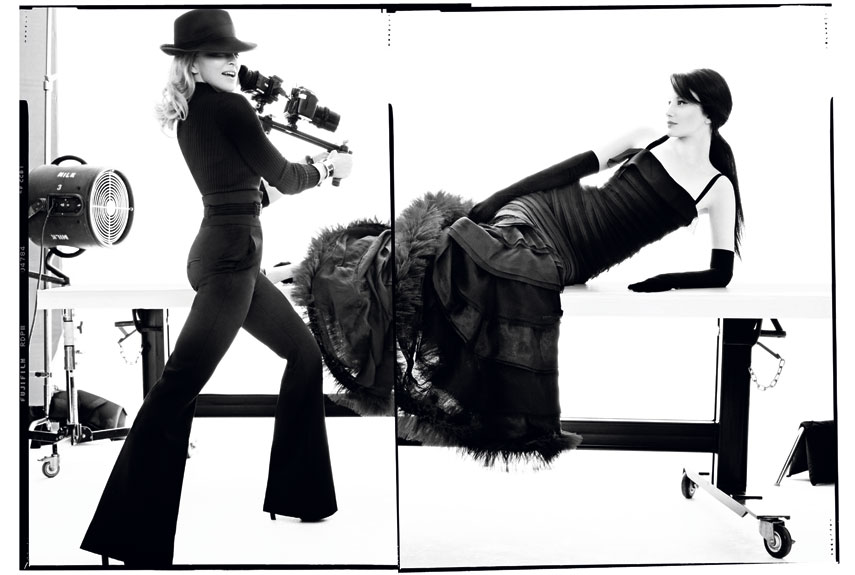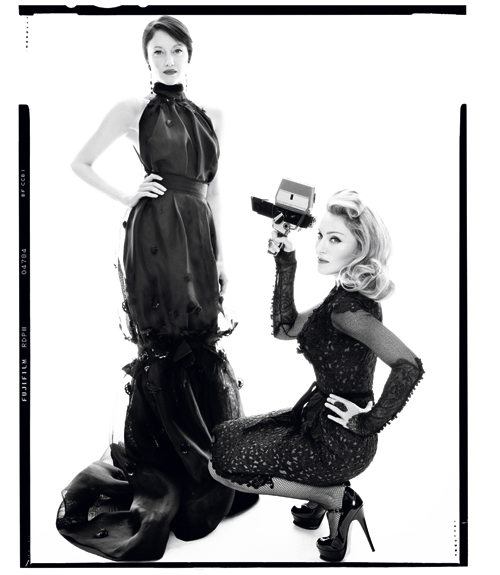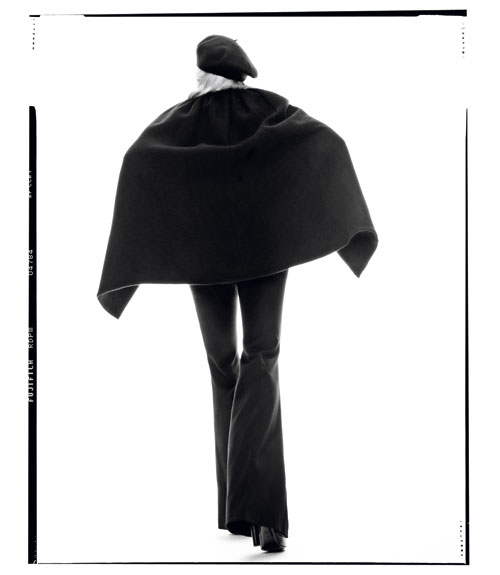 Photos courtesy of Harper's Bazaar