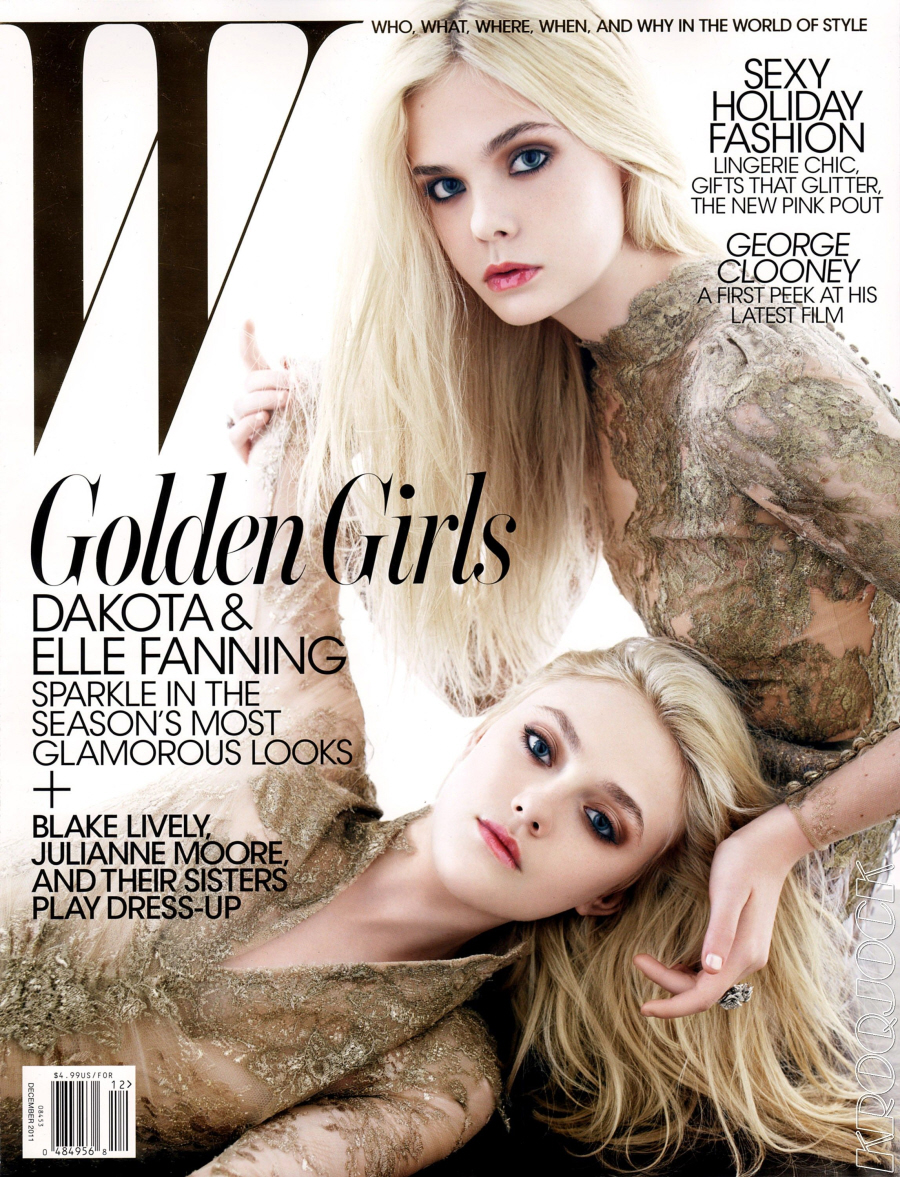 Elle and Dakota Fanning cover the new December issue of W Magazine. Elle is 13 years old, Dakota is 17 years old, and they blonde hair, big blue eyes and an otherworldly precocity in common. In their separate interviews with W Mag (which you can read here at W), Elle talks about her dreams of working in Paris and how she knows the names of all of the major models, while Dakota talks about real estate and improvising with Sean Penn when she was 6 years old. It's weird, basically, especially in Elle's case. Dakota has grown up in the spotlight, and she's managed to balance fame and work with a normal childhood experience, but Elle seems like she's already a little adult. Plus, these photos seem way too mature for a pair of sisters who only have 30 years between them. Here are some highlights from the piece:
Elle on Dakota, her big sister: "She is a nice older sister. But it's not like we always get along. Now that she's going to college, it's different. I went into her room at home in California, and all her clothes were gone! Her closet was empty! I don't get to go in there and steal clothes anymore. It's really strange. It's sort of like she's off making a movie, but this time she's not coming back."

Elle on playing the young Cate Blanchett in The Curious Case of Benjamin Button: "I was 9 years old during Benjamin Button. I had to wear a long red wig because [Cate] had red hair in the movie. I remember that. I had a great time on set. The director did a lot of takes, and he would say, "Take 50," and I would just go do it again. I was only 9, so I thought that was fun."

Elle on ballet: "Yes, ]I still do it] five days a week. That's something I always try to keep on my schedule. I would love to do a musical! Dakota did The Runaways, so she got to sing in that one."

Elle's favorite television shows: "We watch a lot of reality TV. My sister and I record Big Brother. We're obsessed! And we love old game shows like Password and the original Family Feud. Also, me and my sister watch Criminal Minds. We record every episode, and we watch it every single night… My sister likes psychology, and they really get into the mind of the killers. I've been on Criminal Minds twice! On the first show, a boy brought kids out to the woods and was beating them with a baseball bat, but I got away. Then they brought Tracy, my character, back—as a kidnapped girl. They saved me two times! Tracy lived!"

Elle is little fashionista: "Oh, yes! When I found out that I was invited to the Chanel show—that was the loudest I've ever screamed in my life. That was the best day of my life. It was my first fashion show, and I know every model by name. I go on Style.com and look at all the shows. It was just the best experience ever! And, of course, we did some sightseeing. We went to the Eiffel Tower at night. It was sparkling. I would be the happiest you would ever see me if I got to film a movie in Paris. That would be everything!"

Dakota on why she decided to go to college: "For the same reasons I wanted to go to a high school: You hear people say, "Oh, when I was in high school" or "When I was in college." That defines a lot of who people are, and I didn't want to miss out on that."

Dakota's 17 and she lives on her own with her mom? "No roommates. Because I'm only 17, my mom is staying with me in my apartment for a little bit. She's teaching me how to wash clothes and such. But I'm so excited to be on my own. In my house in L.A., we all feel that everything is everybody's, and so doors are never really closed. My sister and I share a bathroom, and when you have a sibling, nothing is actually your own. I've never really had anything or any place that was just mine."

Dakota on improvising with Sean Penn when she was 6: "And I thought, Okay, that's what it's going to be like. There was no other choice. I think he said, "Knock, knock," which was not in the script. I said, "Uh…who's there?" [Laughs.] And, yeah, that's what it was like. It definitely prepared me for the future. At other times, in other movies, actors would go off script and kind of test me like, Ah—maybe she's not going to be able to reply. And I already knew how to be ready for anything."

Dakota on auditioning as a child actor: "It didn't bother me, but I usually wouldn't get things because of my hair. I had really short, wispy hair, and the girls with perfect long, straight hair with bangs and a butterfly clip would always get picked. Finally, I got some more hair and started getting roles."
[From W Magazine]
They mention that their mom was some kind of fashion buyer before she started "managing" her girls' careers – and I'm using "managing" loosely because it doesn't seem like Mother Fanning is some Dina Lohan or Kris Jenner-style momager. I think Mother Fanning is just very involved in her girls' lives, and she gives career advice, especially about clothes and ad campaigns. Which makes that Marc Jacobs ad with Dakota even creepier, because the mom used to a professional in the fashion industry, and she knew what Dakota was getting into.
So here's the question: Are the Fanning girls simply smart and precocious, or does their momager need to take a step back and pull the girls away from the limelight a bit?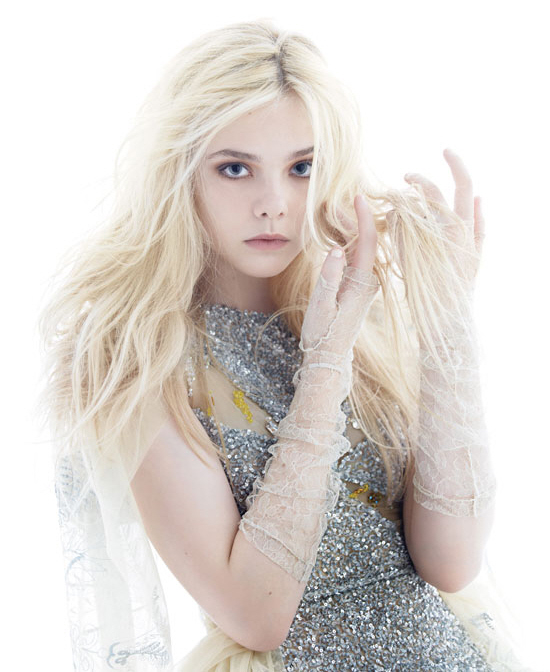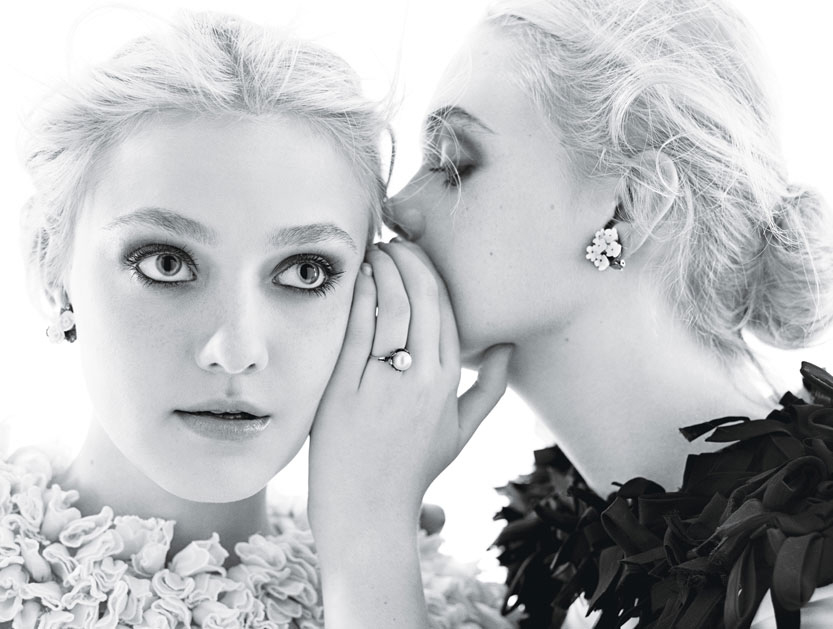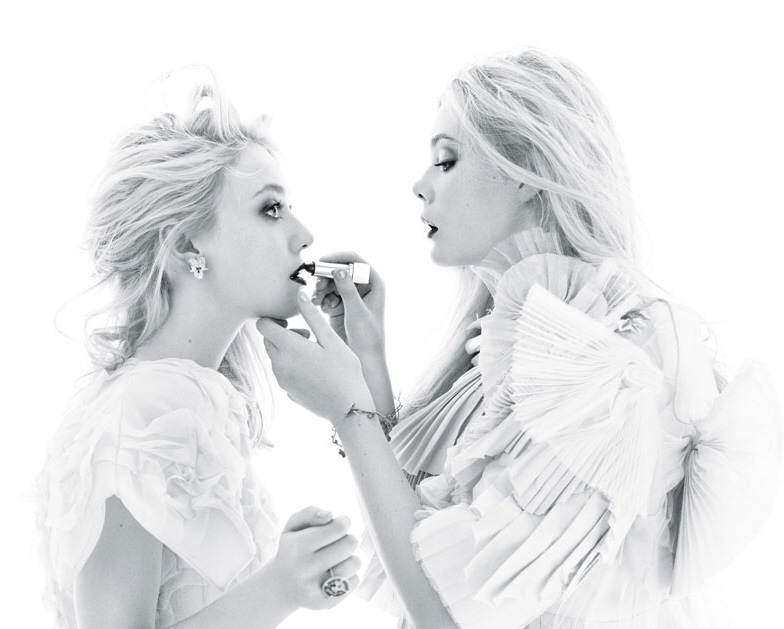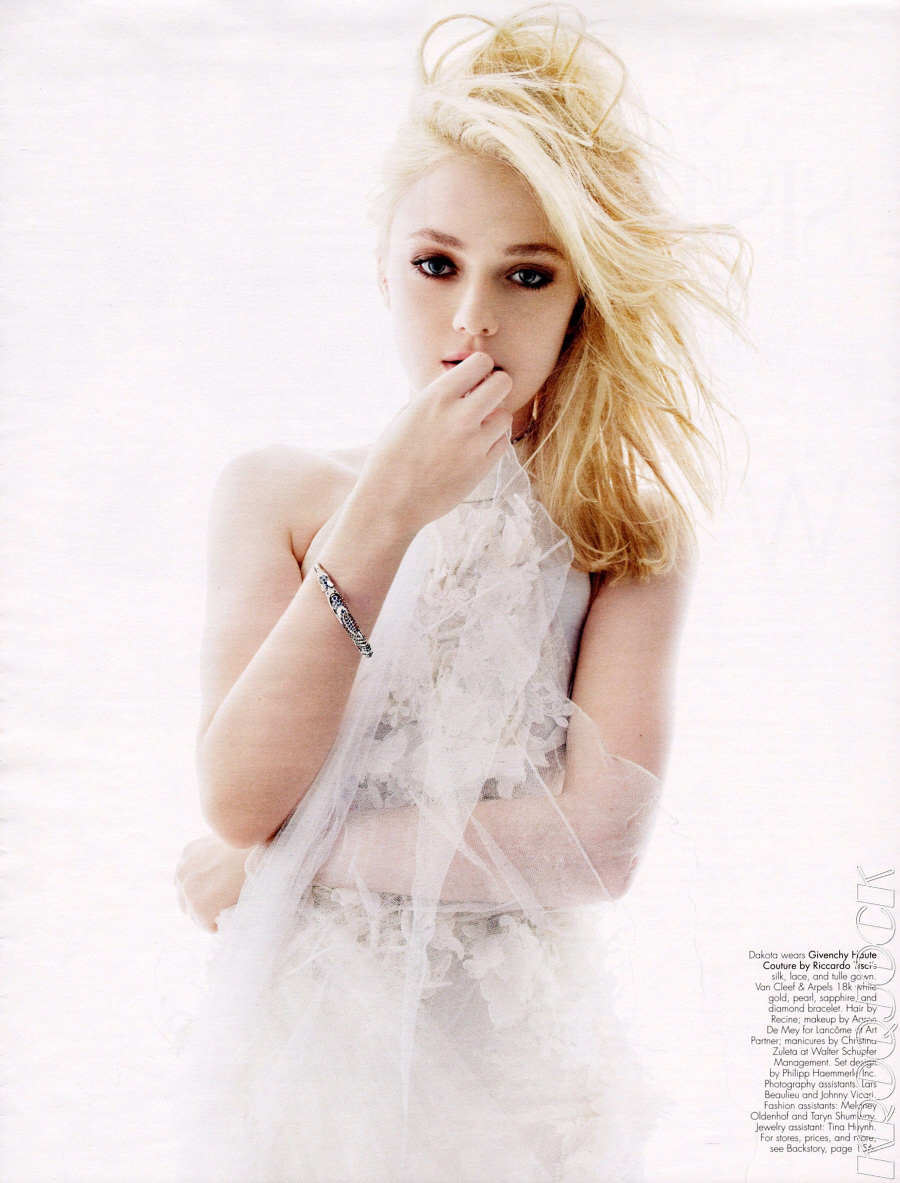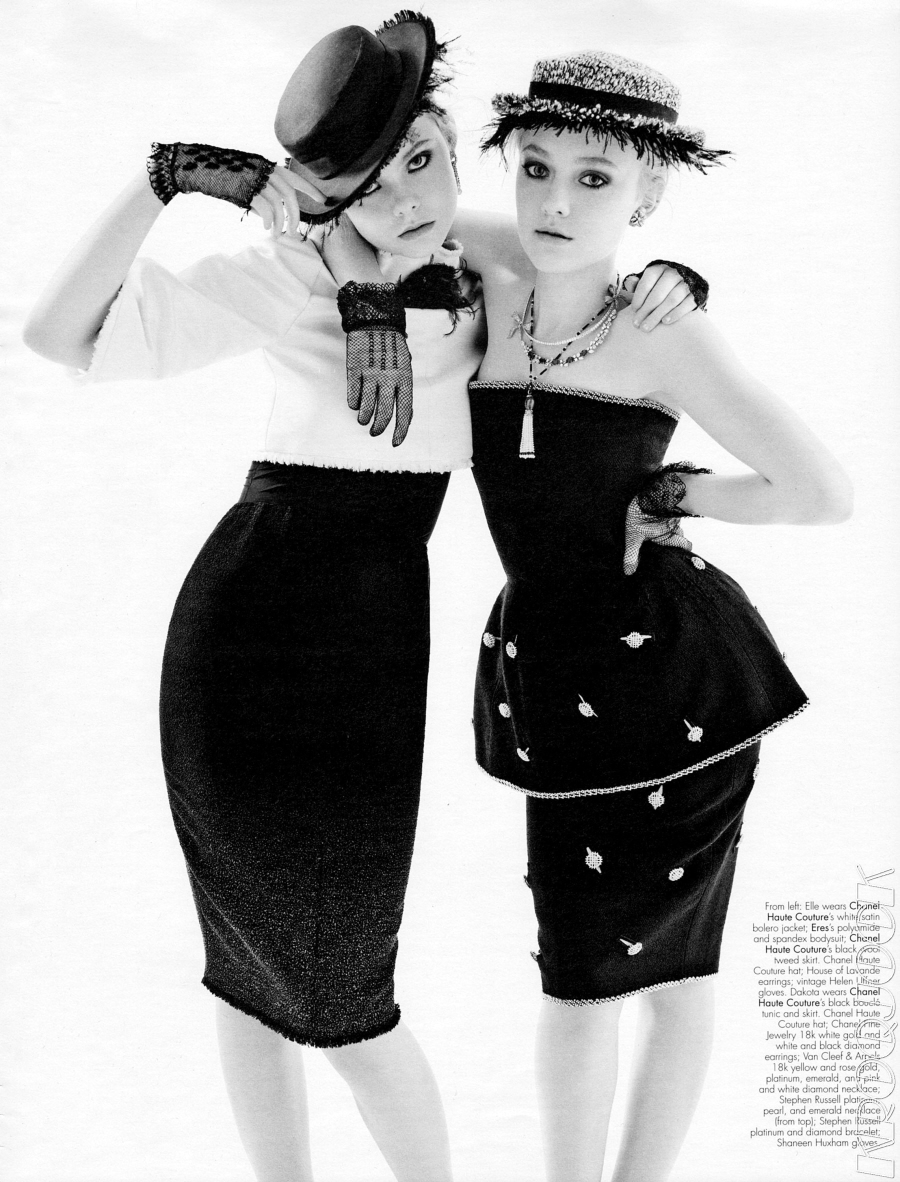 W Magazine photos courtesy of The Fashion Spot.