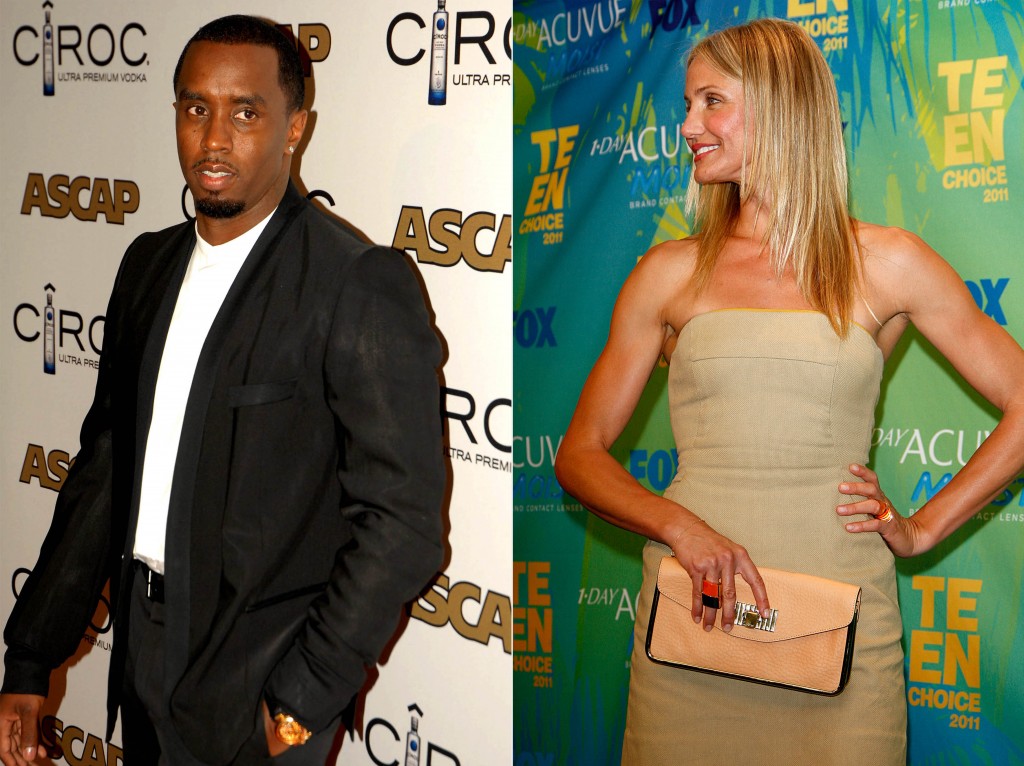 We've heard rumors for a few weeks that Cameron Diaz and Diddy are hooking up again. They were together back in 2008, but took pains to keep it quiet – at least Cameron did. Diddy gave an interview to Playboy in December, 2009 in which he said he had secretly dated a "famous actress" but wasn't going to say who it was. You could tell that he was just dying to spill the beans but was hoping to get another chance with the actress he wouldn't name. Here's what he said at the time:
COMBS: Yeah, there was a young lady who's an actress. She's famous. I liked her, so I was willing to do whatever I had to do. I told her, "I will sneak up the side of the building to see you." I was persistent.

PLAYBOY: Did you get to hang out?

COMBS: We started spending time together, but we were prisoners of our celebrity. She took me to dinner after we got to know each other and hit me with a line that was straight out of the movies. She said, "You know this will never work, right?" [laughs] I knew she was right.

PLAYBOY: Who was it?

COMBS: The only person I'm gonna tell is God. If he says I can't get into heaven I may whisper it in his ear. She was so cool the way she let me down softly, and she offered me a ride back to my hotel.

PLAYBOY: Sienna Miller's name will get linked to that story. You know that, right?

COMBS: I can clear that up right now. It wasn't her. This was going to shake up the world. It would have been a Puff and J. Lo situation, part two.
[From Playboy via Celebitchy]
So that makes me think that Diaz dumped Diddy nicely back in 2008 when they were linked over the summer and that he was still hung up on her a year later. She probably gave him another chance this year when she was lonely post A-Rod, but she's still not willing to be associated with him. US Weekly claims Cameron and Diddy are hooking up, that they've been spotted all over the place and that "she'll booty call him," but the official story, the one that People is reporting, has them meeting up for some sort of "project." Here's US Weekly's story:
The actress, 39, has reunited with Sean "Diddy" Combs, her off-and-on hookup since 2008, when Combs pursued her during Oscars week, a source tells Us Weekly.

"Since then, when she's single, she'll booty call him," adds another insider.

And now, they've gone public: Nuzzling in a booth at NYC's Catch on Oct. 24, the two were "inseparable — they had their hands all over each other," an eyewitness tells Us.

Two weeks later, at a Nov. 11 lunch at Scarpetta in Beverly Hills, they were "making out, acting romantic," says a source. (Reps for both stars say Diaz and Combs, 42, are "just friends" and meeting to discuss a possible comedy film project.)

One hitch: Combs is still dating his model girlfriend of three years, Cassie, 25. Says a friend, "Diddy's single whenever there's a better offer on the table!"
[From US Weekly]
People has Cameron's rep telling them "Cameron and Sean are longtime friends and fans of one another's work. They have been seen together recently because they are developing a film project." Mmhmmm. I know Diddy is a flashy egotistical douche of the highest order, but I would love it if this fling with Cameron got serious and if they went public. I think when Diddy hooks up with a woman who challenges him he really steps up his game and tries to be a good boyfriend, as much as he can. These two seem really fun together, to me, and I want them to be a real item.
Here's Cameron out in LA on 11/9. I don't like her new hair! Credit: Pacific Coast News, Bruja, Sam Sharma