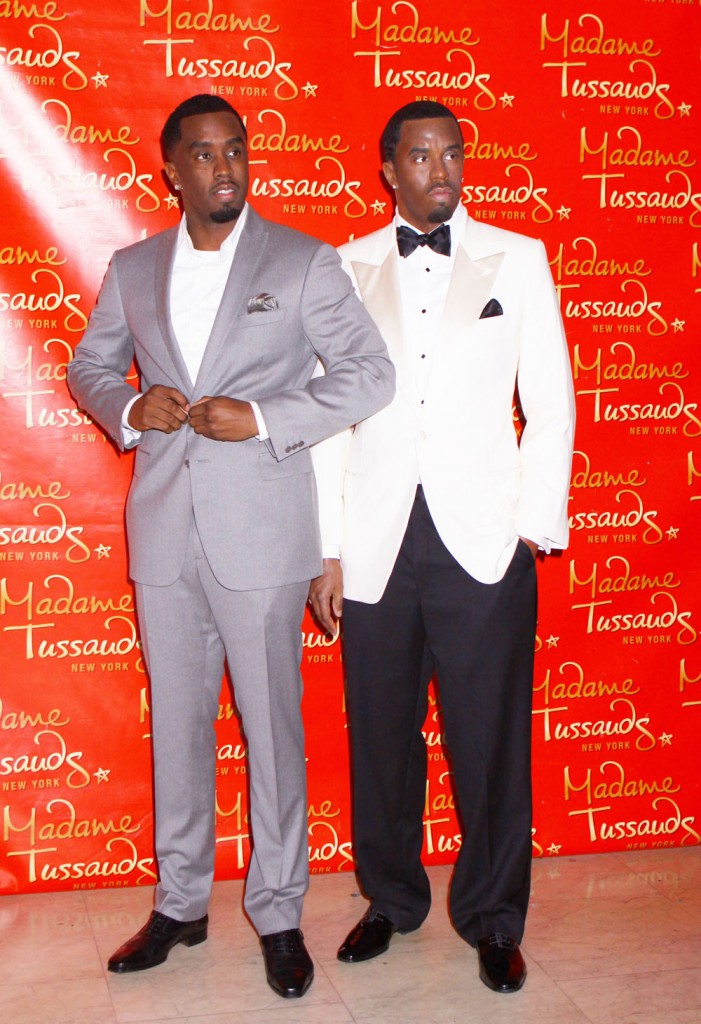 There's a new interview with egotistical hip hop mogul Diddy or P. Diddy or Puffy or whatever the hell he's calling himself now, in the upcoming issue of Playboy with Tara Reid and her sad self on the cover. The interview is online and Puffy sounds completely full of himself and even worse than Kanye. To start off the conversation he makes a bunch of superlative statements about how great he is and that almost turned me off reading the whole thing. I have to admit that Diddy is pretty entertaining, though. Once you get past what an ass he is he has a lot interesting stories.
Many outlets are focusing on Diddy's claim that he tried to lose his virginity at seven and eventually succeeded at 13. This is disturbing on many levels and is a kind of red flag for child sexual abuse. He says that he didn't successfully have sex at seven though and had to wait until he hit his teens and had some cash. Diddy was watching a lot of public access porn as a child and that's where he claims he got the idea.
On how he lost his virginity at 13
COMBS: I'm gonna tell you about me. I got into porn at an early age. They used to have this show called Midnight Blue on public-access TV. When I was in junior high I used to strategize how I could turn that on after my mother fell asleep. There was this woman, Vanessa del Rio?

PLAYBOY: Yeah, that was her name.

COMBS: We used to have sex every Thursday night. I was masturbating so much I started feeling bad, because I was going to Catholic school and believed it was a sin. As soon as I would bust off, I would be on my knees asking for forgiveness.

PLAYBOY: Did you stop?

COMBS: By my junior year in high school there was no more whacking off. I was too afraid to upset God. On the flip side, it unleashed me on women. I had to have sex every day.

PLAYBOY: When did you start having sex?

COMBS: I tried to lose my virginity when I was seven years old. I was on top of a girl who was nine or 10, but it didn't happen—so everybody doesn't have to bug out. My mother and the babysitter whipped my ass, but it didn't knock me off my mission.

PLAYBOY: When did you fulfill your mission?

COMBS: When I was 13, and I felt I was a porno star because I'd been watching porn for so long. In the Bronx you could get a hotel for an hour. I always had $20 or $30 to take a chick to a hotel. I'm proud to say I love sex. You might catch me in a porn store at any given moment—it ain't nothing I'm ashamed of. If they start sending freaks to jail, I'm guilty as charged.
[From Playboy via Huffington Post]
Diddy also says it's true that he has 30 hour sex sessions and claims "I studied up on the breathing techniques and the focus." He also talks about his secret relationship with a female celebrity he refuses to name. He says it's not Sienna Miller, and that if the news got out about his top secret affair "it would have been a Puff and J.Lo situation, part two":
On his secret relationship with a famous celebrity
COMBS: Yeah, there was a young lady who's an actress. She's famous. I liked her, so I was willing to do whatever I had to do. I told her, "I will sneak up the side of the building to see you." I was persistent.

PLAYBOY: Did you get to hang out?

COMBS: We started spending time together, but we were prisoners of our celebrity. She took me to dinner after we got to know each other and hit me with a line that was straight out of the movies. She said, "You know this will never work, right?" [laughs] I knew she was right.

PLAYBOY: Who was it?

COMBS: The only person I'm gonna tell is God. If he says I can't get into heaven I may whisper it in his ear. She was so cool the way she let me down softly, and she offered me a ride back to my hotel.

PLAYBOY: Sienna Miller's name will get linked to that story. You know that, right?

COMBS: I can clear that up right now. It wasn't her. This was going to shake up the world. It would have been a Puff and J. Lo situation, part two.
[From Playboy]
I know I know! Ten to one it was Cameron Diaz. There were a couple of stories about the two of them last year, but we barely heard about it. I bet the relationship just played its course and that Diaz wasn't willing to be linked with braggart Diddy. He's trying to play it off like it was his idea to keep it a secret and like they were "prisoners of celebrity." In 2007 before this maybe-fling with Diddy, Diaz was probably mortified when then married magician Criss Angel name dropped her after one of his stunts in NY. The guy was so sleazy and I bet her friends told her to clean up her act because she soon denied having anything to do with him. She probably didn't want a repeat of being linked to an attached famous guy and Diddy was willing to play along. We all know Diddy goes back to one of the mothers of his many children, Kim Porter, when it's convenient for him.
There's a lot more in Diddy's interview but I'll wrap this up with a highlight of some of the more obnoxious things he said, including claiming that the hip hop community is "probably responsible" for putting Obama in office. He didn't say they were directly responsible, just that they somehow empowered people in general which lead to greater voter turnout. And I thought it was Obama's excellent campaign focusing on all the domestic changes (link leads to video) he seems to be sorely neglecting in favor of amping up another war.
On how the hip hop community is responsible for putting Obama in office
PLAYBOY: Did hip-hop help elect President Obama?

COMBS: I think we are probably responsible for Obama being in office, yes. If nobody else is gonna say it, then I'm gonna say it. The confidence, the swagger we instilled in our communities made that possible.

On how great he is
PLAYBOY: You recently turned 40. The younger rappers want the older artists to step aside. Does that make you feel less relevant?

COMBS: No. It will take any young artist a long time to reach my status. It will take them a long time to be looking at themselves on a billboard in Times Square as they eat lunch doing a PLAYBOY interview. It will take them a long time to get mobbed in Africa, Bolivia and Russia. It will take them a long time to drop an hour of hits. I have become the American rap-star dream…

If I'm not inspiring you at this point, you're a lost hope. I'm one of the baddest motherf*ckers to ever do this sh*t, and I'm not saying that in an arrogant way. That's a fact, in black and white. I dare you to write down all my achievements. It will be overwhelming. Break it down and then say who's number one in hip-hop. Who else has conquered television? Who else has conquered fashion? I don't want to hear you have a fashion line. Do you have a Council of Fashion Designers of America award? I need to know. Have you run a marathon? If you all still want to f*ck with me after I ran the marathon, I don't know what else to do.

On how he's like a god in Ibiza
Because I'm known as the king of parties, they said, "Yo, you have to come be a part of this community," and when I got there they treated me as if my arrival was in the scripture or something. "And on the hundredth day he will come and grace us.…" I was the first one to expose a lot of young African Americans to St. Barts, to yachts, to the Hamptons. I went to St.-Tropez to represent for all the cats from the hood. "Oh shit, we didn't know black people had big boats." Yeah, we do. Make room for us.
[From Playboy via Huffington Post]
I love that line, "I'm one of the baddest motherf*ckers to ever do this sh*t, and I'm not saying that in an arrogant way." Diddy really amazes me with the pure bullsh*t he spews. It's crap like this that makes people assume all hip hop artists are assholes. At least there's Jay-Z, who seems to be a genuinely decent guy who keeps his ego in check and gives back. I'm sure Diddy does some charity work but when do you ever hear about it? He's certainly not talking about much more than how great he is in this interview. He did donate a million to Katrina victims, that's something.
Here's Diddy with his new wax figure at Madame Tussauds in NY. At first I thought he had a lookalike assistant touching him up. His mom, Janice, is also shown. Credit: WENN.com