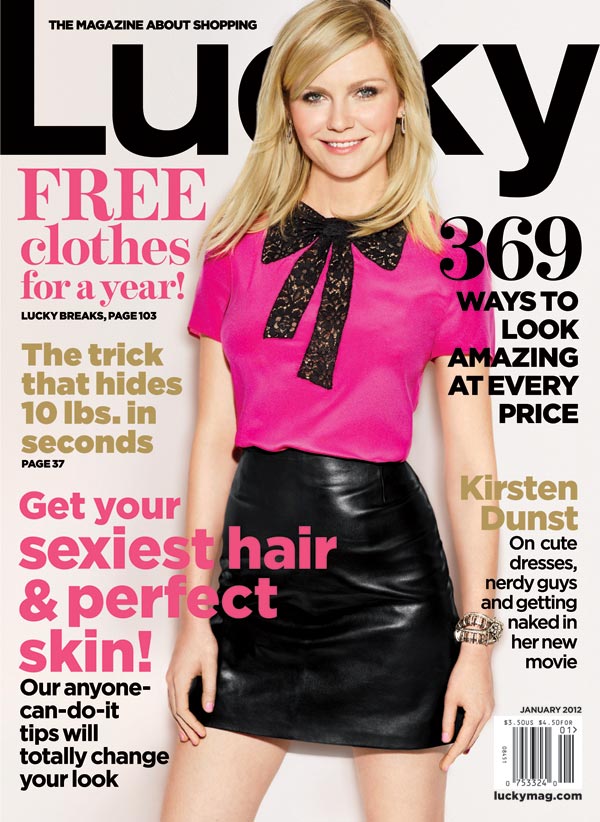 Kirsten Dunst covers the December issue of Lucky Mag, and she looks pretty great on the cover. Granted, this hot pink and black number is nothing that I'd ever be able to pull off, but Kiki wears it well, and she looks really good with the benefit of a good stylist. The accompanying interview is a mixed bag, and it's fairly obvious that this poor journalist came at the tail end of the Melancholia promotion because Kirsten makes it very clear that she's sick of talking about the movie. However, Kiki does reveals a bit more about her distaste for the red carpet as well as a bit more about her discomfort during director Lars von Trier's infamous Cannes Nazi rant. Also, she's apparently a spray-tan convert now:
On Not Calling It A "Comeback": "Just don't write the 'she's back!' thing. I wasn't ever away! Sorry I wasn't in Spiderman 4 a year after I was in Spiderman 3! You know what else I don't like? Most people ask me questions based on a previous interview. That's not an interview. It's like they're just saying my quotes back to me. And at this point, you can't ask me about Melancholia because I only have my go-to answers in my head."

On What She Whispered To Lars von Trier At Cannes: "I just said, 'Come on, Lars,' or something like that. What was I supposed to say? There were a lot of us up there and I feel like if [my costars John Hurt or Stellan Skarsgard] had said something it would have been easier. I think one of the guys could have been like, 'All right, Lars' or made a joke out of it. We were all in shock."

More On Her Red Carpet Phobia: "I hate red-carpet photographs! It's such flat lighting! They take away my cheekbones-I just become a moonface. I hate those photos so much. I always look terrible. And they don't know angles on faces. There is no artistry to it. It's like-" Dunst does an impression of what can only be called a lobotomy patient taking a picture. "I hate them!"

On Her New Obsession With Spray Tans: Dunst, who says she has "the kind of skin that you touch and it gets red," recently discovered spray tans. "You lose like five pounds immediately, and your face is glowing and gorgeous!" It's fun to watch Dunst continuously cast herself in these one-minute roles. Talking about self-tanner, she becomes a mini opera star, puffing up her chest and opening her hands like she's going to belt it to the mezzanine level. "I look amaziiiiiiing! I did it for my last movie. Then Isla saw me and was like, 'I'm gonna get spray-tanned too!' I only did it twice so I'm tan in like two scenes and super-pale in the rest of the film."

On Settling Down: "I thought when I reached 30 I'd have a lot more figured out. Until you have a kid, you're just looking for your partner. And guys have a Peter Pan vibe. They're 35 and they act like they're 25. That's what scares me about being in my 30s: not finding someone to have kids with. I can't wait to relive life in a little kid's way. I'm so ready for that lifestyle: Get a little place upstate and have them go to school up there."
[From Lucky Mag]
Hmm, Kiki with a spray tan? This is something that I simply must see at some point. Oddly enough, I've very recently started using a very subtle tanning lotion (not a Snooki shade at all) for fair skin, and it makes a great deal of difference in my eyes as well as those who have witnessed the effect. For the first time in my life, I don't look like a corpse, which is what I imagine that Kirsten is also attempting to describe here in her own enthusiastic way.
Meanwhile, Kirsten looks quite fresh and pretty in this photoshoot, which polishes her up as more of a classic beauty rather than the grungy look that she tends to favor during her off-work time. The interviewer even notes that "Dunst has a short, dark manicure and smudgy last-night makeup" during their talk. Kiki can be so gorgeous, but the day-old makeup thing would sort of kill it for me.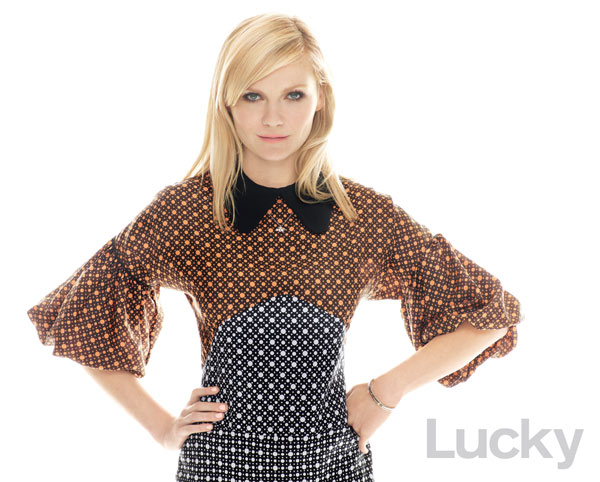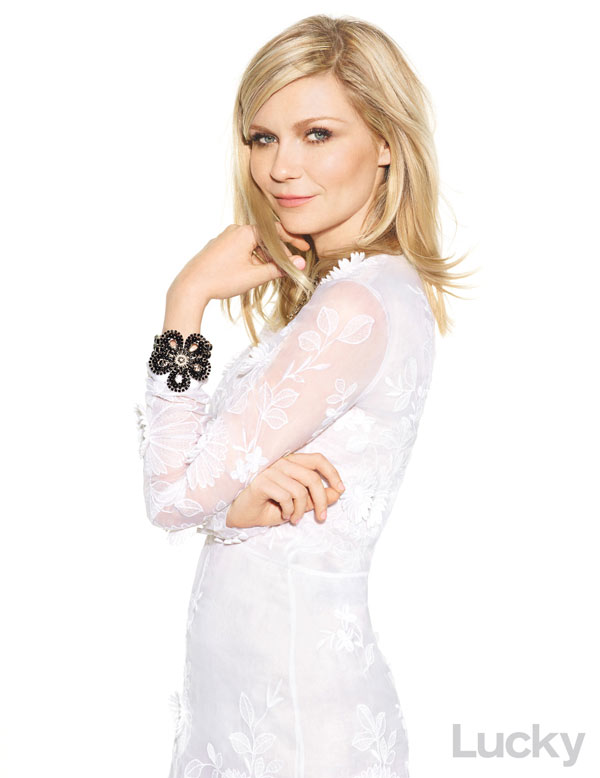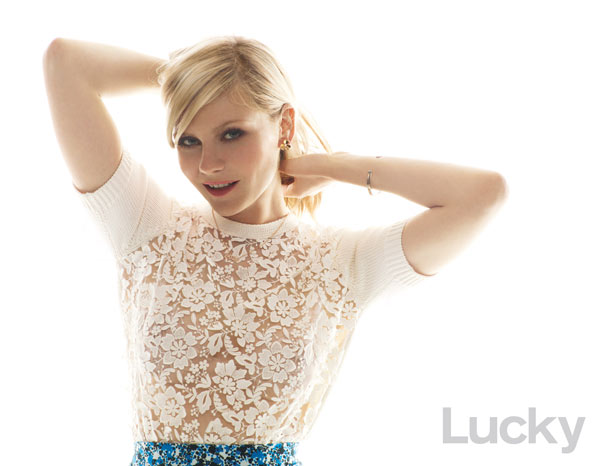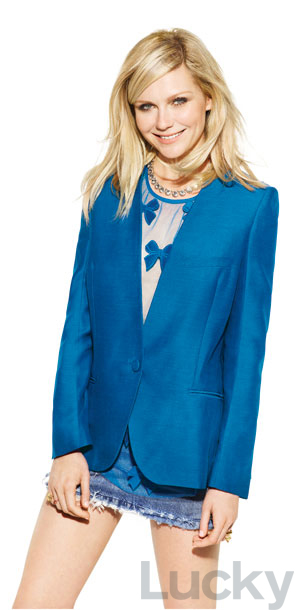 Photos courtesy of Lucky Mag