Jesse James and his little pissy voice are on a show called "American Chopper: The Build Off" which aired on the Discovery Channel last night. (You can see the bikes they built here. Jesse's is the red one, and you can vote on the winner on Discovery's site. The winner will be announced tonight at 9pm.) Radar notes some passive aggressive comments James makes in the episode about his much publicized implosion of a marriage to Sandra Bullock. The stuff James says is mild compared to the way he's previously trashed her and completely dismissed his life with her. He sounds just about the same here, and I would expect nothing less from him. He said "I became a big shot and married some Hollywood actress and didn't talk to anybody anymore, so I feel bad." He feels bad for not talking to people he used to hang out with, not for being a cheating bastard, because he handled that expertly, according to Jesse. Also, his wife of five years is just "some Hollywood actress" he married. No biggie.
In the clip posted on Radar (above) James is shown making a "middle finger" motorcycle, because he's just that mature. I googled "middle finger motorcycle" to see if this was just a nickname for a type of bike rather than a deliberate attempt by James to create a new bike that he's named after giving the bird. The results suggest that James made up the concept of the middle finger motorcycle. Of course he did, and of course his bike is better than the competition. Here's more:
In this sneak peek of American Chopper: The Build-Off obtained by RadarOnline.com, James goes head to head with Paul Teutul and Paul Teutul Jr to build a new bike, and he has a lot to say.

"I became a big shot and married some Hollywood actress and didn't talk to anybody anymore, so I feel bad," James says at the beginning of the episode.

His reference to America's Sweetheart Sandra Bullock as "some Hollywood actress" is sure to rile fans of The Blind Side star, and not exactly endear James to viewers.

James creates a stainless-steel "middle-finger" bike which is apparently the first motorcycle he's personally built in five years and he explains his reason for returning to TV.

"I feel obligated to reconnect with all these people and show 'em that I'm still the same fabricator motorcycle guy. I'm not what I became."

It's not clear if James is blaming Bullock for "what he became," but their marriage imploded over revelations he'd had numerous affairs.

But Bullock isn't Jesse's only target during the episode. "I don't know what the Teutuls do for a gas tank, I think he (Paul Teutul Senior) just yells at someone to get it done and it didn't matter how it got done."

He slams the bikes that they build compared to his. "I can't see that stuff lasting, I think it will work if the bike is static and gets started up for TV. My stuff is meant to withstand punishment.

"It's got to look good, be stylish, be flawless and beautiful and chrome and on top of everything else it's got to function."
[From Radar]
This is what this guy does best – make motorcycles and cars and trash talk the competition. I still fail to see how he pulled so many women with that little baby voice of his, but I'm not attracted to guys like this. For women who are, they should know what they're getting with James (and really it's public knowledge by now) or they'll obviously regret it.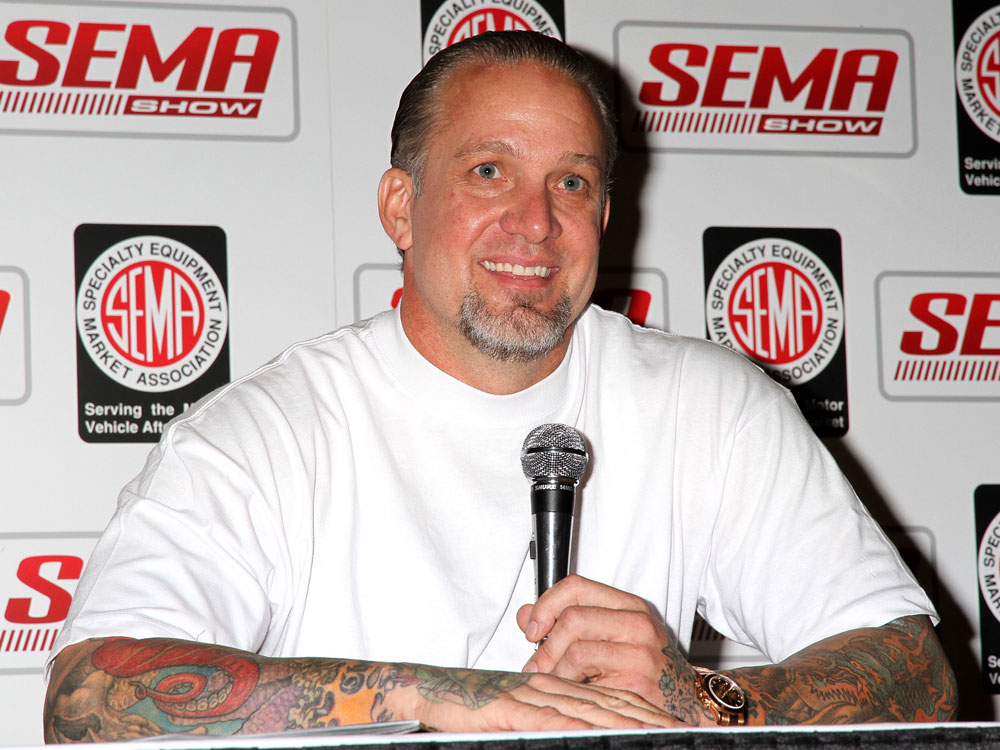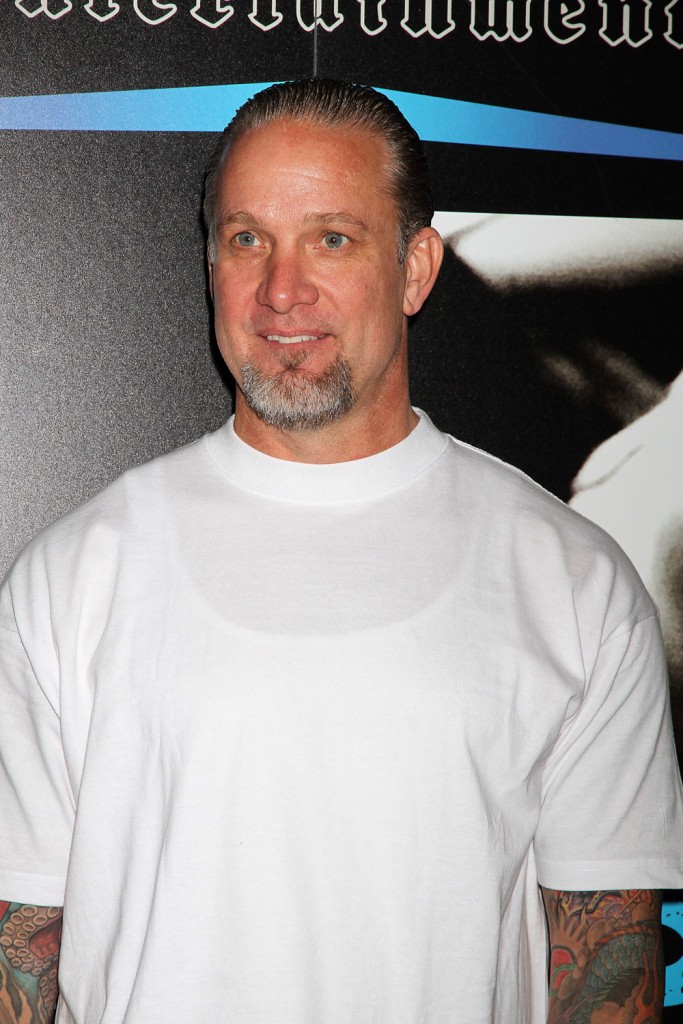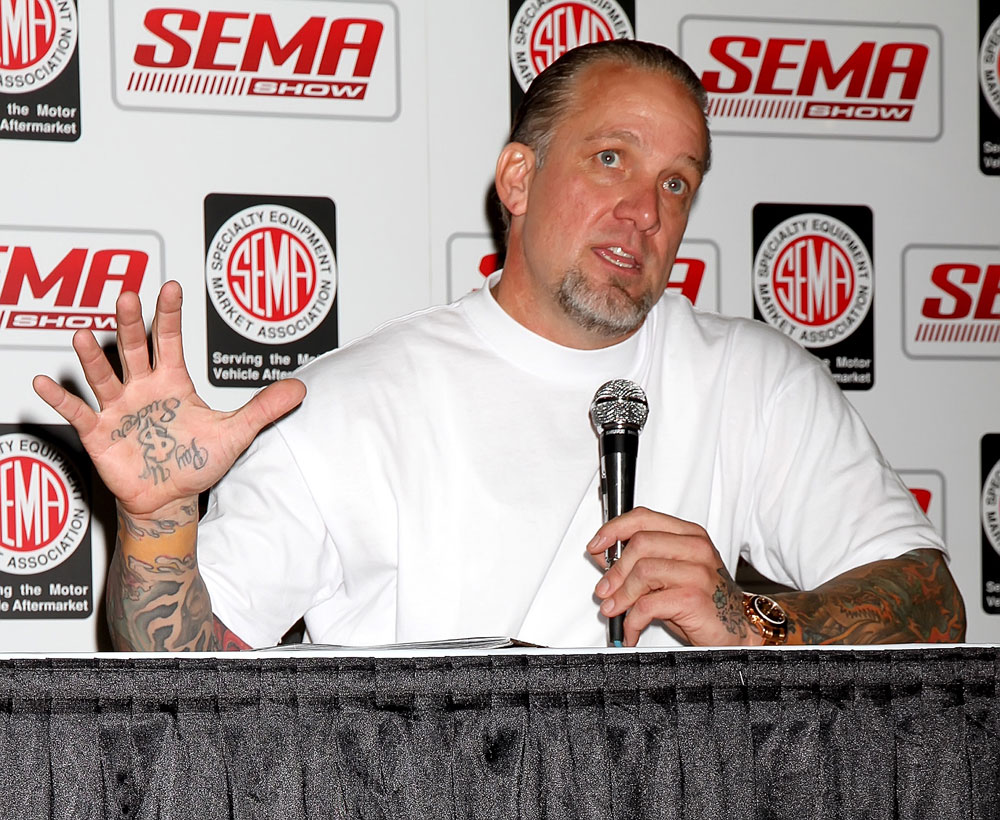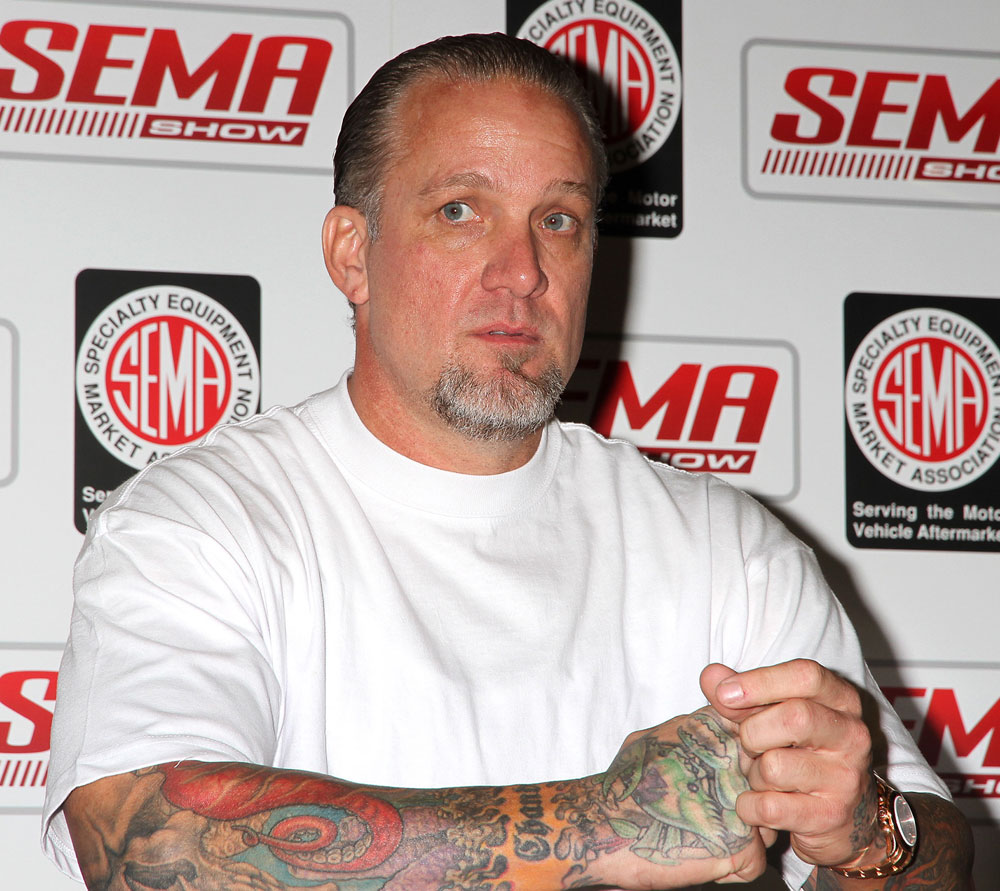 These photos are from 11-2-11 at a "press conference to discuss the new titles from 'Jesse James Presents' Home Video Series" in Vegas. Credit: DJDM/WENN.com