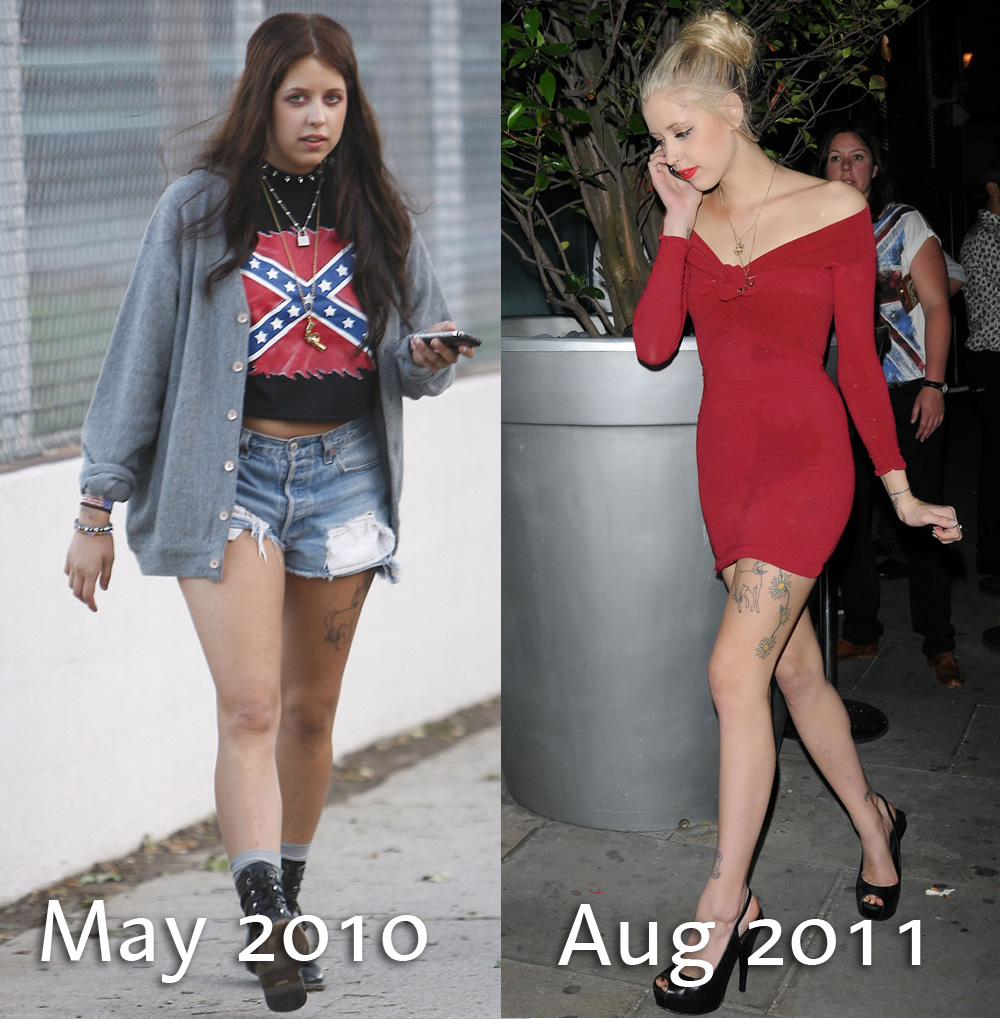 British "socialite" Peaches Geldof (daughter to Sir Bob) rarely does anything truly interesting, so she has to settle for making the news with chronic engagements, shoplifting scandals and allegedly having heroin and Xenu-fueled one-night stands to keep the British tabloids well entertained. It was all quite contrived but not terribly surprising coming from a celebuspawn. In recent months, however, Peaches has gone something relatively unexpected; that is, she dropped a bunch of weight, which automatically caused suspicions of drug use.
For most of her young adult life (and granted, it hasn't been long because she's only 22), Peaches seemed proud to sport a rather "healthy" figure. She wasn't in great shape from a fitness standpoint, but she certainly wasn't fat by any stretch. The girl didn't starve herself and seemed to eat three square meals per day like any normal person would. So it seems strange that she's suddenly gone on an anorexic kick, but if I had to put a finger on why her weight has suddenly become a major issue for her, it would be the existence of her relatively new fey boyfriend/fiance, Thomas Cohen, who looks to weigh all of 110 pounds himself. It's probably pretty difficult to get undressed next to this guy and not feel like a whale no matter what: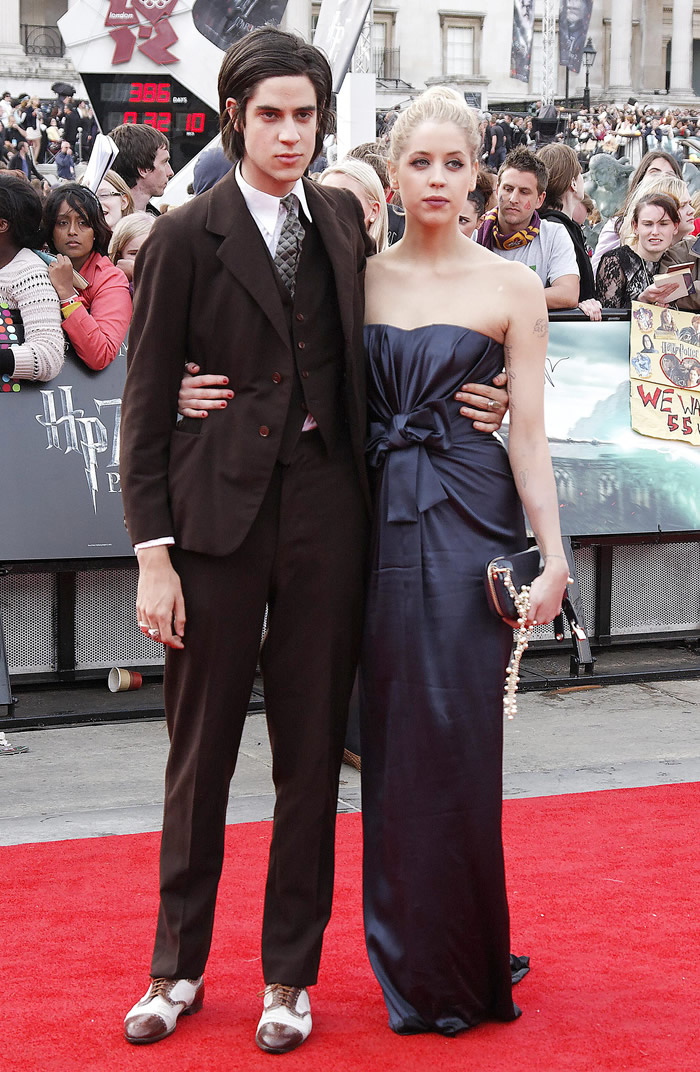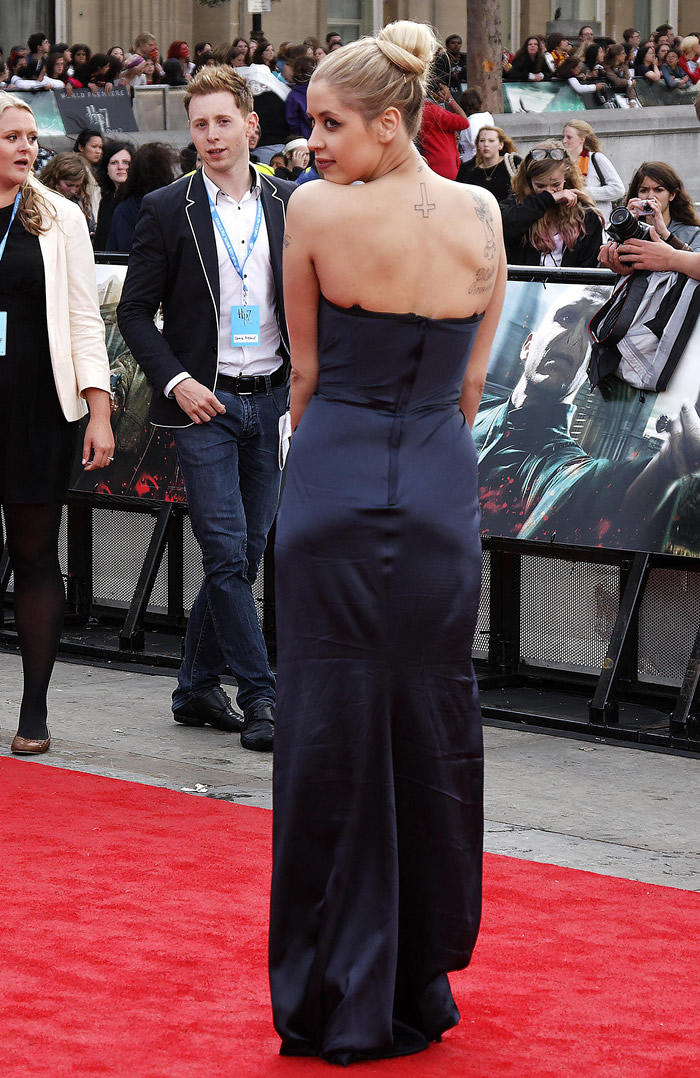 At any rate, Peaches responded to weight loss criticism in the same way that any girl with an eating disorder would do. She claimed that her new figure was due a bout with avian flu, which was followed by a new habit of eating healthily. Also, she expressed a newfound appreciation for miso soup and would reportedly take an hour to eat just one bowl. However, it's become clear from Peaches' appearance at the recent Girl With the Dragon Tattoo premiere that the weight loss has gone too far. Now, Peaches has revealed to The Sun that she's put herself on a strict liquid diet and doesn't eat solids for up to a month at a time:
Skinny Peaches Geldof has been slammed for raving about a dangerous fad diet – eating no solid food for a month at a time.

The telly host has come under scrutiny recently for her extreme weight loss.

And she was snapped at the London premiere of The Girl With The Dragon Tattoo on Monday night looking even more gaunt.

Now Sir Bob Geldof's daughter has claimed that she starves herself for several weeks in order to look this thin.

It was feared that the OMG! With Peaches Geldof host's new tiny frame may have been down to drug use after she was photographed in September with dark bruises close to veins on her left arm.

But Peaches – whose mum Paula Yates died of a heroin overdose in 2000 – has now claimed that her weight loss is down to a fad diet which consists of just liquefied vegetables.

Peaches has told how she can drop ten pounds on the dangerous slimming plan.

She said: "I do juicing. You juice vegetables and then you drink it three times a day. It's gross. I do it usually for about a month. I have no willpower but with the juicing I'm like, 'I have to do it because I have to lose this extra ten pounds.'

"I will lose it then I'm back going mental for the chips.

"I'll juice and then I eat chips."

Peaches was estimated to have lost one-and-a-half stone between March and July this year, slimming from 10st to just 8 1/2st.

But in August she reassured worried fans by tweeting: "To those telling me I look skinny and to eat something, I can assure you I've just cut out eating crap. I still eat like a horse."

However, Peaches, who is often pictured in celebrity magazines, has now said that she felt pressured by fashion mags to be thin.

She said: "Sometimes it's hard. If you open any high-fashion magazine, the girls in it are stick-thin and then they've been airbrushed down to the point where it's just ludicrousness.

"I have days when I wake up and think, 'I'm so fat.' "

Cath Collins, a spokeswoman for the British Dietetic Association, said: "Peaches joins a long line of celebs who are braindead when it comes to nutrition. Surviving on fruit is a very dangerous diet. Peaches is at high risk of electrolyte abnormalities which could lead to acute cardiac arrest. Rapid dieting like this not only makes you lose muscle strength but wastes away your internal organs. It is what kills anorexics. It is a stupid approach and it is irresponsible to promote this sort of disordered eating. It's worrying that somebody who has money and access to contacts would pick such a ridiculous way to diet."
[From The Sun]
Can you imagine eating absolutely nothing an only subsisting upon liquified vegetables? Ugh. Talk about unsatisfying, and you know that Peaches isn't bright enough to take on a liquid diet under the supervision of a nutritionist like a certain Victoria's Secret model.
For comparison's sake, here's some photos of Peaches in May and August of 2010 while she was dating Eli Roth, who seemed to embrace Peaches' figure in his very own way. However, her wardrobe choices during their relationship, including a bathmat dress, did her no favors: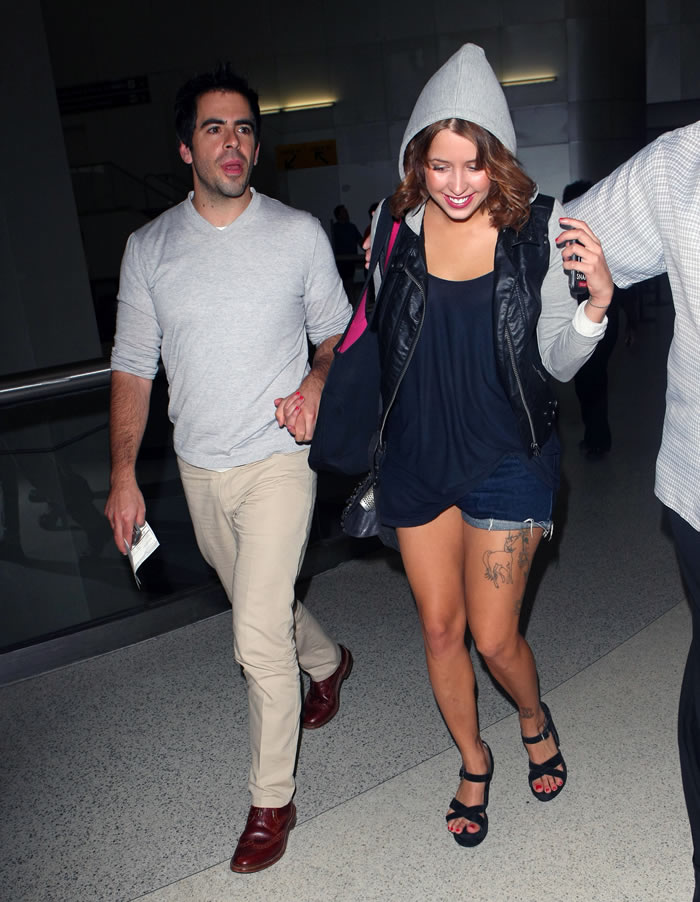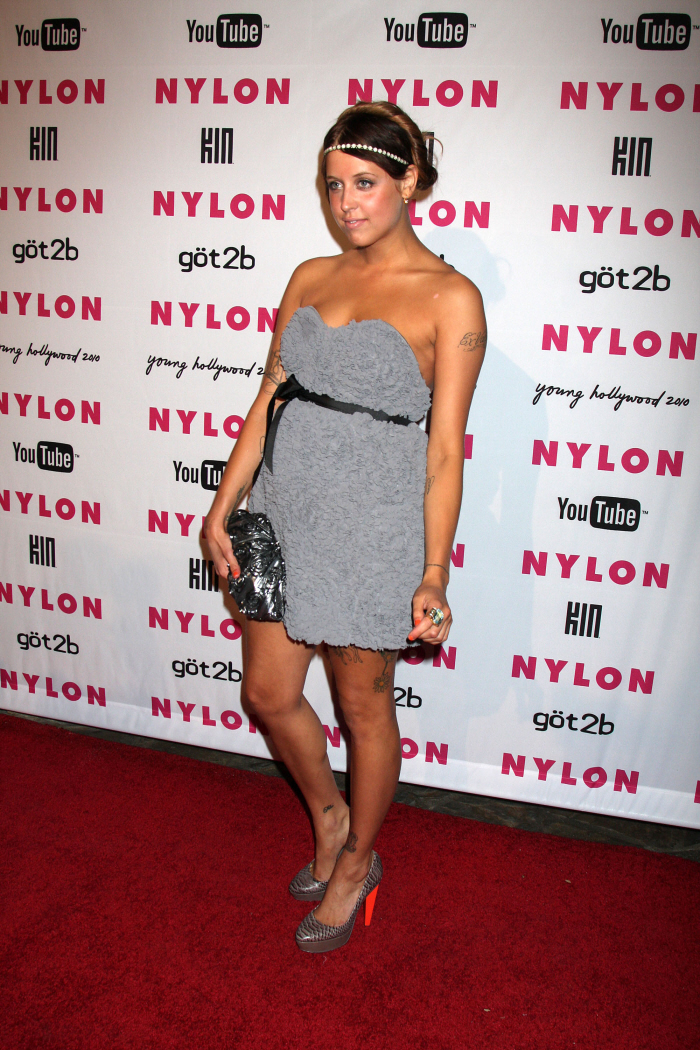 Here are more photos of Peaches' new slimline look over the past few months. While this new physique isn't necessarily anything different that we see from Hollywood starlets, it's certainly a red flag that Peaches has lost so much weight in such a short period of time and that she continues to want to lose more weight. She should stop dieting now and just concentrate on maintaining with exercise and a proper daily menu. Those liquid diets will kill her metabolism in the long run, and she'll be heavier than when she started.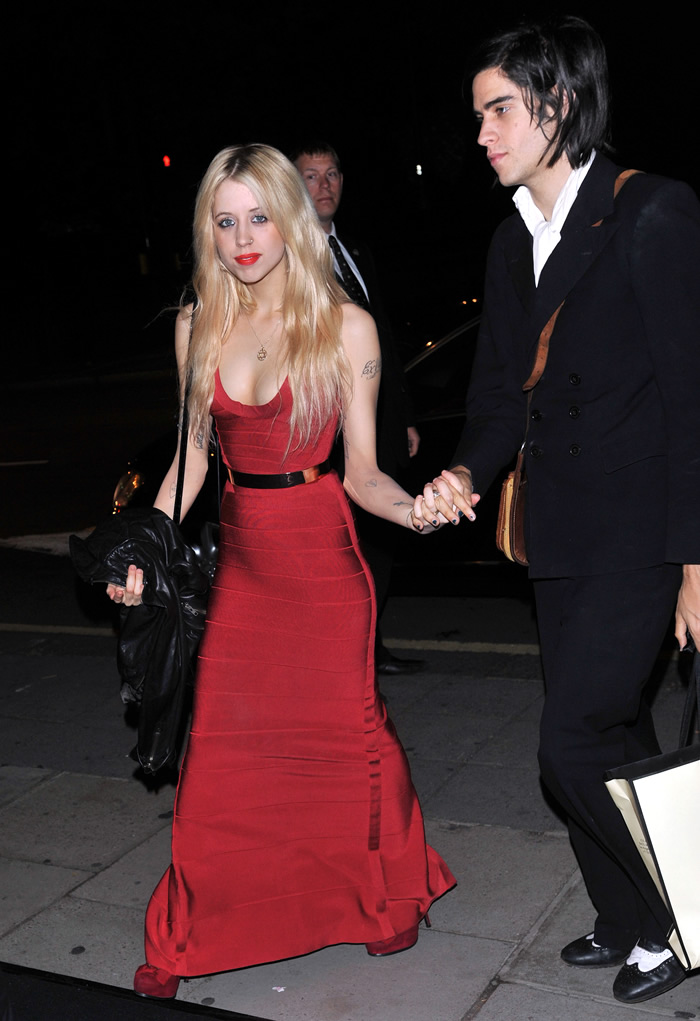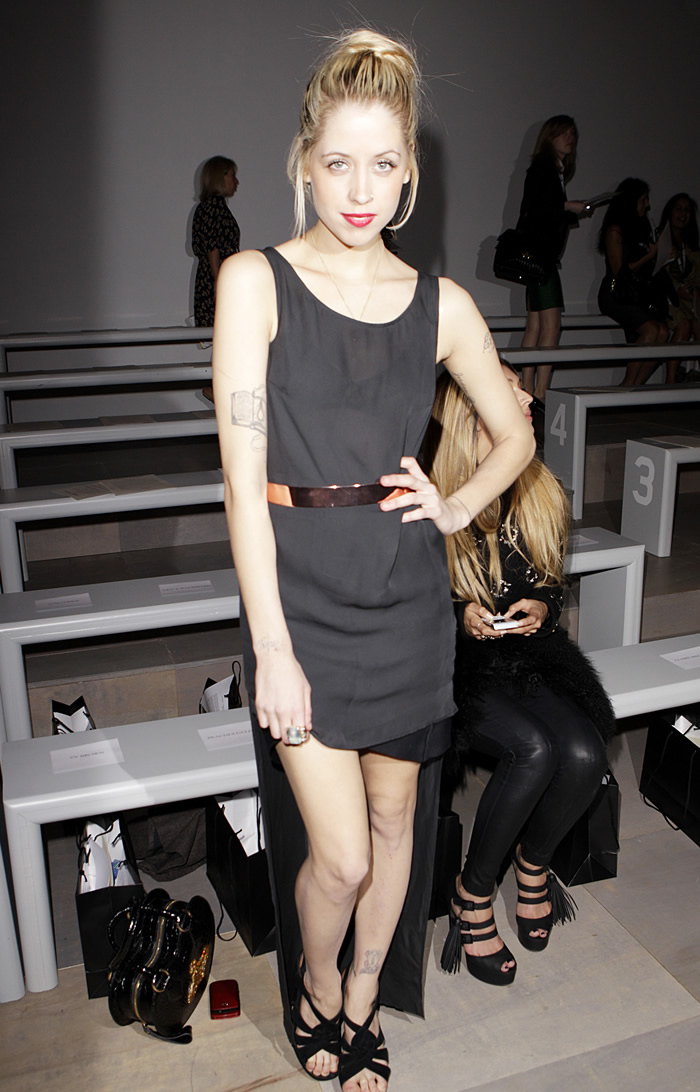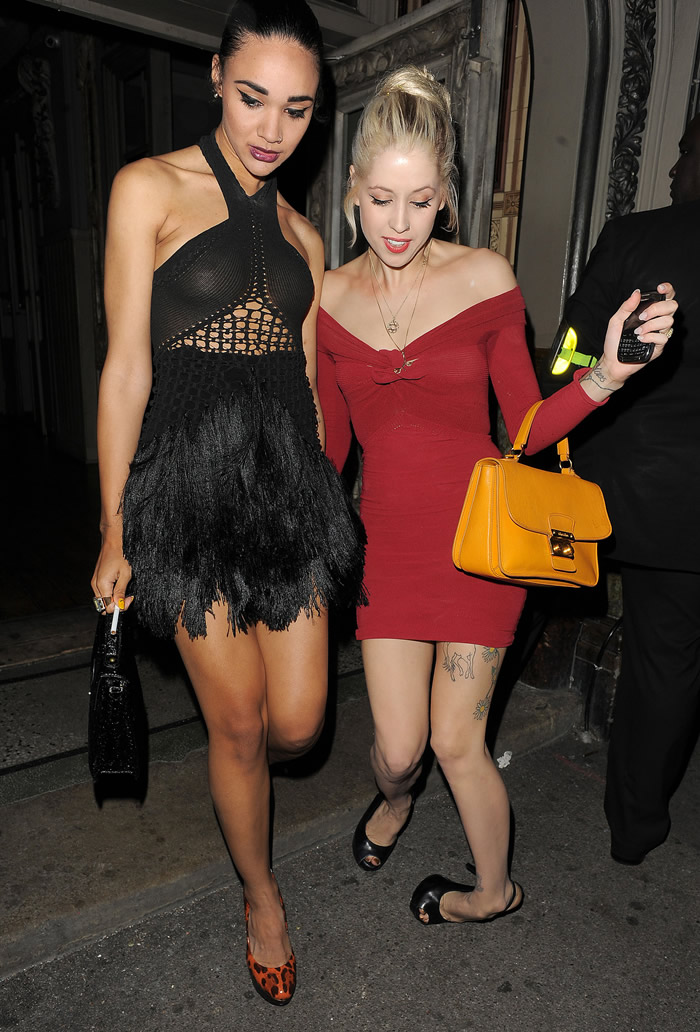 Photos courtesy of Fame and WENN