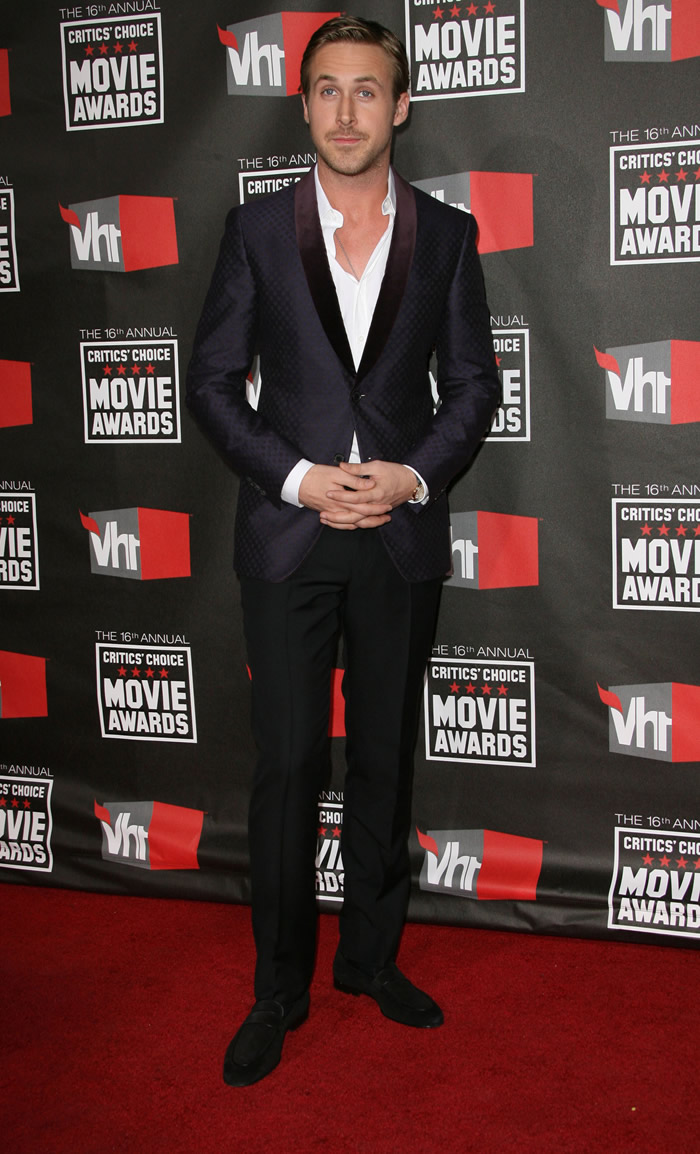 Perhaps it's appropriate that year-end lists signal the death of every single year, but they really don't mean anything in the end. Such is the case with two new "honors" that have been bestowed upon Ryan Gosling, who has been named "Best Dressed Man of 2011" by HuffPo Style. We'll get back to that title a bit later with a review of his 2011 red-carpet and press-friendly looks, but he's shown in the above photo at January's VH1 awards dressed in what is symptomatic of his main style disease — pairing a suit with either a v-neck or unbuttoned shirt, which looks really sleazy (as well as very 1980s) in my opinion. Obviously, Gosling's fans (who held a protest in his honor after he wasn't named Sexiest Man of the Year) would disagree with my assessment, which is perfectly okay. Like I said, we'll get back to the style issue in a moment.
Secondly, Time has named Gosling 2011 Coolest Person of the Year because he is "tough but emotional" in manner of Marlon Brando. In doing so, Time admits that it bypassed the likes of SEAL Team 6, Melissa McCarthy, Julian Assange, and Zach Galifianakis. Well, I guess that Time didn't get Gosling's own memo that he is neither handsome nor cool:
Our Coolest Person Committee was determined to pick someone whose cool was tested and pervasive, obvious even to the dorks who work at this magazine. We defined cool in the classic Marlon Brando way an unshakable calm mixed with a confidence that comes from not needing others. Cool is more how than what; we considered world leaders, singers, hackers and a newsmagazine columnist who one of us thought was an obvious pick.

Ryan Gosling, the 2011 Coolest Person of the Year, is so cool that he refused to talk to me about this honor. Faced with this problem, other magazine franchises might back down and pick someone willing to play ball and be their publicity monkey, but the Coolest Person Committee is committed to the truth. Also, it was getting really close to deadline, so it just seemed a lot easier to stick with Gosling.

Yes, he was a Mouseketeer alongside Britney Spears and Justin Timberlake. And yes, he puts on a weird Brooklyn accent even though he's from Canada. Yes, he was homeschooled and sometimes hangs out with magicians. But he's so cool, he wears all of that proudly. Even more impressive, he found time to be cool while having to constantly explain to people that, no, the guy they're thinking of is Ryan Reynolds. Gosling was in four movies this year, yet he didn't seem overexposed because he was always so different. In Blue Valentine he was desperate, in Drive he was scary, in The Ides of March he was slimy, and in Crazy, Stupid, Love he was six-packy. (The committee saw just the trailers.)

"There is not a genre he is not comfortable in," says Coolest Person Committee member Henry Winkler. "Cool is being comfortable in your own skin. Everything stems from that." Coolest Person of the Year Emeritus James Franco says, "Ryan is the true king of cool. You got it right this year." Let's hope that Gosling doesn't wind up hosting the Oscars.
[From Time]
While that's a sweet little (not to mention very timely and appropriate) James Franco joke at the end, I have to disagree with Gosling as the "coolest." Maybe the characters that he plays are cool (and some of them are), but any guy that lets his dog pee in yoga class and generally acts like a poseur is not "cool." Then again, we're talking about a silly year-end award in name only, and since Gosling didn't respond to Time's request for comment, maybe he is slightly cool after all.
Now back to this strange "Best Dressed" title. I'll reckon that Gosling did well at Cannes this year as a matter of style. While his look didn't exactly appeal to me, these year-end-fashion lists tend to favor the unconventional look, and the shiny blue and matte maroon suits along with the Don Johnson pajama photocall look fit right in with that state of mind: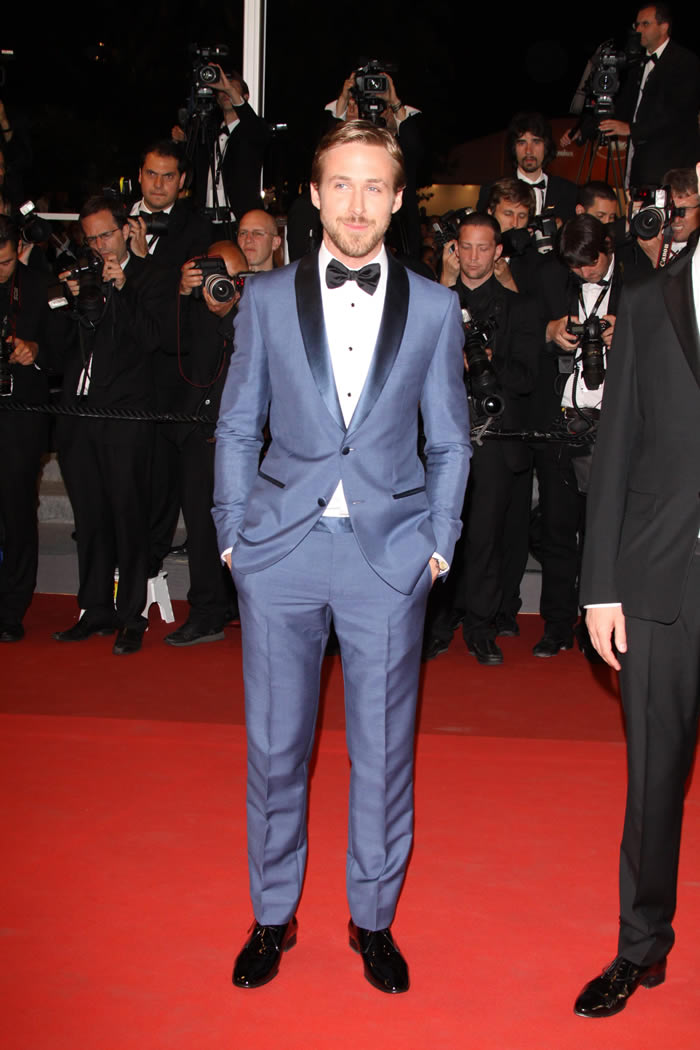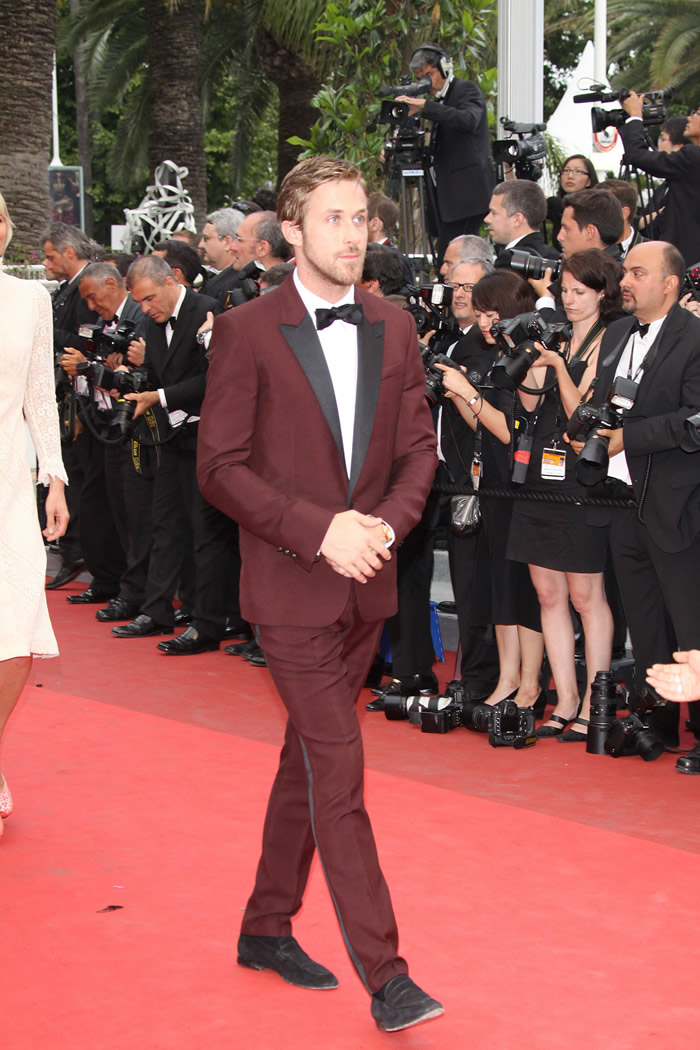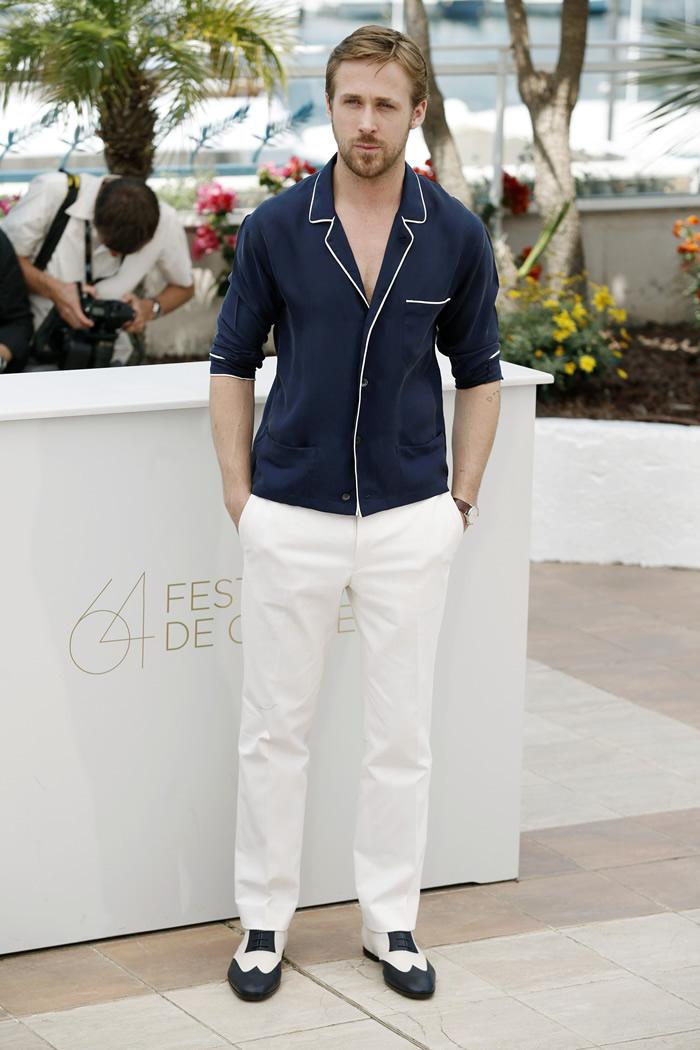 June saw Gosling promoting Drive at the L.A. film festival. He looked alright, but I'm guessing that he scored some extra style points for the black velvet shoes paired with red socks: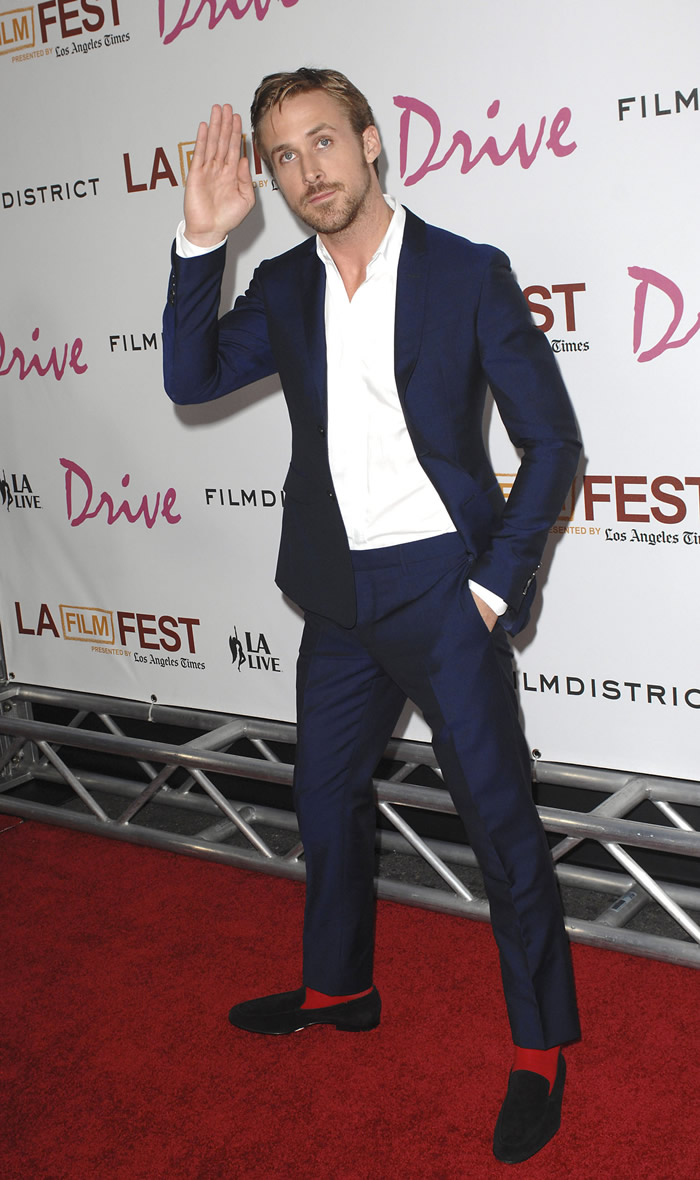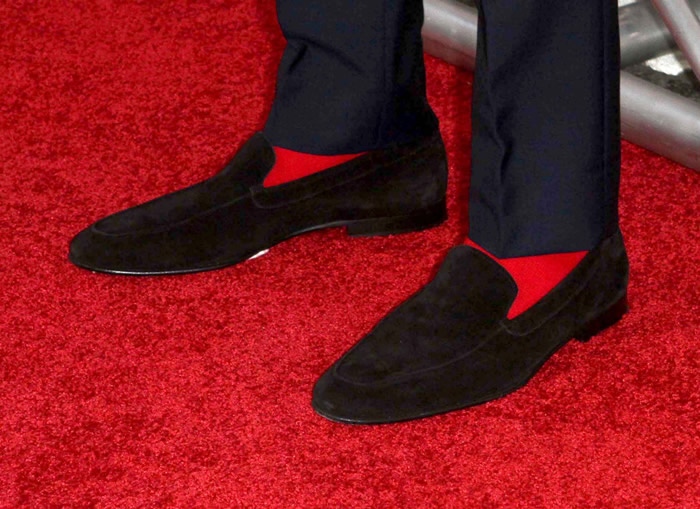 In July, Gosling was promoting Crazy, Stupid, Love and looked the part of a romcom king during promotion. In other words, skeevy as hell: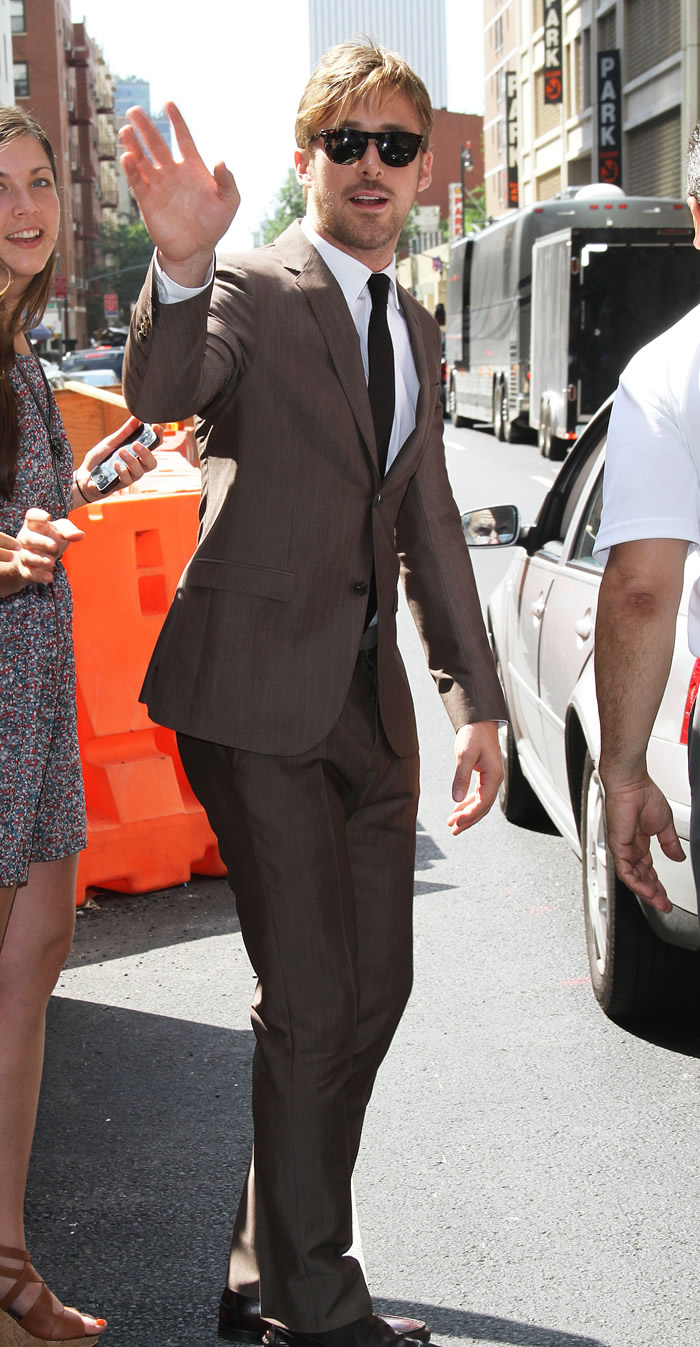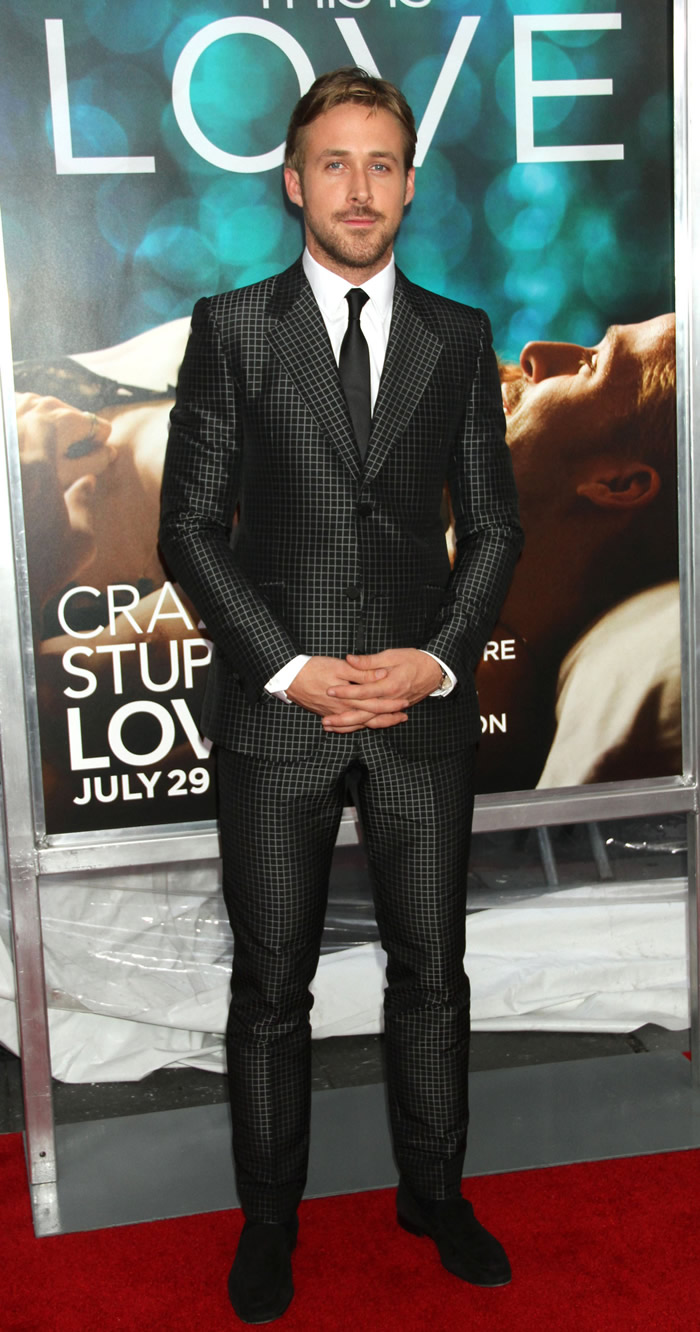 In September, Gosling started to promote Ides of March, and his style became noticeably more bland. Admittedly, he may have been trying to fit in better next to George Clooney, who might as well wear the same suit to all events and premieres: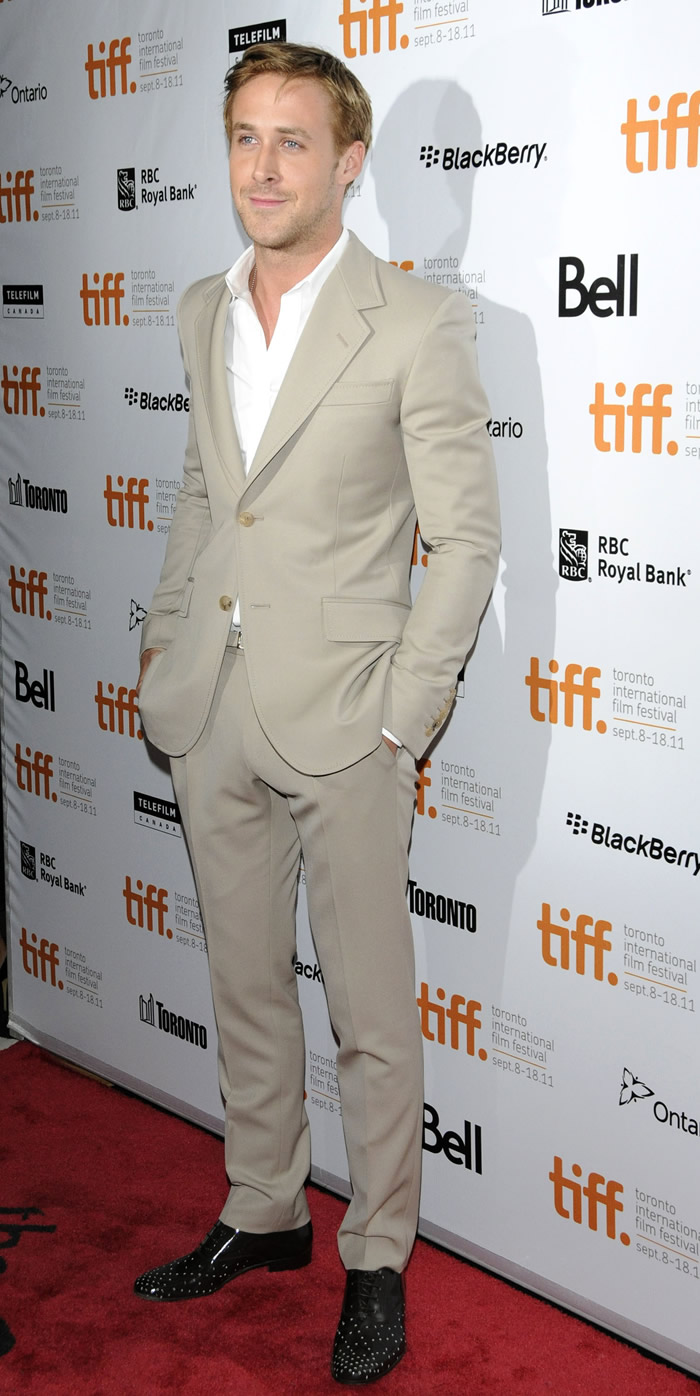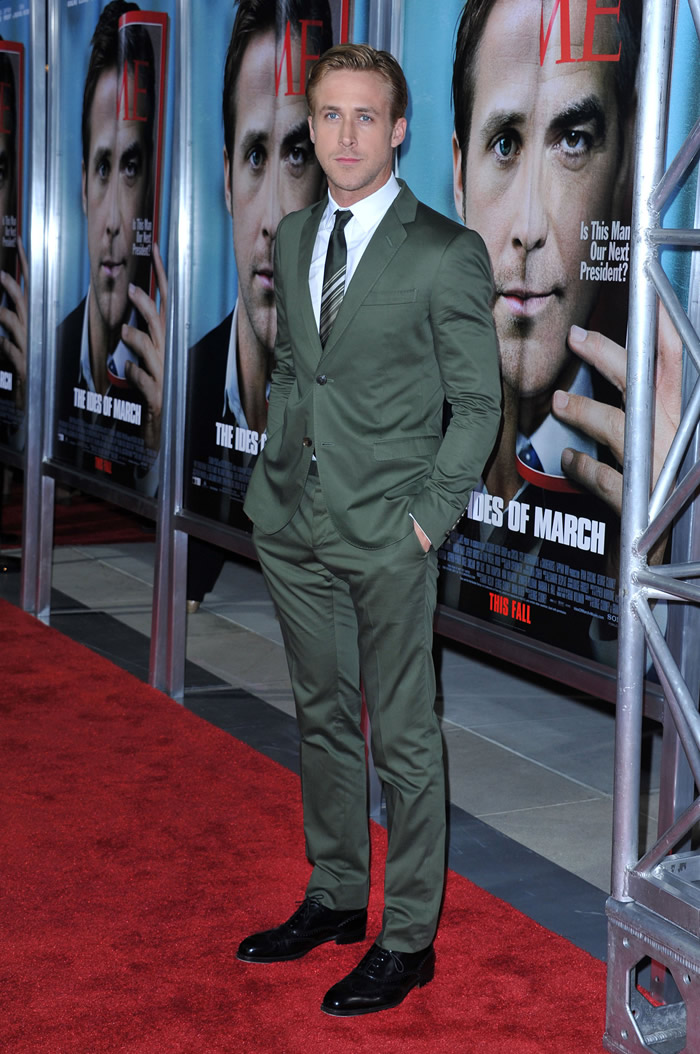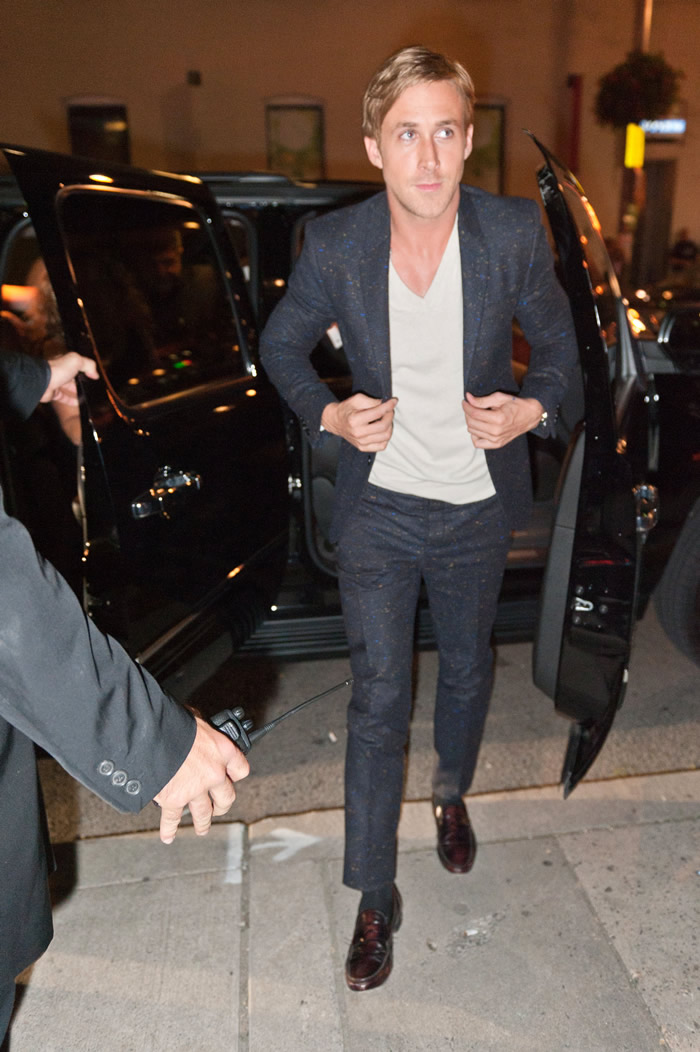 Then in November, Gosling acquired his most important fashion accessory of all, Eva Mendes.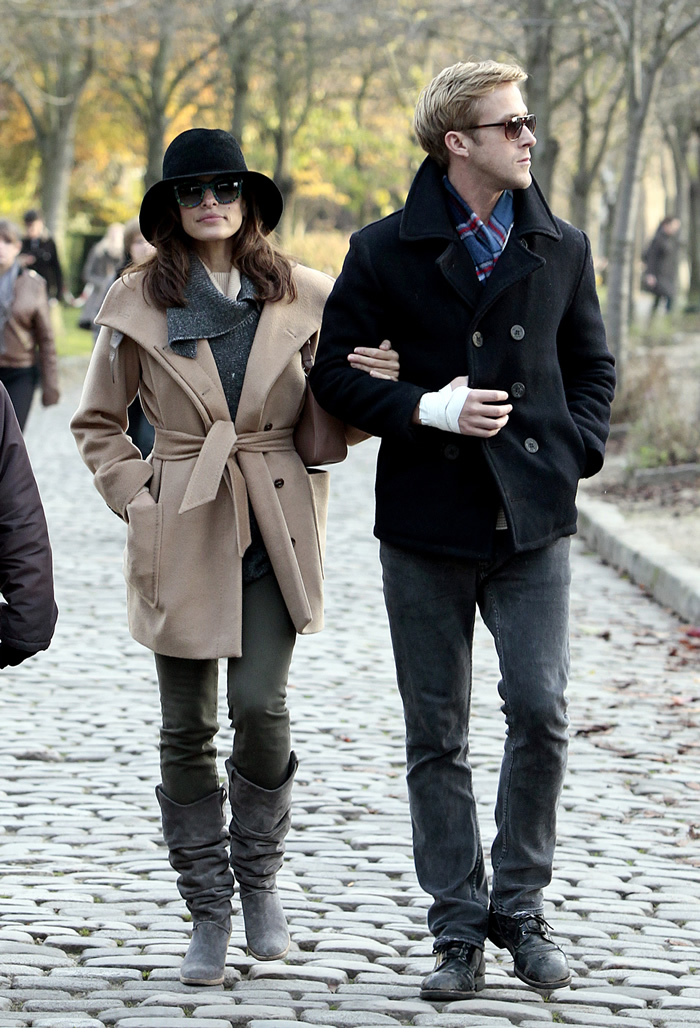 By the way, Eva and Ryan just did a FunnyOrDie video together. It's not really that funny, and I guess this means they are officially a "serious" couple?
Photos courtesy of WENN