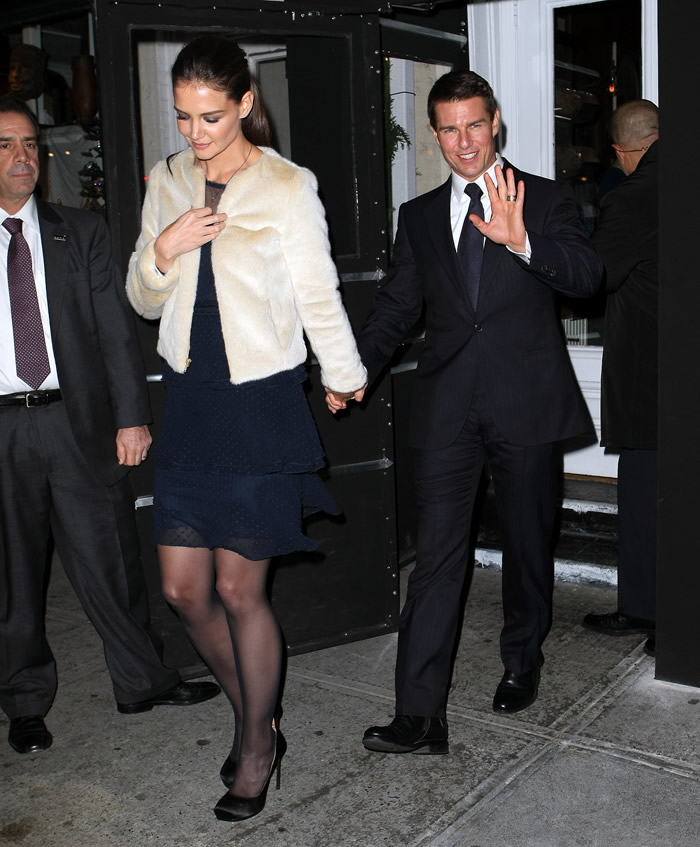 Tom Cruise isn't quite finished pimping out his family for the sake of promoting Mission: Impossible — Ghost Protocol, which I guess is sort of understandable since he doesn't mave much else to talk about other than his insane stunt work in the movie. I mean, he's finally figured out that no one wants to hear him talk about Scientology and the evils of psychiatry, so that's something positive. Still, Tom's been around the globe a few times in the past few weeks, and then he returned to New York City to get papped with the family all weekend while carting poor Suri around without a coat. By the time he and Katie actually walked the red carpet, they both looked exhausted as hell.
As a general rule, I can't even imagine how exhausting it must be for Katie to deal with Tom on a consistent basis and even experience his suffocating "lovebombing" when he's away for work too. Make no mistake that Tom is still thrilled to have Katie as his wife (whatever that actually means to them as a couple), and he's still giving interviews to discuss her "amazing" qualities. He really needs to learn some new adjectives, right?
The parties just don't stop for Tom Cruise and Katie Holmes this holiday season. The couple celebrated their five-year anniversary last month and her 33rd birthday on Dec. 18.

"Every day I fall more in love with her," Cruise, 49, told PEOPLE at the New York premiere of Mission: Impossible – Ghost Protocol on Monday at the Ziegfeld Theatre. "It's been quite an amazing five years because of her. She's an incredible woman. She's everything to me."

To mark her birthday, the couple enjoyed a Big Apple tradition at the Radio City Christmas Spectacular starring The Rockettes with daughter Suri, 5, and her grandparents, Kathleen and Martin Holmes.

The family then dined at Buddakan for a birthday meal on Sunday.

"We had a lot of fun. It was a great day," Cruise says of the party, which included some romantic treats for his wife. "We had flowers and cake. All that stuff."
[From People]
Yeah, Katie's birthday must have been quite the event, what with the Sciento-clown in attendance. Shudder. Meanwhile, Tom hasn't forgotten about his other girl either, for he's also paying lipservice to Suri as well:
Suri Cruise isn't a sartorial copycat.

The fashionable 5-year-old — who's been known to rock faux fur jackets and kitten heels over the years — has an innate sense of style, according to her dad Tom Cruise.

"She was just born that way. I don't know what to say," a proud Cruise, 49, told Us Weekly at the Mission: Impossible – Ghost Protocol premiere in NYC Monday. "She really creates her own outfits."

Adding that Suri "dresses herself," Cruise said his wife Katie Holmes, 33, has helped curate their daughter's love of clothes.

"Katie has her create things and sew and stuff like that. It's kind of amazing," Cruise said. "It's beautiful. It's really beautiful."

Holmes — who recently admitted to coordinating outfits with her celeb BFF Victoria Beckham — also helps her action star hubby get dressed for red carpet events.

"Whatever my wife wants me to wear, I wear," Cruise laughed. "It's simple. She has amazing taste."
[From Us Magazine]
Okay, that last part must have been a lie because, seriously, are we supposed to believe that Tom only wears lifts because "amazing" Katie dictates that he must do so? I think she sort of enjoys towering over him sometimes. Rather, it's Tom who can't handle the truth.
In addition to Tom's vomit-inducing words about his lovely and incredible wife, the Cruise also stopped by "The Late Show with David Letterman" on Monday evening to promote MI4, and he barely gets a word in about his wife and daughter because Dave (mercifully) keeps quizzing him about the movie stunts. However, Tom does make quick mention of Katie staying home from the international MI4 tour because the schedule was jam-packed, not because she was lounging somewhere on a recharging dock as I previously guessed. My bad.
On a slightly amusing note, the Daily Mail has some photos of a very heavily made-up Tom outside the Ed Sullivan show after chatting with Letterman. While I'm aware that guests on the show wear make-up for the cameras, the amount of blusher and lipstick on Tom is ridiculous, and someone should've made him wash that stuff off before heading onto the street. Fortunately, you can't really see it while he's chatting to Dave onscreen though. Here's a clip of the show, which is largely uneventful because Tom's apparently taken a few PR lessons on how to hide the crazy. He does slip once though when Letterman says the word "ass" — Tom begins laughing hysterically and then repeats the word. What a freak.
Now as a special bonus, here's ore of Tom's freaky plastic-surgery face from the MI4 NYC premiere. You know you love it.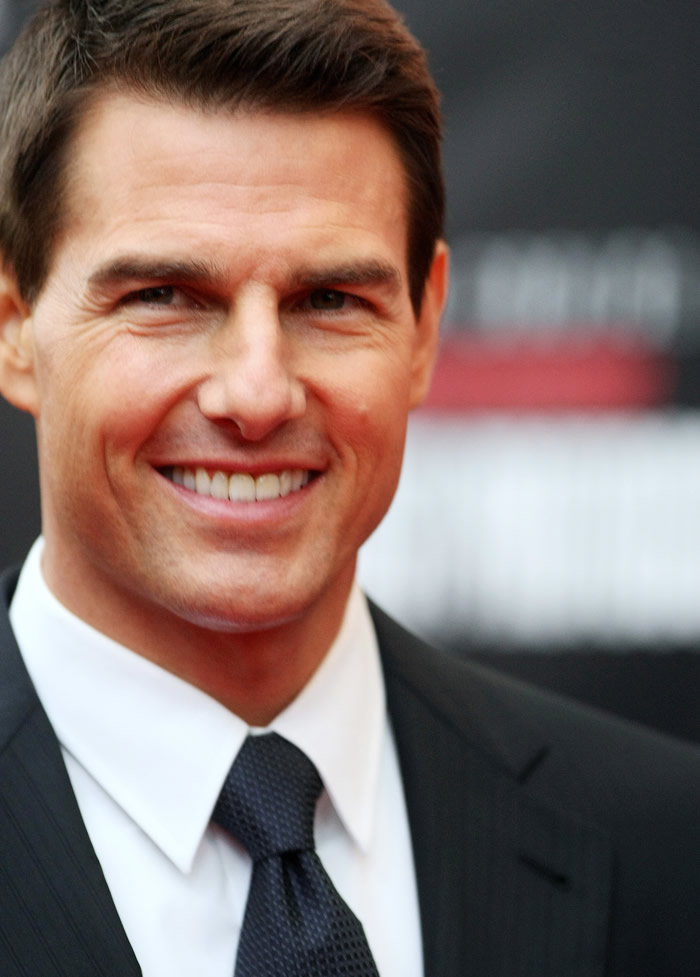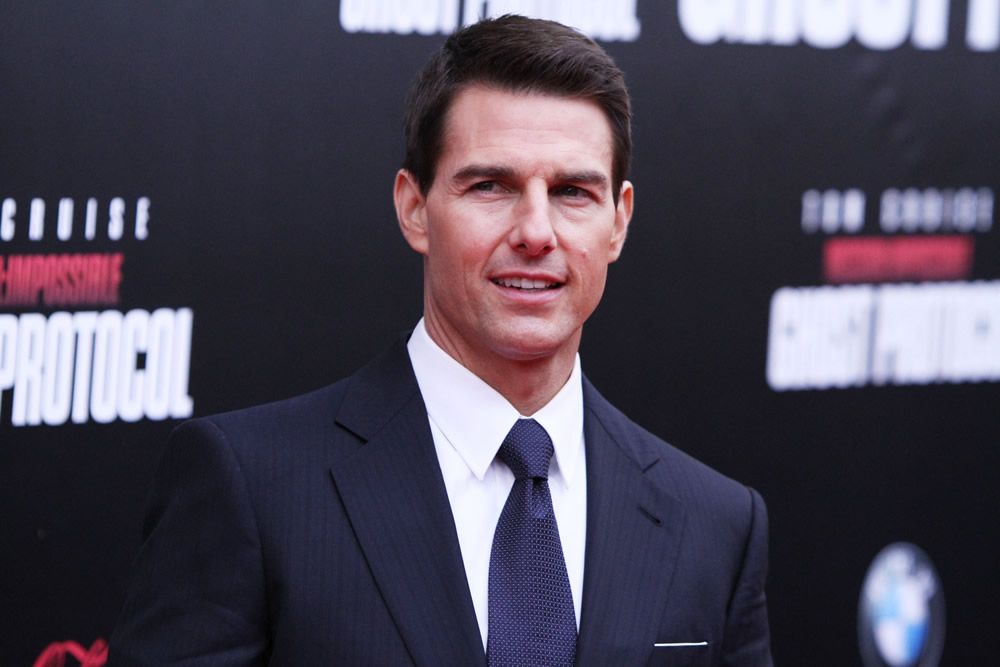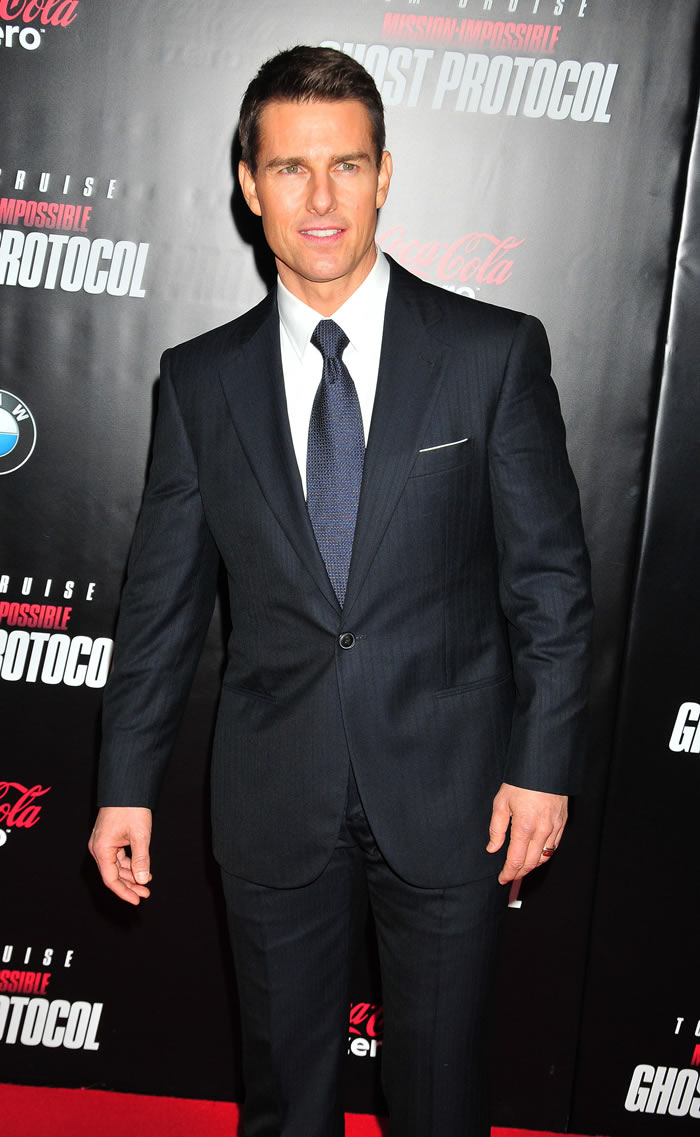 Photos courtesy of Fame and WENN