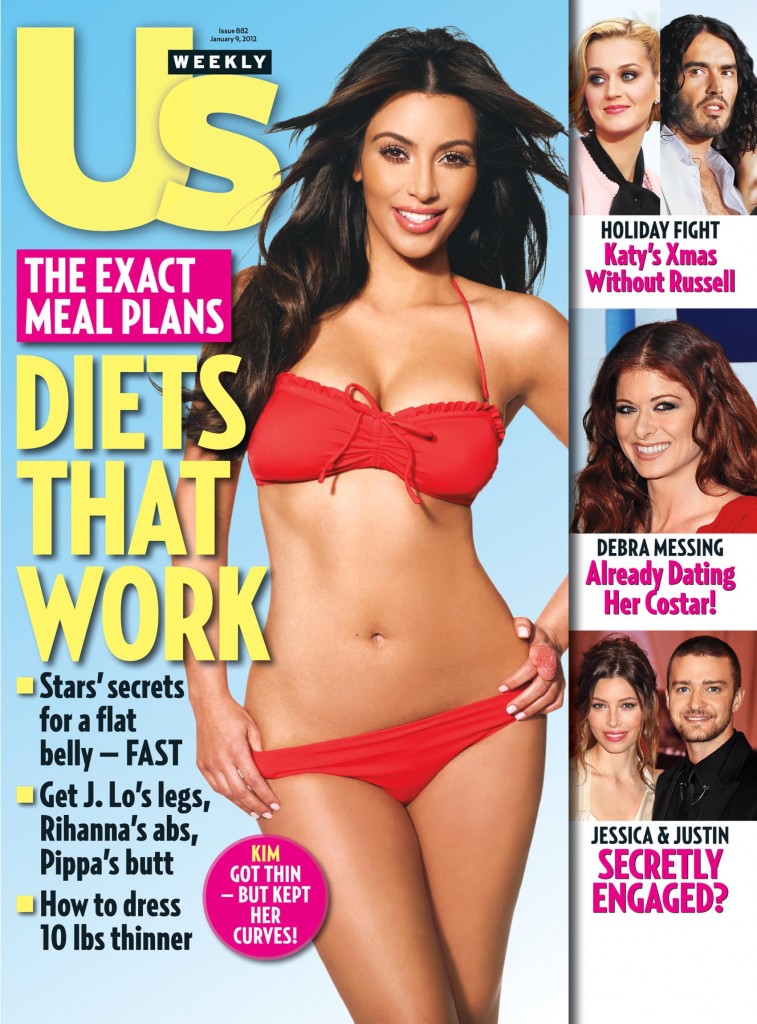 Did you know that Kim Kardashian magazine covers sell? It's true, the issues of Glamour and Cosmopolitan with Kim solo on the cover were the highest sellers last year for those publications. Her other many magazine covers had mixed performances, but her Botox face and spider lashes can move copies.
So here we have Kim on the cover of the US Weekly diet issue, showing off her bikini body. This was obviously achieved through the Photoshop diet. We've seen plenty of bikini candids of Kim and she looks good albeit totally fake, but she doesn't look like this. Someone went way overboard with the 'shop. I also doubt that this photo is at all recent.
In that Cosmo interview for their August issue, Kim claimed to be a size 4, which many people scoffed at. In the new issue of US she's claiming to be a size 2. I get that she's shorter at 5'2″, but a size 2? Why doesn't she just go for the gold and claim to be a zero? Here's her vague diet advice and some words from her trainer:
Steers clear of sugar
The onetime sweets lover has dropped refined sugar from her diet. "Changing my eating habits makes a big difference," the E! star tells US of keeping her size-2 body trim. Her healthy menu? "I wake up and eat eggs with turkey bacon, then salad for lunch and fish, pasta or chicken for dinner.

Goes organic
The newly single 5-foot-2 star has been inspired by big sister Kourtney, 32. "She's taught me to eat more organically," admits Kardashian, who has also downed wheatgrass shots with her sis. "She's a bit extreme, but slowly I'm learning to love it."

Sweats it out – hard!
There are no water breaks during the 31 year-old's hour-long sessions with Gunnar Peterson. "Every minute is accounted for," says the trainer. "You go from running to pull-ups to lunges to crunches to overhead presses. You get more work done in the same time."
[From US Weekly, print edition, January 9, 2012]
That's their entire article on Kim and her "exact meal plan." At least she's no longer shilling for that shady diet company that Scott works for. And at least she's not training with that scam artist Tracy Anderson. Plus her diet sounds sensible even though she doesn't give much advice, and I like that she's not advertising for some paid plan. (Which she probably would be if one would have her.) Other than that I don't have anything nice to say. I hope that her reign at the newsstands will soon be over.
Kim in March, 2011: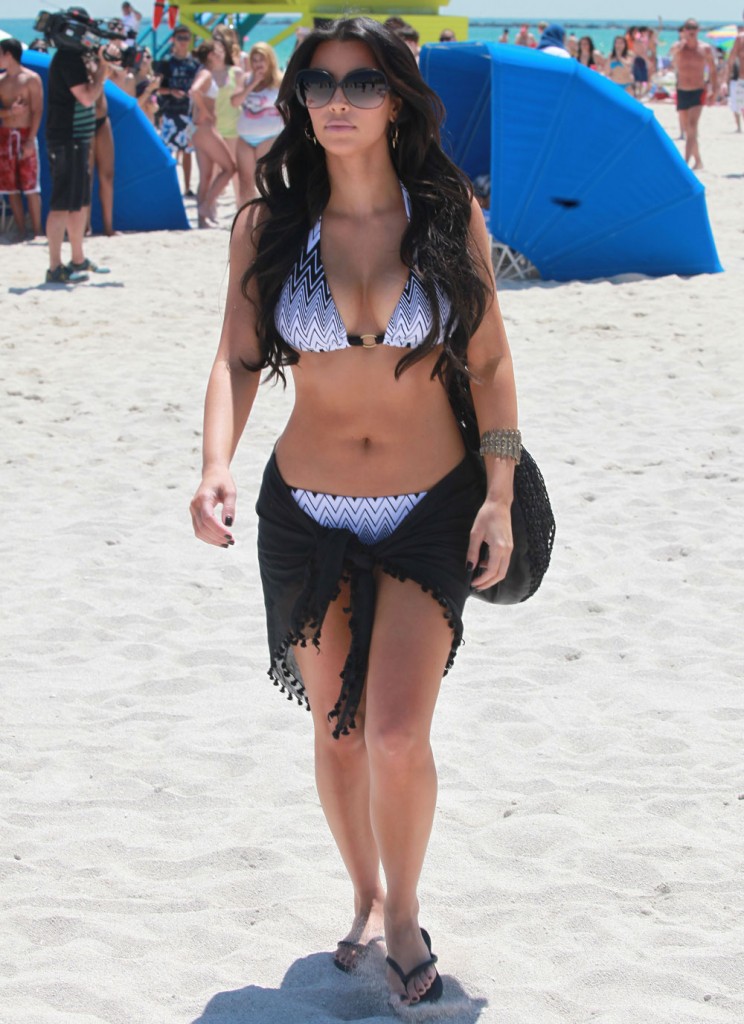 December 16, 2011: