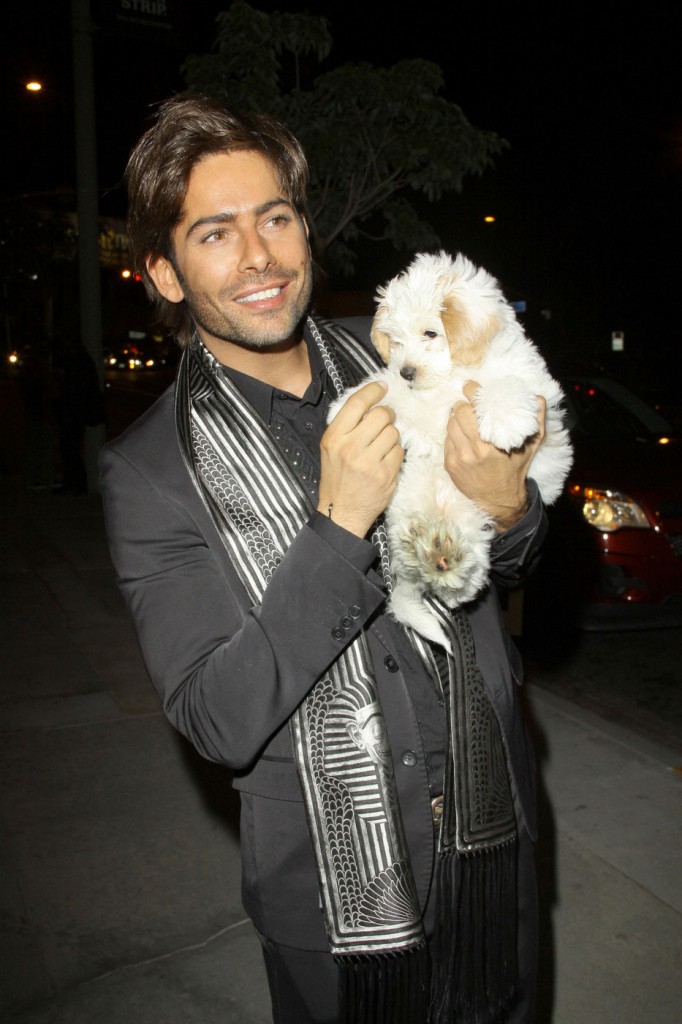 Star has a new interview with Cedric, Lisa's houseguest on Real Housewives of Beverly Hills who was kicked out of her house last season and caused a lot of drama. It's a given that this guy lies and is not to be trusted, but he does reveal a few things that ring true to me. He claims that he was never old friends with Brandi, as she claimed earlier this year, and that producers told him to say that so that he could remain on the show. He also says that he had moved out of Lisa's house "months before" she had a role on the show and that he was told to move back in. Plus, he claims he was invited to the party at Lisa's that will be shown on the finale, also in order to create drama.
False: Cedric wasn't invited to the party on the finale.
Producers did invite Cedric Martinez to the grand-opening party at Sur Restaurant & Bar that will appear on the season finale. But according to Cedric, after filming his arrival, "Lisa confronted me with some of the worst acting you'll ever see on television. She claimed I wasn't invited and told me to leave. It sums up all the phoniness and manufactured drama on the show."

False: Kim only struggles with alcohol addition.
That's the least of Kim Richards' problems, says Cedric. "The truth is much darker," he says. "I'm thankful Kim is now in rehab, hopefully getting some professional help."

False: Cedric and Brandi were longtime pals.
Cedric and new cast member Brandi Glanville met this year at a lunch organized by producers, not during their modeling days in Europe a decade ago. "It was a manufactured friendship to keep me on the show," Cedric tells Star.

False: Lisa and Ken have a solid marriage.
Despite their united front on the show… Lisa is "mortified and embarrassed" by her husband, Ken. "Over the past few years, I witnessed a marriage in crisis," says Cedric. "I'm betting Lisa will dump poor old Ken as soon as RHOBH completes its run!"

False: Lisa likes Adrienne.
Lisa hates neighbor and costar Adrienne Maloof-Nassif, says Cedric. "She feels Adrienne is not worthy of being on the show."

False: Cedric was living with Lisa when the series started.
"I moved out months before she landed the role," he says. Producers convinced him to move back in, the former housemate said.
[From Star Magazine, print edition, some headers re-worded, January 9, 2012]
So is Cedric just revising history so he sounds like the wronged party? I wouldn't be surprised. He's a con artist and it was obvious that he made up that whole Les Miserables backstory. (Although he denies this and said that producers deliberately tried to discredit him.) He's shown that he's lazy, petty and a freeloader, although it's hard to figure out what's exaggerated by editing for effect.
I bet some of this is true, and that producers told him to come to the party so that they could film him arguing with Lisa. It's even possible that producers asked him to move back into Lisa's house for season one so that they could film him getting kicked out again. He doesn't elaborate there, though, and it would be easy enough for him to just make these claims. I do believe that he got into a legitimate beef with Lisa and Ken and that he scammed and hurt Ken especially. Ken isn't that good of an actor. Lisa is, though. That lady is a piece of work, like just about everyone else on the show.
In related RHOBH news, Kim Richards was said to be out of rehab, but various outlets changed that story and Radar claims in an update that she's still there. I bet she wanted to bolt and producers made her stay. Kim was so visibly wasted on that show and only Brandi and Adrienne's husband seemed to even notice.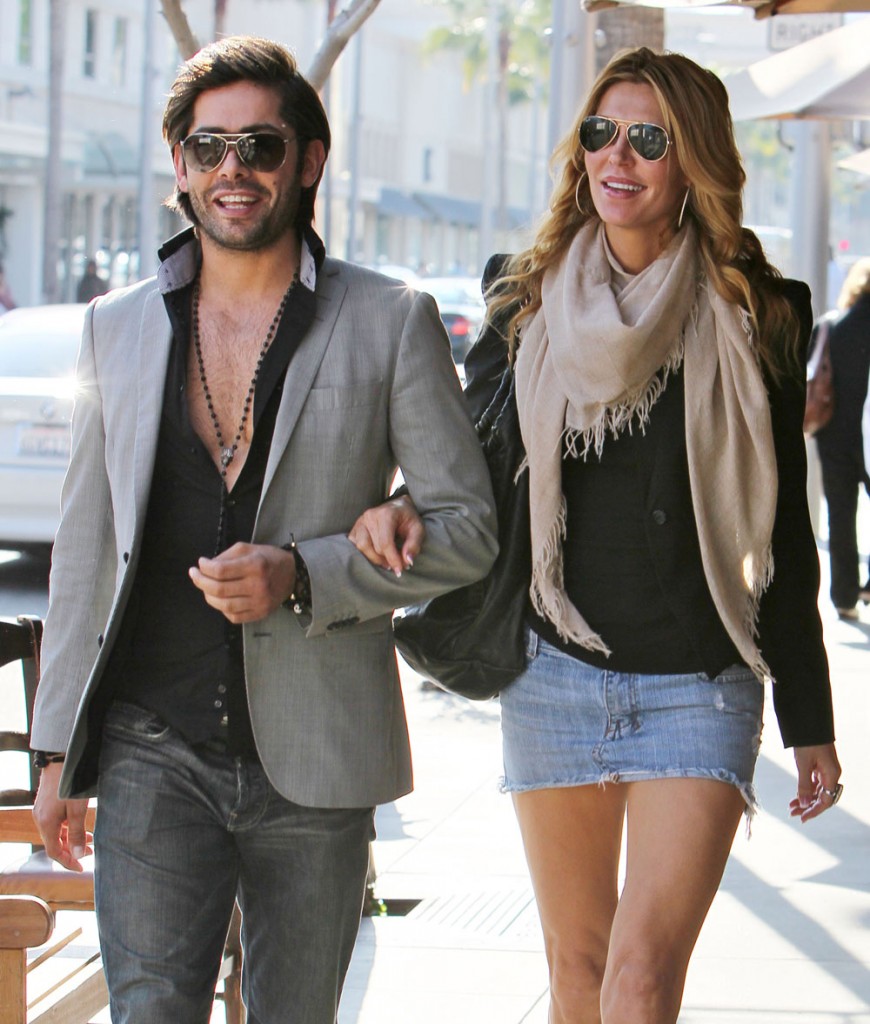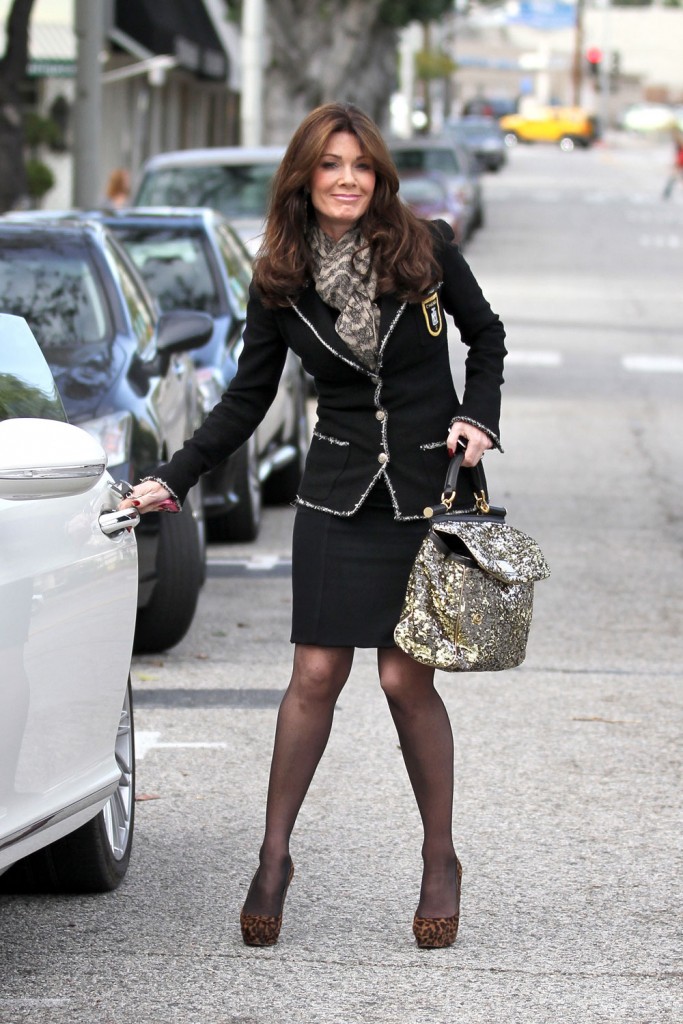 These photos of Cedric with the adorable dog are from 10/28/10, credit: David Tonnessen, PacificCoastNews.com. He's shown with Brandi on those staged photos from 2/1/11. Lisa is shown outside Ken Paves' salon on 12/2/11. Credit: WENN