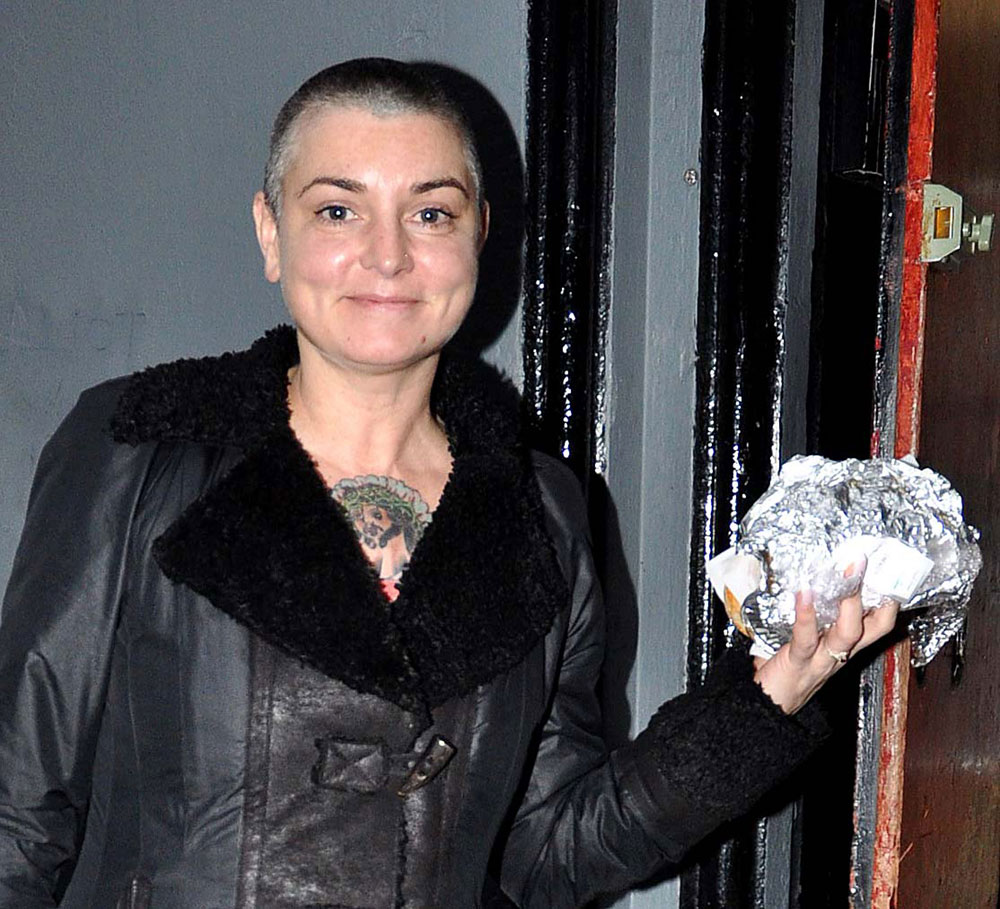 This is a hard story to piece together, but I'll attempt it. We've seen Irish singer Sinead O'Connor gradually unravel since she came back into the public eye late last year. At first she posted to her website asking for help finding a man. She eventually found one, married him within a few weeks, claimed to be divorcing him, and then gleefully tweeted that she was back with him and was screwing him. She also shared the detail that she made her new husband, a drug counselor, uncomfortable when she drove around looking for drugs on their wedding night. It was all TMI from Sinead, who admitted prior to her quickie wedding that she'd gone off her bipolar medication.
The latest in this hard-to-watch saga has Sinead overdosing on something and then asking people on Twitter for help finding a psychiatrist. Sinead called it an "overdose," not a suicide attempt specifically, but that's what it sounds like. She didn't tweet about the OD, and just told British outlet The Sun about it. She plead on Twitter for names of psychiatrists in her area who could see her right away and then followed up with the news that she had some appointments scheduled and was feeling better. I'm going to include a couple of different explanations below, because I didn't get it at first when I read this story on The Sun or when I went through her tweets.
Troubled singer Sinead O Connor overdosed on pills in the days before her plea for psychiatric help via Twitter.com on Wednesday (11Jan12).

The Nothing Compares 2 U singer has long battled mental health issues and took to the internet to tell fans she was heading for meltdown.

She pleaded with followers to give her contact details for health professionals who could provide her with therapy and get her back on her medication.

O'Connor admitted the backlash from her on/off romance to Barry Herridge, who she split from after three weeks of marriage only to reunite days later, had sparked her relapse – and now she's revealed she took an overdose in the days leading up to the drama.

She tells Britain's The Sun, "I took an overdose. God obviously wants me around – though I can't think why." The suicide bid took place in Los Angeles last Thursday (05Jan12), reports the newspaper.

O'Connor returned to Twitter on Wednesday following her call for help to thank fans for their support and revealed she is now due to receive treatment.

She wrote, "hey… wanna thank all SO much for such great help today. have a number of numbers, contacts, etc now and appointments." – Contact Music

---

In a string of Twitter posts that began on Wednesday morning, Jan. 11, O'Connor told fans that she was "in serious danger" and asked, "Does anyone [sic] know a psychiatrist in Dublin or Wicklow who could urgently see me today please?" She then sent out an e-mail address and asked fans to send her recommendations, writing, "Me don't wanna leave me kids. Or f*ck up me work. I'm sorry worrying anyone.. is just am sick and ireland shit for finding help cant think of any other way…

On Wednesday, O'Connor alluded to the emotional harm caused by an article that ran in the Irish Independent on Sunday and alleged that Herridge was counseling drug-addicted teenagers as his new bride was searching for drugs.

"The sindo article about them trying to lose barry his job and everyone being shit to him for marrying me has spun me off and I'm ill," O'Connor wrote.

In the midst of her ongoing personal problems, O'Connor is set to release a new album, How About I Be Me (And You Be You)?, on Feb. 21. A two-night residency at Los Angeles' Hollywood Forever Cemetery begins on Feb. 20. – Hollywood Reporter
[From Contact Music and The Hollywood Reporter]
It took a lot of courage to ask for help on Twitter, and I'm really relieved that she got some. She's going through some serious issues with her bipolar disease and thank goodness she's getting help. She needed help and she reached out and got it. I hope she's able to get just the medication she needs to manage her disease.