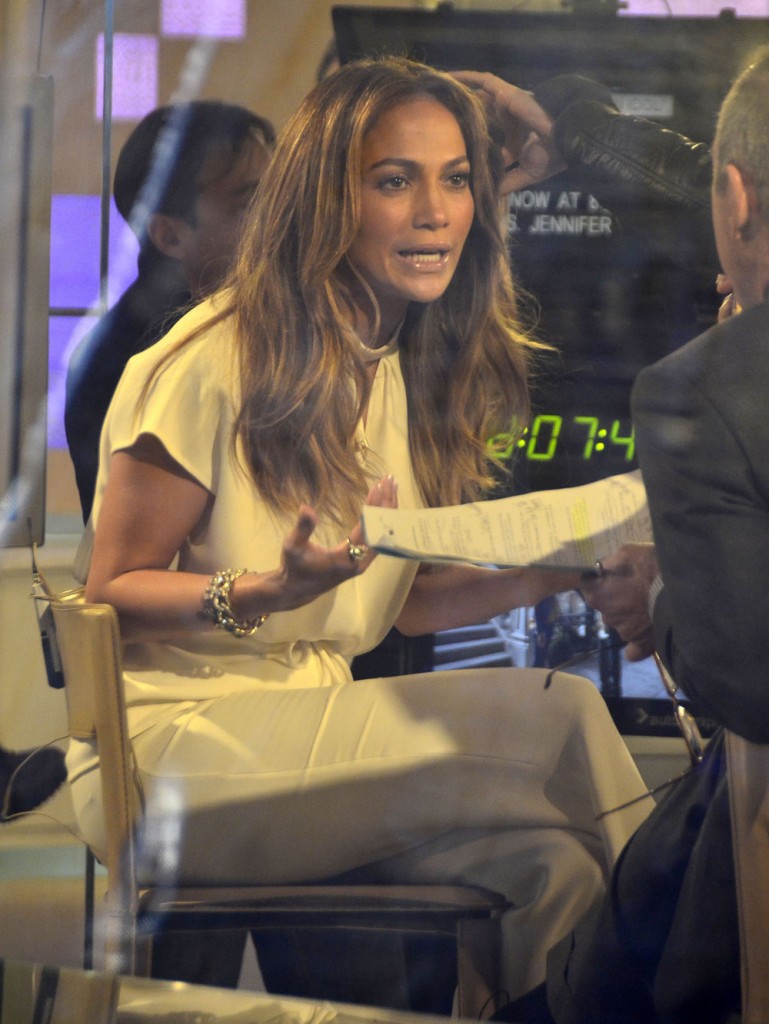 There was an inset story on the cover of this week's OK! about how J.Lo and Marc Anthony might get back together after their very cozy joint appearance promoting their new reality show. OK! claimed that a source told them Jen is "not nearly as crazy about [Casper] as she was a couple of months ago, he's half her age and she worries he's using her for her fame. Add it all up and she's starting to really open up to the idea of taking Marc back."
So cue the staged photos of Lopez looking loved-up with her douchetastic younger lover, Casper not-so Smart. Kaiser covered those over the weekend and she very aptly summed up the collective response to this relationship: "Why? The dude isn't even hot." (I'm paraphrasing.)
We've heard other rumors that Lopez is ready to marry Casper, that she wants his babies, and that she's setting him up with a hefty allowance and a paid (vague) position on Idol. Well in an appearance on The Today Show this morning, (video is below) Lopez got flustered when Matt Lauer asked her about potentially marrying again, saying it was "too fresh," but she didn't rule it out. I'm going to include People's coverage of this, because it's safe to assume this is straight from Lopez's camp:
"I don't know. I don't know. I don't know. We'll see. I mean, I don't know," a slightly flustered Lopez, 42, told Matt Lauer on Monday's Today show when he asked, "Do you think you'll marry again?"

"It's not time to think about that yet," she said. "It's still fresh."

On the topic of appearing with her ex-husband (since last July) Marc Anthony on their new TV show, ¡Q'Viva! The Chosen, Lopez admitted that, given their personal circumstances, it would have been easy to walk away from the show commitment.

But, she explained, "Marc and I were friends before we got married. We were friends for years, and we always loved each other. And we always worked together, so it wasn't an unnatural thing for us to continue working together. And, obviously, we have children together, so it's not going to be like he's not in my life. He's always going to be in my life."

She also conceded that there are uncomfortable moments between them, but said, "There is real love there."

South Beach Fun with Casper Smart
On the relationship front, Lopez was seen getting wild with boyfriend Casper Smart on South Beach this weekend.

After a marathon two-day photo shoot on Ocean Drive in South Beach for an upcoming Vogue magazine feature, Lopez and Smart, 24, joined Latin crooner Enrique Iglesias and a group of other colleagues for dinner at Casa Tua late Saturday night.

"After a festive dinner, she jumped up on the table and performed an impromptu dance in front of Casper, who sat there wide eyed and happy," a source told PEOPLE. "She was having a blast and looked radiant."

The source added: "The last time I saw Jennifer at Casa Tua, she was with Marc, and neither performer looked happy. This was like a positive renewal for Jen."
[From People]
So Marc was a downer for her so she's bringing her boy toy around and visiting their old haunts in order to wipe the slate clean.
I did get the impression that she still loves Marc and was even a little embarrassed talking about him, like you get when you're talking about a new lover. So is she keeping the door open for a reconciliation? Is this whole split and "taking younger lovers" thing a publicity stunt for their new reality show? Many of you say you think it is. I don't think so, but I'm naive like that.
Toward the end of that interview, Lopez laughingly tried to claim that she was trying to give her kids the same kind of upbringing she had except "in a bigger house." I got a huge kick out of this and I just need to quote her on it:
Lauer: They're privileged. Does that worry you at all?
Lopez: I think about it. I loved my upbringing. I've tried to give them the same thing, just in a bigger house. The same family, they grew up around their cousins and their aunts, just like I did. The same foods, they eat the same foods I did when I was growing up. You know, I try to just keep what was so good about growing up Puerto Rican in the Bronx, lower middle class family. The same things, the same values that were important to my mom and my dad and what I've learned from that upbringing I've tried to bring to them.
Do you remember that ridiculous baby photo spread she did in People Magazine with the $3,000 stroller? She posed in couture gowns while holding her twins and showed off an elaborate nautical themed nursery with chandeliers. (Marc and J.Lo later sued the stroller company for $30 million for using them in ad campaigns.) Do you remember how her kids fronted a baby Gucci campaign?! I get what Lopez is saying in theory, but how does that translate in practice actually? Does she deny them anything? Does she teach them that they have more than almost anyone else in the world? What are they learning from going on vacation with mommy's much younger boyfriend? I would buy these lines coming from Jennifer Garner, but Jennifer Lopez, not so much.
Visit msnbc.com for breaking news, world news, and news about the economy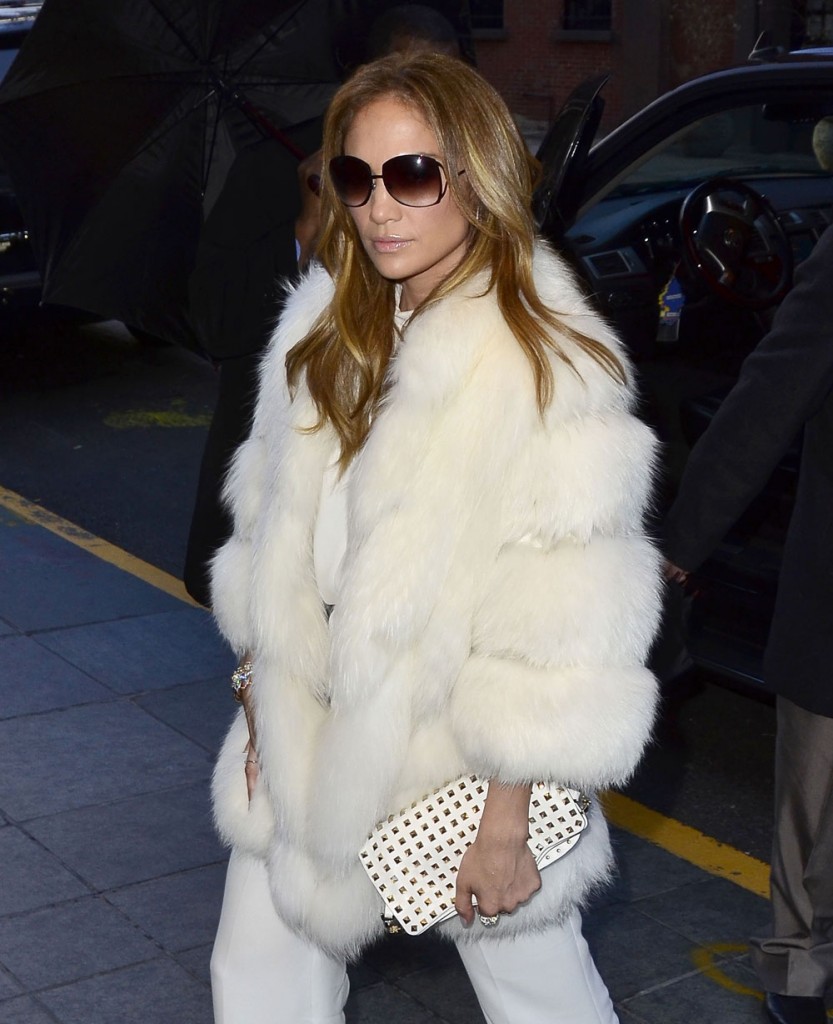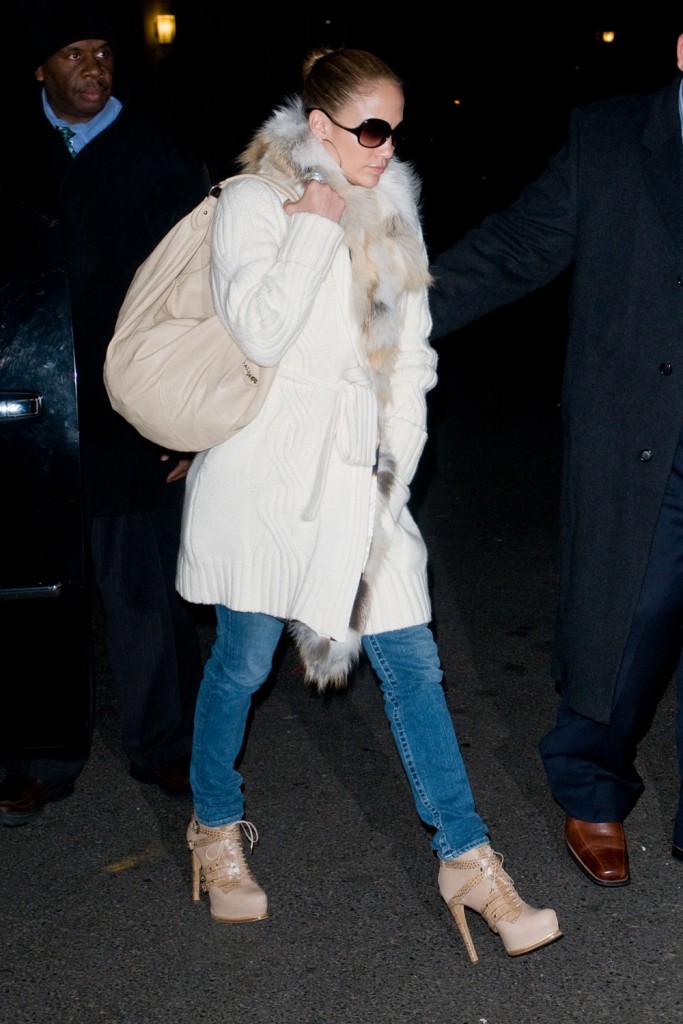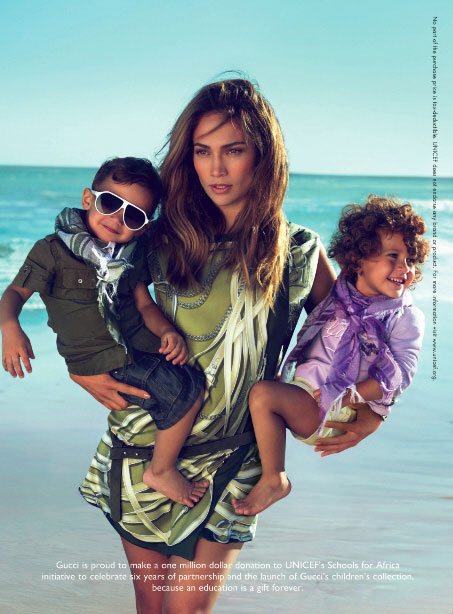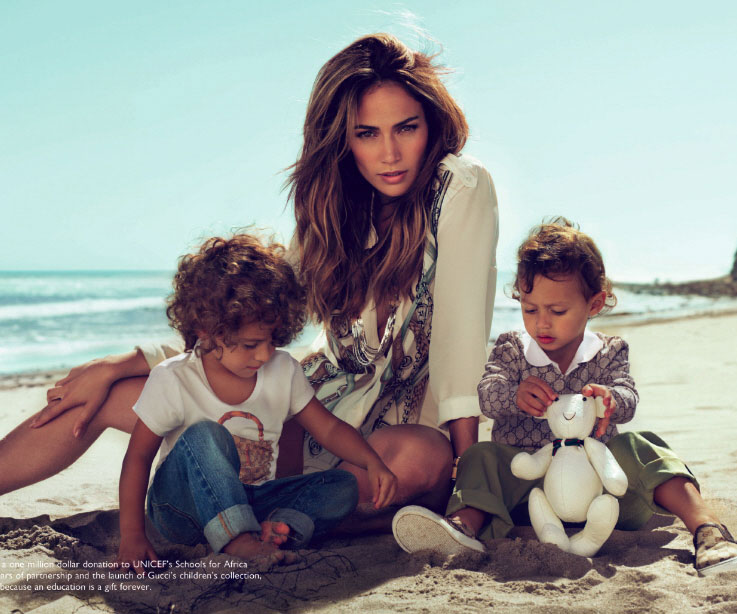 Photo credit: WENN, Fame and Gucci