For some reason I'm fascinated by stories about destitute family members of rich and famous celebrities. Most recently we heard about Madonna's homeless alcoholic brother. There's also Josh Brolin's homeless brother, who lives in his car. Then there are family members of the rich and famous who are struggling to get by, like Justin Bieber's grandmother, who works in a factory, and Tobey Maguire's grandfather, who lives in subsidized housing and is on social security. I don't believe that celebrities should necessarily give their relatives a handout, I just like to learn the stories behind how one of them ended up rich beyond belief while the other can barely afford to live. Family relationships are complicated and we can find ourselves in vastly different places in life from the people we grew up with.
"30 Rock's" Tracy Morgan is the latest celebrity who isn't helping a down on their luck relative. What's more is it's not a brother or sister or distant cousin, it's his own mom and her house is about to go into foreclosure. She only owes about $25,000 on it and she's diabetic and recently lost her job. Here's the story, from the NY Daily News:
Tracy Morgan 's mother is about to lose her house — and she says her multimillionaire son won't help her.

Alicia Warden, who lives in northeast Ohio (and spoke on the condition we not reveal the exact location), says she owes less than $25,000 on her home, but the most the "30 Rock" star — who is worth $18 million, according to Forbes — offered to give her was a one-time payment of $2,000.

The comic's younger sister, Asia Morgan, 41, confirms their mom's financial woes and calls her famous brother a "d– bag."

She says she's done keeping quiet about Tracy, 43. "Because of the way he's treating our mother, all bets are off," says Asia.

"He's never been a nice person," says Asia, who lives about an hour and a half away from her mother. "And money's just made it worse."

Warden, 61, says her mortgage company has notified her that if she doesn't make a minimum payment by Feb. 23, it will begin foreclosure proceedings on her home. She adds that her utilities are about to be turned off and she's about to lose her car as well.

"My mom's house isn't extravagant, but it's her home, Her health is failing. She has diabetes, and her legs are giving out on her," says Asia. "This would be a drop in the bucket for Tracy. She has a son that can do, and she's done everything that she could possibly could for her family."

Warden says she worked until February 2011, when she lost her job. Not long after that, she adds, she first approached Tracy about helping her.

She claims he initially agreed to pay off her house, but changed his mind after accusing her of giving an interview to the media. (She denies doing this.)

Her unemployment benefits have run out, and Warden says she asked her son for help earlier this month.

After explaining what she owed, she says a woman working for him called back and told her, "Tracy's offering you a one-shot deal" of $2,000.

"I told her, 'Thank you, but no thank you. I'm not some person in the street," Warden says, adding "That was the straw that broke the camel's back."

"God don't like ugly," Warden says. "Karma comes back to you."

Asia also reiterates what her mother told us last week about Morgan's book, "I Am the New Black."

"It's 99 percent bulls—," she says.

"My mother did everything she could," Asia adds. "She ran numbers, but she did it to put food on the table. We were raised in the [Tompkins] projects [in Bed-Stuy, Brooklyn}, but we didn't think we were poor."

We wonder if this situation is part of the 99. Morgan writes that regardless of the estrangement from his family, "I love my mother and always will. She did the best she could."

A spokesman for Morgan did not respond by our deadline.
[From The NY Daily News]
I once heard about a guy who won the lottery and promised to set his sister up. He won about a million bucks, but this was in the late 90s so it was worth more than it is today. I met the sister, who worked in a bank and told me this story after I went to deposit around $2,400 that I had randomly won in the lottery. (That's all I've ever won and I barely play now.) She said that her brother told her to quit her job, but she didn't and kept on working. The brother later blew the money on a bad business deal in Jamaica, where they were from.
I don't know what the answer is when it comes to helping out your relatives. It seems like it would be easy enough for Tracy to bail his poor mom out of her house and car payments, but who knows what kind of a mother she was, or how their relationship is now. He offered her $2,000 and they acted like it was an insult. The fact that his sister is bad mouthing him to the press after he offered some money makes me think that there's much more to this story than a poor old lady who can't get a rich son to help her out.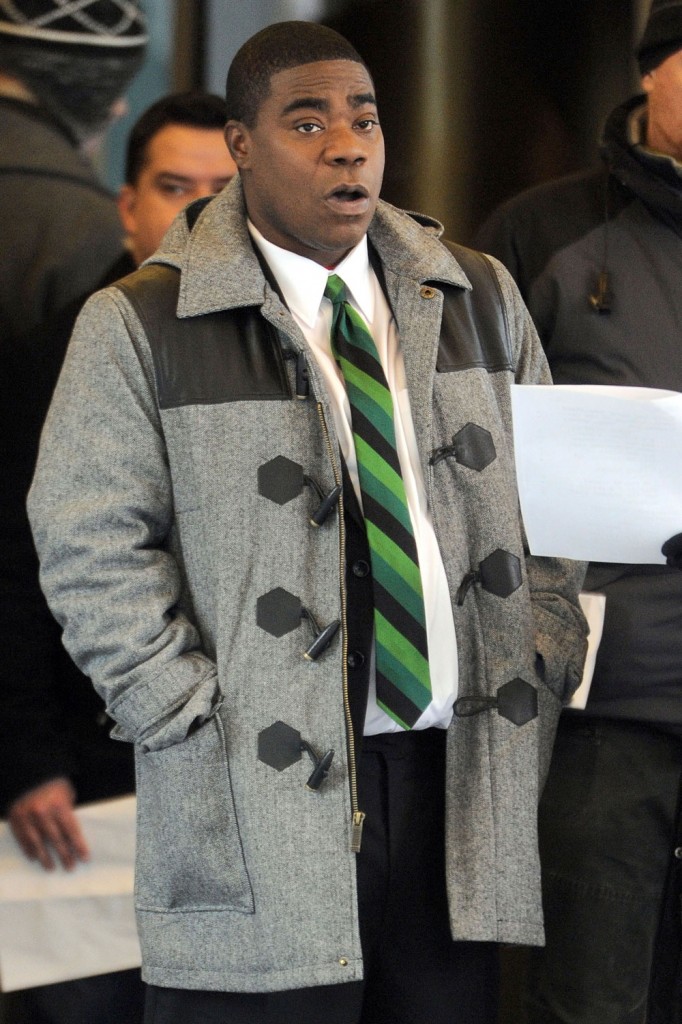 Tracy is shown on 1-26-12 on the set of "30 Rock." He seems to be fine after his health crisis at Sundance. Credit: Fame