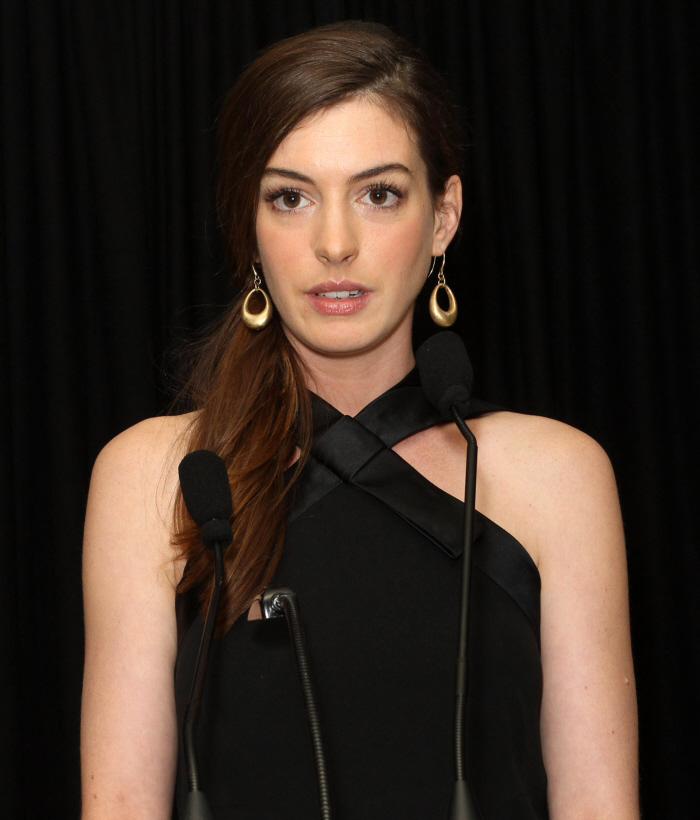 Anne Hathaway has good people surrounding her, doesn't she? She gets really good advice, and I think Anne is helped by the fact that she's smarter than the average actress/starlet. There have only been a few times in her career where I thought, "Ugh, I'm over her." But Anne understands that this thing is a marathon, not a sprint. She's worked on all of us gradually, building an awesome portfolio of career achievements and establishing a great deal of goodwill. And she's not even 30 years old yet – she turns 30 in November. She's going to have a long career, methinks.
Anyway, one of the smartest things Anne does is actually convince us that she doesn't need us. She goes away when she doesn't have anything to promote. She's not in our face constantly. She works. She promotes her work. Beyond that, she has her own life. So it's kind of bizarre to me that Annie has a new interview, in the completely downmarket UK tabloid, The Sun. She doesn't have anything to promote until the summer, when The Dark Knight Rises comes out. Why, Anne? What's going on here? The whole piece is written in that odd first-person way, like you're reading a personal essay from Anne too – and it's all about how awesome her mom is. Here are some highlights:
"MY mother, Kate McCauley, taught me to be always understanding of other people — and to have a sense of humour about yourself. You need to hold on to that sense of humour. I have been in so many embarrassing situations over the years.

I remember going to the School Of Rock premiere and wore a dress I didn't realise was see-through. I wasn't wearing a bra. It was horrible. I cried my eyes out when I saw the pictures. Unfortunately, because of the internet those pictures have never gone away.

There was another time, on my first press interviews after Princess Diaries, that I had no idea what to wear. I ran out to Banana Republic and bought a bright turquoise blue top. But, unfortunately, because I was in a hot room, I had massive sweat stains. And I was wearing pink leather trousers. After the hair and make-up was complete, I managed to look like a 40-year-old hooker. It was a disaster. But if you don't look back and have a laugh at things like that, you really are taking yourself and life too seriously.

Mom will also never discuss or criticise my performances, which is exactly the way it should be. There are plenty of others who can do that. She was a stage actress who never got a break. I learned from that, too, because there is so much luck involved in acting success. Instead, she became a great homemaker for myself, my two brothers and Dad. Thanks to Mom, I never sit in judgment.

Lindsay Lohan and I have more in common than people think. We've all done things we shouldn't. It is just that I did stuff at college when nobody knew about it, so I'm not a saint. I wasted time doing self-destructive things. I found out you can only dance on so many table tops. I got all that out of my system and I am healthy and grounded.

Mom has also encouraged me not to be one of those people who worry about weight. I know when people refer to me as a "regular" girl, that it is a code word for "fat" in Hollywood. It is completely understandable, as a teenager, to fret about your body. It is scary, because you don't know how it is going to end up. But I am not a teenager any more and my body has chosen its shape. I would rather be strong than skinny for most roles. I've actually had directors say to me: "You are the best actress for the role but you've put on weight recently." If they can't understand that I put on 5lb now and again, I don't want to deal with them.

I try to keep my personal life low-key, particularly after what happened to me. As I say, I do need to keep a sense of humour! But, of course, I have often got things out of perspective. I started going to auditions when I was just 15, trying to get hired as an actress, and being rejected. When I was 16, I remember sobbing in the kitchen and my mom said: "What's the matter?" I said: "Tara Lipinski won a gold medal at 15 (for figure skating at the 1998 Winter Olympics). I am now 16. What do I have to show for it?"

My mom looked at Dad and then said to me: "Maybe you are taking things a little bit too seriously?""
[From The Sun]
It's a cute piece. But she really doesn't have anything in common with Lindsay Lohan. I understand that she's trying to nice and she's trying to take herself off of the princess-y pedestal, but let's be real: The Cracken WISHES she had one-tenth of the scripts Hathaway rejects. The Cracken wishes she had one-tenth of the credibility and respect Hathaway has from Hollywood. The moral of the story: just because you experiment with drugs and alcohol when you're 19 years old, that doesn't make you Lindsay Lohan.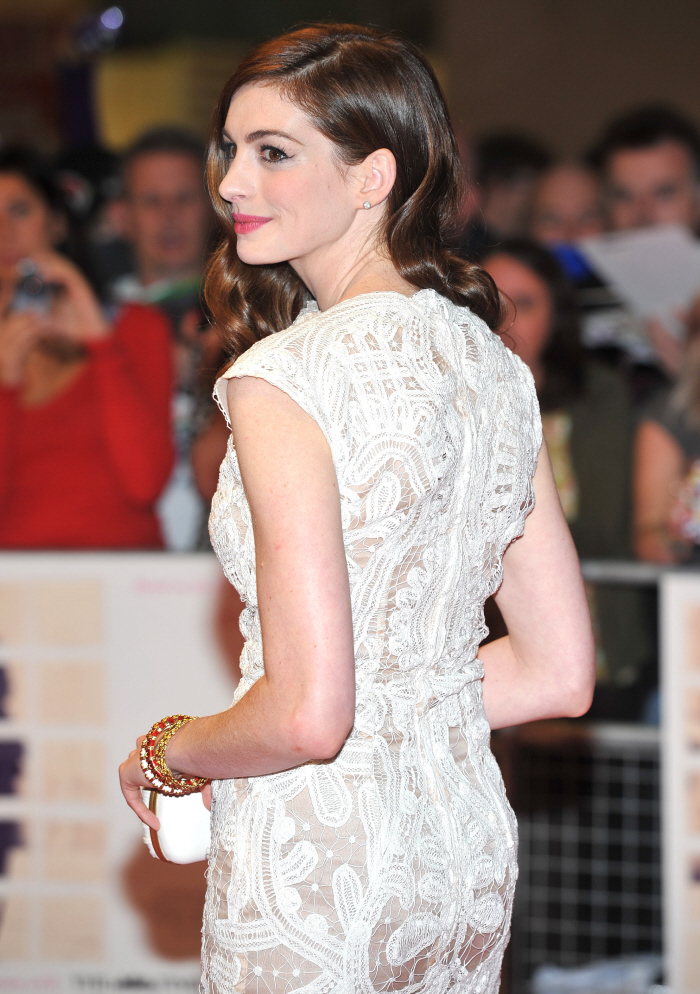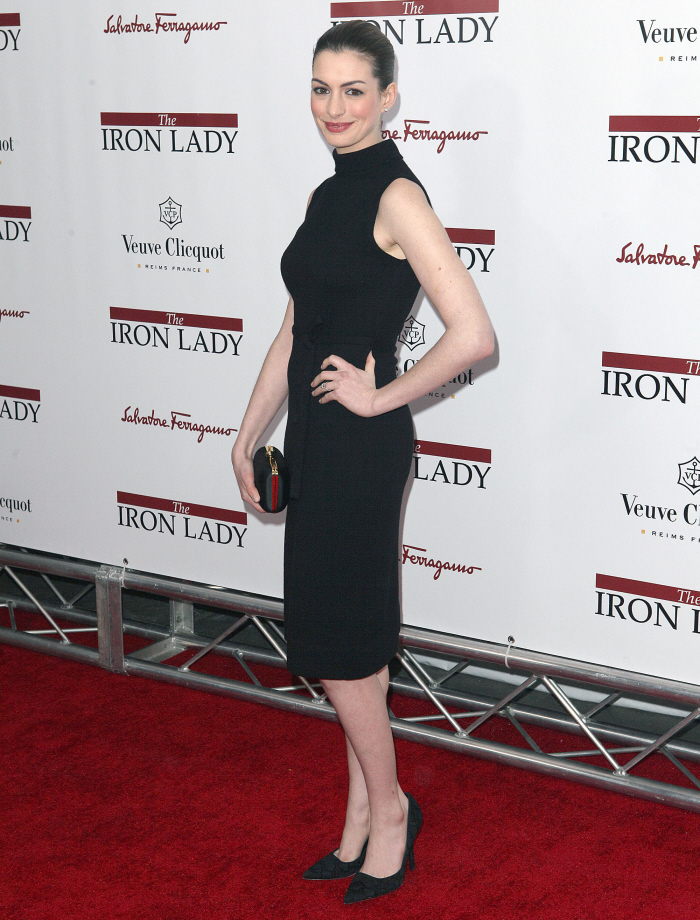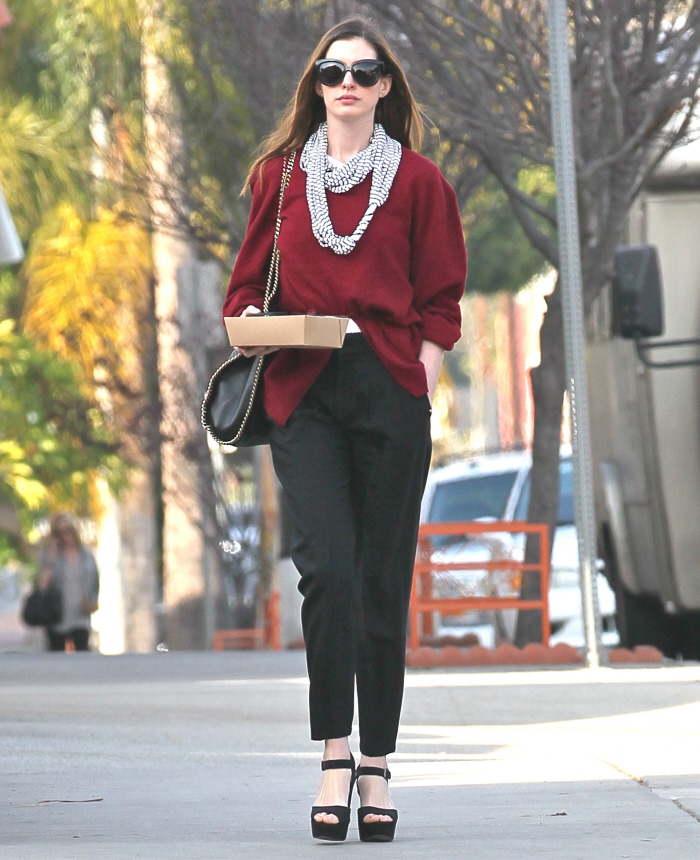 Photos courtesy of WENN.