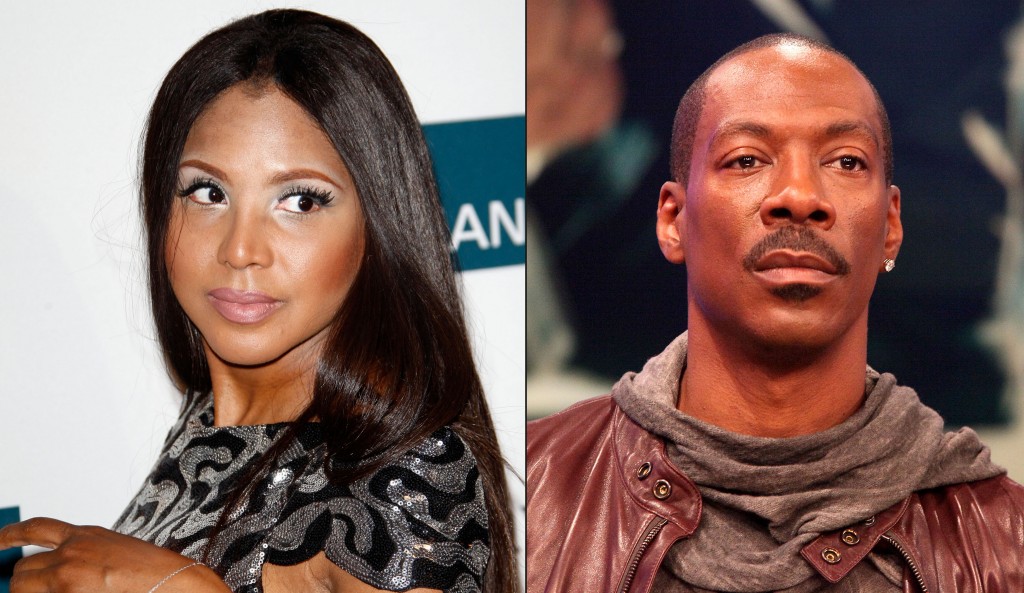 Remember when Eddie Murphy said during an interview that we couldn't presume that Mel B's baby was his even though he was dating her, and then the baby later turned out to be his? That was epic. Then we heard all these allegations about what an ass he was to Mel during their relationship. Then he faux-married another woman in a commitment ceremony, and broke up with her in record speed. He didn't have to go through the trouble of divorcing her and giving her a pile of his money since he made sure to never make it official. That was good foresight on his part.
Anyway Murphy has well documented issues with women, and that makes me think that we shouldn't take him at his word when he calls Toni Braxton just a "friend." He probably wants to keep his options open and/or make sure she doesn't get her hopes up. In a new interview with Access Hollywood, Eddie initially denied having a girlfriend, then he quickly used the friends line when Toni's name was brought up. Murphy also talked Oscars, since he was rumored to be the would-be host this year when Brett Ratner was slated to produce. (Before Ratner opened his mouth, homophobic stuff spewed out, and he consigned us all to three mind-numbing hours of boredom.)
On wanting to host The Oscars one day
"It's still something that I would like to do one day, because all the best comics have done it," Eddie told Access Hollywood's Shaun Robinson as he promoted his new film, "A Thousand Words," in Los Angeles on Wednesday. "It's one of the few things I haven't done in my 35 years in this business, so I would like to have that be part of my resume as well."

"I thought Billy did a wonderful job. Billy's done it so many times, he can't not do a good job," Eddie told Shaun. "He's really solid at that."

Some critics suggested the show could have used more punch and Eddie actually revealed to Shaun his original plan, under Brett, was to make the show "pop."

"The other award shows — the Grammys and the American Music Awards — all those music shows, they pop. So there's no reason why the Oscars can't pop too. You've got 10 songs that are up for Song of the Year, so you should have killer musical performances and so the show should be moving and Brett had all these ideas about it," Eddie explained. "He was really gonna direct the Oscars… When he finished telling me about it, [I] was like, 'Yeah! Let's do it!' and that's what I got excited about doing – like a hipper, faster, choppier version of the show."

On if he's dating Toni Braxton
Speaking of his own romantic life, Eddie shot down rumors that he's dating singer Toni Braxton.

"I don't even know who the new love is. I know I'm single and I 'm just up at the house, playing the guitar and being a single dad," he told Shaun, before she had a chance to tell him which lady he was being linked with by the press.

"Toni and I are just friends," Eddie added, when Shaun mentioned the Grammy winner's name. "I went to her show, and we're friends and she's a very, very sweet girl, but we're just friends."
[From Access Hollywood]
I just saw Tower Heist last week and Murphy still has it. He's still so funny, he can still do obnoxious criminal with a conscience, and he's still so skilled at entertaining us. (There were a lot of plot holes in the movie, but it has a great ensemble cast and is worth watching.) He would have done an excellent job as Oscars host, and I hope he gets the chance one year. Given how dull that show has been for the past few years, I'm not getting my hopes up though.
As for Murphy's love life, I believe US Weekly's version that he has something going on with Toni Braxton. They claim "Their kids have met and everything. It's getting very serious." Remember how Toni has declared bankruptcy twice and remains thoroughly in denial about it? Eddie is rich and could help Toni out, if he were so inclined. His last wife (his last legitimate one) took him to the cleaners (and promptly blew through her $15 million settlement) and he's probably wary that another woman will take advantage of him for money. I kind of hope he's dating Toni and it gets serious. *smirk*
Eddie is promoting his film A Thousand Words, about a fast-talking guy forced to stop talking. It looks really dumb, and is out March 9th.