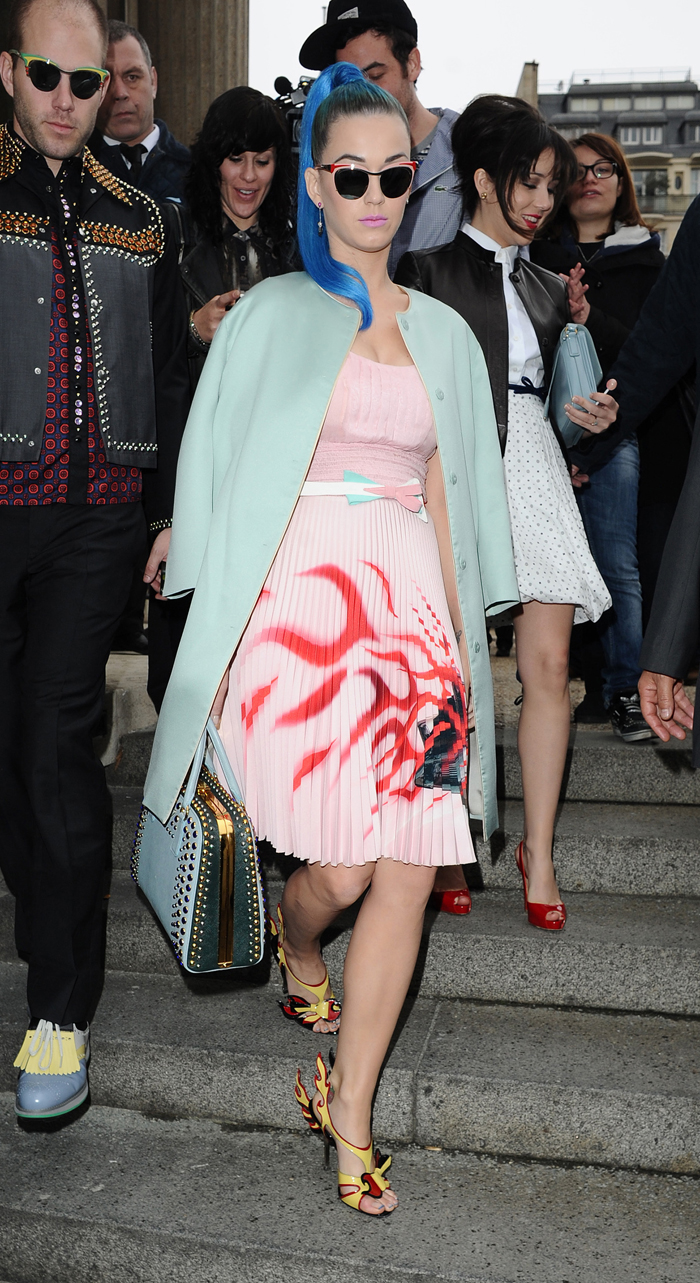 Katy Perry is still doing the rounds at Paris Fashion Week, which seems to be dragging on for ages. Red Carpet Fashion Awards has unofficially named Katy the Fall 2012 Queen of the Front Row because of her apparent omnipresence aided by an assortment of wacky, booty-flashing outfits. For a few days, I was convinced that Katy's wardrobe was part of a push for her alleged hardcore, edgy new image for her upcoming album, but she's gone back to her previous pastel game plan. So I guess Katy is probably just attending fashion week because they're paying her to sit in the front rows, and it's also free publicity to show up in zany outfits and gain media coverage. Sadly enough, it works as a PR strategy because no one would talk much about Katy if it weren't for the fact that she squeezes her massive rack into a series of bizarre outfits.
Anyway, Katy attended the Miu Miu presentation while wearing this pink Prada dress that features a flame print across the pleated skirt, which she has paired with Prada flame sandals and a Prada studded bag. Her blue hair is even worse than usual, since she's pulled it back into a high ponytail that is actually an extension. Seriously, I was just beginning to surrender to the blue hair, and then Katy added the ponytail in a different shade of blue, which clashes with what's actually on her head. It's not a good look at all.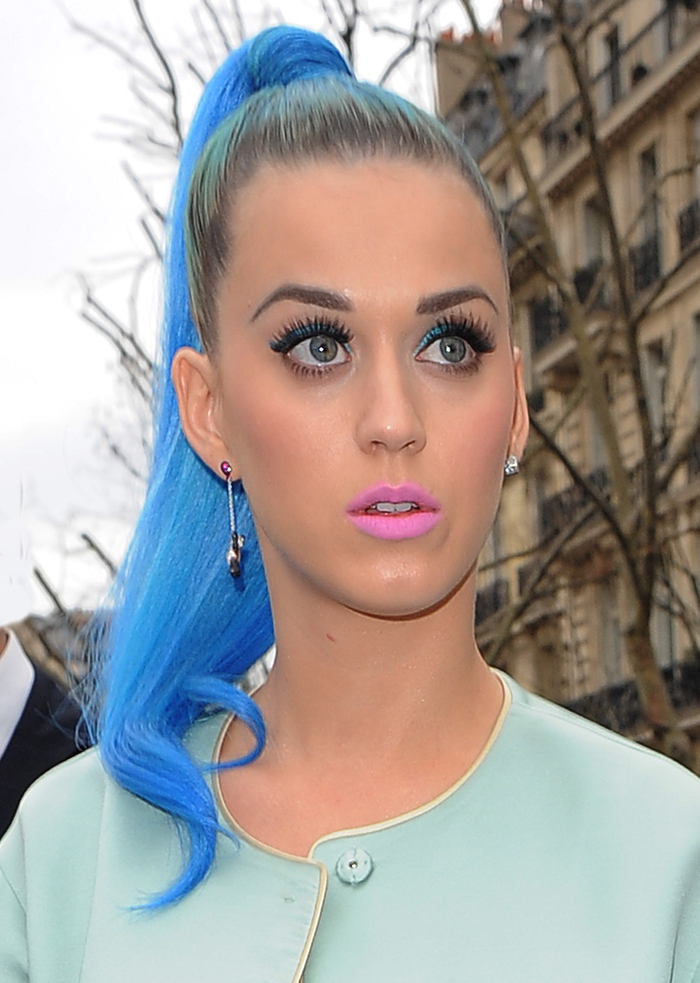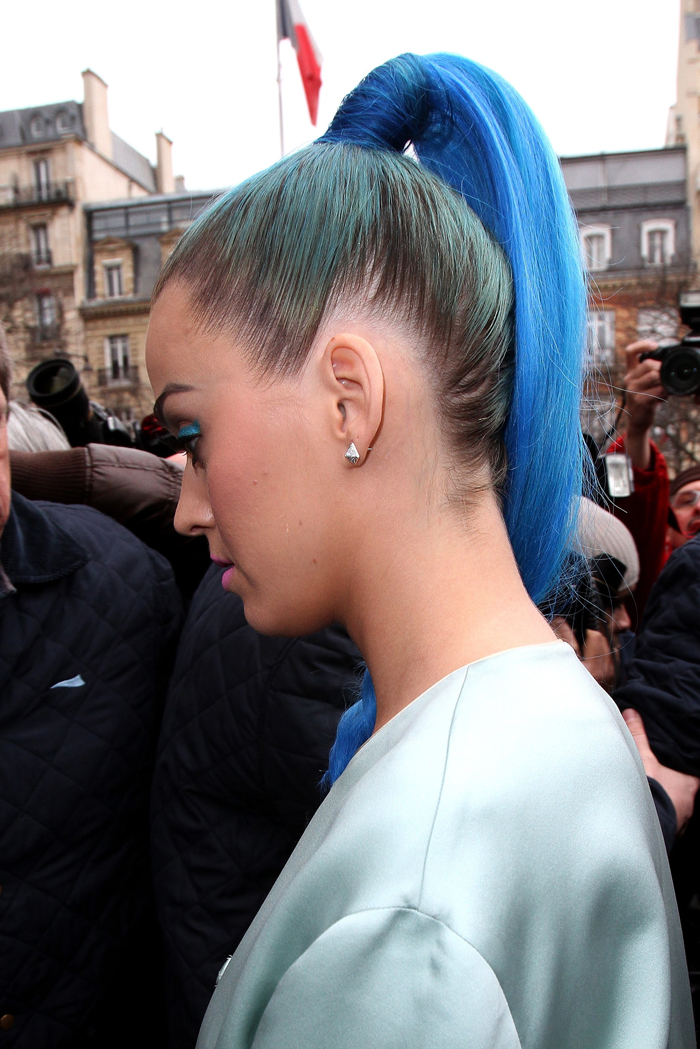 Meanwhile, Robert Pattinson has also been present for at least a portion of Paris Fashion Week. He was spotted during a loved-up weekend with girlfriend Kristen Stewart, who is in town for part of her Balenciaga promotional duties. This week's issue of Us Weekly has a story that claims that Katy's been secretly texting with Robert Pattinson, who has been "reaching out to the newly single singer." It seems a bit far-fetched of a prospect: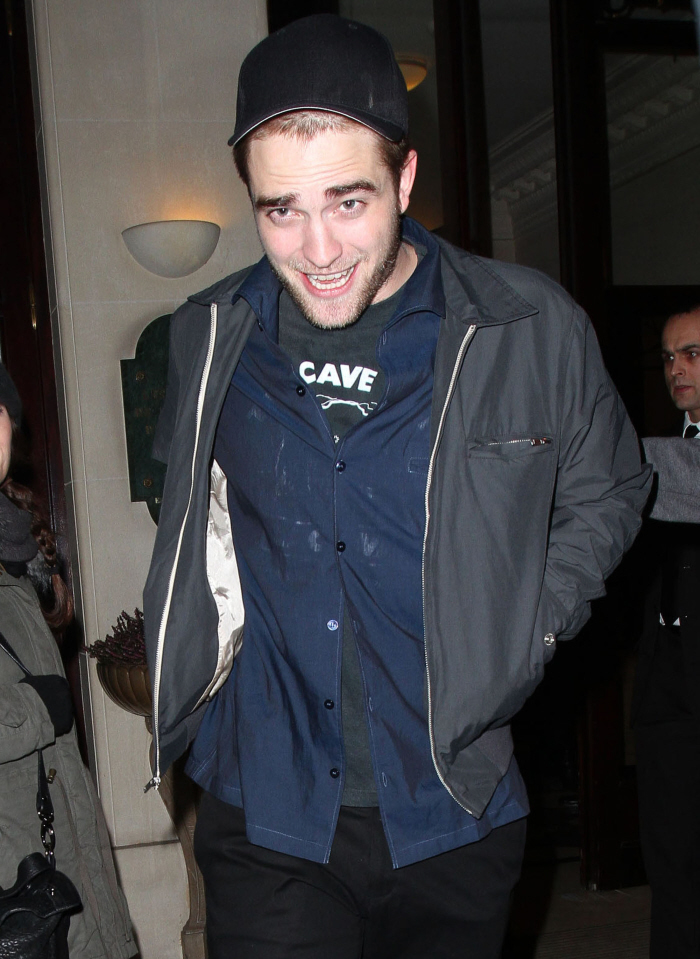 She only finalized her divorce a month ago but Katy Perry already has another Brit in her life: Robert Pattinson! "Rob has been texting and calling Katy every day," says a source close to the "Part of Me" singer, 27. Not that the Twilight star, 25, is angling for a hookup. "He's just checking in on her," explains an insider. "It's not romantic at all. They're friends." (Pattinson is pals with Perry's BFF, Raising Hope's Shannon Woodward, 27.

In fact, now that her ex-husband, Russell Brand, 36, has been linked to other women, "all Katy's friends are concerned about how she's dealing with it," says another source. Pattinson — "Still going strong" with his love of three years, Kristen Stewart, 21 — should rest easy, though, insists a Perry confidant. "Katy is doing amazing," says the source. "She is over Russell and feels like she's been set free. Her hair may be blue, but she isn't!"
[From Us Weekly, print edition, March 19, 2012]
Well, okay. I can buy that Robert is just looking out for Katy in the wake of her divorce, but it's a bit excessive to call and text her every single day, right? I wonder what Kristen thinks about all of this — she probably doesn't care though and really seems like an easygoing girlfriend. Honestly, Robert doesn't seem at all like Katy's type in the first place, but I wouldn't doubt that she'd enjoy his male attention (in any shape or form) while she's attempting to move away from her recent past.
While on a break from the fashion front rows, Katy also made a beeline to the Collette store in Paris. In the process, Katy showed off her underwear for the second time (that we know of) while hanging out in the City of Light. Still, I do like her outfit here, and at least she wasn't wearing the dreadful, non-matching ponytail.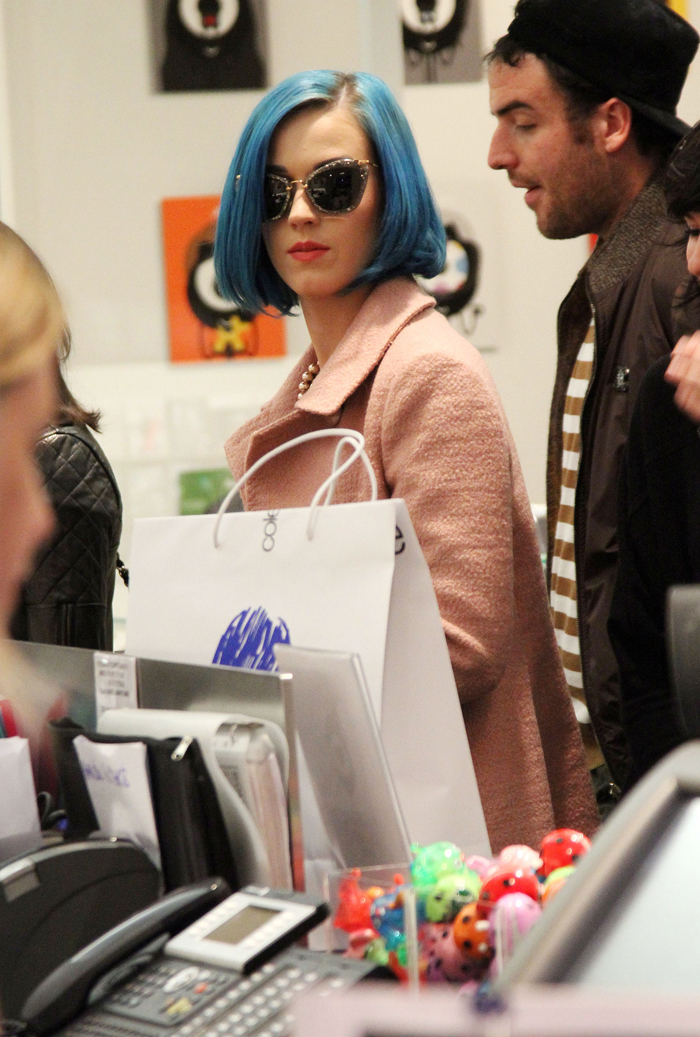 Photos courtesy of WENN