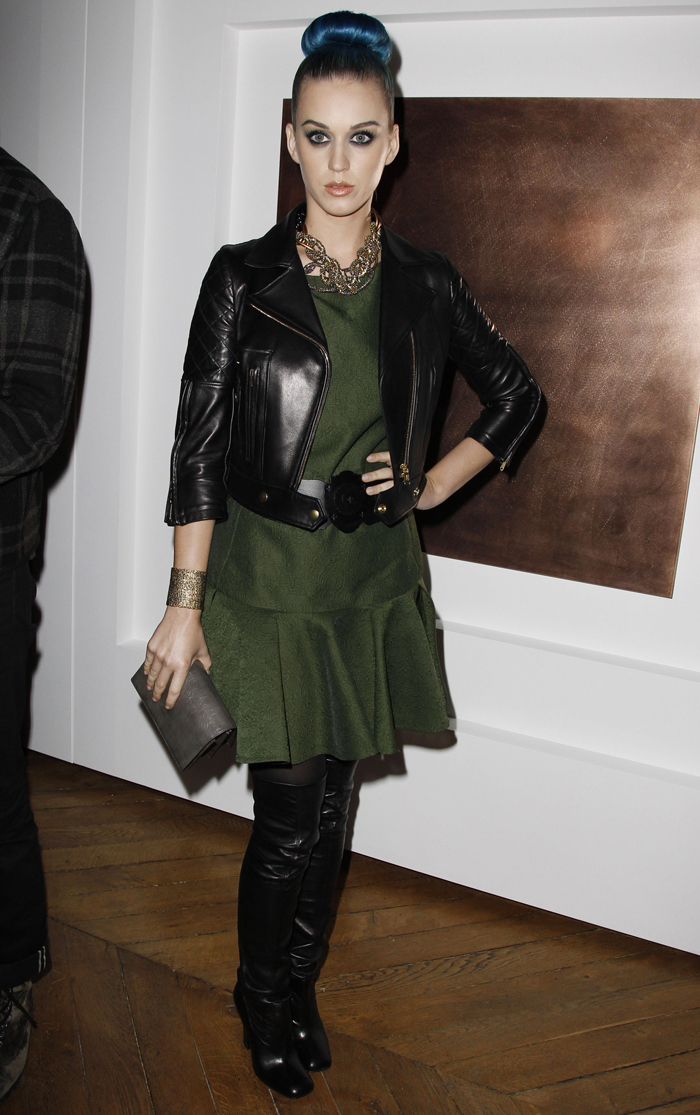 I can't help but think that Katy Perry's various outings during Paris Fashion Week are designed to help her launch the edgy, dark vibe that she's promised will soon take over her next record. Let's start with yesterday's look at the Yves Saint Laurent show, which Hollywood Life describes as "sophisticated," but I'm not so sure. Does she look authentically fierce and punky in this dark green and leather ensemble, or is it just Katy playing her usual dress up games? There's so much dark eyeliner at work here, and the look is so severe and exaggerated that Katy seems to be working against herself. That Croydon facelift hairstyle looks so painful that I just want to give her a hug and tell her to relax. Maybe we should just be grateful that her butt isn't hanging out in this outfit.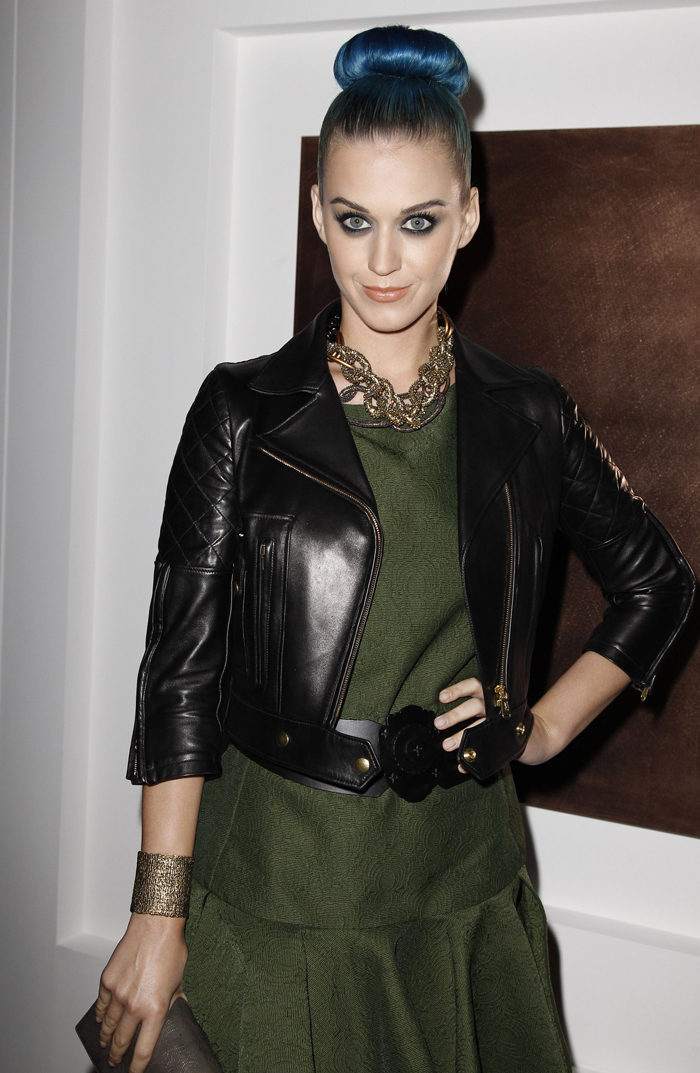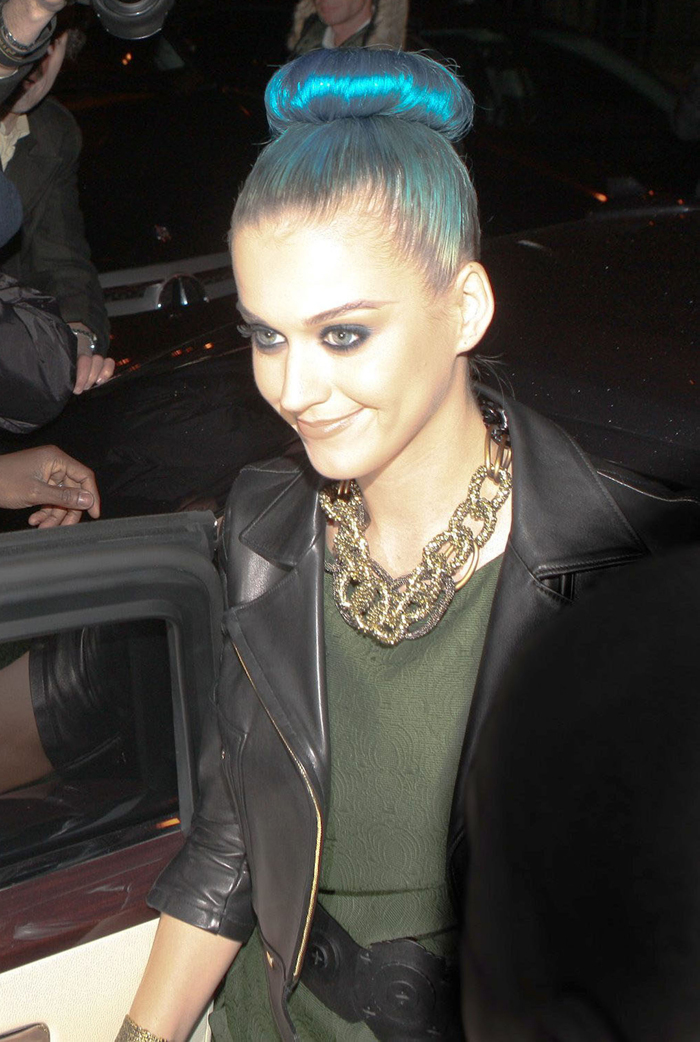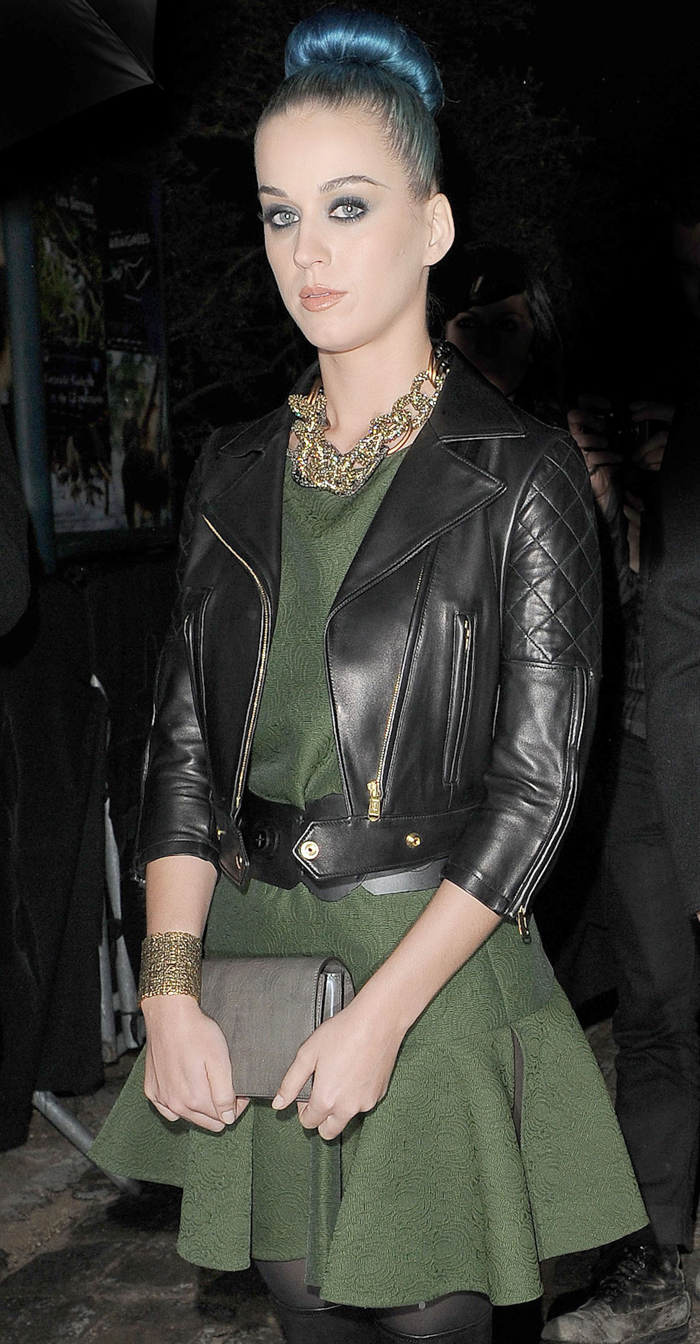 Later on yesterday, Katy hit the Chanel show looking like she was stll going for the goth princess look. She's so hardcore.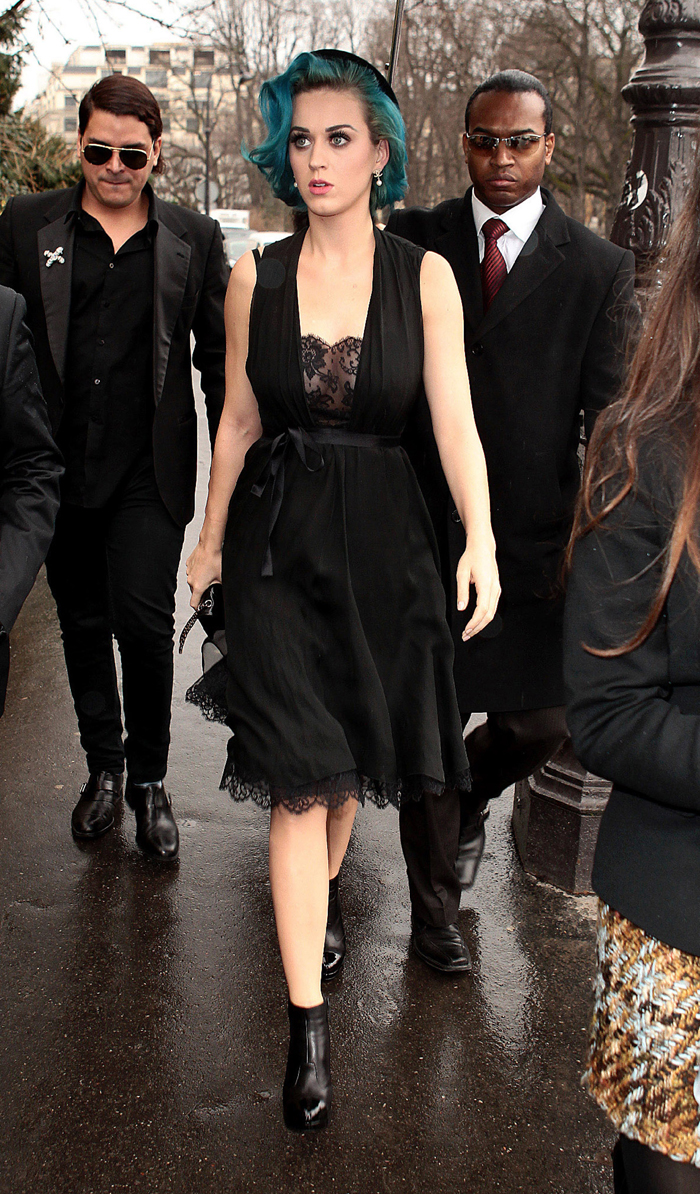 I'm including a few of Katy's other fashion week looks at the bottom of this post, but let's take a brief interlude and see what Russell Brand's been up to over the weekend. According to the NY Post, Russell was in NYC and hitting on all sorts of chicks, including one girl that he approached outside a restaurant to tell her that she was "perfect." But it wasn't all fun and (shagging) games, for Russell was in town for business purposes, and he slyly began to hit back at Katy during his standup routine. Of special note is Russell's reference to "glitter":
Brand was in town for Amnesty International's "Secret Policeman's Ball." Onstage at Radio City Music Hall on Sunday night, The comic and actor — wearing a chain from his belt that dangled provocatively between his legs — played up his womanizing reputation.

When he first took the stage at the benefit with Noel Fielding of UK show "The Mighty Boosh," Brand mentioned there are "10 women facing death by stoning for adultery in Iran." Fielding then said to Brand, "You slept with 10 women last night!" Brand shot back, "Yes, I'm responsible for most Iranian stonings."

Brand didn't specifically mention Perry during the show, aired on Epix. But he did reminisce about the night their relationship kicked off when he was host of the 2009 MTV Video Music Awards. He said, mysteriously, that pop culture was, "a pink pony trotting through our brains, [bleep]ing glitter."

Meanwhile, Perry was seen partying over the weekend in Paris at a "This is New York" bash at Le Regine. She was "dancing the night away" with friends, according to spies.
[From NY Post]
Okay, he didn't mention Katy by name, but we all know who he's talking about with the glitter poop reference. It's hard to deny how funny Russell's wording is in this instance, but it's gotta be hard for Katy to hear something like that.
Katy also stepped out a few times over the weekend to attend various fashion shows, and her outfits were ridiculous. One of them was a Viktor & Rolf runway look for (of course) the Viktor & Rolf presentation. I'm so tired of this "blue" look already, but again, I'm just thankful that her butt cheeks aren't saying hello.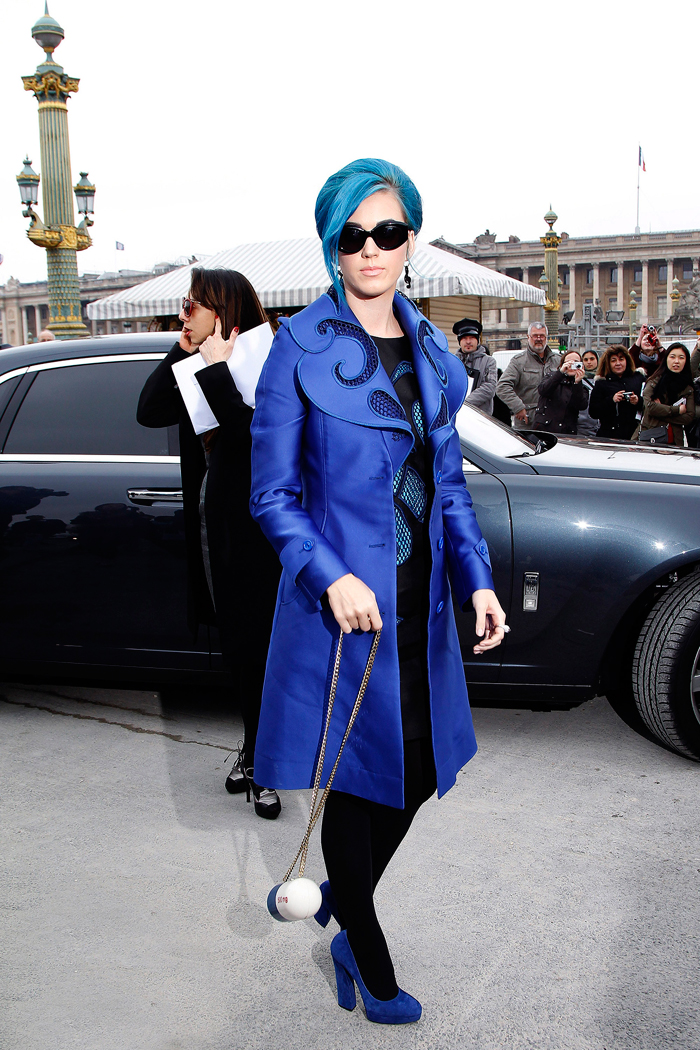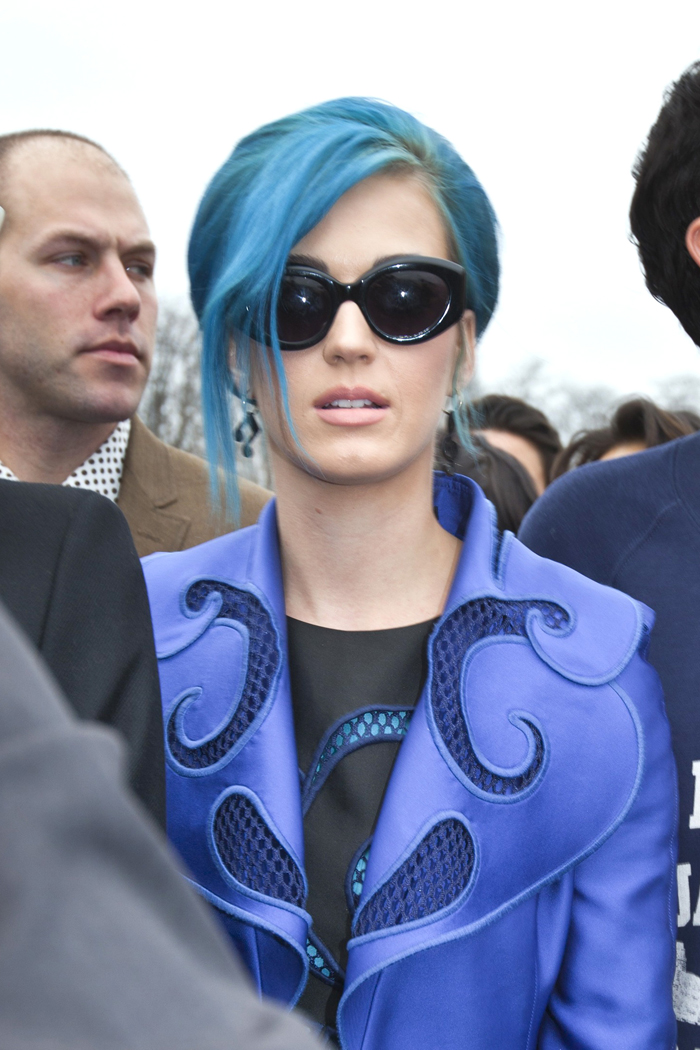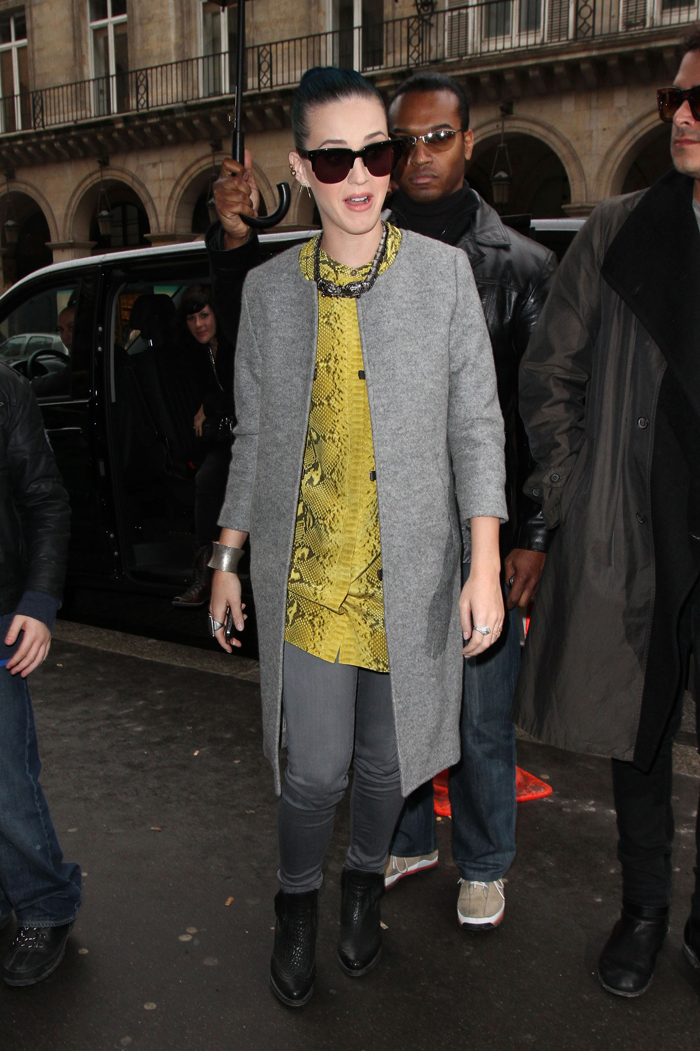 Photos courtesy of Fame/Flynet and WENN