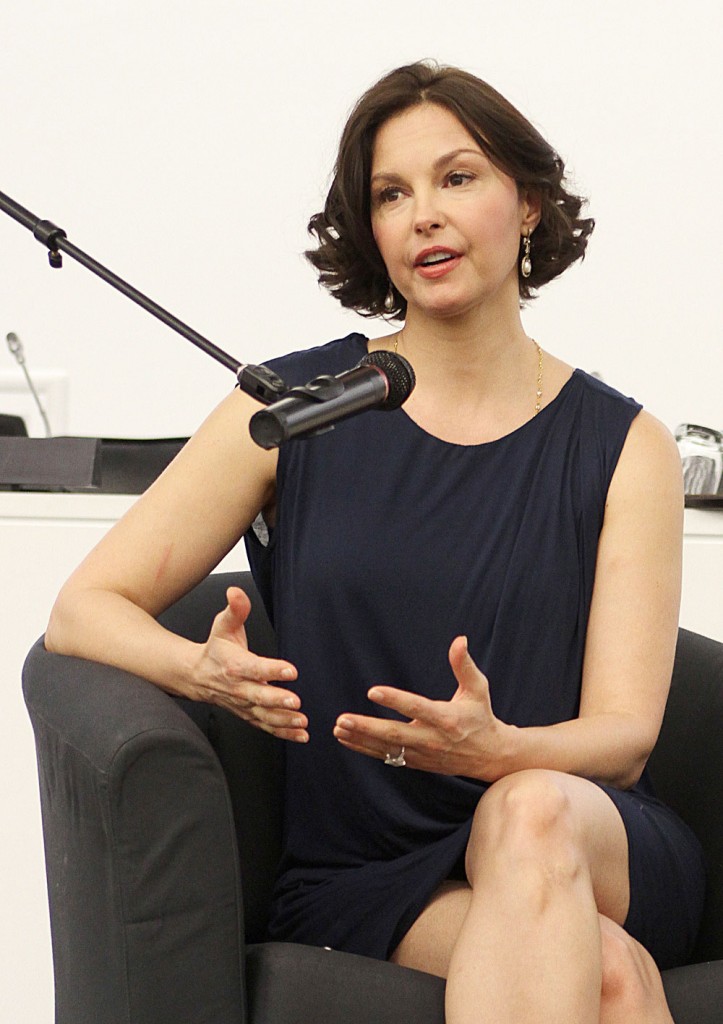 Yesterday we ran a story about Ashley Judd's face looking puffy. News outlets were speculating that she'd had fillers. I wrote that her face may have been filled out due to a medical condition and/or steroids, and a lot of you agreed. Some of you mentioned that Ashley is rumored to be bipolar, and that a side effect of bipolar medication can be weight gain and water retention. Also, Ashley had her adorable dog Buttermilk with her during an interview, and Buttermilk was seen at the airport with her wearing a "service dog" vest for some reason. So it sounds like something is going on medically with her. We do know that she sought treatment for depression several years ago as she was open about it at the time.
Ashley's rep has issued a statement to explain his client's changed appearance. He claims that Ashley has a sinus infection and is on medication for it. I don't think that it explains what's going on. They don't owe it to us to explain or anything, but given all the coverage of this, I definitely get why they did. Here's more:
"For the record, this is unequivocally not true," Judd's rep, Cara Tripicchio, told E! News. "Ashley has been battling an ongoing, serious sinus infection and flu. Therefore, Ashley has been on a heavy dose of medication to overcome it so she could get on a plane and travel to Toronto and New York to fulfill her commitment of completing four consecutive days of press to promote her new show Missing."

Judd herself tweeted as much this morning, writing, "Thanks to all asking how I've been feeling. still very sick (flu + viral infection in sinuses = wicked) but staying positive & having fun."

Hard as it may be in the wake of the speculation.

"This may have contributed to her face appearing 'puffy' on the talk show in Toronto, however anyone who is truly paying attention and not looking to perpetuate a ridiculous story can look online further at photos of her last night during an Apple Store event in NYC and see for themselves that there is zero sign of plastic surgery, puffiness, fillers, etc., that has become a silly and erroneous topic of conversation. Ashley is a natural beauty enjoying her 40's gracefully."
[From E! Online]
I googled "Tamiflu side effects," and it's possible that this explains why Ashley's face is puffy. One of the side effects of an allergy to Tamiflu is "facial swelling and severe nausea."
Well I'm not buying the "natural beauty" part of this denial, but I hope that whatever is going on with Ashley that she's ok. She still bugs me. As I said in the earlier post, whenever I gain weight it goes straight to my face so I do feel bad for pointing it out with her.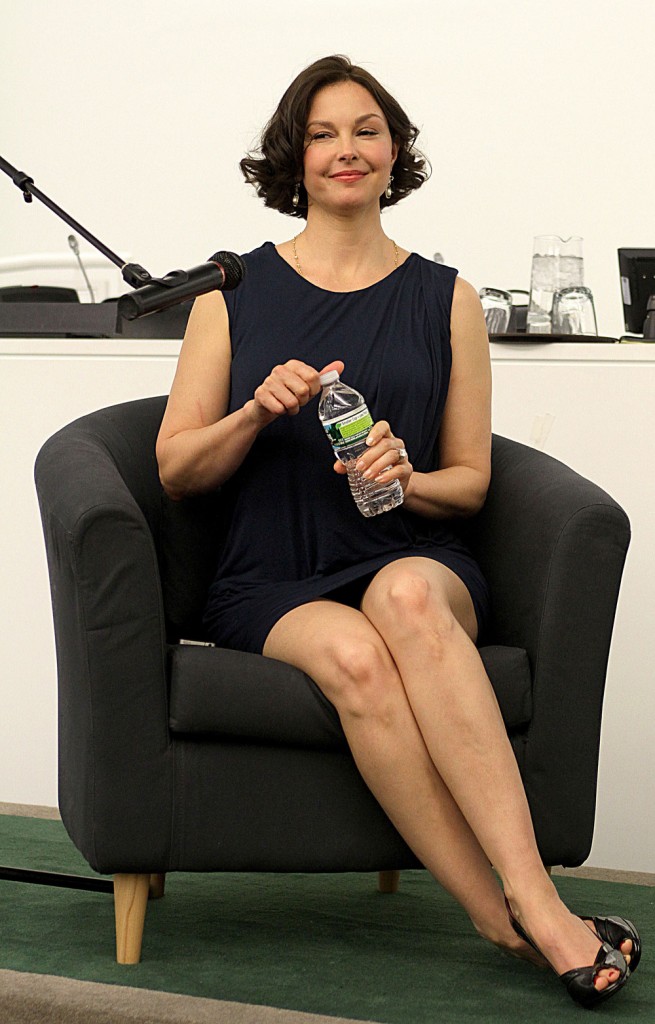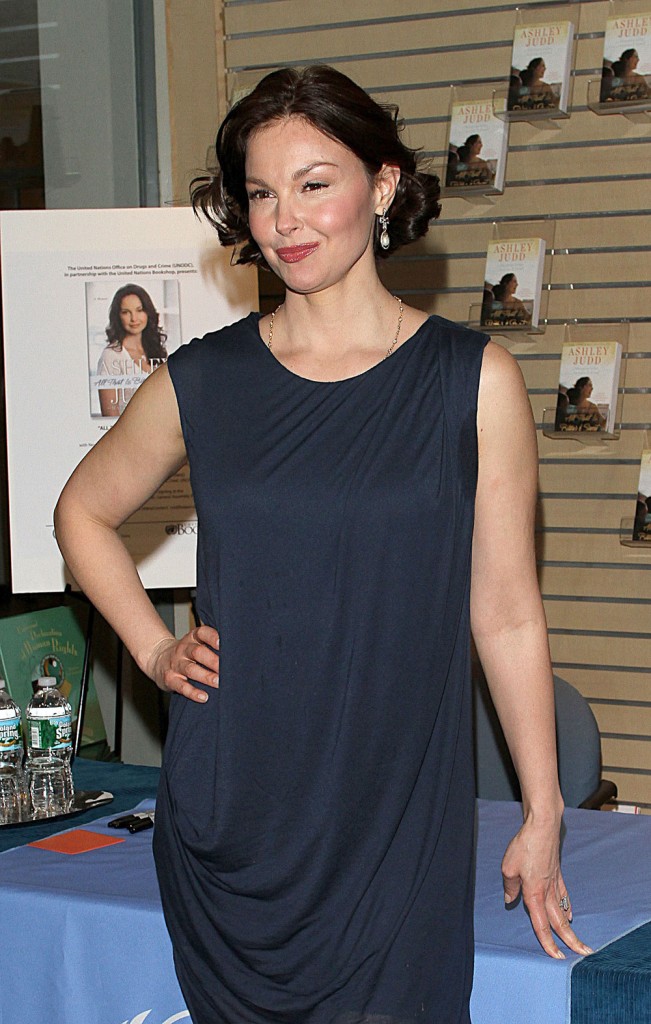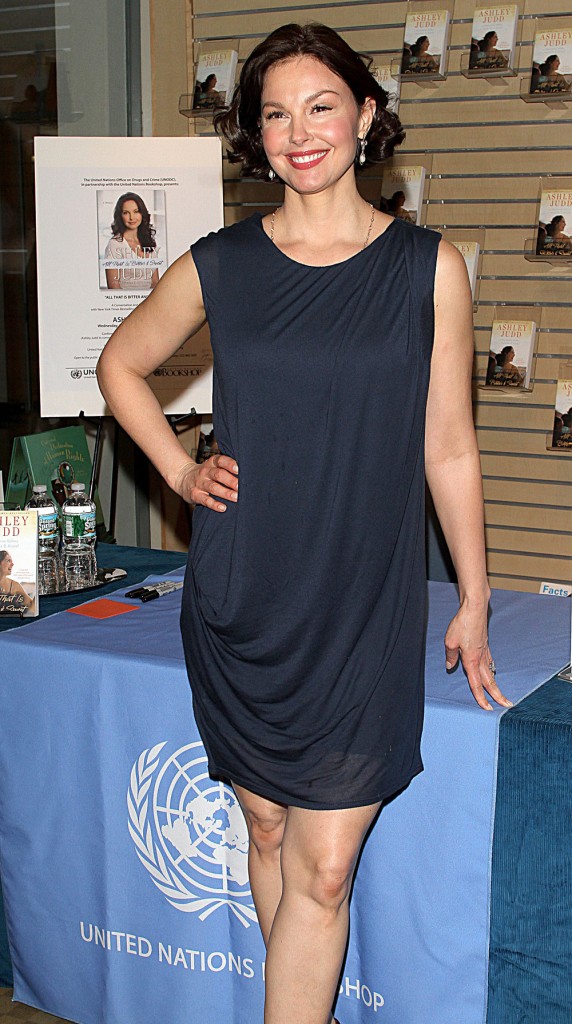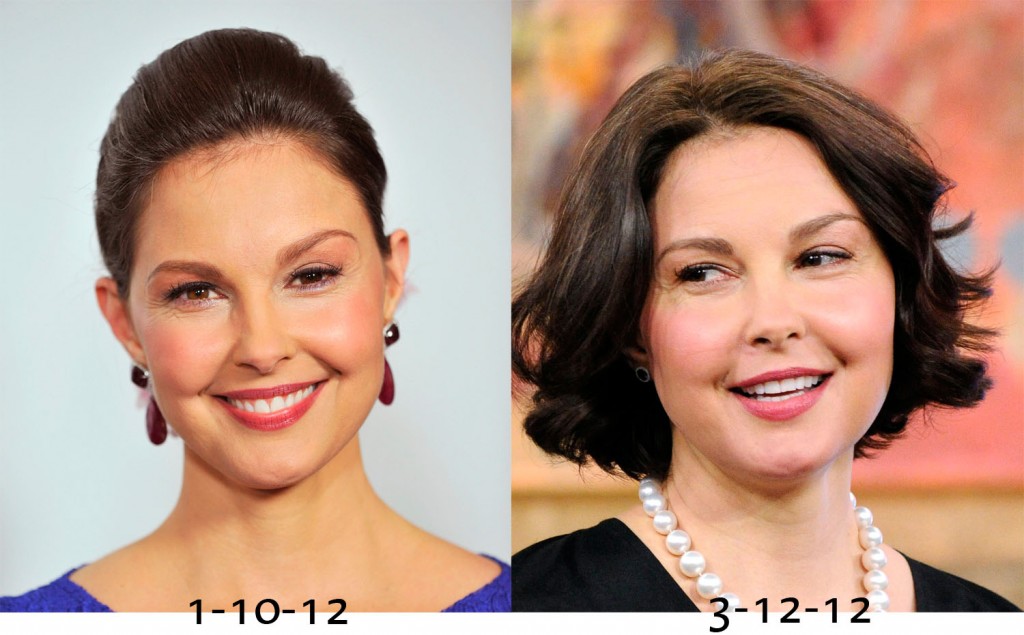 The photos in the blue dress are from yesterday. Photo credit Wenn.com.