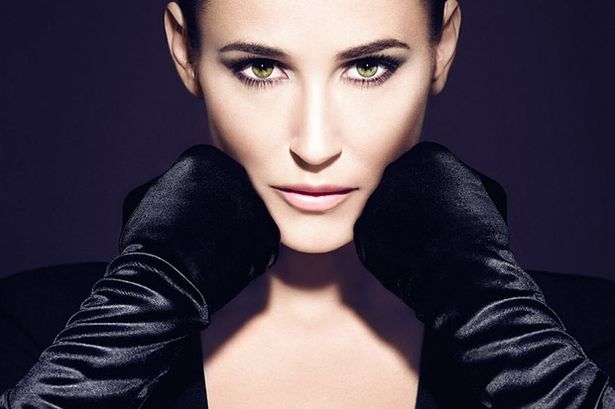 When I look at print advertisements I'm often struck by how much the models' faces are Photoshopped so that they vaguely look like celebrities. The faces end up looking so fake that it's like they're using interchangeable parts. Sometimes I question why they even need to use real women at all. At some point in the not-so-distant future, women's faces in ads will be entirely computer-generated. In the mean time we have celebrities airbrushed beyond recognition, and models looking the same. Their faces are so dewy and smooth it's like they come from the same alien planet, where humans were genetically engineered with reptilian skin and the perfect ratio of eyes, nose and mouth.
But I digress, this is about "Demi Moore's" ads for Helena Rubenstein, which are causing a stink due to how unlike Demi Moore they look. (Update: earlier ads came out two years ago, but these are new. I was originally reporting this based on the images on E!, although different ads are available at The Mirror and on Jezebel.) Here's E!'s report on it:
Before you get defensive, we're happy to see Demi Moore back to work, and she is beautiful. We know that, you know that, everybody knows that, and that's why we ask this question.

The star's latest ads for Helena Rubinstein's 2012 campaign have been released, and all we can focus our attention on is the massive amount of Photoshopping going on.

Let's see, there's absolutely no wrinkles or facial lines whatsoever, her nose and chin seem a different shape and suddenly, her tan has vanished. Yes, people always notice these things.

We understand that all ads and widely distributed photos get some retouching done, it's part of the biz, but it's freakin' Demi Moore. How much do you really have to fix?
[From E! Online]
Remember when Demi Moore got all up in arms over a photographer who claimed she was Photoshopped on the cover of W Magazine, because that was clearly someone else's body? (Which she subsequently tried to obtain with a diet of Red Bull and ADHD drugs?) Well there's not much she can say about these images, except for claiming that they used another model and just messed with her face so that she ended up looking like Demi.
In related Demi news, Star is reporting that she's jealous of her daughter Rumer for still being friendly with her ex Ashton Kutcher. A source is quoted who says Demi "is not at all happy that they're hanging out. It's disrespectful and is not helping her recovery… it's salt in the wound after everything that happened. Demi should be focusing on her recovery, and this is a completely unnecessary distraction." I hope this isn't true at all, but given all we've heard about how Demi is still fixated on Ashton, I can believe it.