Demi Moore got a new face for her 'Wanted' perfume ads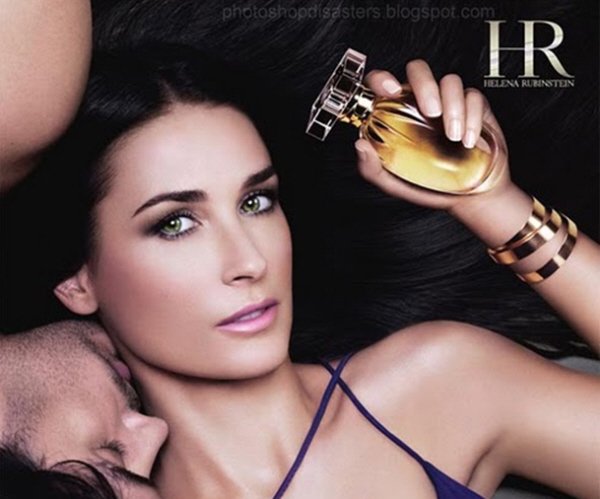 Of course Demi Moore is never Photoshopped. Of course not. Why would we think that? How could we? Why are people so cruel? Why can't we just acknowledge that Demi Moore grows a new face every year – NATURALLY, damn it. It is always Demi's natural face and her natural body and her natural no-hip and her natural skin and she just photographs this way naturally! Anyone who doesn't acknowledge it is just a jealous hater waiting to get sued by the almighty Demi.
So, anyway – here is Demi in the new ad for 'Helena Rubenstein – Wanted'. That's the perfume that Demi is the "face" of. God knows what kind of modeling contract it is, or how much it pays, but you'd think that if Helena Rubenstein is laying out the serious money for Demi, they'd want to actually use her real face. This sh-t isn't just "Oh, someone got a little heavy-handed and made her skin look flawless and ridiculous." This sh-t is like "Oh my God, who shaved Demi's cheeks down and made her look like a cartoon?!?" This is some Jessica Rabbit looking stuff. But she's never Photoshopped, and of course Demi really looks like that, right?
The behind-the-scenes commercial thing is crazy too – Demi looks… her age. Ridiculous!
'Wanted' ad courtesy of Dlisted and Photoshop Disasters.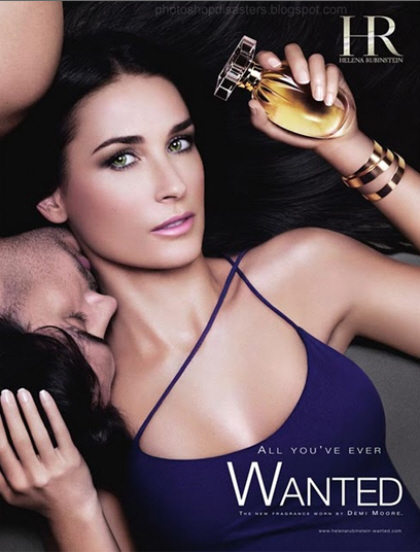 Written by Kaiser

Posted in Advertising, Demi Moore

- Zach Galifianakis is awesome [Buzzfeed]
- Prince at the Billboard Music Awards [D-Listed]
- Bieber's Billboard look [Go Fug Yourself]
- Married to Medicine recap [Reality Tea]
- Celebrity first marriages [Pajiba]
- The last Mad Men baffled a lot of people [Lainey]
- Karolina Kurkova's crazy hot dress [Moe Jackson]
- Jennifer Garner on set [Popsugar]
- Kitten vs. Lizard [CDAN]
- Doetzen Kroes' great butt [Celebslam]
- Shameless star Jeremy Allen White [OMG Blog]
- RIP Ray Manzarek [Bossip]
41 Responses to "Demi Moore got a new face for her 'Wanted' perfume ads"