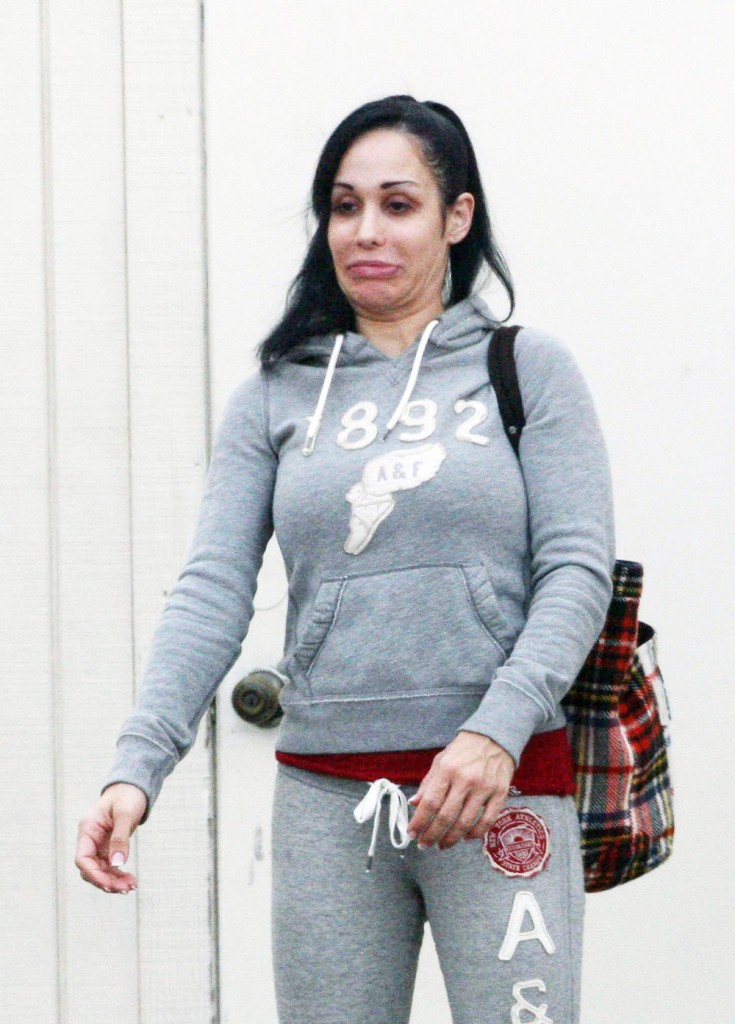 This story came out yesterday but we didn't want to touch it and are only giving in now that there's a follow-up. We're not posting the semi-nude pics of Octomom. We'll just give you a link and a severe warning – there are things which cannot be unseen.
Octomom can't live in her house anymore, having missed her mortgage payments for months while her kids have trashed the place. So she needs some cash to rent another house, and she posed semi-nude for the UK publication Closer for a reported $10,000. This is much less than the $100,000 she got for her bikini photoshoot with Star two years ago.
Of course Octo denies getting plastic surgery, in a roundabout way, despite the fact that her stomach looks all kinds of tucked and pulled. You can tell that her bellybutton is man made. And she talks about how men want her, but claims she's going to remain celibate. This is all crap we've heard from her countless times before, including the fact that she's always broke and can't pay her mortgage despite making decent money for these photos and interviews. You can read details from the Closer interview here. We'll just report on this story from TMZ, which quotes Vivid head Steve Hirsch as offering her $100k for three hardcore scenes. This is just 10% of what he offered her in 2009. Octo has repeatedly pledged never to do pr0n.
In case you didn't know, Vivid honcho Steve Hirsch offered Nadya Suleman $1 MILLION in 2009 to star in her own skin flick — but Octo turned him down.

Hirsch made a second offer in 2010 to help bail her out of foreclosure — $500,000 for ONE hardcore scene — but Octo rejected that too.

Now, in the wake of Nadya's topless photo shoot, Hirsch is making one final push to lock the mother of 14 into a pr0n contract — except this time … he's not offering 7 figures … OR half a million … not even close.

Hirsch sent Octo a letter yesterday, offering her a paltry $100,000 to appear in THREE hardcore sex scenes — claiming, "Regrettably your market value has diminished."

She might need the money, but don't count on Nadya chomping at the bit any time soon — Octo called in to TMZ Live yesterday, and seemed pretty adamant she'd never do pr0n in a million billion years.
[From TMZ]
Well if she's not going to do it, it's not relevant to her. It seems like a cheap shot for this Hirsch guy to keep bringing it up, but maybe he figures she'll break down and do it eventually, and that it's free press for him. It's not like Octo hasn't gone back on her word before. I only hope that her kids are getting decent care. Let's face it, how can one person with a shifting view of reality reasonably care for 14 kids, 8 of which are all three years old? I doubt I could even babysit eight three year-olds for a day.
Octomom is shown with her 1.0 Anne Curry eyebrows in 2010. She's since replaced them with caterpillars. Credit: Fame Pictures