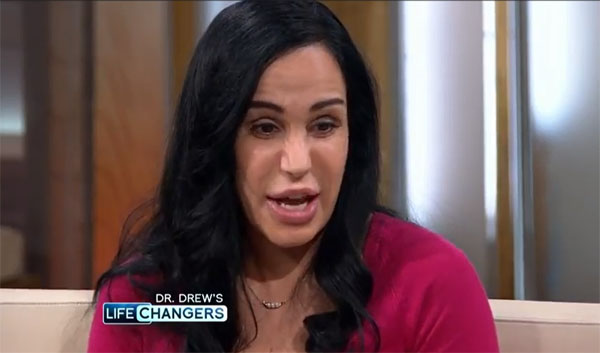 It's very well established that Octomom Nadya Suleman lies, that she's manipulative, that she wastes money wildly, and that she can in no way be trusted or relied upon. (I could cite multiple examples just off the top of my head but I'll spare you.) Which basically sucks for her poor children more than anyone else. She's mentally ill, she's conniving, she repeatedly cries poor, and no one wants to work with her. Suleman lost a public relations manager in 2010 and the guy came out with a whole story that Suleman told him about how she deliberately got pregnant with 11 embryos in order to get rich and famous. The story was later proven true when Suleman's doctor lost his license for implanting 12 embryos in her.
So now yet another person in Suleman's employ has quit, her manager. The manager tells TMZ that they could never get in touch with Suleman and that she was unreliable. Suleman of course claims she fired the manager.
If you're wondering why Octomom's Facebook, Twitter, and Ustream accounts have all been suddenly deleted … it's because the mother of 14 has just been dropped by her management team — TMZ has learned.

Sources close to Nadya Suleman tell us, it's all because Octo was the ultimate flake — her management team would book her on paying gig after paying gig … and Nadya "would find any reason" to cancel last minute … often claiming she couldn't find a babysitter.

We're told Octomom was great the past year — raking in lots of dough through appearances and different celebrity events — but getting her to work the past couple months has been like pulling teeth.

By the end, we're told it was nearly impossible even to reach Octo by phone — and her managers had just about enough … so they dropped her this weekend.

We reached out to Octomom's now-former manager Gina Rodriquez — who replied, "I quit on her because she is unmanageable. She would not reply to anything work-related we would call or text about especially if it was not paid."

Gina added, "Regardless of the $70k we made her, she still claimed to not be able to pay any of her bills. We no longer wanted a part of any of it and we feel sorry for the children." – From TMZ

---

"I fired my manager today and she's a little upset so she shut down all my profiles online," Nadya tells us.

"I chose not to work with her anymore. New year, new beginning.

"I'm not technologically savvy but I'll have to now start from scratch and set up my own Facebook and Twitter as she had done all that for me." – From Radar
So which one are you going to believe? My money is on the manager, since we know Octo is incapable of telling the truth. Early last year Octo got schooled by Suze Ormon on the Oprah show about how to take control of her finances and quit spending more than she earned. Of course Octo hasn't changed her approach to money at all, of course she and her innocent kids are still living in very rough conditions that she created and enabled, and of course she's pissing away opportunites to earn more money. Her kids are still going to private school while she claims she can't make ends meet. And there are still people like Dr. Drew enabling her by giving her free childcare, free internet access, and maid services. (Octo couldn't accept the childcare because she claimed to not have anywhere for a nanny to sleep.) For all you can say about what a cold piece of work Kate Gosselin is, she seems like a much better person and mother than Octo.