Octomom Nadya Suleman was on Oprah on Friday, and financial guru Suze Orman got up in her face, called her a liar, and said she was "completely out of touch with reality." Suleman claimed she "saved" up the money to pay for in vitro this last time after having six kids she already couldn't afford and Suze yelled "lie, lie, lie, I went through your finances… you did not save the money!" (You can watch that segment on Oprah.com and Radar has another.) Suleman backed down and claimed she she saved and borrowed. Suze asked Octomom if she was a baby addict, and made her give a direct answer. Octomom tried to plead her case to Oprah using a bunch of psychobabble as usual and the whole scene just made me feel sorry for Suze Orman. I love Suze, and I regularly watch her shown on CNBC. (You can download the podcast for free on iTunes.) It's beneath her to try to talk financial sense to a lying whackjob like Octomom, even if Oprah is involved.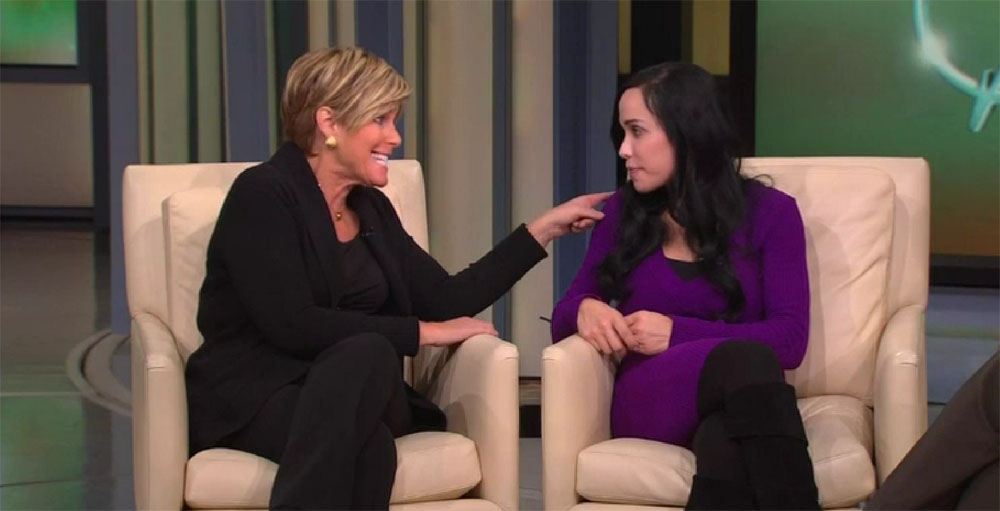 A few months ago, Suze gave advice to Octomom with steps to get her financial house in order. Suze said on Oprah that Octomom had $300 in her bank account at the time and was about a week away from being kicked out of her home with all 14 of her kids. Suleman, who declared bankruptcy a couple of years ago, swore up and down that she took Orman's advice to heart. She said she held a yard sale, secured an agent and has worked a couple of jobs since.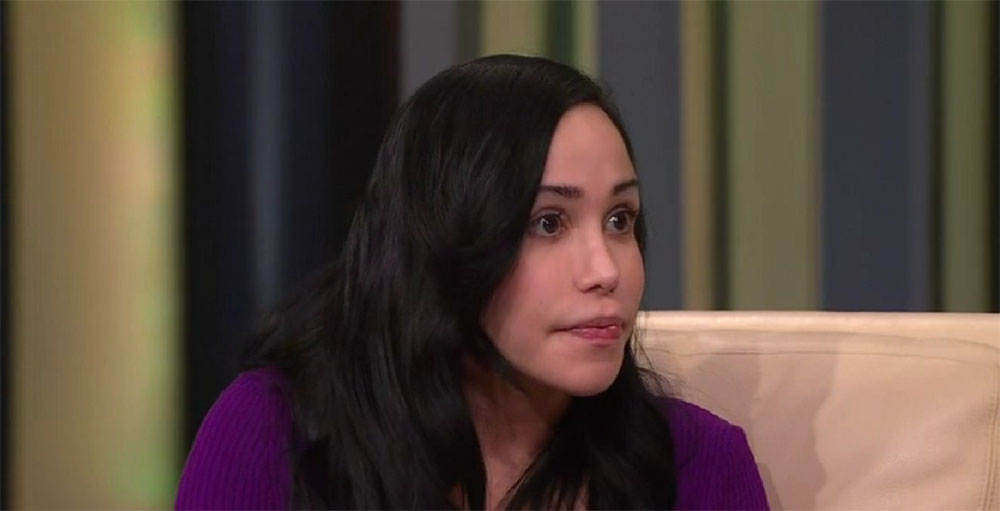 At that point Suleman had yet to resort to working in porn. We've heard that adult film Vivid head Steven Hirsh is anxious to work with her, and has even paid off a $450,000 balloon payment she has owed on her home since March, 2010. Suleman has been making her typical excuses as to why she's facing foreclosure yet again, but it looks like she's been bailed out by Vivid this time.
Now there's news that Octomom is starring in a spanking fetish video, in which "she whips a grown man wearing a baby diaper and a bonnet" while "dressed in a black corset [and] black leggings." The thing is, TMZ reports that the video "is being shopped for sale," which makes it sound like it's not owned by Vivid. Did Octomom make her own fetish video in order to make ends meet? Hirsh shouldn't hold his breath – the bitch isn't going to pay him back that $450k she owes him. If this video wasn't made by Vivid, it sounds like Suleman is trying to beat them at their own game. Suze does not approve. "DENIED!"