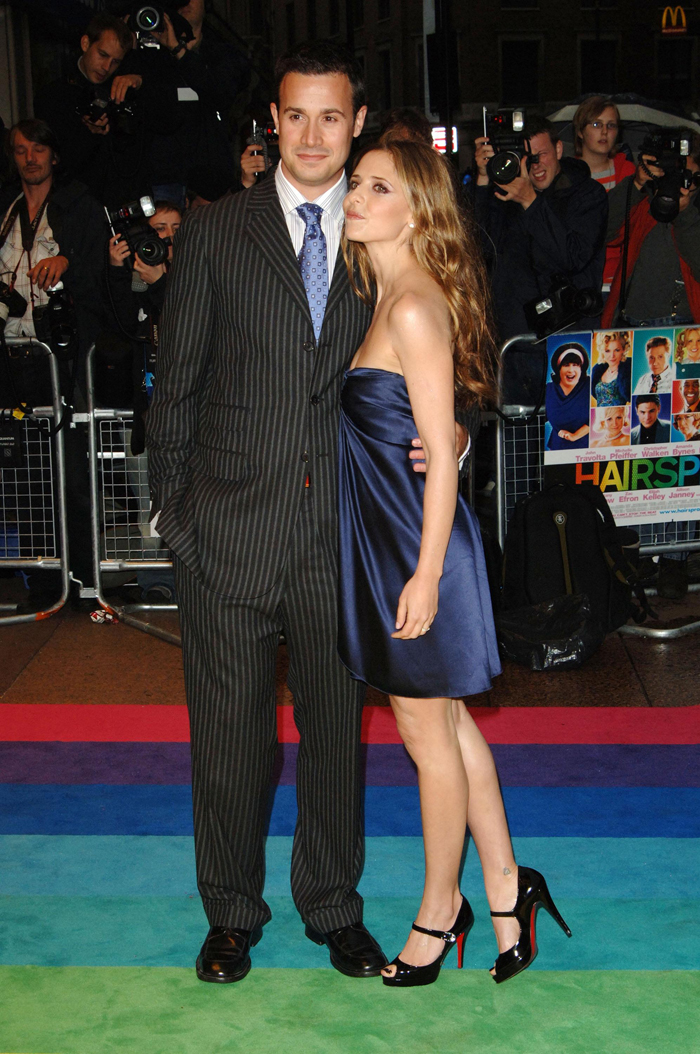 In early February, Kaiser observed that Sarah Michelle Gellar and Freddie Prinze Jr. (who have been married for 12 years) are very rarely photographed together. The above picture is from their last joint red carpet appearance, which was the London premiere of Hairspray in 2007. So they don't make a habit of flaunting their relationship, which is certainly not the norm in Hollywood, but it probably works for them.
Nonetheless, I knew it would be just a matter of time before the media started making noises about Freddie deciding to stay home "watching football" while Sarah attended the Globes in that amazing blue-and-white dress all by her lonesome. It only took about a week for that to happen, but Sarah's rep denied that there was any trouble in the marital relationship. Personally, I'd be quite irritated if my husband left me alone to fend off those sorts of questions on the Globes red carpet, but Sarah seemed completely fine with it.
Now the rumors are circulating again, but this time they revolve around Freddie growing tired of being a stay-at-home dad while Sarah is out earning a living. According to the Enquirer, Sarah is super pissed that Freddie is due to start work on a new sitcom because they previously agreed to have one parent home with their daughter. This hilariously reminds me of the "Friends" episode where Freddie played a male nanny, and who knows if this story is true or not, but it seems rather conveniently timed with the arrival of Freddie's new job: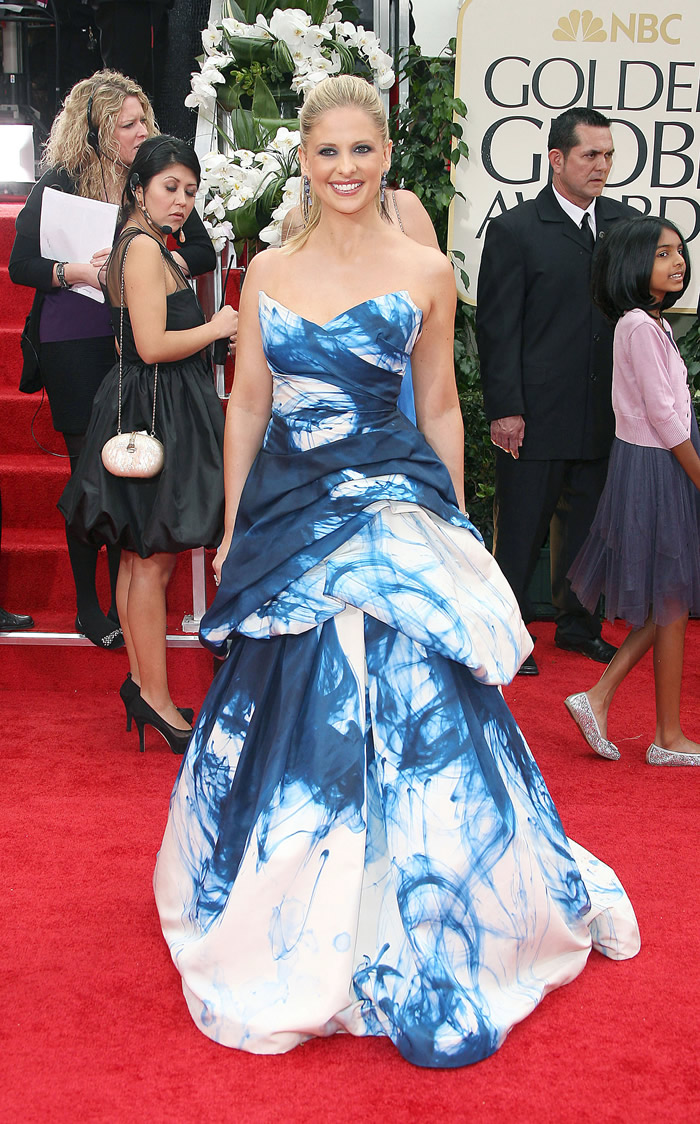 Sarah Michelle Gellar is furious at husband Freddie Prinze Jr. for giving up his real-life role as Mr. Mom.

The "Ringer" star and the former "24″ actor have been arguing because Freddie broke their "baby pact" that he would be a stay-at-home dad and raise their daughter Charlotte, now 2, while Sarah focused on her career.

"Sarah wasn't happy when Freddie started auditioning again, and she was livid that he got a starring role on a new series," a close source told The ENQUIRER.

"Sarah stayed home for the first year and a half, but since Freddie wasn't booking any solid acting gigs after "24," she took the role in "Ringer." Now she's bent out of shape because their plan was always to have one non-working parent raising their daughter.

"While Freddie loves his daughter, he's just sick and tired of 24/7 baby duty."

Sarah, 34, and Freddie, 36, met on the set of the 1997 horror film I Know What You Did Last Summer and got hitched five years later. In an upcoming untitled NBC sitcom, Freddie plays a nerd who dumps his fiancee, protrayed by "7th Heaven" actress Sarah Wright.

While doting dad Freddie is happy about hanging up his apron, Sarah is frantically interviewing for extra nannies and trying to juggle their different schedules, say insiders.

"Sarah and Freddie are fighting, especially when he tells her to relax and that everything will work out," disclosed the source. "He feels Sarah is acting like a bigger baby than Charlotte."
[From Enquirer, print edition, April 9, 2012]
So Sarah's now looking for "extra nannies"? That leads to an assumption that she and Freddie already have at least a part-time helper of sorts for Charlotte, and if that's true, Freddie hasn't really been on 24/7 toddler duty. Who knows if he and Sarah really had an agreement, explicit or implicit, to keep one parent at home with the kid every day while the other worked, but I could see why he might feel emasculated with Sarah earning all the dough these days. Don't get mad at me for saying that — it's how a lot of guys (but not all of them) would react. Still, I sort of doubt this story is true.
Meanwhile, Freddie sure does keep a low profile. Here he is trying not to be noticed last April while ducking out of a doctor's office.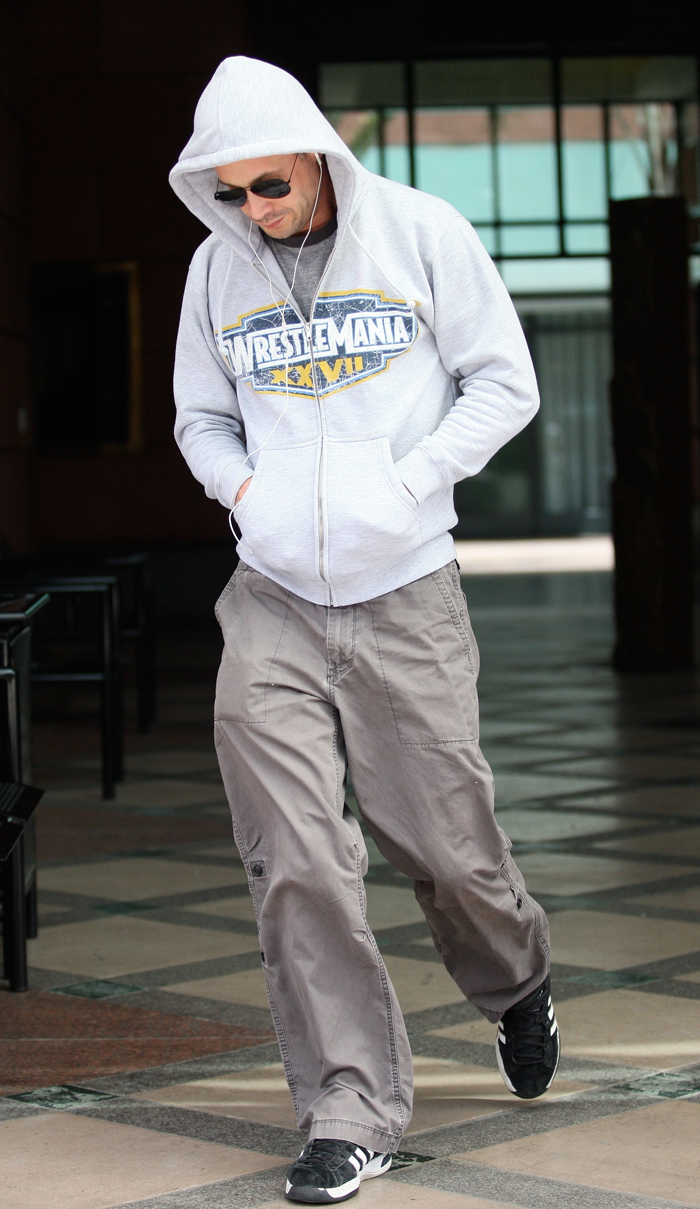 Here's Sarah and Freddie at the Scooby-Doo 2 premiere in 2004: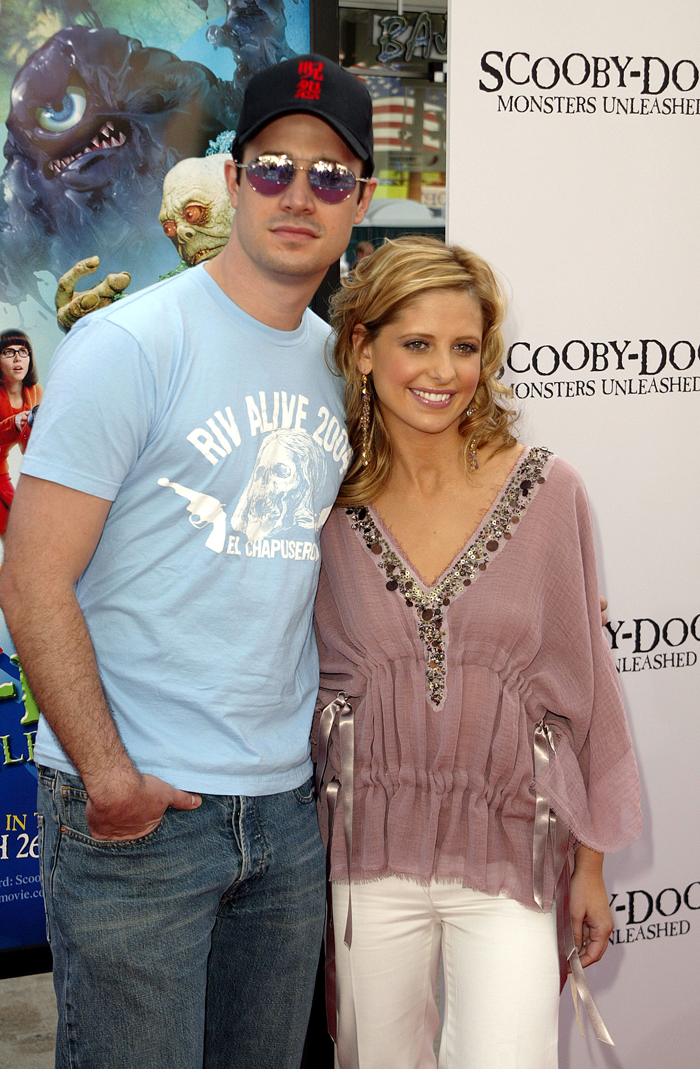 And here's Sarah on her own doing promotional duties for "Ringer" in February of this year: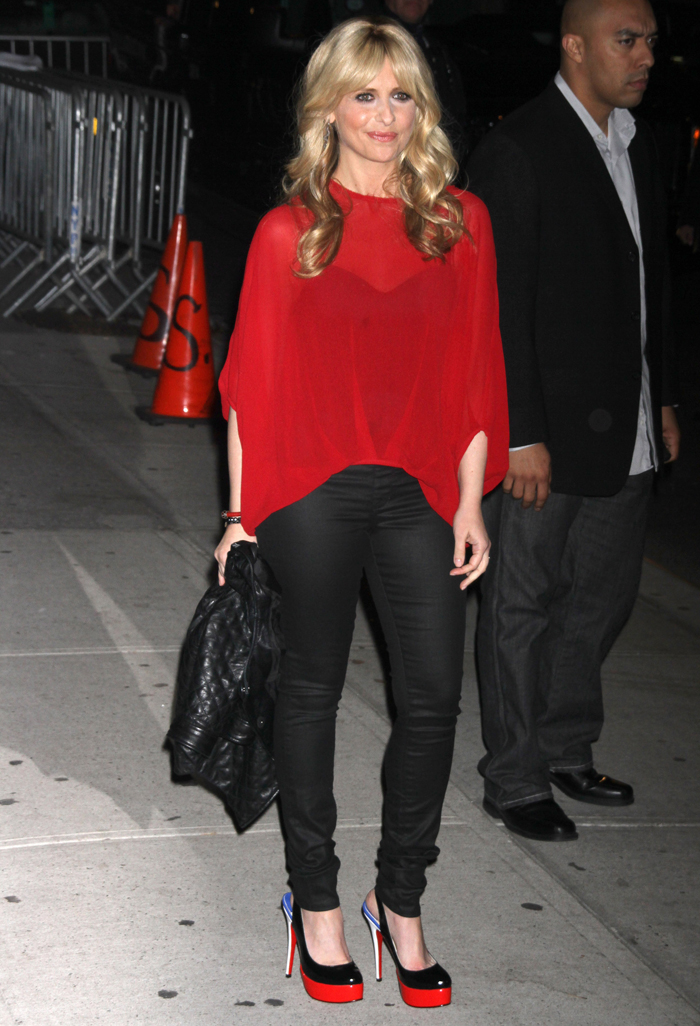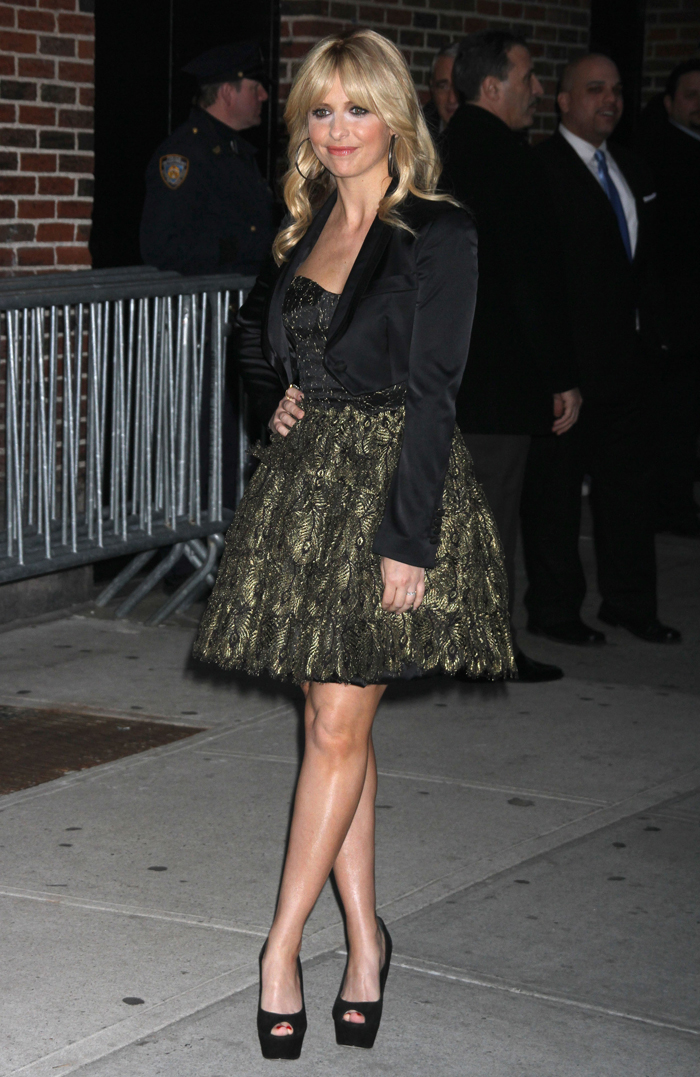 Photos courtesy of Fame/Flynet and WENN