This video, featuring audio from Mel's latest rant, is not safe for work
As you've probably heard by now, Mel Gibson has another rant caught on tape. We were treated to many of his rants when his ex and baby mama, Oksana Grigorieva, released them in the summer of 2010 to bolster her custody case against Mel. You can revisit those on these three posts if you're so inclined. Back then, Mel yelled and raged at Oksana for not giving him sex, called her a prostitute and a whore, and told her that he would kill her and bury her in the rose garden, among many, many other crazed things.
Mel's latest rant on tape is against a screenwriter he was working with, a guy named Joel Eszterhas, whom Gibson hired to work on a screenplay about an historical Jewish hero named Judah Maccabee. Eszterhas, his wife and their 15 year-old son were houseguests of Mel's in Costa Rica this December. Apparently all of them, along with another screenwriter and his girlfriend, a friend, and Mel's hired help and their children, witnessed Mel screaming incoherently, cursing out Eszterhas for not yet delivering a script, and raging at God. (Really. Eszterhas has since delivered the script.) Eszterhas' 15 year-old son recorded Mel on his iPod during the incident. Eszterhas previously gave a letter to The Wrap which he also sent to Mel, detailing the outrageous outbursts, verbal abuse and antisemitism he heard from Mel. It was when Mel started questioning Eszterhas' account of what went down that he decided to release the tape. There is no antisemitism on the tape, but given what we've heard from Mel he probably said the things that Eszterhas accused him of earlier. Here's more:
Mel Gibson shouted terrifying epithets at his houseguests during a rampage at his home in Costa Rica in December, according to a recording obtained by TheWrap.

During the rampage, Gibson shouts at Eszterhas for not having delivered a script of "The Maccabees," their joint movie project:

"Why don't I have a first draft of 'The Maccabees'? What the f&#$ have you been doing?" he bellows.

About his ex-girlfriend Oksana Grigorieva, Gibson shouts, "I am earning money for a filthy little c*cksucker who takes advantage of me!"

A spokesman for Gibson did not respond to an email seeking comment.

But mostly the recording captures an unhinged, angry Gibson storming around his Costa Rica property, knocking over a totem pole. According to Eszterhas (pictured below) and his family, Gibson also threw a cellphone.

The recording, about two and a half minutes long, captures only part of an angry bender described by Eszterhas in a letter published by TheWrap. It was recorded on an iPod on Dec. 7, 2011, by Eszterhas' 15-year-old son Nick, who was with his parents, Joe and Naomi.

Other houseguests present at the time were screenwriter Randall Wallace, his girlfriend Elizabeth Topp and Gibson friend Brad Hillstrom, according to Eszterhas. House staff and their children also were present.

The release of the recording follows a public dispute between Gibson and Eszterhas. The screenwriter wrote a nine-page letter obtained by TheWrap, accusing the movie star of making continual anti-Semitic remarks, threatening violence to Grigorieva and detailing out-of-control behavior, including the rampage he described in detail.

The movie star responded in a letter that much of Eszterhas' allegations were "utter fabrications."

According to Eszterhas' letter, Gibson's rant began unexpectedly, as the guests had gathered for before-dinner drinks, and Gibson happened to look at a photo of himself holding his baby daughter Luci in which he was gray and balding.
[From The Wrap, with more at the source]
I can't really understand all of what Mel is screaming about, except for the part where he tells everyone to go eat. The Wrap has a transcript if you're interested.
In a video interview on The Wrap, Eszterhas explained how terrified everyone was who witnessed that rant. He said that the help on Mel's estate ordered their children away from the main house for their own safety afterwards, that his own wife was crying, and that his son slept with a butcher knife under his pillow that night.
Radar online claims that Mel was diagnosed with bipolar disorder back during his custody battle with Oksana. They have a "source" (probably Oksana, she sold the original tapes to Radar) who says "It's clear to me from listening to the recently released tapes that he most likely isn't taking his medication, which is sad because when he was taking it he was so much calmer and rational." Or else she never would have had his baby I guess. This man needs a lot of help.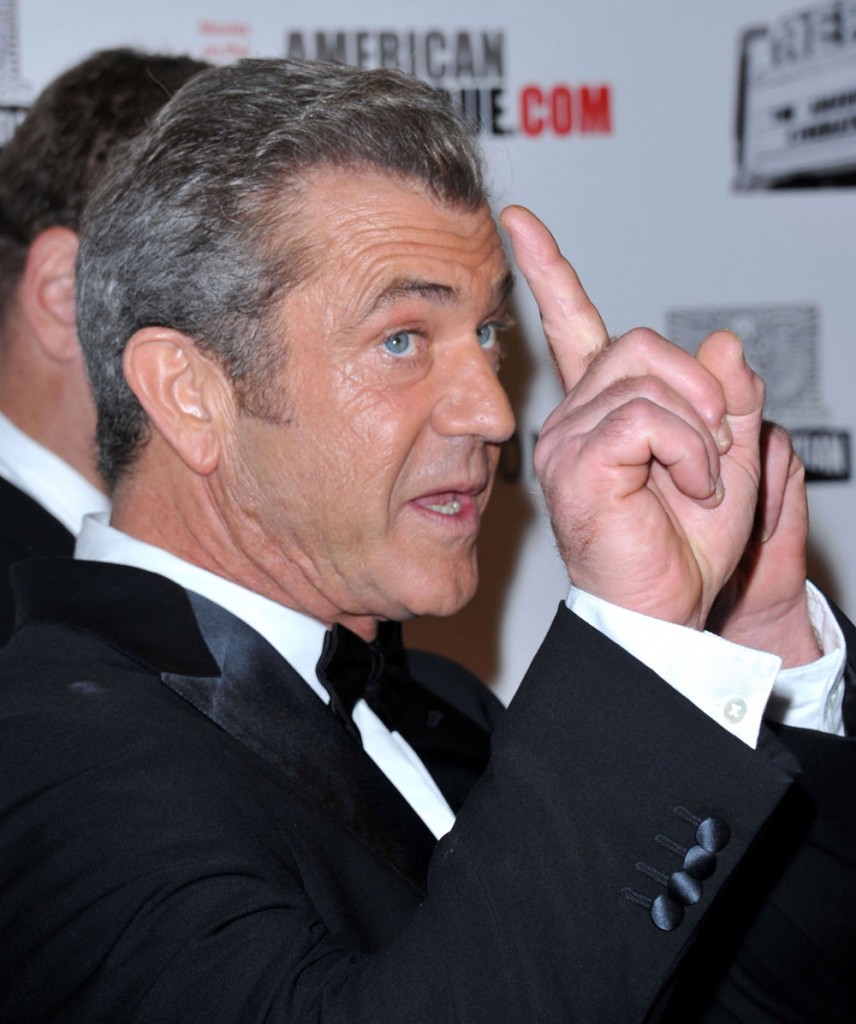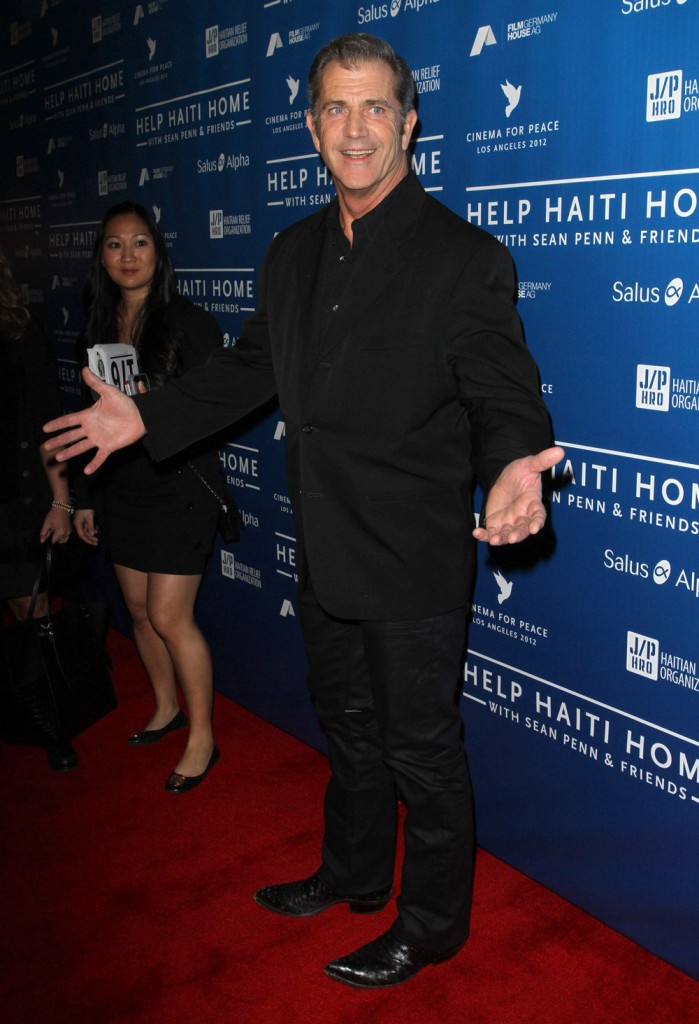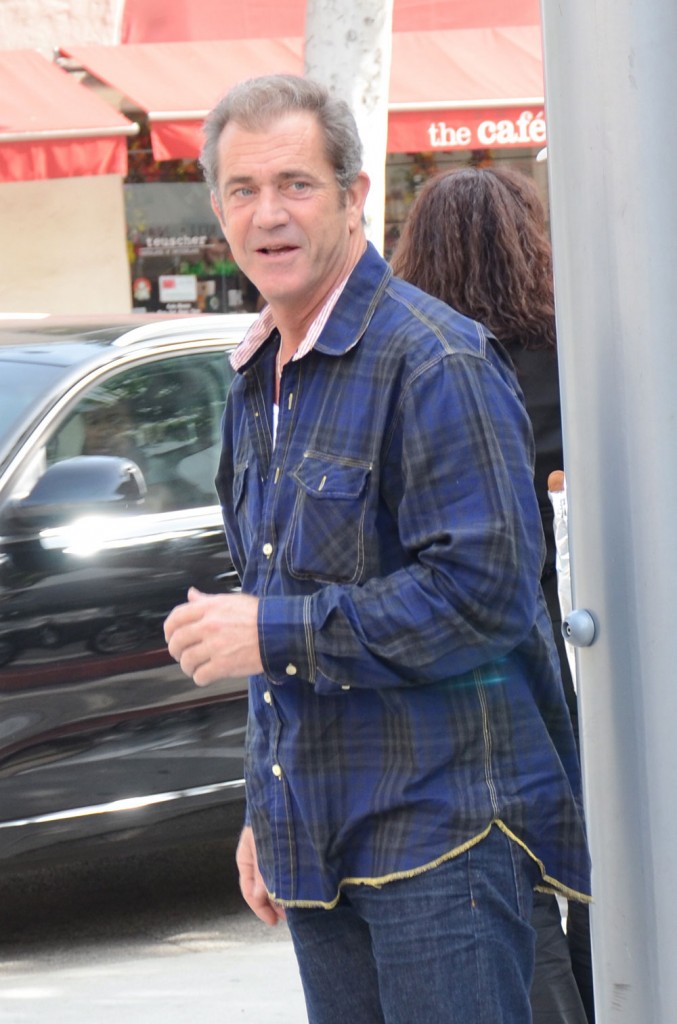 The photos of Mel looking like a turtle are the most recent. They're from 1-14-12. Others are from 10-14 and 10-11-12. Credit: WENN.com