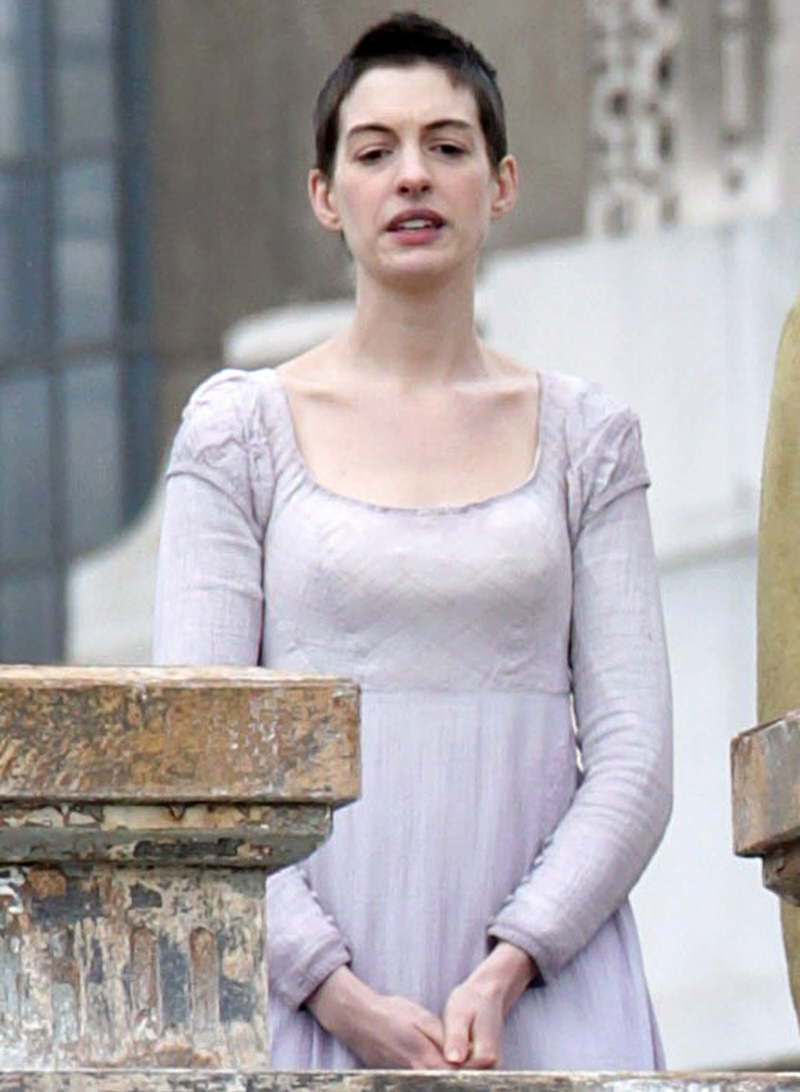 These are photos of Anne Hathaway on the London set of Les Miserables a few weeks ago. As you can see, this was when Anne was freshly shorn for her role as Fantine. I'm still not crazy about the cut, but at least Anne didn't do it to be trendy – she did it for the character, because she's THAT committed to the role. And she probably thinks the dramatic hair cut will help with her Oscar chances too. But I'm worried about Anne, Oscar campaign or no Oscar campaign. This hair cut does not look cute on her, and I worry that it's going to be really rough on her as she grows it out. I could be wrong, of course. But I don't think Anne will be able to pull off a gamine pixie cut.
Another thing that's worrying me about Anne: her weight loss. She looks thinner in these photos, and there have been several reports about the "crash diet" she's on so that she can look deathly for the role. The Mail reported a month ago that Anne was trying to lose 16 pounds in three weeks, and now The Mail claims that to keep the weight off (temporarily), Anne is subsisting on 500 calories a day:
Life really is miserable for Hollywood star Anne Hathaway. The 29-year-old, who is filming the musical Les Miserables in London, has been gargling with egg whites every morning to help her voice sound as smooth as possible.

This is on top of a miserly diet – she is reported to be on just 500 calories a day so she can look super-thin in the role of dying prostitute Fantine.

'Anne isn't a professional singer and is not used to pushing her voice. She's not talking for eight hours at a time when she isn't working and gargling with egg whites to coat her throat and keep her vocals silky-smooth,' says a source. 'She knows this is the ultimate test as to whether she's a credible musical star.'
Poor Anne. I wonder how much longer she has on the film. Probably only a few weeks more, I'd think. And then it's back to talking like a regular person and eating real food. I've never heard of the "gargling with egg whites" thing. Does that work? All I've heard is stuff about tea and honey.
You know what sucks for Anne? Next up for her is the promotion for The Dark Knight Rises. She's going to have to do a month full of red carpets and interviews with this hair. Poor Annie. Incidentally, at CinemaCon last week, the chairman of Universal debuted some footage of Les Mis, and it just happened to be Anne singing "I Dreamed A Dream". Yeah… the studio is totally making Anne the centerpiece of the Oscar campaign for Les Miserables. So… there's the payoff.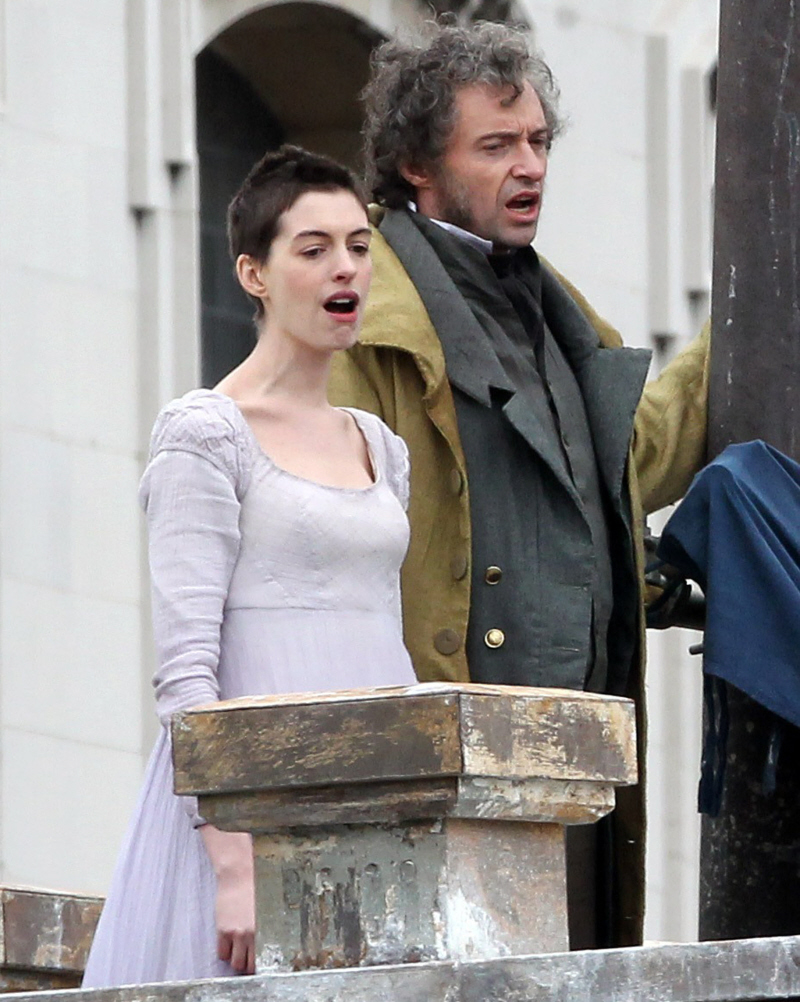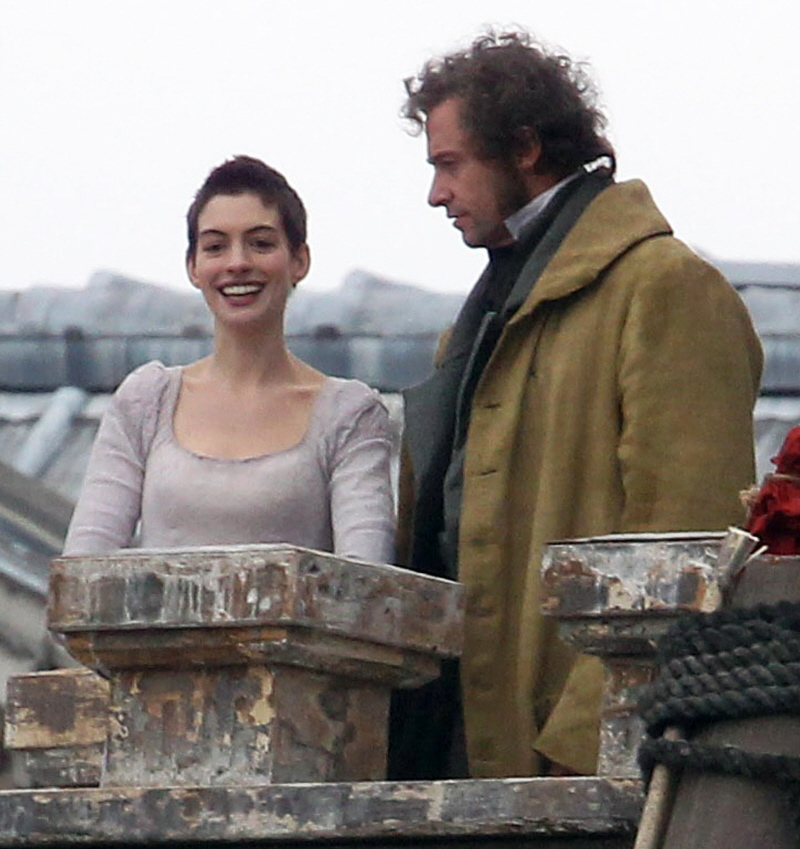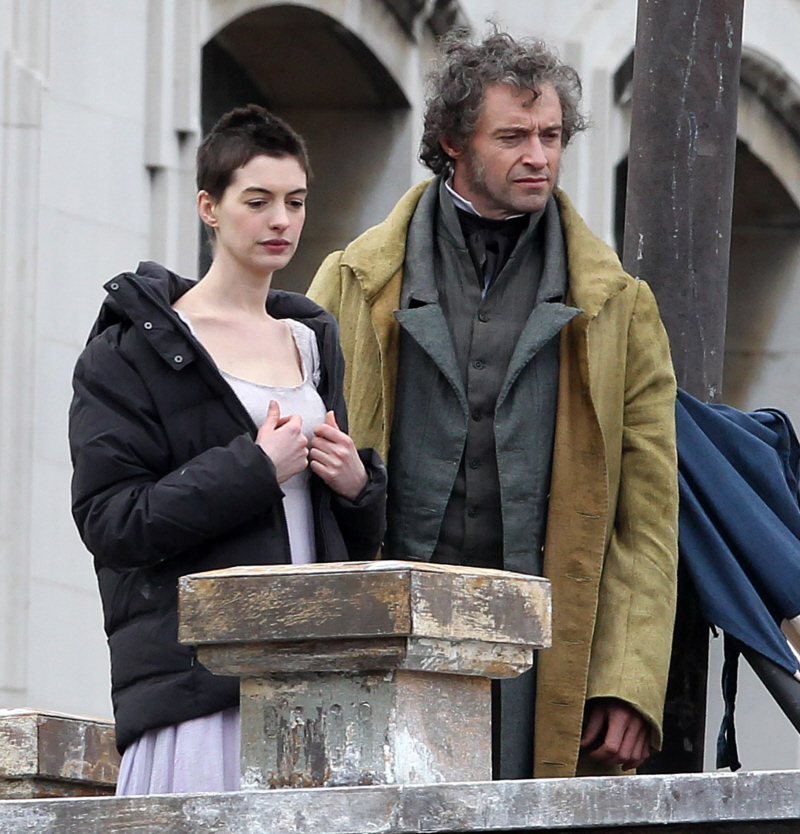 Photos courtesy of Fame/Flynet.