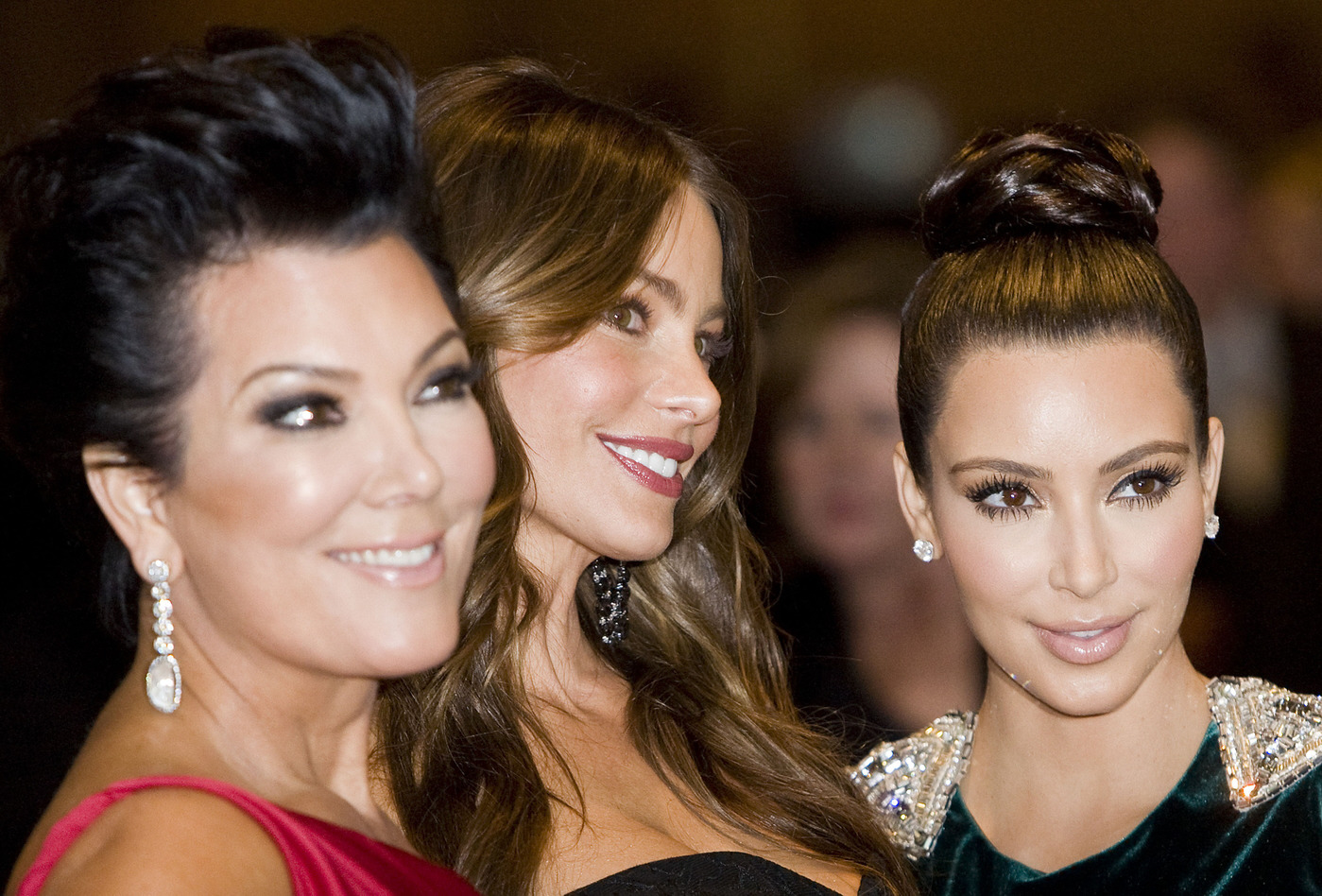 More photos from this weekend's White House Correspondent's dinner. I'm going to cover Sofia Vergara and Kim Kardashian's fashion in this post. Kim wore a green velvet gown which – much like Lindsay Lohan's ensemble – seemed too fussy and over-the-top for the event. But… I have to give Kim credit. She was dressed conservatively and appropriately for the event. She didn't wear parachute pants or a too-small corset. She contained her curves and jacked up her kat-face for the event. Speaking of kat-faces…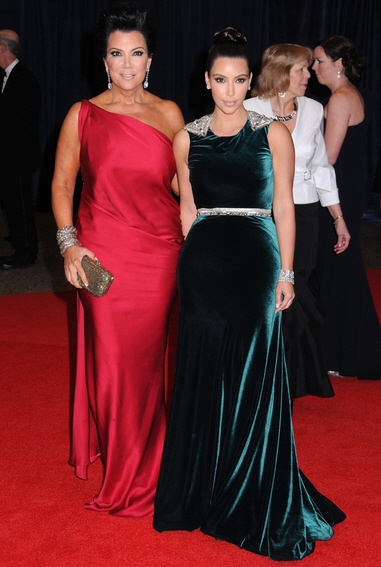 Kim brought her mother along as her date. Is Kris Jenner just a cartoon at this point? Because her face is crazy. And I really don't understand Kris's hair here. Like, if Tilda had done this hair, I would love it. On Kris Jenner, it's a katastrophe. There were also some reports that Kim was upset after being the "butt" of several jokes by Jimmy Kimmel (who referred to her as "the biggest threat to America"). I don't know, though – Kim might play it up to get sympathy, but I doubt she was offended. She probably just enjoyed being name-checked. And yes, Kim (and Lindsay) were there by invitation of Fox News – Pres. Obama had nothing to do with these C-list famewhores at the event. Obama was a guest of the White House Press Corps Association (or whatever it's called), and he spoke at the event because presidents always speak at the event, every single year. Stop blaming Obama for the Kardashians and the crackheads! He didn't invite them.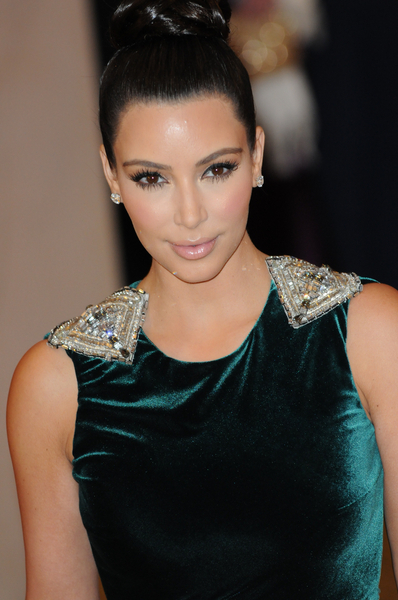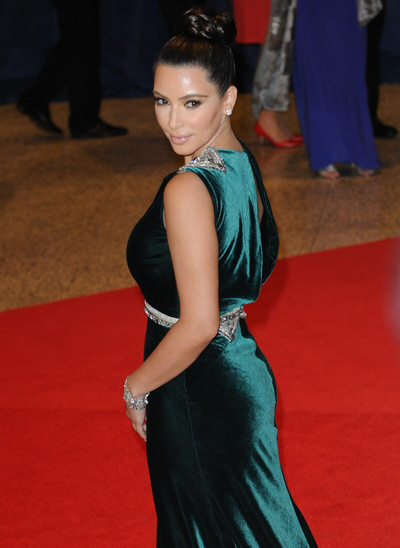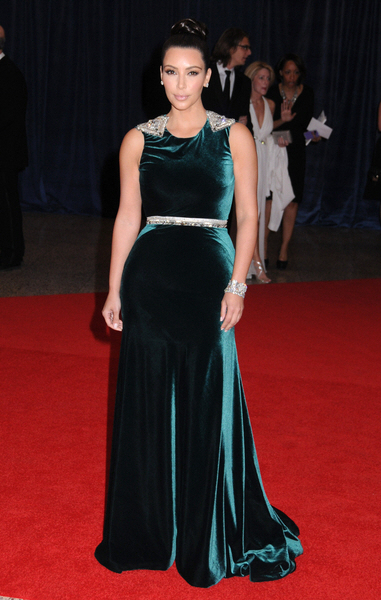 I'm also including Sofia Vergara, who looked kind of rough, in my opinion. She looks kind of Botoxy, right? Maybe it's just bad lighting. Her boyfriend, Nick Loeb, is some kind of heavy-hitter in Florida Republican politics, and Nick was Sofia's date. Sofia also got name checked by Kimmel as an example of what Colombian women look like (in a joke about the Secret Service).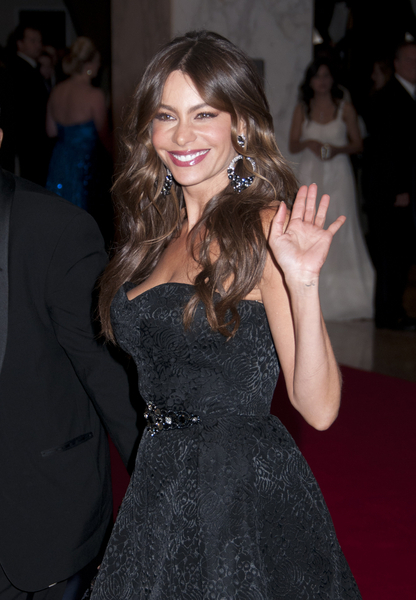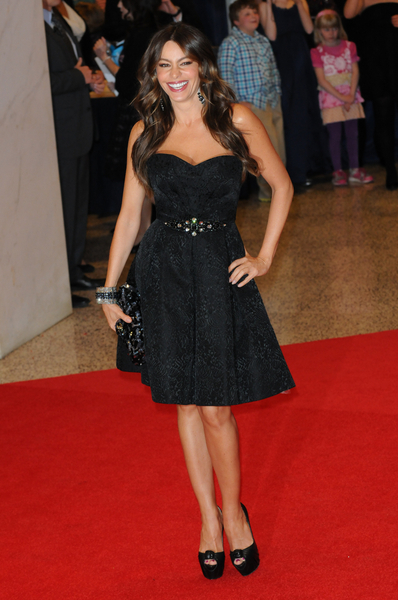 Photos courtesy of PR Photos and Pacific Coast News.