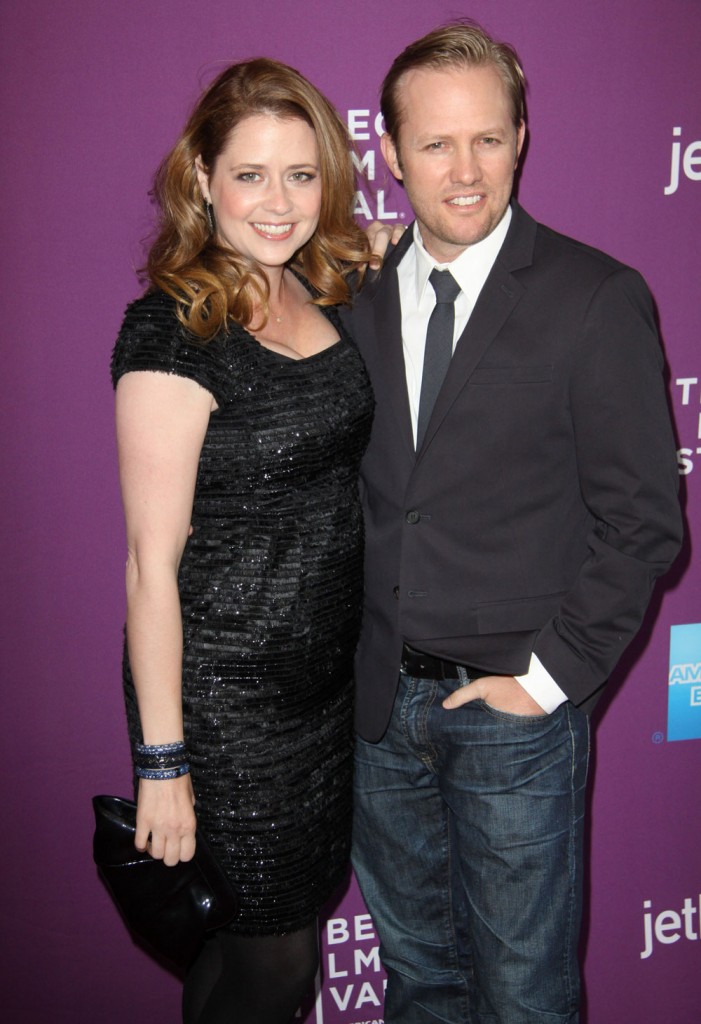 I enjoyed seeing Jenna Fischer do the publicity rounds for her new movie, The Giant Mechanical Man, directed by her husband, Lee Kirk. (Jenna and Lee met thanks to this movie.) Jenna is funny, she's genuinely grateful (she got two different mugs on The Today Show because she collects them, and I'll be damned if she didn't look thrilled each time) and she just seems like a very down-to-earth celebrity. The fact that she's an average size person kind of adds to that. I know I shouldn't judge people based on their size, but when women look more like me I somehow feel like I can relate to them more. It's just how it is, and I'll admit it's probably prejudiced against super skinny women. (i.e. Hollywood.)
Well Jenna had her first child last September, and she said that she finds it outrageous how much pressure there is on women to lose the baby weight immediately afterwards. This isn't a new sentiment for her – in January she said that she stood in "solidarity with all of the women who are not a size 2 six weeks after leaving the hospital," and added "I think I'm just going to be a little bit bigger for a little bit longer, and that's fine with me." It was nice to hear, and she expanded on that topic in a recent interview with Celebuzz.
Don't even get Jenna Fischer started on being a celebrity mom! The Office star has some very firm opinions on how Hollywood celebrates motherhood.

"I think it's unnatural," she told Celebuzz in an exclusive interview, referring to the intense pressure put upon celebrity moms to lose their baby weight.

"There's so much pressure on you as a new mom that the last thing you need to have hanging over your head is some expectation of what your body is supposed to look like. I actually think that the scrutiny of new mothers bodies has gotten out of control."

She continued: "Every new mother just gets a free pass. I'm actually angered by the 'posing in a bikini six weeks after having my baby' [trend] … Who cares if our boobs are hanging low and we have a little more junk in the trunk? We created a human being, everybody. Let's celebrate!"
[From Celebuzz]
It's not just celebrity moms who pressure you to be fit after giving birth – it's other moms. I remember going to La Leche League meetings and hearing moms with 3 month old babies bragging about how they got their bodies back, and how they worked out from home and did sit ups in their free time. I just sat there politely listening and thinking "bitch, please." I know, I should get over it. I just didn't focus on exercise the first few months because I was so preoccupied with my baby. I can't imagine being a celebrity and having to deal with that pressure too. I didn't even like getting my picture taken.
Who do you think Fischer is talking about, though? My vote is on Jessica Alba or Kate Hudson, but they each waited a few months.
Jenna is shown on 4-15 and 4-23-12. Credit: FameFlynet, Inc