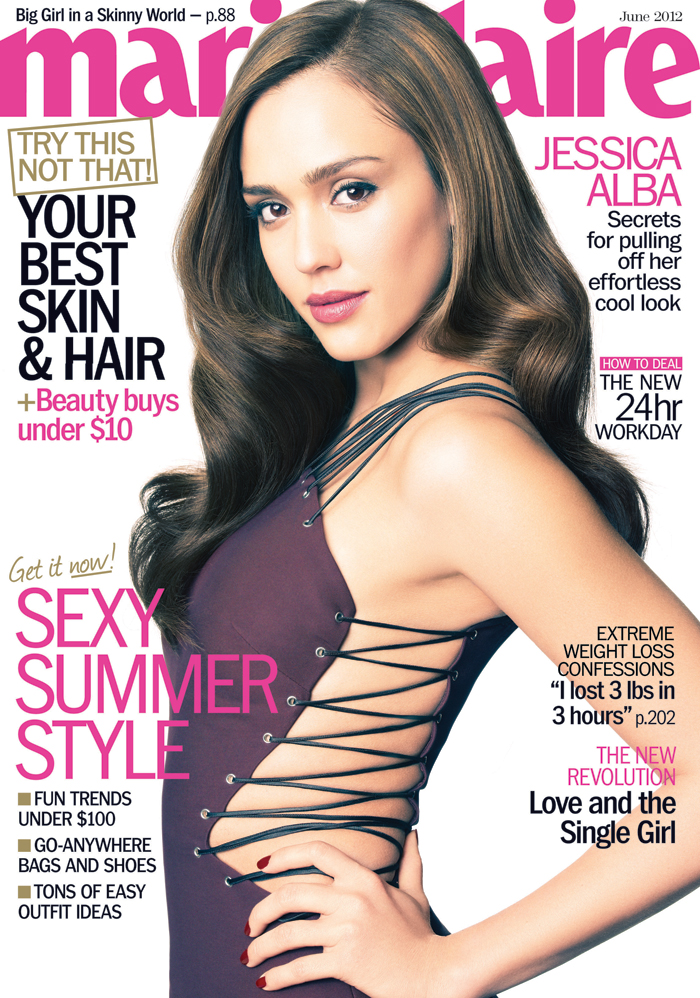 Jessica Alba covers the June issue of Marie Claire — presumably to promote The Honest Company (again). The photoshoot is quite pretty, but I think she's either run out of things to discuss, or the interviewer steered clear of the diaper and hand sanitizer-oriented questions with an eye towards the magazine's demographic. As such, Jessica is discussing how tough it is to be perceived as "sexy" (she and Scarlett Johansson could form a club to that end). Oddly enough, this sentiment dovetails with Jessica's recent iVillage blog about how becoming a mother has made her feel more sexy. What a tricky little paradox. Here are some excerpts from the interview: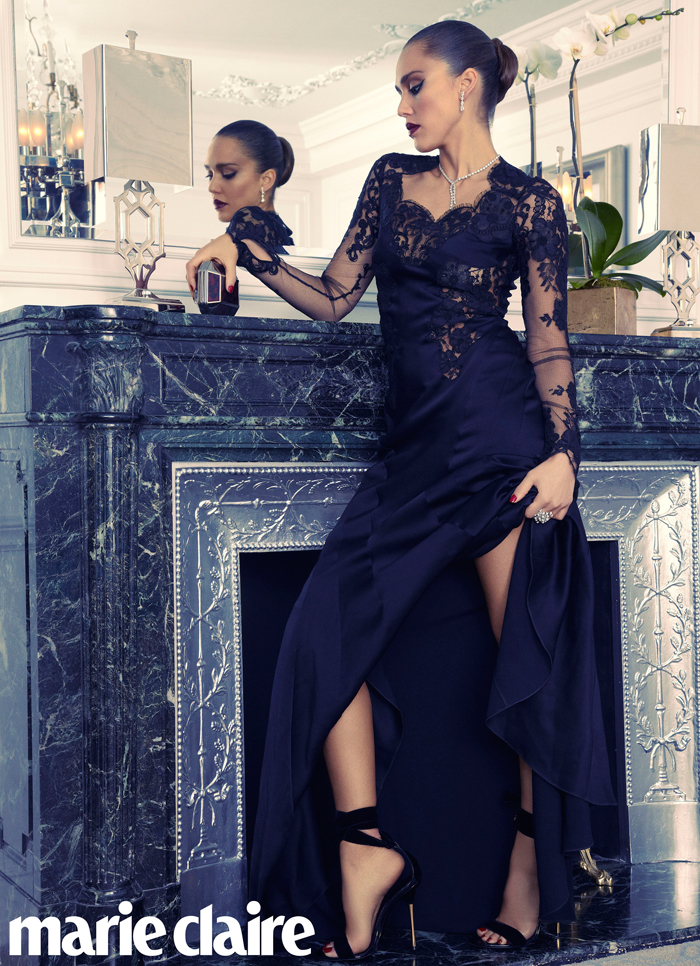 On being typecast as sexy: "I had a show [Fox's 'Dark Angel'] that premiered when I was 19. And right away, everyone formed a strong opinion about me because of the way I was marketed. I was supposed to be sexy, this tough action girl. That's what people expected…I felt like I was being objectified, and it made me uncomfortable. I wanted to be chic and elegant!"

On gaining confidence: "Now that I'm older, I've learned how to own it, but I'm still not very overt. There are some women who dress for men. I dress for myself. It took me some time to get here. Being a mom and feeling grown-up have helped. Now if I'm going to wear something short, it has to have a high neck or a little sci-fi toughness to it, an edge."

On her former sexy image: "I like to get positive attention. But if I have a choice between someone noticing in a negative way what I'm wearing and going, What was she thinking? or someone not noticing what I'm wearing, I would rather not make a statement at all and just have a good conversation instead."
[From Marie Claire]
In some regard, I can see how Alba would get frustrated at being typecast as the hot girl. Yet as a non-ethereally beautiful civilian, it grates somewhat to hear her repeatedly discuss how hard it is to be gorgeous. I mean, those looks gained her several millions of dollars, and she was certainly accepting these roles (Into the Blue, Honey, Sin City, Fantastic Four, and many more) with a pasted-on smile. So at a certain point, Alba just needs to STFU and stop complaining. Besides, she's done a very smart thing by largely ducking out of acting to work on The Honest Company, so I think the dreaded "sexy" phase of her career is well behind her.
Here's Jessica at the park with Honor and Haven on 5/10. She seems to have a very blessed life, and I like her casual street style.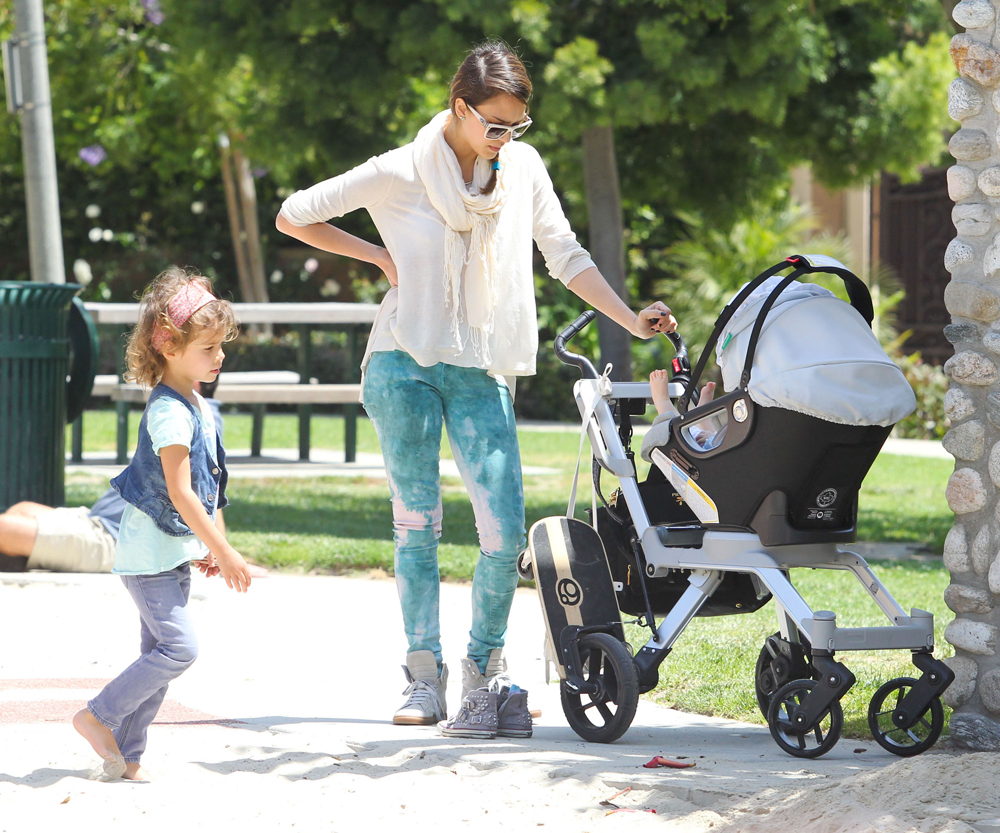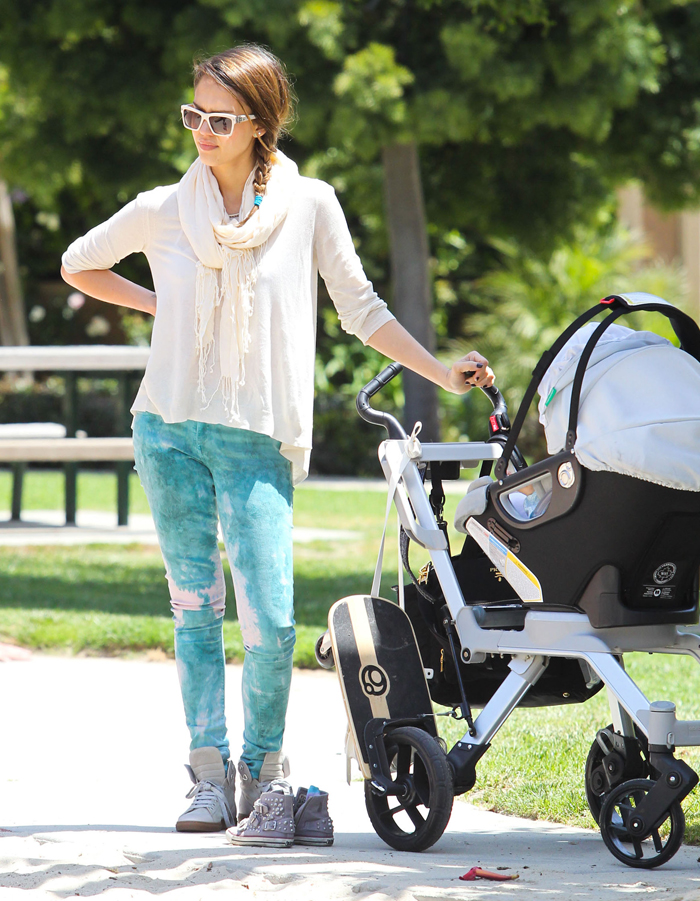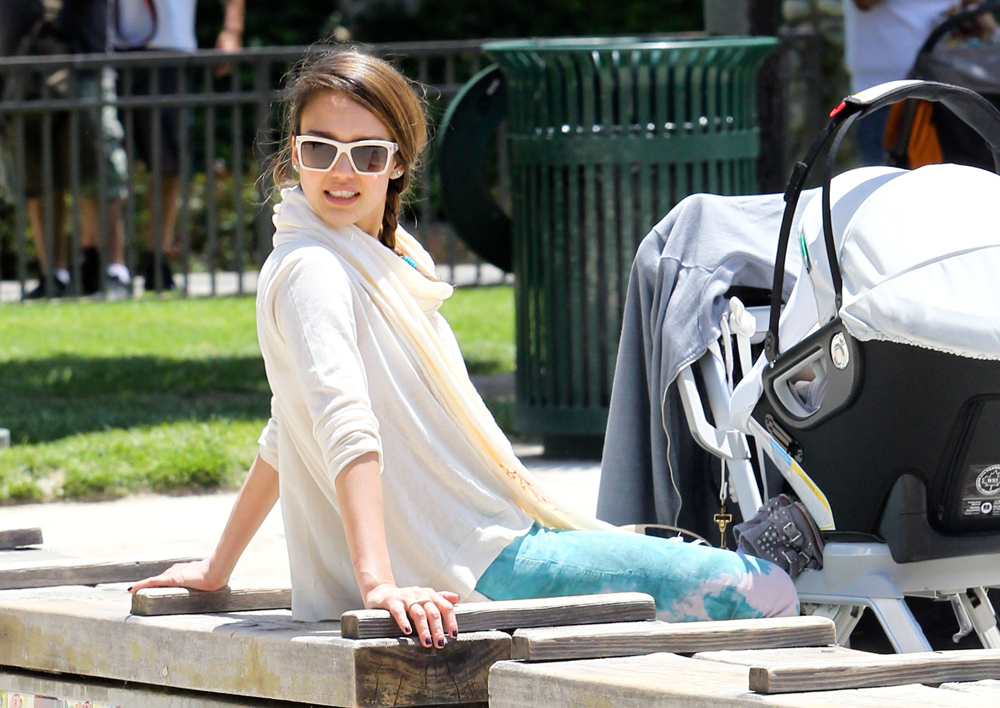 Photos courtesy of Marie Claire and Fame/Flynet