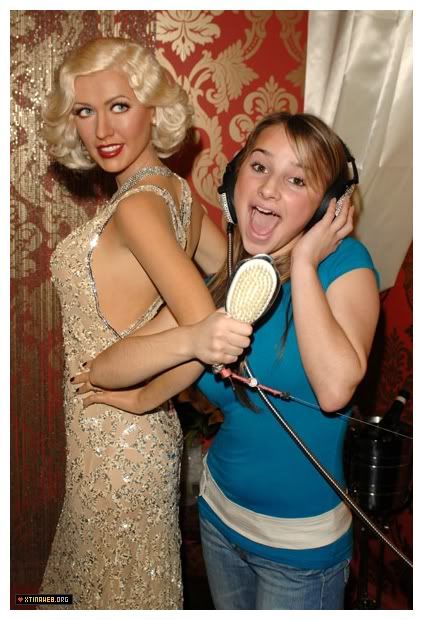 Madame Tussaud's wax museum in London seems to have outdone themselves with a new glamorous Christina Aguilera figure posing in a luxe 1920s-style bathroom. They even feature a studded hairbrush microphone that lets you sing along with your favorite XTina tunes:
Greeting her fans with a smouldering over-the-shoulder look, The Ain't No Other Man singer is featured in her very own glamorous, 1920s-style, interactive powder room, lit up by vanity mirrors and shimmer curtains. Madame Tussauds visitors will have the chance to power through one of Christina's classic hits by picking up a diamante hairbrush microphone that will activate a sing-a-long video playing from inside her mirror.

According to Ben Lovett, spokesperson: "Christina is dressed in a shimmering, vintage, floor-length gown in keeping with her sensational blonde bombshell image. With legions of fans across so many genres of music, our visitors have been keen to get up close and sing with Christina for a while. She is the only female singer to be unveiled at Madame Tussauds in 2006."
Thanks to XTinaweb for these pictures. I love the bathroom!