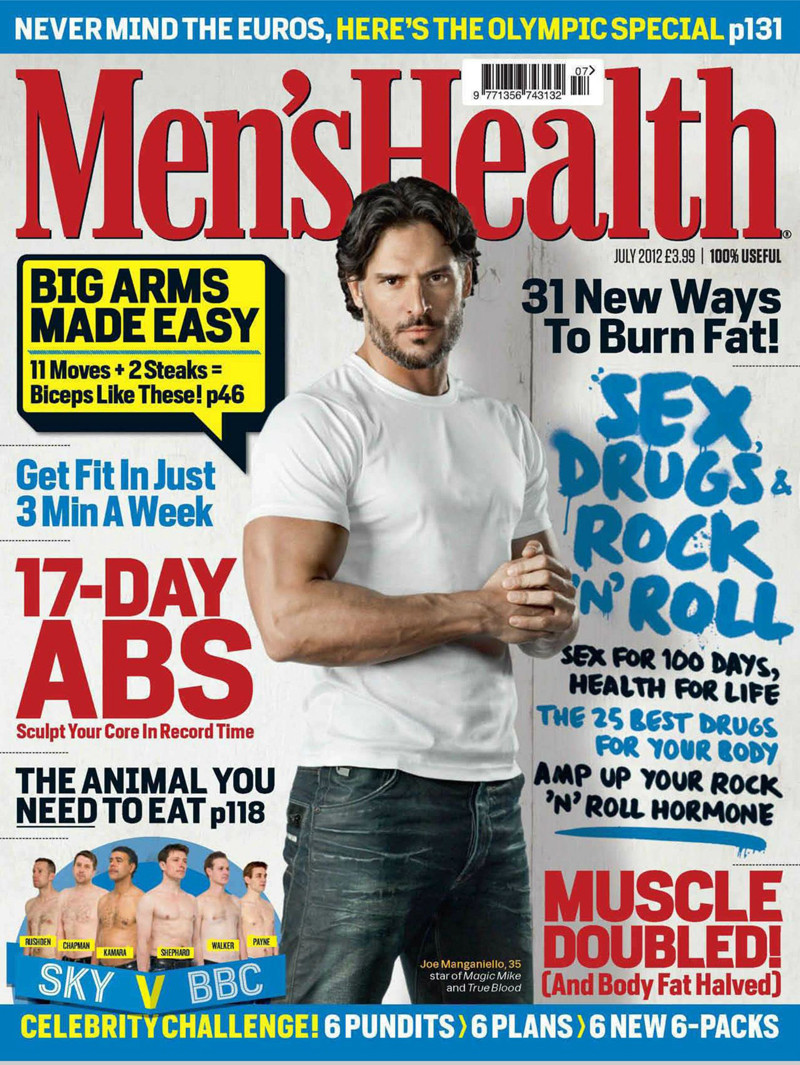 I've been disappointed that our last few stories about Magic Mike haven't seen much of a response, but I'm hoping that it's only because perhaps ladies are tired of Matthew McConaughey even though he doesn't need a stunt butt to fill out his assless chaps. After all, the film's trailer went over fairly well. Also, this story is about Joe Manganiello, who was quite popular last time we covered him for a discussion of his wolfie butt cheeks, and I nearly swooned when he appeared in fireman gear and carried Elizabeth Banks offstage at the MTV Movie Awards last week. So bring it this time, ladies.
Now on with the show. Manganiello covers the July issue of Men's Health UK to promote his role as stripper "Big D*ck Richie" in Magic Mike. Naturally, there are several pictures in the magazine that show Joe sweating and grunting through various workout moves. I'm not complaining at all about these photos. Here are some interview excerpts: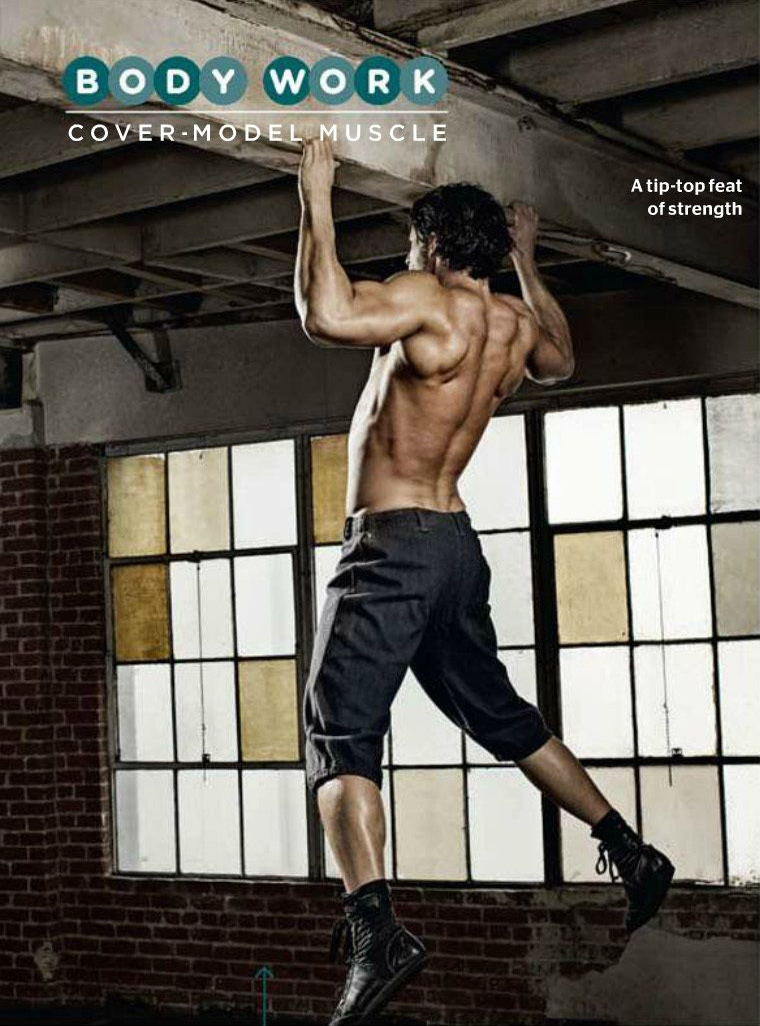 On the return of men with real muscle: "[It's] a recent trend. I got to LA in 2000, when we were coming off the '90s: women looked like men and the men all looked like women. I was constantly being told, "You're too healthy.' So there were four years where I essentially didn't work as an actor. I left the business and worked in construction for a masonry company: getting up at 6am, shovelling sand and mixing cement till 4pm in the back of a truck with four guys. And I got 'hillbilly' strong. I was staying at my friend Armie Hammer's house and his mother wouldn't stop feeding me. We just ate and ate and went to the gym to lift these massive weights. Every time we went to the gym it seemed like I had gained 5lb. I just said 'to hell with it' and I got huge."

On how things have changed: "In a couple of years I've gone from not working to a point where people are writing roles for bigger guys. I think we're seeing a return to 'the Man.' People come up to me and say they miss having those silent tough guys such as Clint Eastwood and Steve McQueen. You've still got to be able to act and emote but you also have to fit the role physically, and that physique is now lean and muscular. Think about ancient Greece: equal part athletics, equal part philosophy. I think we're getting there: the best of both worlds."

On Magic Mike: "The tone is very similar to Boogie Nights, so it's like a fraternity of scumbags who are having fun. We all knew that something special was happening when we made this film, it was so hysterical. We were rolling around on the ground laughing trying to crack each other up, man-handling groups of 200 female extras every day. There are guys who are going to divorce their wives after they see what they did as extrs in this movie."

Was there competition from his co-stars to look good: "Not really — it was more the fact that we all had to be shirtless pretty much every day for two weeks, which gets to be tricky. When you're shirtless one or two days a week — which is how it works with 'True Blood' — you can ramp up and ranp down the intensity of training. when you're shirtless every day, there's no let up. We basically spent every day working out for two weeks in a row. But it was worth it. It was the most fun I've ever had in my life. One hundred per cent."
[From Men's Health UK]
So one gets the impression that there are no spray-on abs to be found in this movie, right? I sure hope not. At the very least, I am certain that none of the primary cast members — including Manganiello, Channing Tatum, Matthew McConaughey, and (ick) Alex Pettyfer — have resorted to ab implants like a certain other movie star. As far as this interview goes, Manganiello seems to be humble as hell and very grateful to be successful in Hollywood, and he also seems like he'd be a lot of fun, if you know what I mean.
And yes, he's very correct about the return of 'the Man." Thank goodness.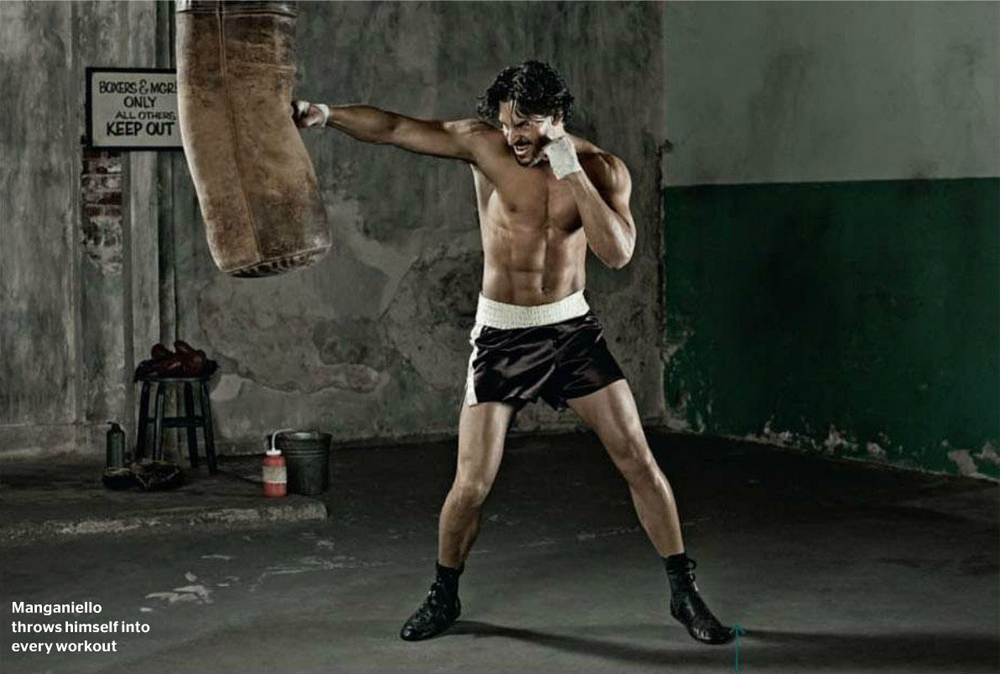 Photos courtesy of Men's Health UK