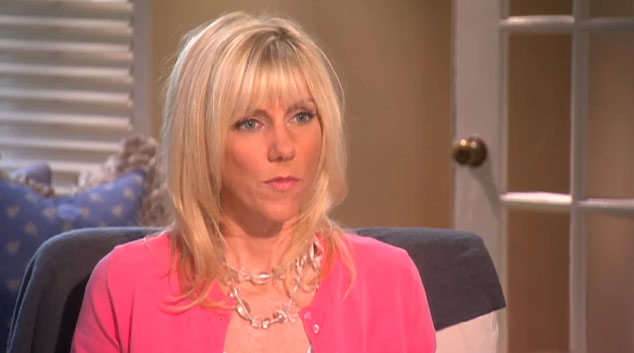 Just when you thought Rielle Hunter was going to fade into the woodwork after so thoroughly exposing herself as a narcissistic, opportunistic nitwit with the self-awareness of a flea – she's back! Rielle wants to convince the world that she's not the mean demon harlot she portrayed herself as in her own book. She actually believes she can rehabilitate her image and present a new, softer face to the world – through reality TV. Excuse me while I point and laugh. She's approached producers for shows like Dancing With The Stars (they'd never take her), The Bachelorette (she's too old and tainted), and Celebrity Apprentice, which might be considering her.
48-year-old Rielle is trying hard to land a gig and has approached producers for the Celebrity Apprentice, Dancing with the Stars and even The Bachelorette.

"Rielle admires Donald Trump and says that if he could turn villains like Real Housewives stars NeNe Leakes and Teresa Giudice into lovable TV personalities, then maybe he could do the same for her," a source told the National Enquirer.

Rielle and John broke up this year after she published her book – What Really Happened: John Edwards, Our Daughter, and Me – in which she slammed his deceased wife Elizabeth Edwards.

The book was a major failure, selling a measly 6,000 copies and she was apparently shcoked and disappointed by the poor sales. Rielle was called a heartless schemer by the ladies of The View on her press tour. But none of that is sinking in and she's determined to try and change the public's opinion about her.

"Rielle's reputation is pretty much mud in the public eye, but she's delusional enough to think she can turn that around. And the truth is that if anyone can make Rielle Hunter likable, it's Donald Trump."

Apparently Rielle doesn't understand how much she is hated across the country.

"She seems to have no clue about how the public perceives her. After what she did to Elizabeth Edwards, she's delusional to think that America would ever tune in to see her dance, let alone find love," a source told the Enquirer.

Shockingly, when a source from Celebrity Apprentice was asked whether Trump would consider Rielle for the show they replied: "Anything's possible."
[From Radar]
Rielle needs to get on one of the Real Housewives shows, because she'd be perfect. She'd fight with everyone and be the villain without a single ally. Those bitches would put her in her place. Or maybe she could get a dating show with Kate Gosselin. Men would compete to stay single and get off the show, and two who are left would have to fight to see who ends up with Kate instead of Rielle. It could be called "Lesser of Two Evils."
Also, I never read Rielle's book because I didn't want to support her in any way, so I'll just defer to part of this thoughtful review on Amazon, from reader Todd Bartholomew:
"The beauty of 'What Really Happened' is that Hunter betrays herself as she really is. Even her worst enemies couldn't have written a book that damages her as deftly as she slaughters herself."
And this woman wants to do reality television. Perfect.