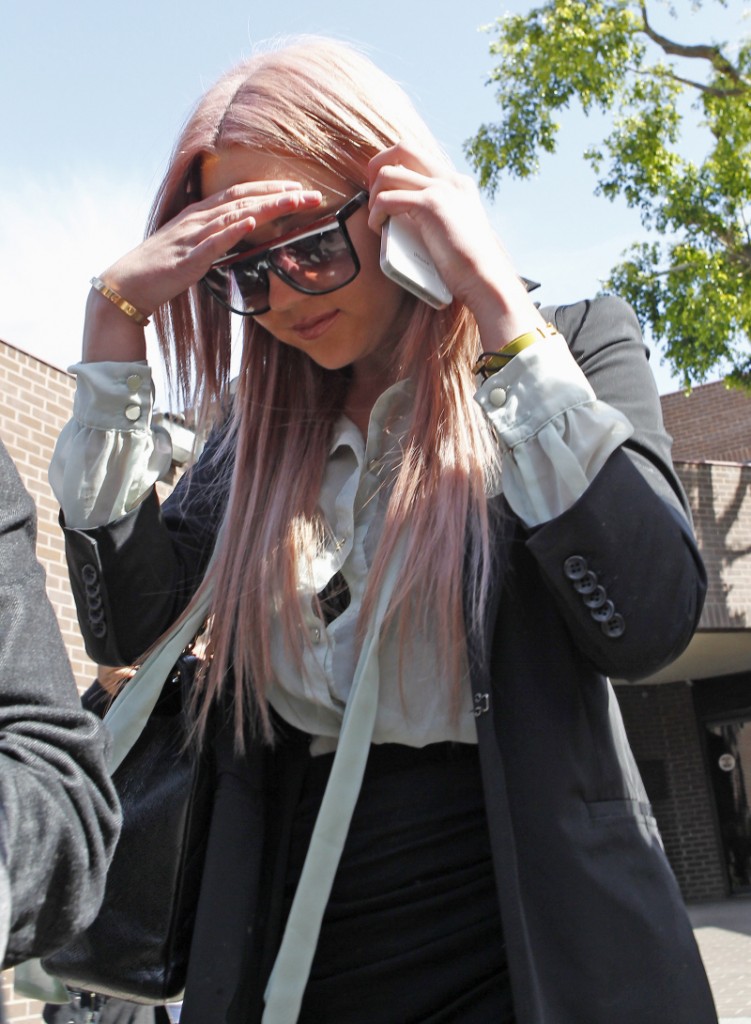 Amanda after being released from the Sheriff's office following her DUI on 4-6-12 Credit: Fame Flynet
I had to revisit our Amanda Bynes coverage to realize that the former Nickelodeon star, 26, just had her third known hit and run, and that's not even counting her DUI arrest where she hit a cop car. To recap: Amanda got arrested for DUI in April after she hit a police car. A week later she was photographed after a night out at the Chateau Marmot texting while driving, during which she ran over a curb. Then in May she hit a car while trying to pass on the right and acted like she had no idea it happened when cops caught up with her. Amanda was not charged for that incident. Then we heard that Amanda had another hit and run in April on the freeway (the news of which didn't come out until late May) and that she wouldn't be charged for that either due to a lack of witnesses.
In response to all this news about what a terrible drunken driver she is, Amanda tweeted President Obama in June that the arresting officer (probably the one whose car she rammed into, since she wasn't busted for any of the other incidents) should be fired. No joke. She wrote "Hey @BarackObama… I don't drink. Please fire the cop who arrested me. I also don't hit and run. The end." It appears that Amanda has since shut her Twitter account down. And here I was hoping that she would get indignant about this latest story that she rear-ended yet another car on Saturday night and fled the scene. The woman whose car she "allegedly" rammed into described her as a "hot mess" and told TMZ that Amanda tried to downplay the damage, even pushing her bumper back up. Amanda left the scene before cops could get there and refused to provide any contact information. Here we go again.
A Los Angeles woman filed a police report yesterday afternoon claiming Amanda Bynes rear-ended her and then, after a brief conversation, drove off without exchanging insurance information … TMZ has learned.

Kisa (last name witheld) tells TMZ she was driving her Toyota Corolla on Ventura Blvd. in the San Fernando Valley when she was struck by a woman in a black BMW. Kisa tells TMZ she didn't recognize the woman at first — because she "looked like a hot mess" — but once they began talking, she realized it was Amanda Bynes.

Kisa says she got out her insurance card to exchange information, but says Bynes "seemed nervous about that." She says Bynes told her the damage to the Corolla didn't look that bad and proceeded to push her bumper back into place.

Bynes then, according to Kisa, said they didn't need to exchange info since neither car was damaged badly. Kisa maintains, however, that Amanda's car had "significant" damage to it.

Kisa says she continued to try and exchange info with Bynes, but Bynes just got in her car and drove off.

Kisa tells TMZ she called the police, who responded to the scene and took a hit and run report. Kisa says when she told the officer who hit her, the officer replied, "Didn't she just get a DUI?"
Amanda wasn't charged for the other two hit and runs, so I'll doubt she'll be charged for this one. Considering how many times we've heard that she's hit other cars and fled the scene in just a few months, it's doubtful that she'll voluntarily sober up or hire a cab whenever she gets blotto. In Amanda's mind she's completely innocent and able to drive. "Gimme da keys!" I just hope someone steps in before she seriously harms herself or someone else. This is in LA, though, do you think that's going to happen? It seems like her DUI case is still pending after she plead not guilty. She wasn't cited for three separate hit and runs, I doubt they're even admissible.
Amanda texting and driving on 4-12-12. Credit: Pacific Coast News